There is nothing that shouts 'It's Easter!' over here in the UK more than freshly baked hot cross buns. But if, like me, you're 'hot cross bun-making challenged', it might be better to stick to making these hot cross bun spiced chocolate truffles instead!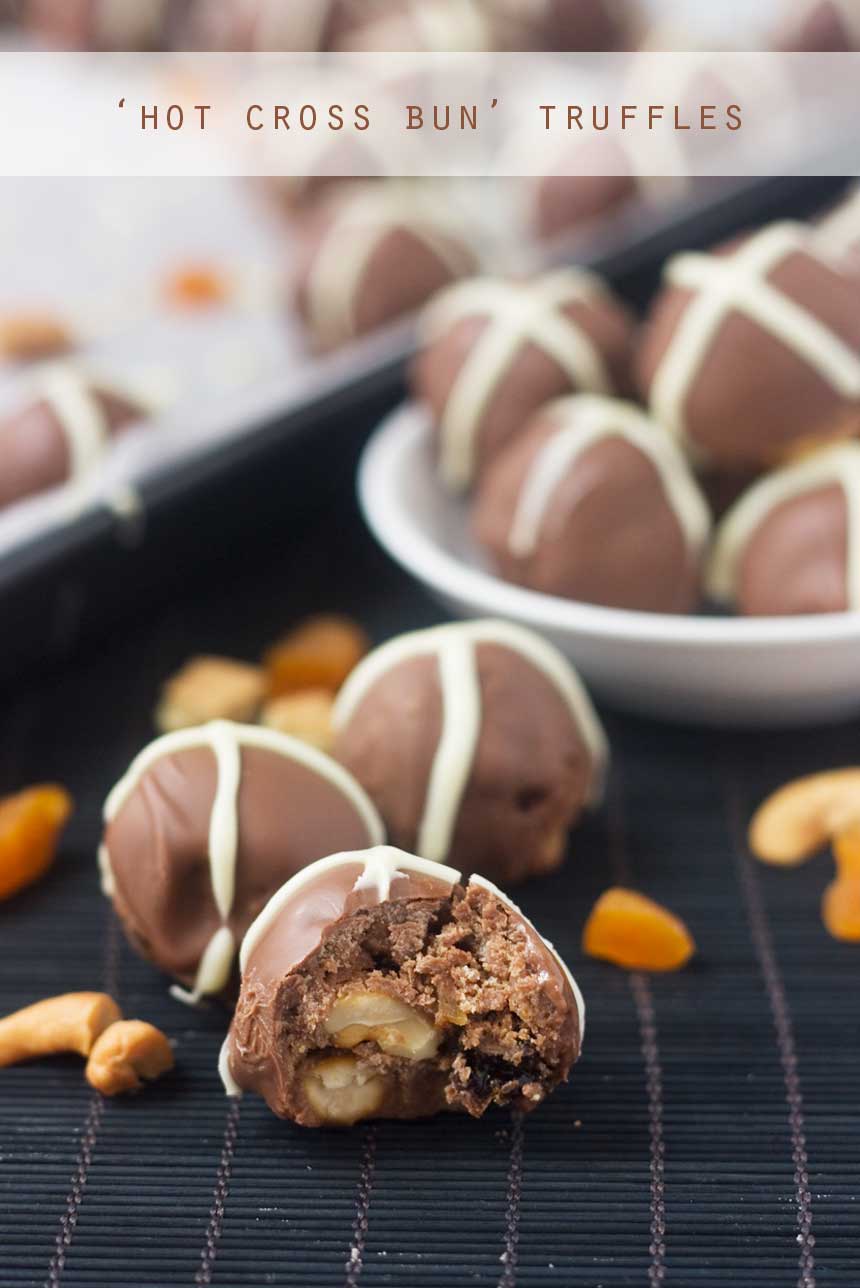 I didn't know I was 'hot cross bun-making challenged' until I tried making some hot cross buns for the very first time last week.
If you don't know what a hot cross bun is (seems inconceivable as they're so ubiquitous over here, but I get that they're a British thing!) it's a spiced sticky bun with a cross piped across the top as a symbol of Easter. Bakeries and supermarkets sell truckloads of them and not surprisingly …. they're really hard to beat when toasted and slathered with butter or jam.
They're not a particularly complex thing – just a sort of cross between a bread roll and a cake, really – so I was rather surprised, and a bit upset, to make a total hash of my first attempt at making hot cross buns. It probably didn't help that I was trying to be fancy by making an orange and chocolate spiced version. Obviously I shouldn't have skipped the 'baby steps' that are probably necessary when you aren't exactly the most experienced bread-baker in the world (ahem … maybe close to the least experienced?)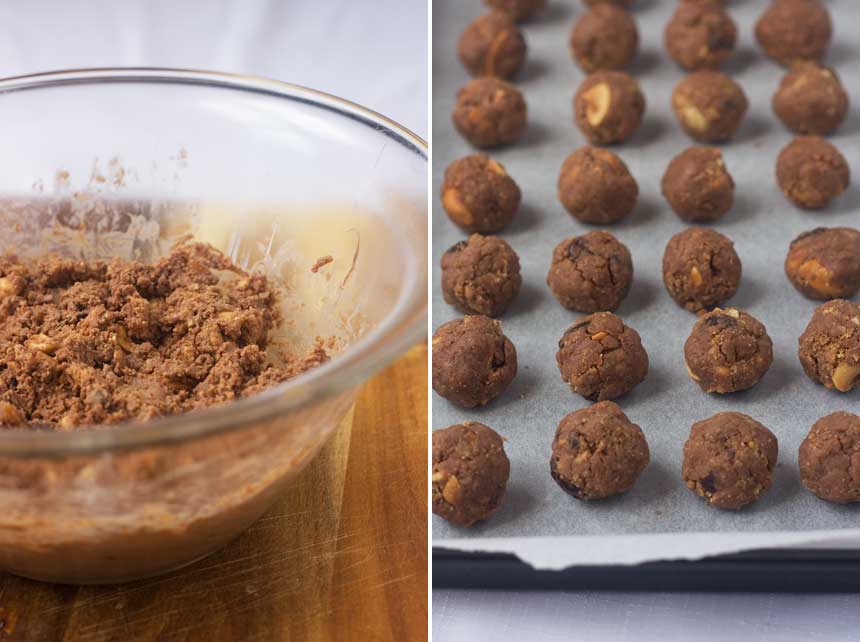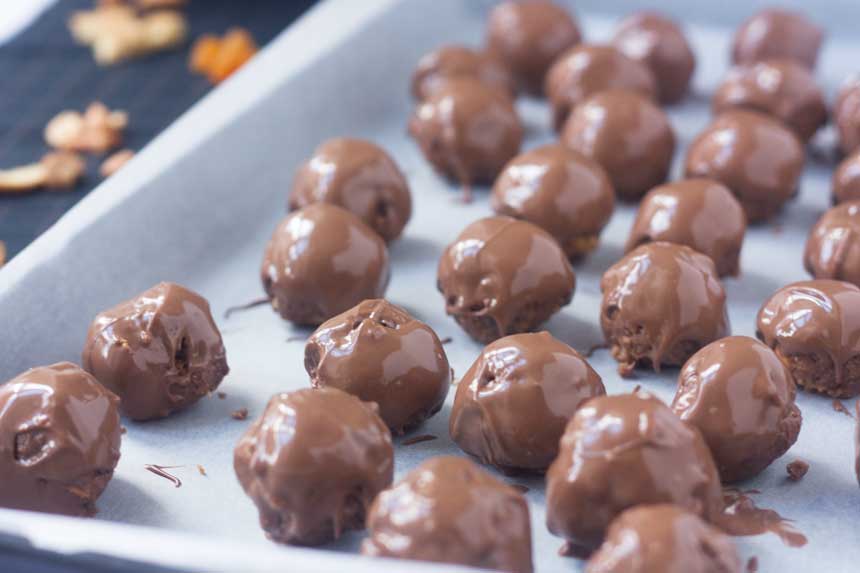 I think my mistake might have been making the dough in my bread machine and allowing the chocolate to melt into it as it was kneaded rather than folding it in at the end. And/Or not letting my dough rise enough? Whatever my problem was (probably problems – plural), the result was … hello misshapen, lead-weighted buns! They did NOT rise enough and tasted more like a heavy cake than a light and airy bun. I should have given them another whirl but, quite honestly, after spending pretty much the whole of Sunday sweating over them in the kitchen, I just couldn't face it.
And so were born these 'hot cross bun' truffles! My reasoning was that the other very popular Easter treat is chocolate, of course, and there's something I have a whole lot more experience of. Predictably, these truffles turned out a lot better … and I even managed to successfully pipe on the crosses. Aren't you impressed? 😉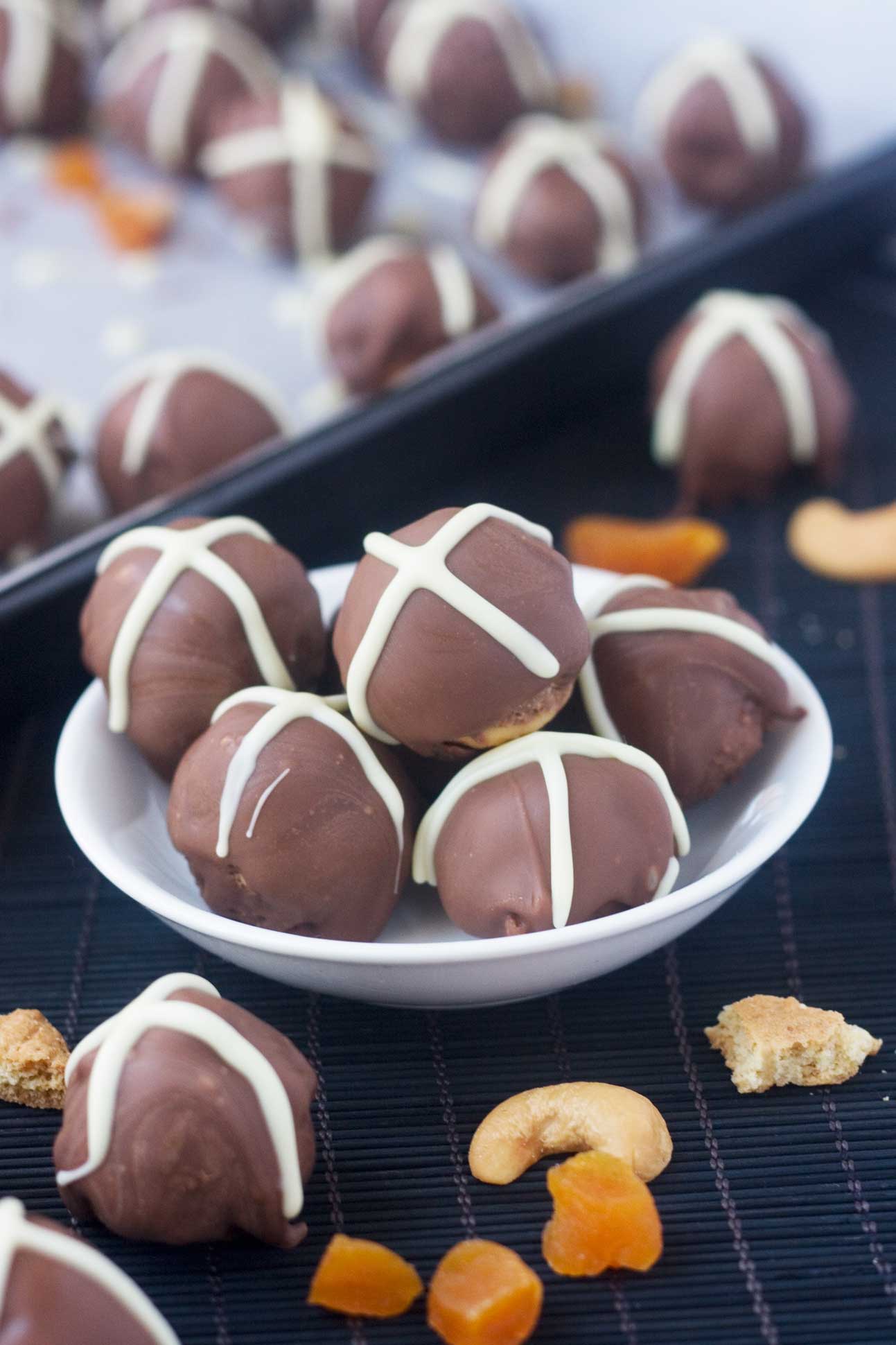 The truffles are nothing more than a mixture of biscuit crumbs, melted chocolate, sweetened condensed milk, mixed spice (to get the authentic hot cross bun flavour), cashew nuts and dried fruit – I used raisins and chopped dried apricots. Simply mix everything together, roll into small truffles, then dip into more melted chocolate before piping on some white chocolate crosses.
Be prepared for very messy hands while rolling and dipping, but it's worth it. The finished truffles taste quite a bit like chocolate fridge cake – or perhaps a fruit and nut fudge – and doesn't everyone love both of those? I'm pretty sure these would go down beautifully with coffee to finish off your Easter table this year!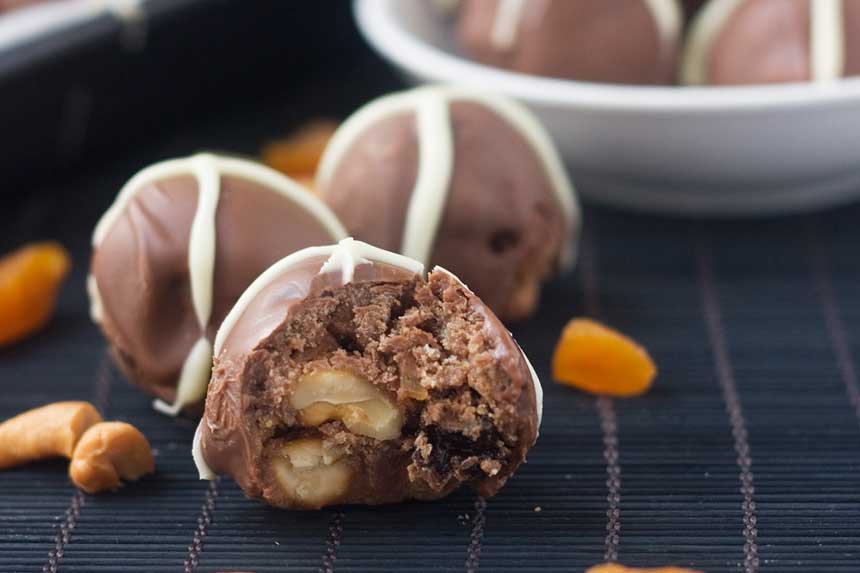 'Hot cross bun' truffles
If you love hot cross buns but don't feel confident about making them, how about making some chocolate truffles with the lovely warm spiced flavour of hot cross buns in them instead? If you like chocolate fridge cake or a fruity, nutty fudge, you'll love these!
Ingredients (UK/Australia? Click below for grams/ml)
for the truffle mixture
3.5

ounces

biscuits/cookies

I used Digestive biscuits

1/3

cup

unsalted cashew nuts

crushed

1/2

teaspoon

mixed spice

1/2

cup

dried fruit

I used raisins & chopped dried apricots

7

ounces

milk or dark chocolate

melted (see notes)

1/2

cup

sweetened condensed milk
for the coating
7

ounces

milk chocolate

melted

2.5

ounces

white chocolate

for the piped crosses
Instructions
Crumble the biscuits/cookies into a large bowl, then add the nuts, spice, fruit, melted chocolate and condensed milk. Mix well and leave to firm up in the fridge for a short while (about 10 minutes).

Use a teaspoon or your hands to form the mixture into small balls. Place on a plate or baking sheet lined with baking paper.

Melt the chocolate for the coating, then dip the truffles into it. Put back on the baking sheet/plate and wait for the chocolate to set.

Melt the white chocolate, then pour or spoon it into a piping bag or into the corner of a clear plastic food bag. Snip the very end of the bag off and quickly pipe little crosses onto each truffle. Let set … then enjoy!
Notes
I melted my chocolate in the microwave in 30-second bursts. I only melted it until about ¾ of it was melted, then I stirred it until the rest was melted. This is a 'cheat's' way to 'temper' your chocolate (this helps it not to get white streaks in it when set).
If the mixture is too sticky when you're forming the truffles, simply pop them in the fridge for a few minutes. If it's too set, pop it into the microwave for 30 seconds or so to soften it a bit.
Feel free to replace the cashews with another kind of nut such as peanuts, almonds, hazelnuts or walnuts.
Nutrition
Calories:
101
kcal
Carbohydrates:
11
g
Protein:
1
g
Fat:
5
g
Saturated Fat:
3
g
Cholesterol:
2
mg
Sodium:
23
mg
Potassium:
79
mg
Sugar:
8
g
Vitamin A:
15
IU
Vitamin C:
0.1
mg
Calcium:
21
mg
Iron:
0.9
mg

You can also find more from Scrummy Lane on Facebook, Pinterest, Twitter and Instagram and follow me on Bloglovin! Thanks so much for reading!
*This post may contain affiliate links which means that if you click on a link and make a purchase I get a small percentage of the amount you spend. At no extra cost to you, of course! Thank you!*