If you don't usually celebrate St. Patrick's Day, these cupcakes are enough of a reason to make you start! They're richly chocolaty, darkly luxurious and topped with an insanely delicious peanut butter frosting. They're also super easy to make & frost – perfect for novice cupcake-makers like me!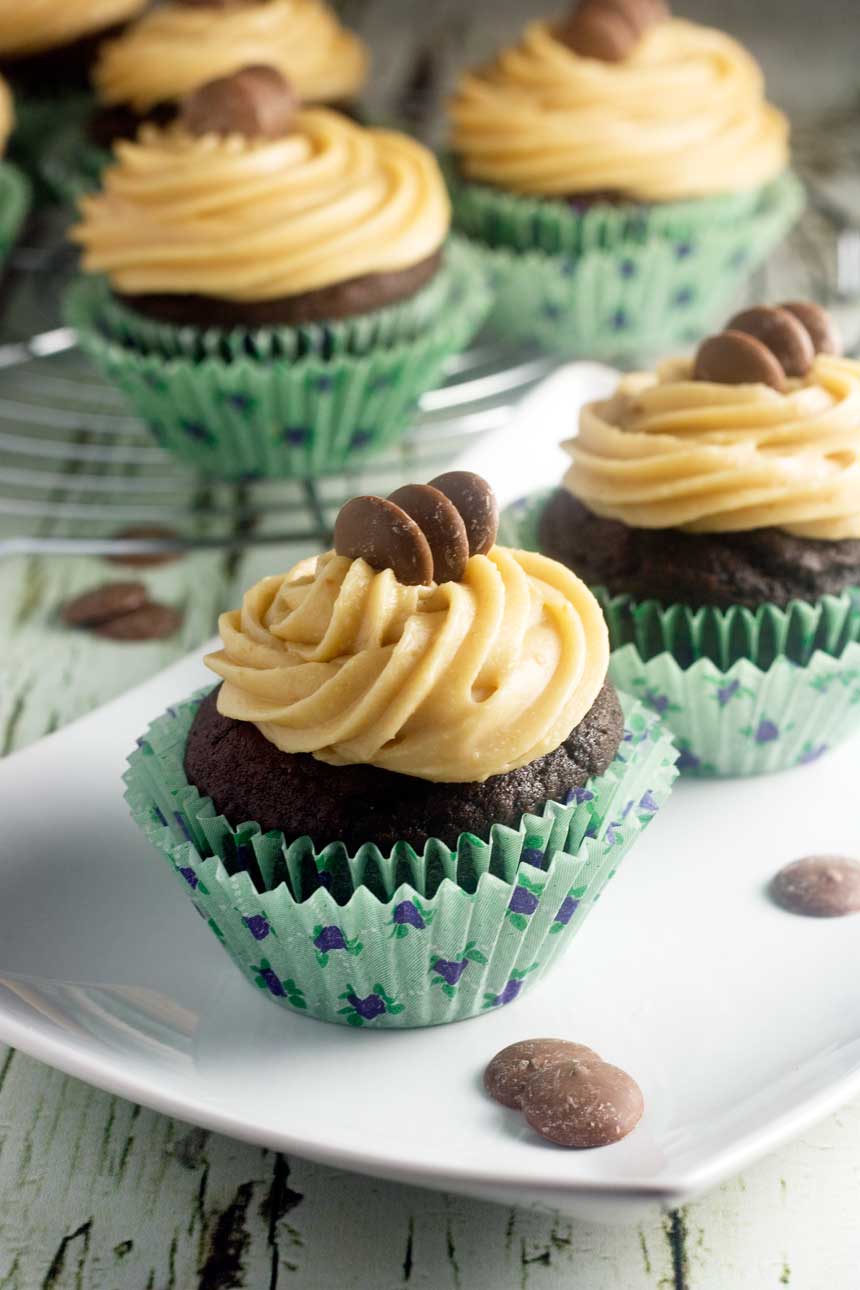 I have never once celebrated St. Patrick's Day (sorry, my dear Irish friends!) but starting from next year I will, just so that I can have an excuse to make these chocolate stout cupcakes with peanut butter frosting again and again.
I actually made these this weekend a little bit coincidentally to coincide with St. Patrick's Day week. You see, I'm taking part in a fun sort of blog hop where a group of us food bloggers get to make something yummy from a fellow blogger's site. I made a bee-line for these mouth-watering-sounding cupcakes when I was picking out what to make from Nicky's cool site Little Family Adventure. Do take a moment to check out the site – it's got all sorts of goodies like healthy meal plans, tips for family road trips and loads of great giveaways.
I chose these mainly because I was intrigued by the choco-beer combo. I don't know whether you've ever added espresso coffee to a chocolate cake mixture to intensify the chocolaty flavour or not, but adding a dark stout beer has a bit of a similar effect (I used Guinness, of course!) It adds a richer, fuller flavour – maybe even a slight bitterness to balance out all the sweetness of the cake and frosting.
I was thinking while making these cupcakes that there was something strangely soothing about the whole process. I think it's because everything's very 'neat and clean and easy', if that makes sense. I know … 'Weird!' you're thinking … but stay with me for a moment. You melt down the butter with the honey and stout and then add the cocoa to get a beautifully smooth and rich sauce-like mixture. At this point, honestly, I was swooning from the INCREDIBLE smell! I would try to describe it, but I know I'll fail dismally so you'll just have to make the cakes for yourself to find out what I mean.
Then you simply whisk up an egg with a bit of natural yoghurt (I used Greek, of course), temper this mixture by adding a bit of the chocolaty mixture to it, then pour that into the sweet buttery stout mixture. Finally, you stir in a bit of flour. You end up with a fairly runny mixture that you can spoon really easily into the cupcake wrappers. A little over 10 minutes later your kitchen is filled with an even more intense rich dark chocolaty aroma … mmm!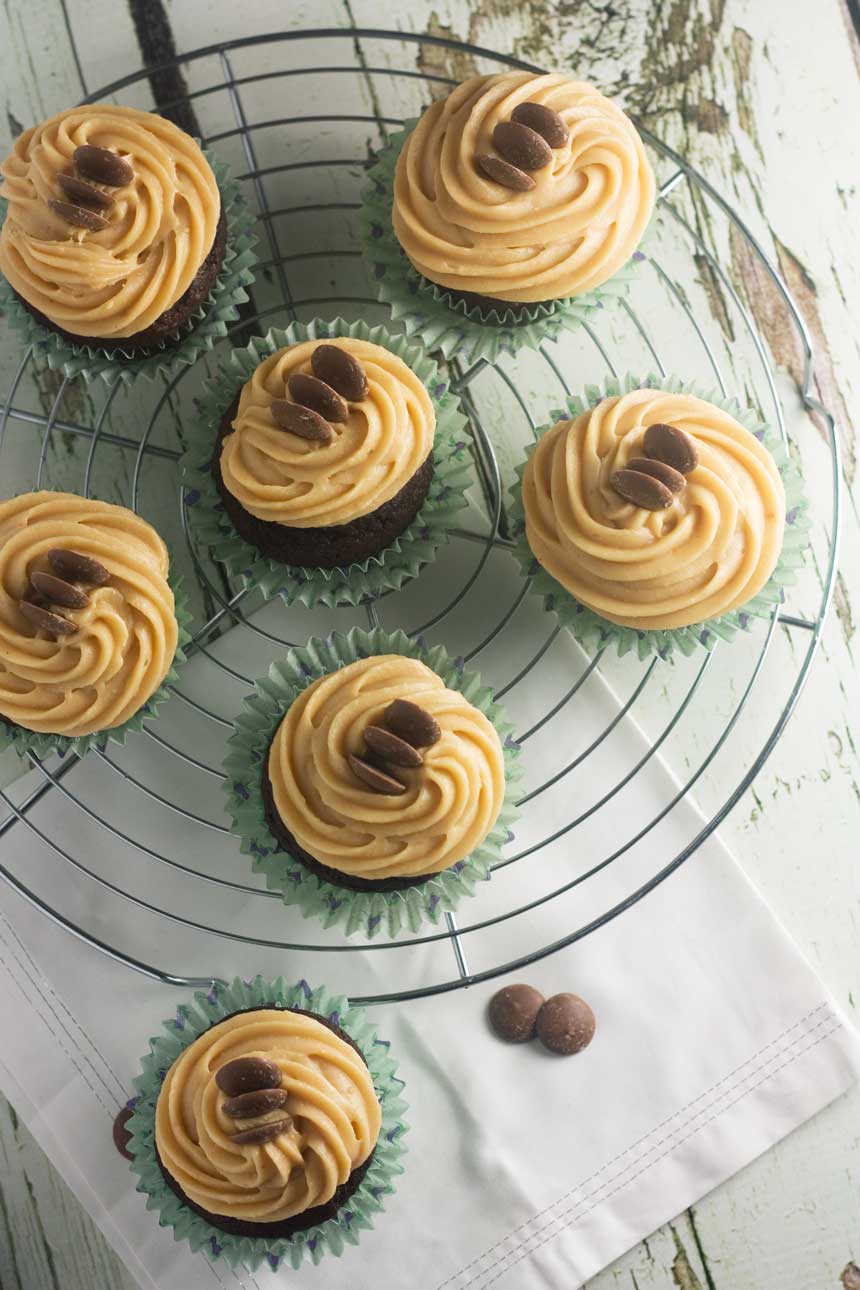 My verdict on Nicky's finished cupcakes was a resounding 'DELICIOUS!' I must admit I upped the amount of cocoa in them because I knew that's how I would like them, but they weren't at all dry – the yoghurt took care of that. They also aren't all that bad on the healthy-ness scale. I'm not going to pretend they're a 'healthy' cake as such (hello sweet and yummy frosting!) but the actual cake mixture doesn't have any sugar in it at all – just honey. There also isn't all that much butter in there. You don't need it because of the extra fat in the yoghurt.
Don't expect a strong Guinness-y flavour in these – it isn't there. But the Guinness does definitely give them a certain 'je ne sais quoi'. A definite rich dimension perfect for a fine occasion like St. Patrick's Day!
Just a little note on the delicious buttery, peanut-y frosting before I let you run off to the shops to get the ingredients to make these. I used a slightly different frosting to the one Nicky suggested because I couldn't wait to test out my new icing nozzles (is that what you call them?) I have actually never piped frosting onto cakes before – can you believe it?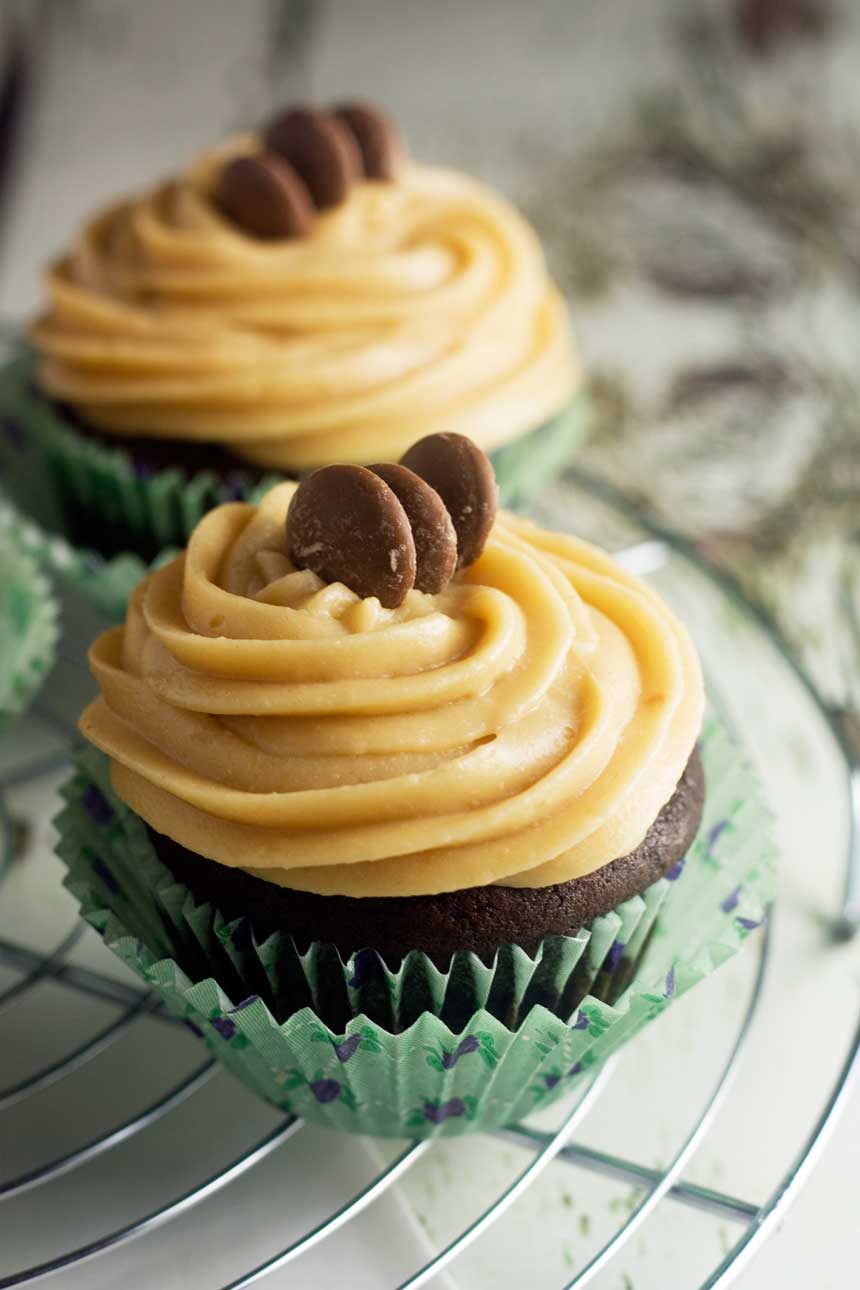 When you are making your frosting, have a bit of extra milk and icing sugar on standby because you might need to adjust the amount of one or the other. I thought I was going to have to nip out and buy more ingredients because at one point my 'frosting' just looked like a gloopy mess. But it turned out I just needed to add more icing sugar and beat it for a tiny bit longer until … bingo! … it turned light and fluffy.
So how do you think I did with my piping? 😉 I'm sure there is room for improvement, but I was pretty pleased with my first attempt!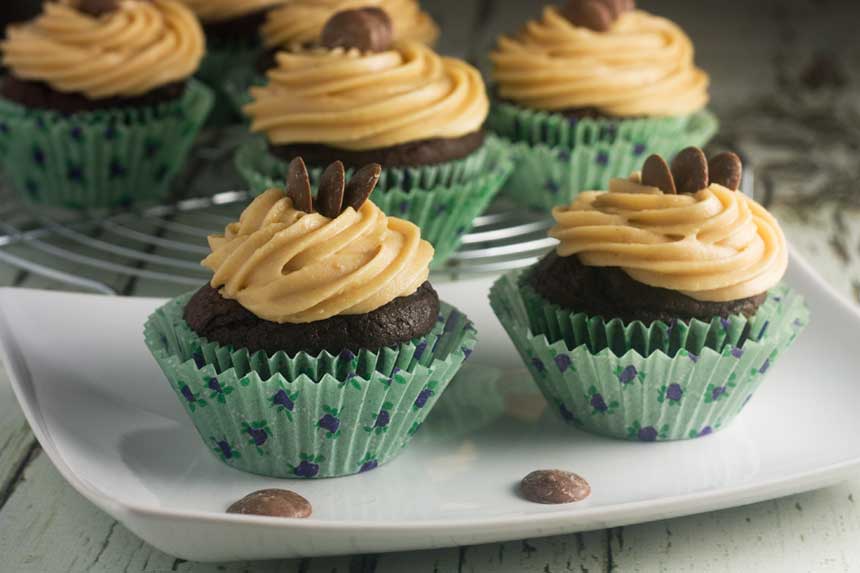 Chocolate stout cupcakes with peanut butter frosting
A rich, dark & intensely chocolaty stout-laced cupcake with a certain 'je ne sais quoi'. All topped with a decadent peanut butter frosting. Sounds very naughty, I know, but actually these cakes are sweetened with honey. They are also kept nice and moist with Greek yoghurt.
Ingredients (UK/Australia? Click below for grams/ml)
for the cupcakes
1

cup

plain flour

1 1/2

teaspoons

baking soda

5

tablespoons

butter

2/3

cup

honey

1/2

cup

stout beer e.g. Guinness

1/3

cup

unsweetened cocoa powder

sifted

1/4

cup

plain yoghurt

I used Greek

1

egg
for the frosting
1/2

cup

butter

softened

1

cup

peanut butter

2

cups

confectioner's/icing sugar

3

tablespoons

milk

chocolate buttons for decoration

optional
Instructions
Cupcakes
Preheat the oven to 190C/375F. Line a cupcake tin with cupcake liners.

Mix the baking soda into the flour in a small bowl and set aside.

Melt the butter and honey together in a small saucepan over a low heat, then add the Guinness. Then take the mixture off the heat and stir in the cocoa powder. Set aside.

In another small bowl, whisk the egg then whisk in the yoghurt. To temper it, stir in a tablespoon of the cocoa mixture, then repeat three more times. Then add this mixture to the butter-honey-cocoa mixture and stir well.

Whisk the flour into the cocoa mixture until all of the flour is incorporated, then spoon the mixture into the cupcake liners (fill them about 2/3 full). Bake for 12 to 13 minutes or until a toothpick poked into the centre of a cupcake comes out clean. Cool completely.
frosting
Beat together the butter with the peanut butter with a handheld mixer or food processor. Slowly begin adding the icing sugar and continue beating.

When the mixture starts to get thick, slowly start adding the milk (you may not need to use it all). Continue adding the sugar and beating (for a few minutes) until the mixture becomes light and fluffy (see note below!).

Spoon the mixture into a piping bag with your chosen nozzle, then pipe a big swirl of frosting onto the top of each cupcake (start from the outside and work inwards). Decorate with chocolate buttons (if using)
Notes
Slightly adapted from Nicky's blog Little Family Adventure.
Peanut butter frosting recipe from here.
If the frosting seems a bit wet and gloopy after you've whisked it together, you probably just need to add a bit more icing sugar. Amounts can vary a bit depending on the water content of the butter/type of peanut butter used etc.
Also, the frosting recipe makes quite a generous amount. If you don't use it all to frost your cupcakes, just put it into a sealed container and freeze for next time!
Nutrition
Calories:
644
kcal
Carbohydrates:
74
g
Protein:
11
g
Fat:
36
g
Saturated Fat:
15
g
Cholesterol:
71
mg
Sodium:
534
mg
Potassium:
322
mg
Fiber:
3
g
Sugar:
56
g
Vitamin A:
620
IU
Vitamin C:
0.2
mg
Calcium:
47
mg
Iron:
2
mg

You can also find more from Scrummy Lane on Facebook, Pinterest, Twitter and Instagram and follow me on Bloglovin! Thanks so much for reading!
*This post may contain affiliate links which means that if you click on a link and make a purchase I get a small percentage of the amount you spend. At no extra cost to you, of course! Thank you!*