In the course of preparing our apartment in Greece for renting before we left recently, we must have thrown or given away almost two thirds of its contents. For weeks and weeks, dust flew and bag after bag filled up as I rummaged through my belongings and wondered why on earth I had kept hold of most of it for so long. Or why I had even bought it in the first place! Among the items that I needed to find new homes (or rather bin space) for was a chest of drawers with the front part hanging off, a sparkly 'party skirt' that left glitter everywhere I went with it on and that I had worn a grand total of about twice since I bought it in about 1995 and an old film SLR camera with a mouldy lens. Truly essential keepsakes, you know (ahem).
There were also household bills, bank statements and the like stacked up (OK, to be honest, thrown in the bottom of drawers, cupboards and disintegrating supermarket bags) from the last I-don't-know-how-many years. I did consider throwing some of these out but thought better of it as if there's one thing I've learnt about Greek paperwork it's that you never throw any kind of official or even semi-official paper out. Because if you do you can guarantee that's the one paper you will then need to get this or that done. So, where did most of said rotten old papers end up? Yup, taking up literally half the space in my hold luggage and hand baggage when we caught our flight to the UK. And half the space in Mr. Scrummy's luggage, too, which he was not exactly thrilled about.
There wasn't much I could have done about the mountain of papers, but all this is really to say that it's incredible how much 'stuff' I had collected over a relatively short space of time since my last move. I would definitely like to think that from now on I am going to be a minimalist. Time will tell, I suppose. One thing is for sure, though, and that is how satisfying it was to get things all clean and neat and organised and pared down.
Another thing that was very satisfying indeed was swirling peanut butter into the top of this banana, chocolate & peanut butter swirl cake! The cake was a total experiment. I'd seen something similar done on the top of brownies, but not on the top of a cake that would need to stay in the oven for quite a while longer. I had no idea whether the peanut butter would sink into the batter while cooking or, even worse, burn. Very happily, neither of these things happened and the swirly effect made by the peanut butter was still well and truly there on top of the cake after it was baked. Yippee!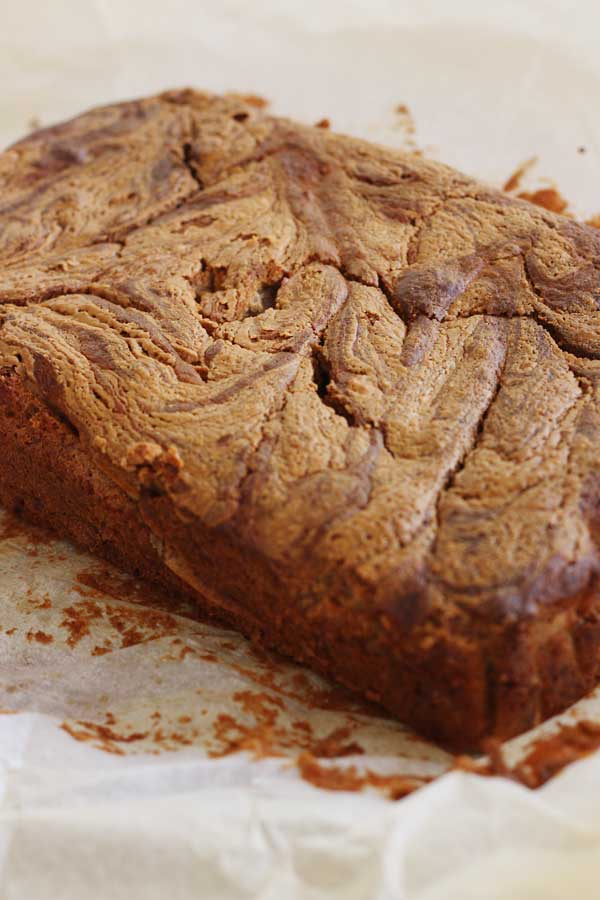 I made this using a similar recipe to the one I used for this banana & pistachio loaf. Simply because I already knew that it resulted in a lovely light, moist and yet not overly sweet or butter-laden cake. Hey, if it 'aint broke, don't fix it. But certainly DO add chocolate and peanut butter, and plenty of it!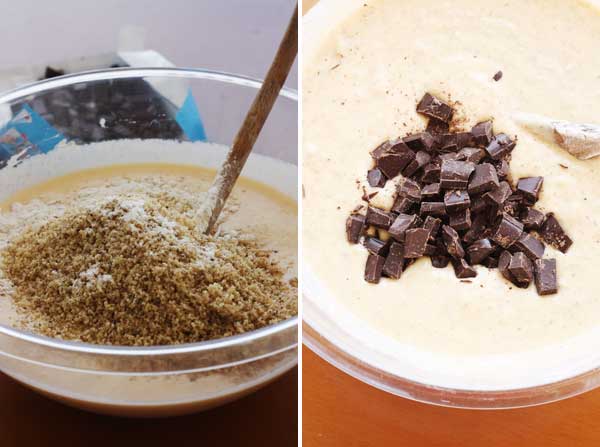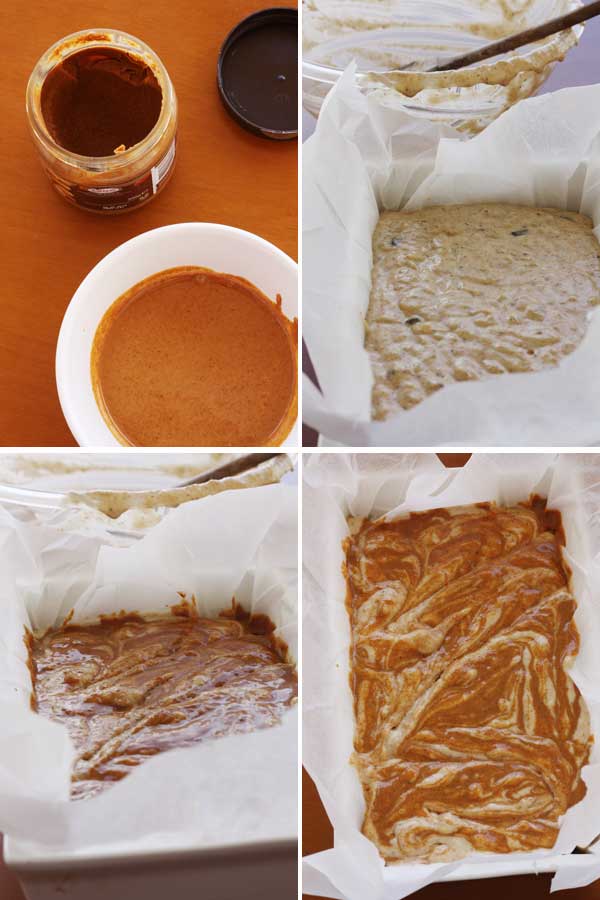 So what else did I like about this cake? Well, sorry to repeat myself, but I really am pretty excited about that slightly crispy & salty swirly peanut buttery top. It by no means overpowers the banana and chocolate in the cake, but adds another dimension that definitely holds its own.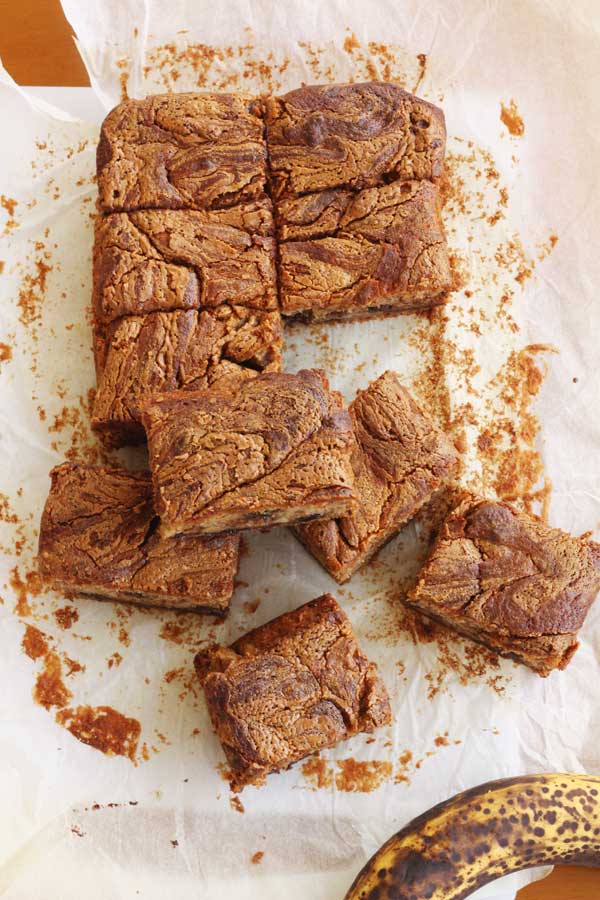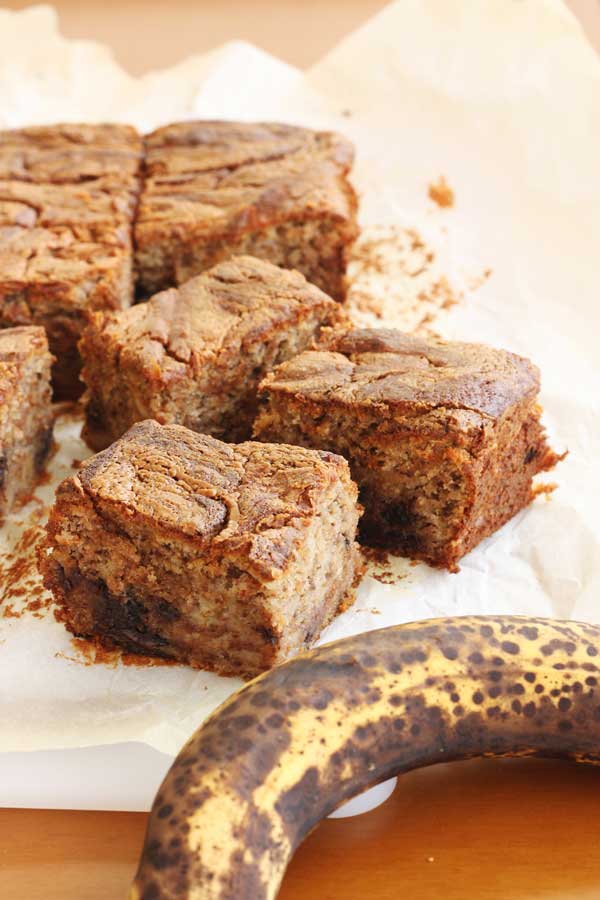 I also loved that I could cut it into 'proper' squares of cake that would be equally as tasty served neat with your morning cup of tea or coffee or slightly warm with ice cream as a dessert for dinner guests. This is definitely one I'll be making again, and next time I might even throw in a few chopped Reese's peanut butter cups as well.
Why not? 😉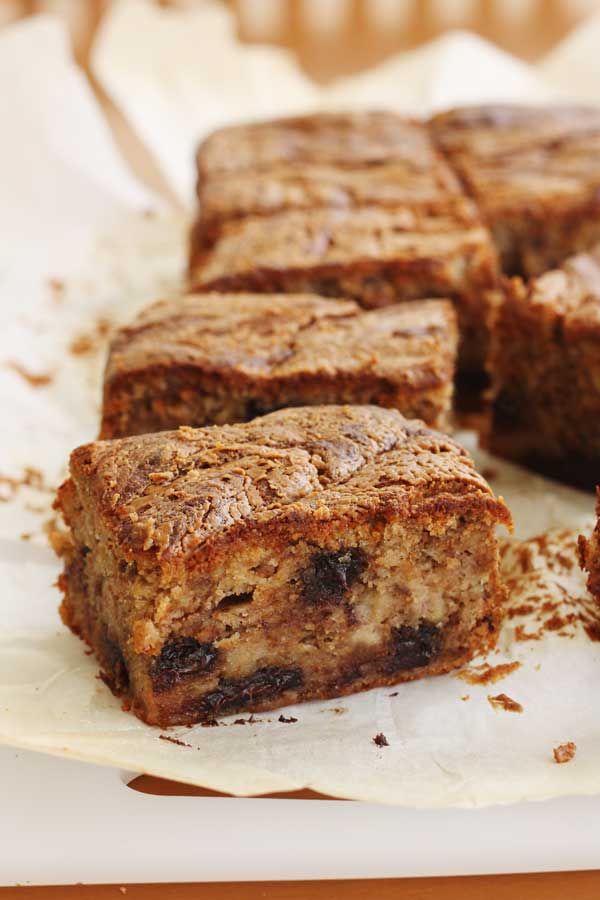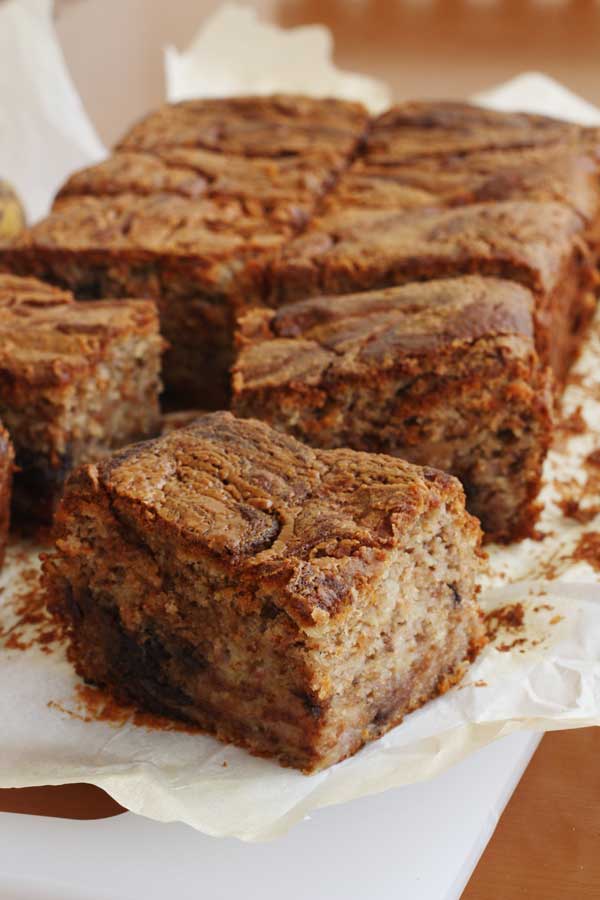 Banana & chocolate peanut butter swirl cake
Moist and flavoursome banana and chocolate cake with a swirl of slightly salty and crispy peanut butter on the top. Perfect for morning coffee, afternoon tea or warm with ice cream for dessert.
Ingredients (UK/Australia? Click below for grams/ml)
12

tablespoons

butter, chopped

(1 stick)

3/4

cup

sugar

2

eggs

2-3

ripe bananas

mashed (to make about 1 cup)

4

tablespoons

Greek yoghurt

1

cup

flour

I used 3/4 cup white & 1/4 cup brown

1/3

cup

ground walnuts

or you can use ground almonds – I ground my walnuts up in my food processor until they became a fairly fine powder

a pinch of salt

1

teaspoon

baking powder

3 1/2

ounces

dark chocolate

chopped into chunks

1/4

cup

peanut butter

plus 1 tablespoon
Instructions
Pre-heat the oven to 350F/180C and line your baking tin or dish with baking paper. (I used a medium-sized dish, about

12 inches by 8 inches

.)

Mix together the butter & sugar with a

handheld mixer

or in a

food processor

until creamy. Add the eggs one by one with the mixer/motor still running until well combined.

Add the bananas & yoghurt and stir in well, then add the flour(s), walnuts/almonds, salt & baking powder and mix until combined. Don't over-mix.

Stir in the chocolate chunks, then pour the batter into your baking dish.

Now for the fun part! 'Melt' your peanut butter by heating it in the microwave for ten seconds at a time (or in a bowl over some boiling water), then pour or spoon it over the top of your batter (in splodges, not evenly). Then take a knife and drag it pretty roughly through the batter in different directions so that the peanut butter and cake batter combine a little & form a swirly pattern.

Bake for about 55 minutes (check after about 35 minutes and every 5 to 10 minutes after that) or until a skewer or knife poked into the cake comes out with cooked crumbs on it.

Leave to cool, then cut into square pieces and serve. Alternatively, serve when still slightly warm, with vanilla ice cream.
Notes
Feel free to add some peanut butter chips or chopped Reese's peanut butter cups into the batter as well. They aren't so easy for me to get hold of, but if I can find some I will do that next time I make this.
If it looks as if your cake is getting a little too dark on top at any stage then cover it loosely with aluminium foil. (Mine was fine, though!)
Nutrition
Calories:
385
kcal
Carbohydrates:
36
g
Protein:
6
g
Fat:
24
g
Saturated Fat:
12
g
Cholesterol:
69
mg
Sodium:
167
mg
Potassium:
284
mg
Fiber:
2
g
Sugar:
21
g
Vitamin A:
480
IU
Vitamin C:
2.1
mg
Calcium:
50
mg
Iron:
2.3
mg
I hope you enjoyed this post! You can subscribe to receive posts directly to your inbox by entering your email address in the box below or at the top of the sidebar on the right.
You can also find more from Scrummy Lane on Facebook, Pinterest and Twitter and follow me on Bloglovin! Thanks so much for reading!
*This post contains affiliate links which means that if you click on a link and make a purchase I get a small percentage of the amount you spend. At no extra cost to you, of course! Thank you!*