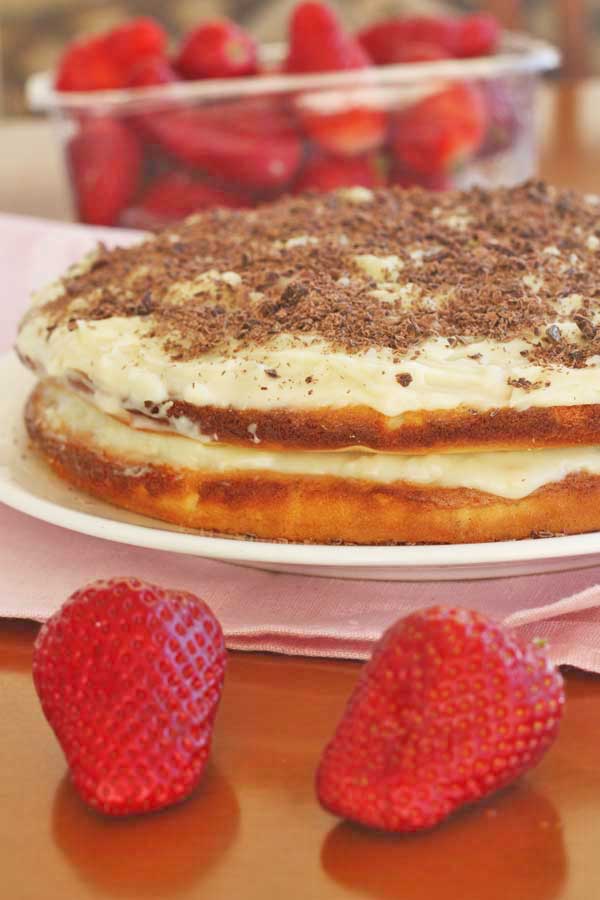 The experience of making this cake was a bit like life itself. Not at all predictable and with a few rather hair-raising 'twists and turns' along the journey!
You see, I had formed a picture of it in my mind, and the concept was all very simple. In fact, it looked just like the picture below, which is the recipe I was using as my 'jumping off point', if you like.
But then what actually happened was this. At several points during the making of the cake, I was pretty convinced I was going to have to dump the whole lot in the bin, rush around to the cake shop in my neighbourhood to grab the dessert I was supposed to be taking to the dinner we'd been invited to that night … and just put the whole episode down to experience!
It's not that anything all that terrible went wrong. I didn't put salt in the cake batter instead of sugar or burn the cake layers or anything. It's just that when my carefully-put-together (you know how it is) cake came out of the oven, it was only half the height I was expecting it to be. Hmm. It didn't take long for me to figure out that I'd used a larger cake tin
than the recipe said to use. Hence the flat cake. Erm, really far too flat.
Hmm (again). The cogs started whirring. 'How about I make another cake exactly the same and sandwich it together with ganache?' I thought. Now we had some guests popping around for an hour or two, so I really didn't have time to do this, but out came the flour and sugar and chocolate again and I painstakingly whipped up another cake. Now I had two 'flat pancakes' instead of one, as Mr. Scrummy 'helpfully' pointed out.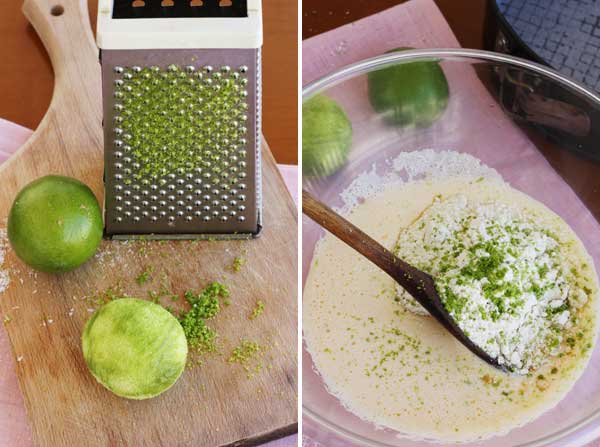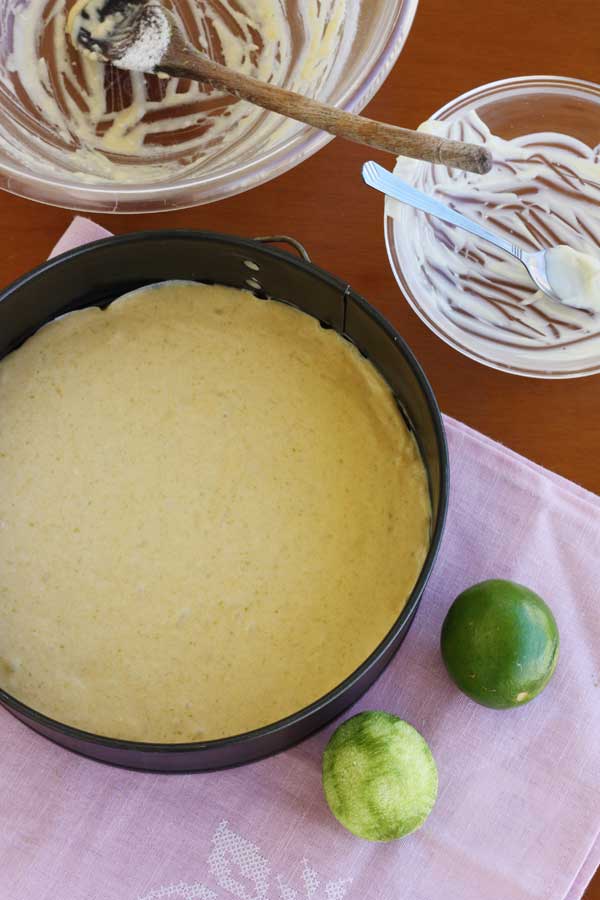 Really in a hurry now, I then made my ganache but in my haste ended up adding a little more coconut milk than I had intended to. Thus followed mad dash down to the shops to grab some more white chocolate to compensate. Followed by big effort to squeeze the ganache bowl into the too-full freezer and impatient wait for the ganache to firm up.Definitely not the way to make your first 'layer cake' in style, folks! And, oh dear, I am making myself sound like a complete and utter mad woman here! Please believe me, I'm usually quite normal and sane!
But would you believe it, the cake actually turned out tasting great! As in, really great.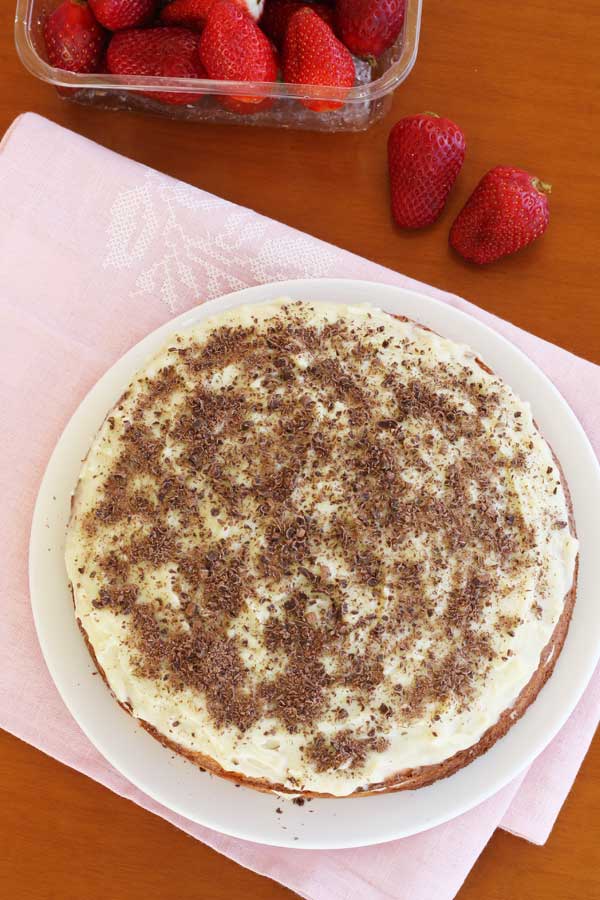 Because of all the little 'hairy moments' I had while making it, I almost decided not to post the recipe. But it went down so well at the dinner party I dared to take it to that I'll definitely be making it again. The sponge is light and airy (and fatless to boot, apart from the addition of a teeny tiny bit of white chocolate), moist, thanks to a little almond meal, but simple enough as well to let the creamy, zingy lime-flavoured, coconut-y ganache be the thing that shines. Perhaps best of all, the overall effect wasn't super heavy or sweet.
OK, a confession now. Visually, this attempt of mine wasn't perfect by any means. It was a little messy around the edges where I started to put the ganache on the sides of the cake as well and then changed my mind for fear that it would slide off (it actually wouldn't have, I realised later). It was also still a bit flatter than you might normally expect this kind of cake to be, even though I had made two layers. Mr. Scrummy even suggested that I explain to our dinner party hosts that it was 'supposed to be like that'.
Cheeky monkey! I actually don't think the height matters at all. I think it looks more like a European bakery-style torte, which suits me just fine, but you could consider making three layers if you prefer. For me this would definitely be a bit too much like hard work, but maybe you aren't as lazy as I am!
So back to where I started with this post. I don't mean to get all serious and philosophical on you here (I know, I know … we're talking about a CAKE, not deciding who to marry or nuclear physics), but it occurred to me that many times I have wished I took things (and myself) less seriously and could enjoy the 'lumps and bumps' that sometimes disrupt our perfect plans for our lives instead of getting all stressed out about them. You know, embrace the possibility that our day, or month, or year (or decade! You get the idea … ) may very well turn out differently to how we'd thought or planned. But often when that happens things end up far, far better than we'd ever imagined. Well, in the end at least!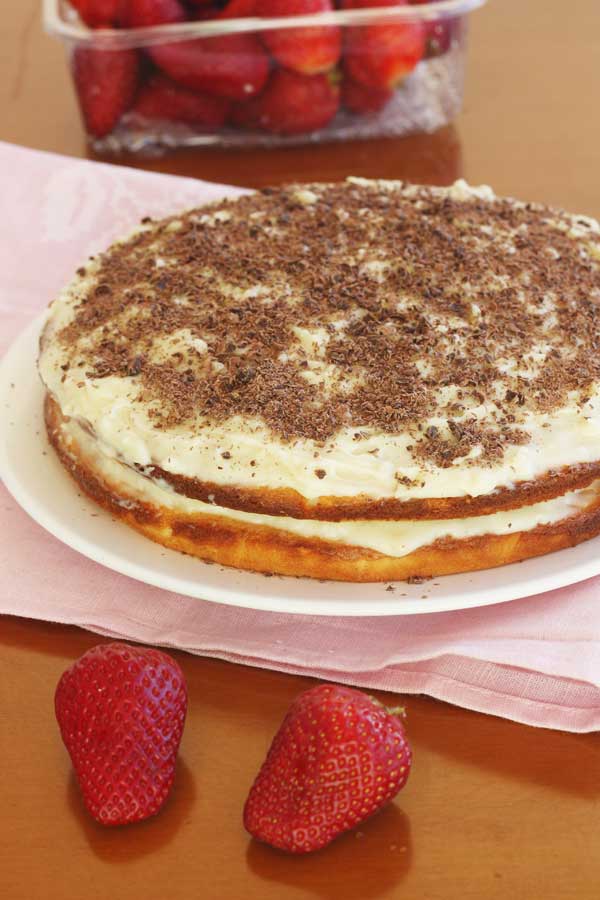 Just like this cake!
Happy weekend thoughts!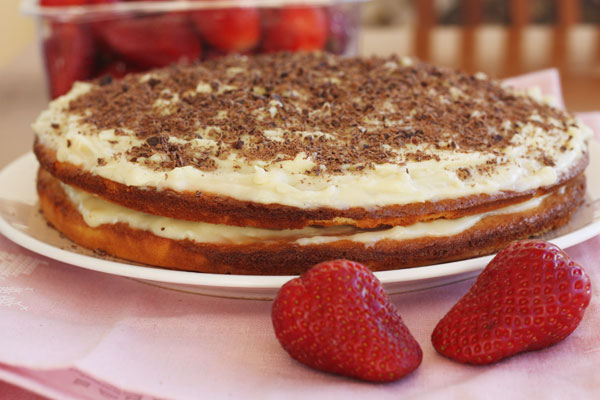 White chocolate, coconut & lime truffle cake
Two light and moist fat-less sponge-cake layers are sandwiched together with a creamy, tangy lime and coconut ganache. The end result is not overly sweet and perfect for spring!
Ingredients (UK/Australia? Click below for grams/ml)
To make 2 sponge layers
3 1/2

ounces

white chocolate

1/2

cup

sugar

4

eggs

2/3

cup

plain flour

1/2

cup

almond meal

2

tablespoons

desiccated coconut

zest of 2 limes
To make the ganache
9

ounces

white chocolate

2/3

cup

coconut milk

juice of 1/2 a lime & the zest of a whole lime

3

tablespoons

desiccated coconut

1 3/4

ounces

more of white, milk or dark chocolate

(roughly grated), or a tablespoon or two of flaked coconut, to decorate.
Instructions
Preheat the oven to 350F/180C. Lightly grease two 8 to

9-inch spring-form cake tins

and line the bottoms with a piece of baking paper (grease this too.) – If you don't have two tins, each cake only takes 20 minutes to bake so it isn't very much trouble to use the same tin twice (this is what I did!)

Melt the white chocolate by setting it above a bowl of simmering water or in the microwave in 30-second spurts.

Cream the eggs and sugar together in a bowl (preferably with a

hand-held whisk

) until pale and creamy, then fold the flour and almond meal in lightly. Mix in the melted white chocolate and coconut.

Pour half the batter into each of the cake tins, then bake for about 20 minutes or until a skewer inserted into the middle comes out clean. Leave to cool for a while in the tin, then transfer to a wire rack and cool completely.

Meanwhile, make the ganache. Break the chocolate up into a bowl, then heat the coconut milk and lime juice and zest up in a small pan until it is almost simmering.

Pour the coconut milk mixture over the chocolate and leave it for a few minutes. Then whisk the ganache until smooth. Leave to set for a few hours at room temperature, or even overnight. (*see the notes section below for more about the ganache)

Sandwich together your two cake layers with a thick layer of ganache, then spread more all over the top (and over the sides if you like – you will find that there is plenty of ganache).

Sprinkle over the grated chocolate or coconut flakes. Enjoy!
Notes
Based loosely on a recipe in the cookbook Easy Desserts
by Marks & Spencer Plc for white truffle cake. Thank you Marks & Sparks!
*The consistency of your cooled ganache will vary depending on the chocolate you use. I was in a hurry when making my cake, so actually put mine in the freezer to firm up (horror of horrors!) It's best to let the ganache firm up at room temperature according to all the research I did, but my ganache didn't seem to suffer from its 'rough treatment' at all, so don't worry too much. If your ganache ends up being too thick for any reason, just warm it slightly in the microwave and that should sort things out. Conversely, if it's really too thin, whisk it with a hand-held whisk until it firms up a little. If it's any comfort, I was very worried that my ganache was far too thin, but when I spread it over the cake it was just fine. It didn't slide off!
Add a third layer to your cake if you would prefer the end result to be 'higher'.
Nutrition
Calories:
392
kcal
Carbohydrates:
41
g
Protein:
7
g
Fat:
22
g
Saturated Fat:
13
g
Cholesterol:
73
mg
Sodium:
61
mg
Potassium:
216
mg
Fiber:
1
g
Sugar:
32
g
Vitamin A:
105
IU
Vitamin C:
0.2
mg
Calcium:
100
mg
Iron:
2.2
mg
I hope you enjoyed this post! You can subscribe to receive posts directly to your inbox by entering your email address in the box below or at the top of the sidebar on the right.
You can also find more from Scrummy Lane on Facebook, Pinterest and Twitter and follow me on Bloglovin! Thanks so much for reading!
*This post contains affiliate links which means if you click on a link and make a purchase then I get a small commission. Thank you!*