Anyone for a bit more turkey? Tee hee … This easy and healthy turkey chili recipe uses a smallish amount of lean ground turkey, then gets bulked up a bit with beans. It's tasty enough to eat as it is with rice, but if you want to impress your party guests, pile it into homemade mini taco bowls and top with all sorts of deliciousness … mmmm!
Years ago, I went on a fabulous trip along the west coast of the USA. It was a mini-van bus tour and fun in so many ways. But even then, years before the existence of my blog, or any blog for that matter, many of the best moments involved food!
The tour began in LA, and the first meal I had there, in a random hotel, was a huge crispy tortilla salad bowl – with piles of chili and all the trimmings.
I'm sure this is no big deal if you happen to be from the USA, but for me, this was a treat indeed. I couldn't believe how delicious all those flavours and textures melded together – the chili, the guacamole, the cheese, the salsa, the salad, and of course that crispy bowl that you could eat, all soaked in delicious juices from the food. Sad but true – even today, I still remember the taste of that meal that I didn't want to end!
At that time, it was really hard to find decent Mexican food in the UK. Even guacamole wasn't really 'a thing', so avocadoes were always rock hard when you bought them.
These days (I know, I'm making myself sound very old!) Mexican restaurants and takeaways seem to be springing up all over my town.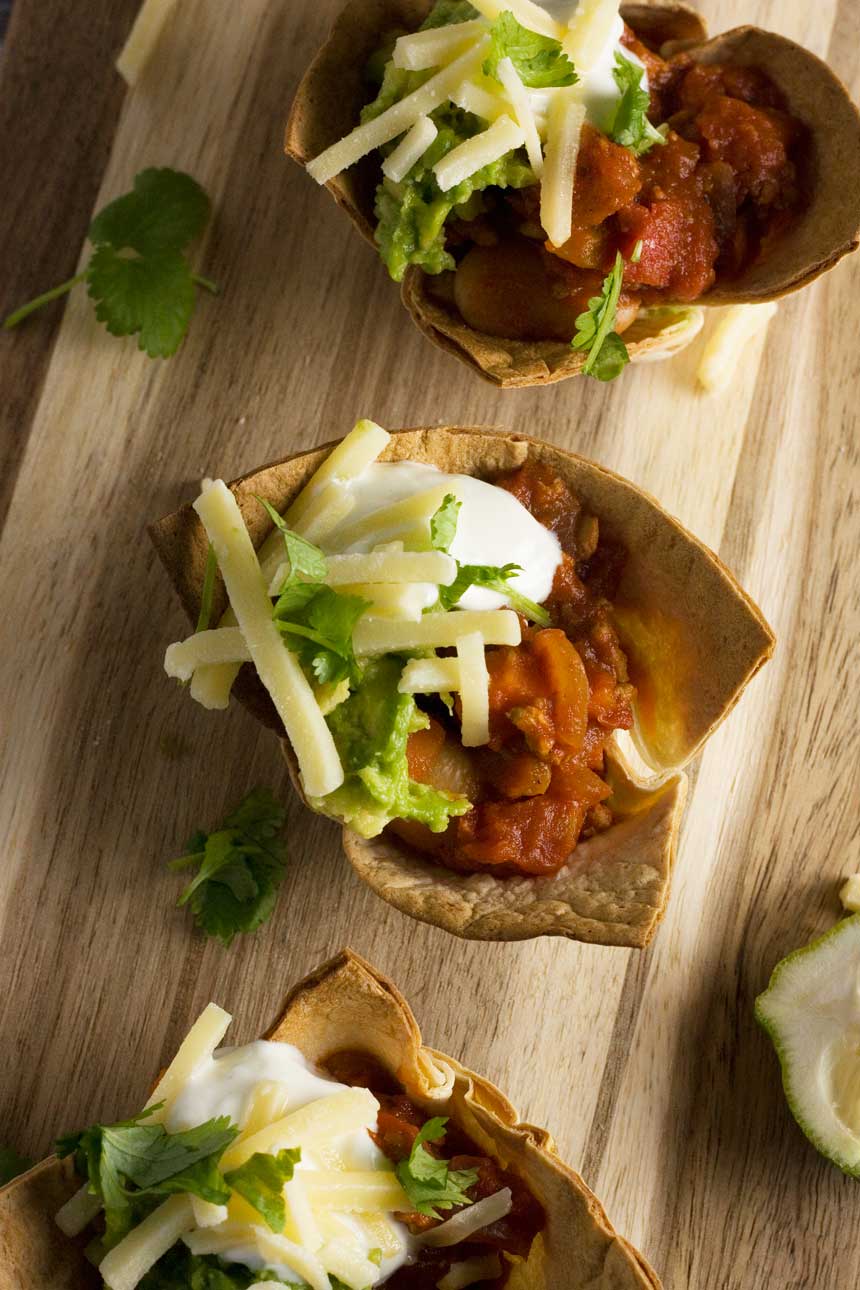 So Mexican food is finally catching on big time over here, and today I'm going to celebrate this by posting a Mexican recipe of my own.
It's simple, really simple (I'm not going to pretend I'm anything but an amateur when it comes to Mexican!). But it's got all the elements of that meal I had all those years ago. It also happens to be perfect for Holiday time entertaining. Well, mini anything is, isn't it? (just ask Bridget Jones!) 😉
Hope you enjoy these turkey chili mini taco bowls – I know I wouldn't mind being offered one at a party this year, Bridget.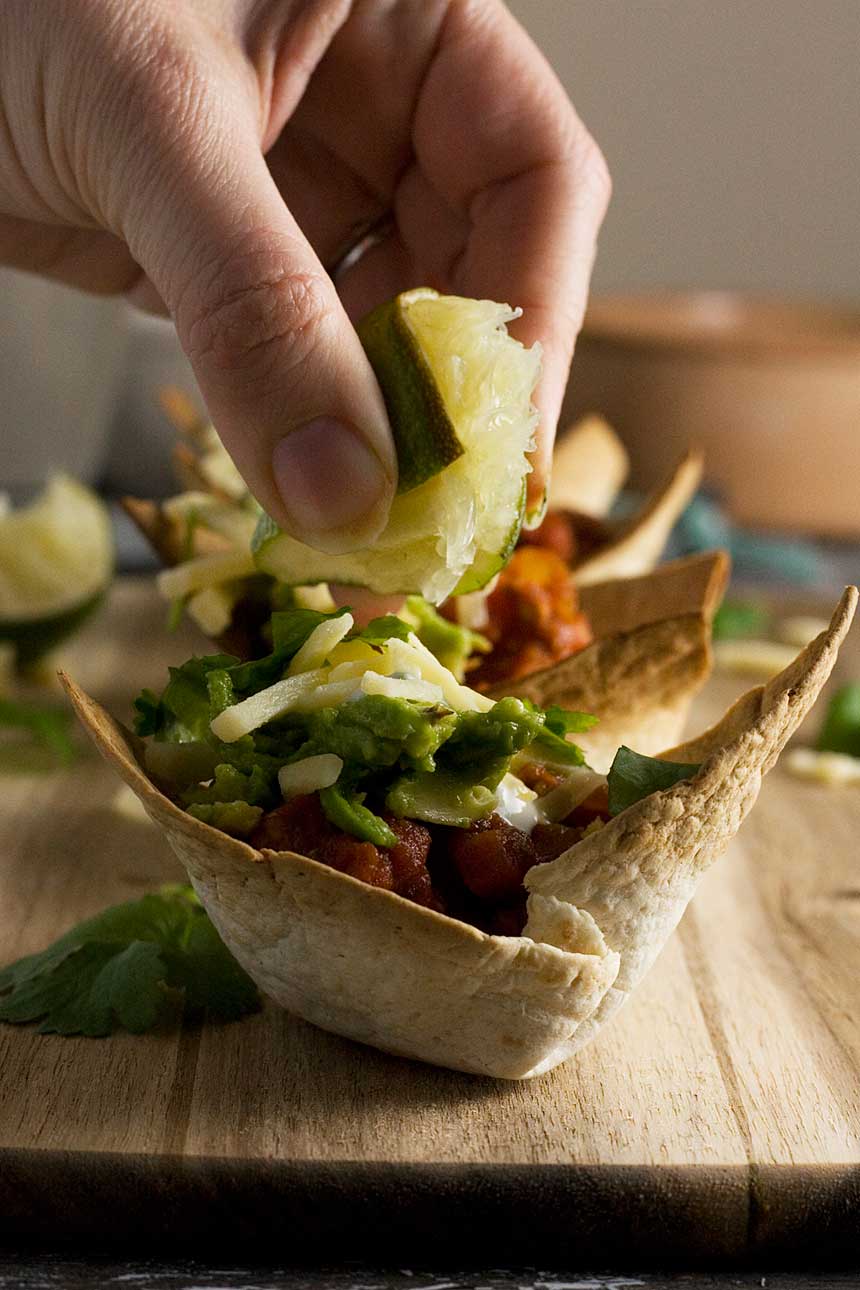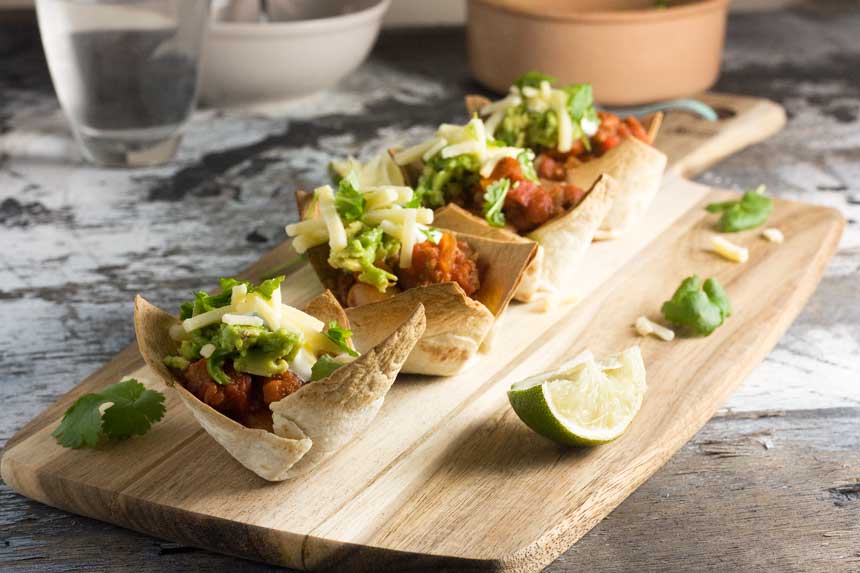 Turkey chili mini taco bowls
If I really had to choose a favourite food, taco bowls would probably be it. These mini taco bowls stuffed with a simple and light turkey chili will really impress your guests at the party!
Ingredients (UK/Australia? Click below for grams/ml)
for the turkey chili
oil for cooking

1

onion

peeled and chopped

2

garlic cloves

finely chopped or crushed

1

carrot

peeled and fairly finely diced

1

red and 1 yellow pepper

chopped

14

ounces

ground turkey

1

teaspoon

heaped each of: hot chili powder

or a level tablespoon of mild, paprika, ground cumin

1

bunch fresh coriander

chopped

1

tablespoon

balsamic vinegar

28

ounces

chopped tomatoes

(two 14 oz. cans)

3

tablespoons

tomato puree

14

ounce

beans

(canned) butter beans, chickpeas or chili beans are all fine
for the tortilla bowls
soft tortillas

10", cut into quarters
toppings
grated cheese

guacamole, sour cream (or Greek yoghurt), chopped tomatoes or a simple tomato salsa, limes for squeezing
Instructions
Pre-heat the oven to 180C/350F. Heat up a good drizzle or two of oil in a heavy based oven-proof casserole pan, then fry the onions for a few minutes until softened. Add the garlic, carrot and pepper and cook for about seven minutes, stirring regularly.

Add the ground turkey and cook and stir until browned. Then add the chili powder, paprika, ground cumin and most of the coriander and cook for about another 10 minutes, stirring often.

Add the balsamic vinegar, tomatoes, tomato puree and beans, then put the casserole dish in the oven for about two hours. Add a splash or two of water after an hour if you think it needs it.

Meanwhile, prepare the tortilla bowls. Press the tortilla quarters into a muffin tin, then bake until lightly browned and crispy (about ten minutes).

When the chili is ready, spoon it into your homemade tortilla bowls and top generously with the toppings and reserved coriander. Serve immediately.
Notes
Turkey chili loosely based on this recipe by Jamie Oliver.
You might be thinking that this recipe uses more ingredients than you'd usually find in the recipes here. Well, I guess you'd be right about that, but a lot of the ingredients are spices. Just trust me that it's worth it!
If you don't have an oven-proof casserole dish, don't worry. Just bubble the chili on the cooker top for the same amount of time. (just keep checking to see if it needs a little more liquid)
Nutrition
Calories:
213
kcal
Carbohydrates:
22
g
Protein:
29
g
Fat:
2
g
Cholesterol:
54
mg
Sodium:
366
mg
Potassium:
1038
mg
Fiber:
5
g
Sugar:
13
g
Vitamin A:
3980
IU
Vitamin C:
75.7
mg
Calcium:
95
mg
Iron:
4.2
mg

You can also find more from Scrummy Lane on Facebook, Pinterest, Twitter and Instagram and follow me on Bloglovin! Thanks so much for reading!