Peanut butter cups have just started to be widely available here in the UK (finally!). I love them, so I thought I'd try making some. In the easiest possible way. Pile them into a simple glass jar, and they make a perfect last-minute Christmas gift.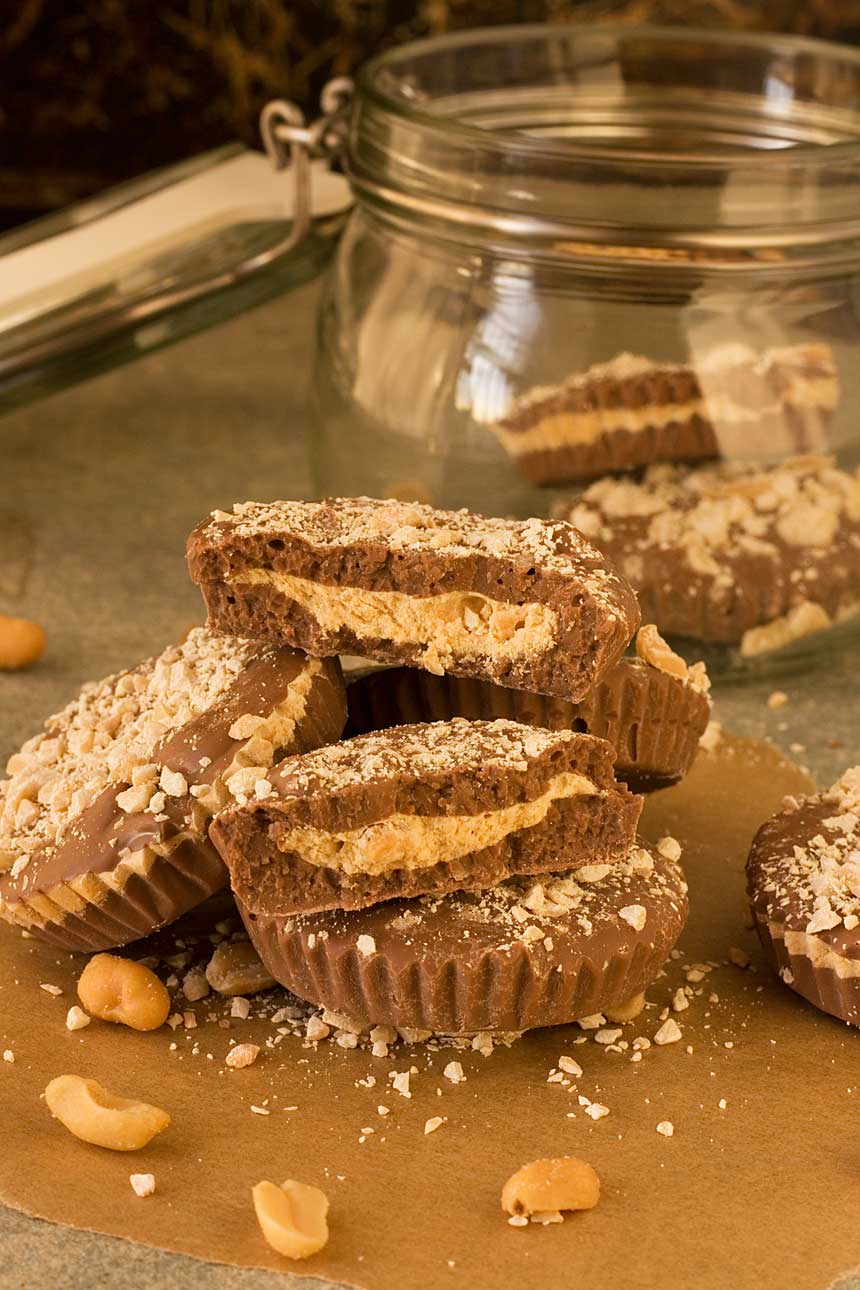 Having just spent a wonderfully relaxing week in sunny Spain, I've been reminded of a couple of things.
One: British people get a raw deal when it comes to winter sun (no surprises there). Two: Not only do the Spanish get a far far better deal in this department, but they also have some beautiful little eating traditions, too. And no, I don't mean paella (lovely as I know it can be, we ended up ordering what has to be one of the world's worst paellas one evening. I mean, really, surely it isn't supposed to be brown? Surely it's supposed to have a few more bits of fish and meat in it than that?).
Anyway, enough with the paella digression. All is forgiven, because pretty much any café you go to in Spain has the most incredible coffee with toasted bread and tomato breakfast deal. I love strong-ish, steaming hot coffee with plenty of milk, and that's exactly what you get consistently in Spain – or certainly in the area we were in just north of Alicante. As for the toasted bread and tomato, perhaps it doesn't sound very exciting to you but it's SERIOUSLY good – the freshest, softest baguette-style bread cut in half, lightly toasted and then covered in a generous layer of tomato pulp. Drizzle with a little (or, in our case, a lot) of olive oil and savour each deliciously sweet, juicy mouthful.
I'm determined to try this now I'm home (as you do when you've just got back off your hols!) and hope you do too. I know you'd like it because I suppose it's like a sort of simple bruschetta – and everyone likes bruschetta, don't they? 😉
What I've been working up to saying here is that time and time again I'm reminded that if the ingredients are top quality then food doesn't have to be complicated to be really, really good.
And I firmly believe this principle can be applied to chocolate, too! These peanut butter cups couldn't be more different than Spanish bread with tomato, but they're certainly as super simple and delicious.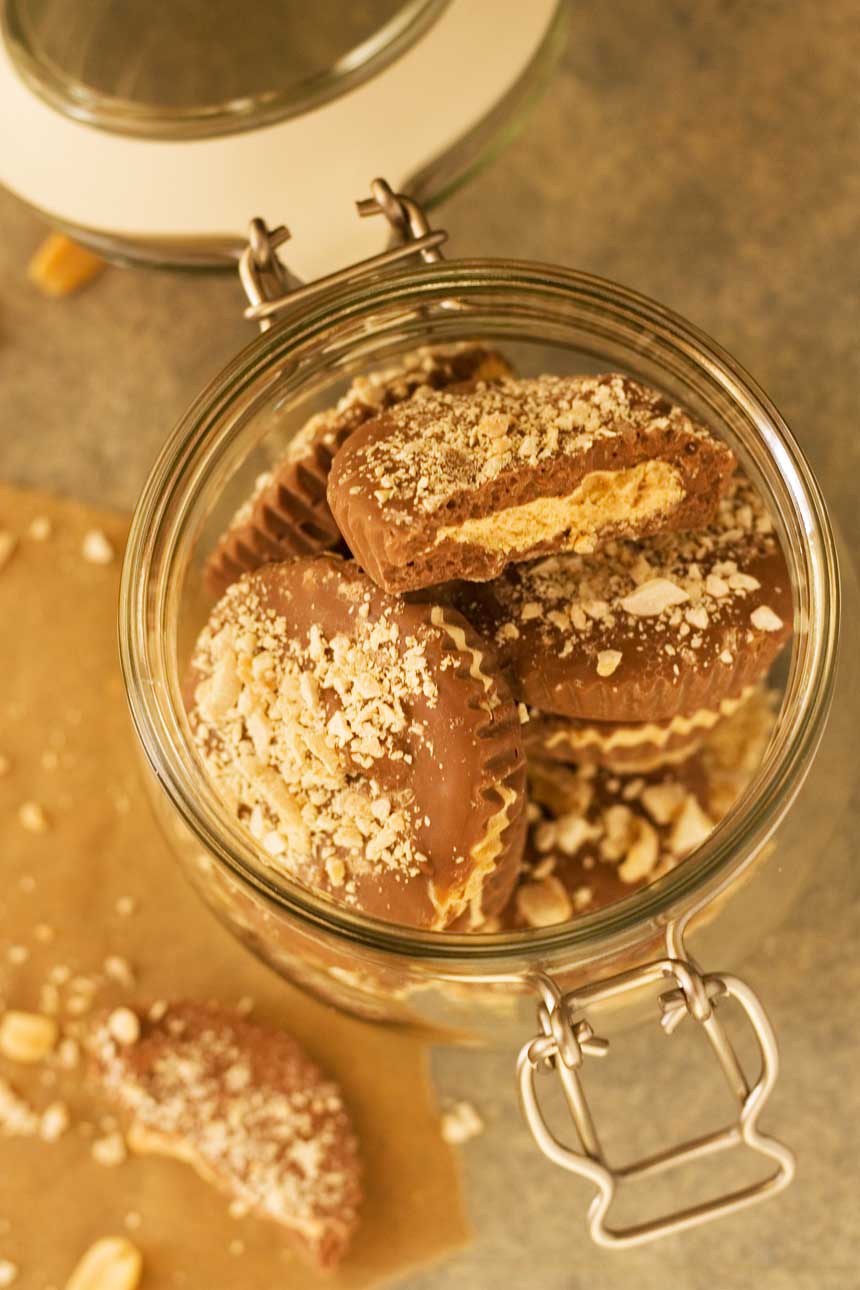 Just melt peanut butter with white chocolate and set aside. Melt milk chocolate separately and drop teaspoons of it into muffin papers. Drop a teaspoon of the white choc peanut butter mixture into the middle of each, then stick in the fridge for 5 minutes to set. Dump a final teaspoon of milk chocolate on the top of each, then sprinkle with crushed peanuts and leave to set.
In the same way as the Spanish bread and tomatoes, these American peanut butter cups will definitely taste better if you use your favourite good quality chocolate.
Come on now, admit it. Don't they look CUTE in their swanky little jar?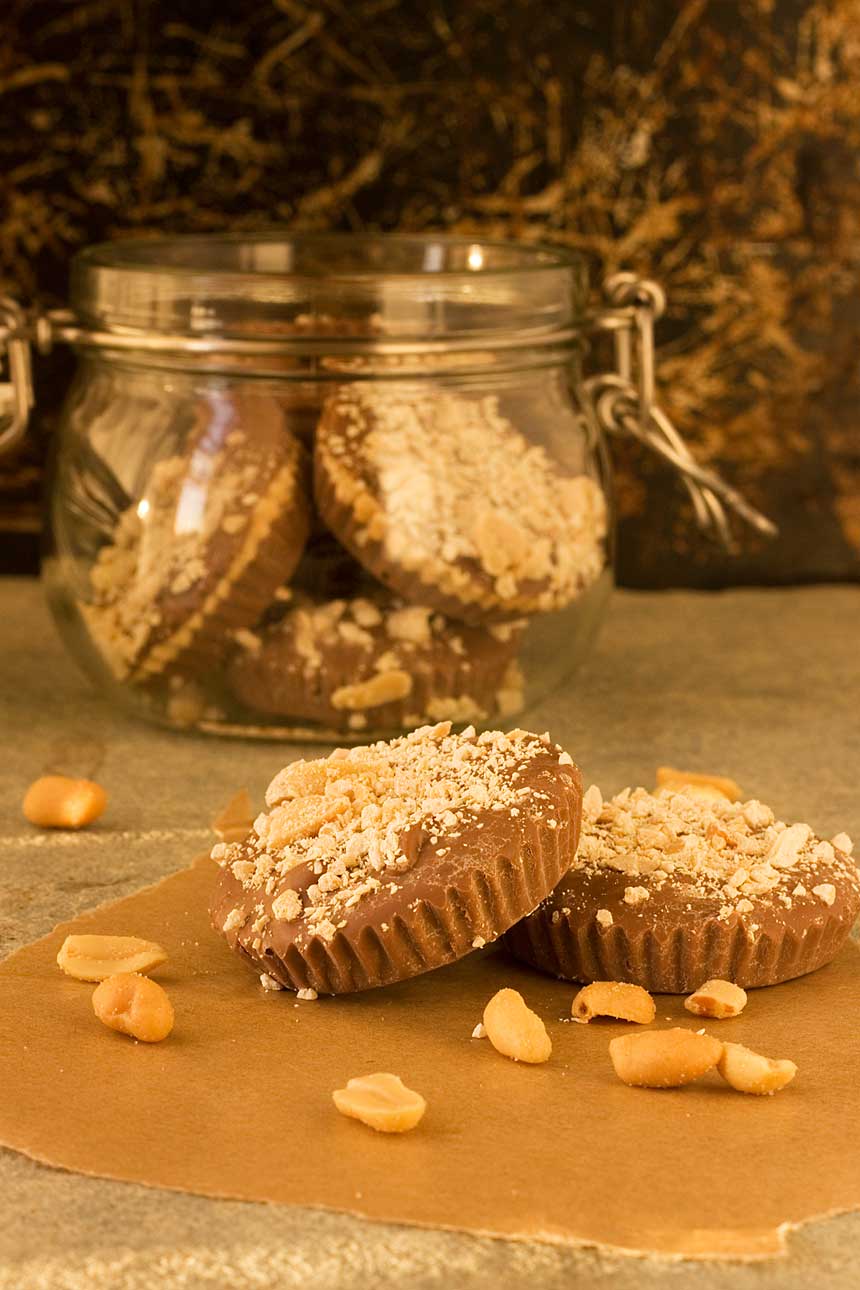 Now these don't taste exactly like Reese's peanut butter cups. The peanut buttery middle is far less sweet, which is just the way I like them!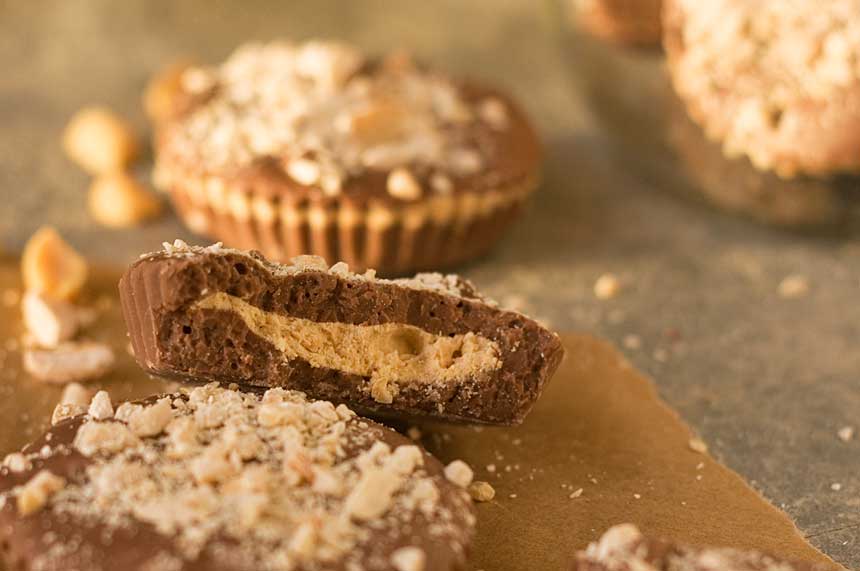 The easiest peanut butter cups in a jar (homemade food gift!)
The easiest way to make peanut butter cups ... with only 3 ingredients (milk chocolate, white chocolate & peanut butter). Pile them into a glass jar, and they make the perfect last-minute Christmas gift!
Ingredients (UK/Australia? Click below for grams/ml)
2

ounces

white chocolate

1/2

cup

peanut butter

smooth or crunchy – I like crunchy

11

ounces

milk or dark chocolate

your choice!

a handful roasted salted peanuts

chopped (I used a small food processor)

10

cupcake wrappers
Instructions
Break up the white chocolate into pieces and melt it in a bowl together with the peanut butter. You can do this in the microwave in 30-second spurts (I find 3 x 30 seconds is about right) or in a glass bowl set over a pan of simmering water*.

Stir the peanut butter and white chocolate mixture together well and set aside.

Now melt the milk/dark chocolate in a separate bowl in the same way as described above.

Line a cupcake/muffin tin with cupcake wrappers, and spoon a teaspoon of milk/dark chocolate into each. Then spoon a teaspoon of the white choc/peanut butter mixture on top. Freeze the whole tray for about five minutes.**

Spoon another teaspoonful of milk/dark chocolate into each cupcake case and smooth it over a little so that it covers the peanut butter layer. Finally, sprinkle a pinch of nuts over each cup.
Notes
*If you choose the second option, make sure the bowl doesn't touch the water.
**Freezing after the white choc and peanut butter layer helps the top layer to go on more cleanly.
Nutrition
Calories:
325
kcal
Carbohydrates:
22
g
Protein:
6
g
Fat:
24
g
Saturated Fat:
11
g
Cholesterol:
2
mg
Sodium:
78
mg
Potassium:
358
mg
Fiber:
4
g
Sugar:
13
g
Vitamin A:
15
IU
Calcium:
44
mg
Iron:
4.4
mg

You can also find more from Scrummy Lane on Facebook, Pinterest, Twitter and Instagram and follow me on Bloglovin! Thanks so much for reading!
*This post may contain affiliate links which means that if you click on a link and make a purchase I get a small percentage of the amount you spend. At no extra cost to you, of course! Thank you!*