The next time that after dinner sweet craving strikes, how about one of these 4-ingredient fruit popsicles? There's nothing in them but strawberries, yogurt, pistachios and honey – certainly nothing to feel guilty about!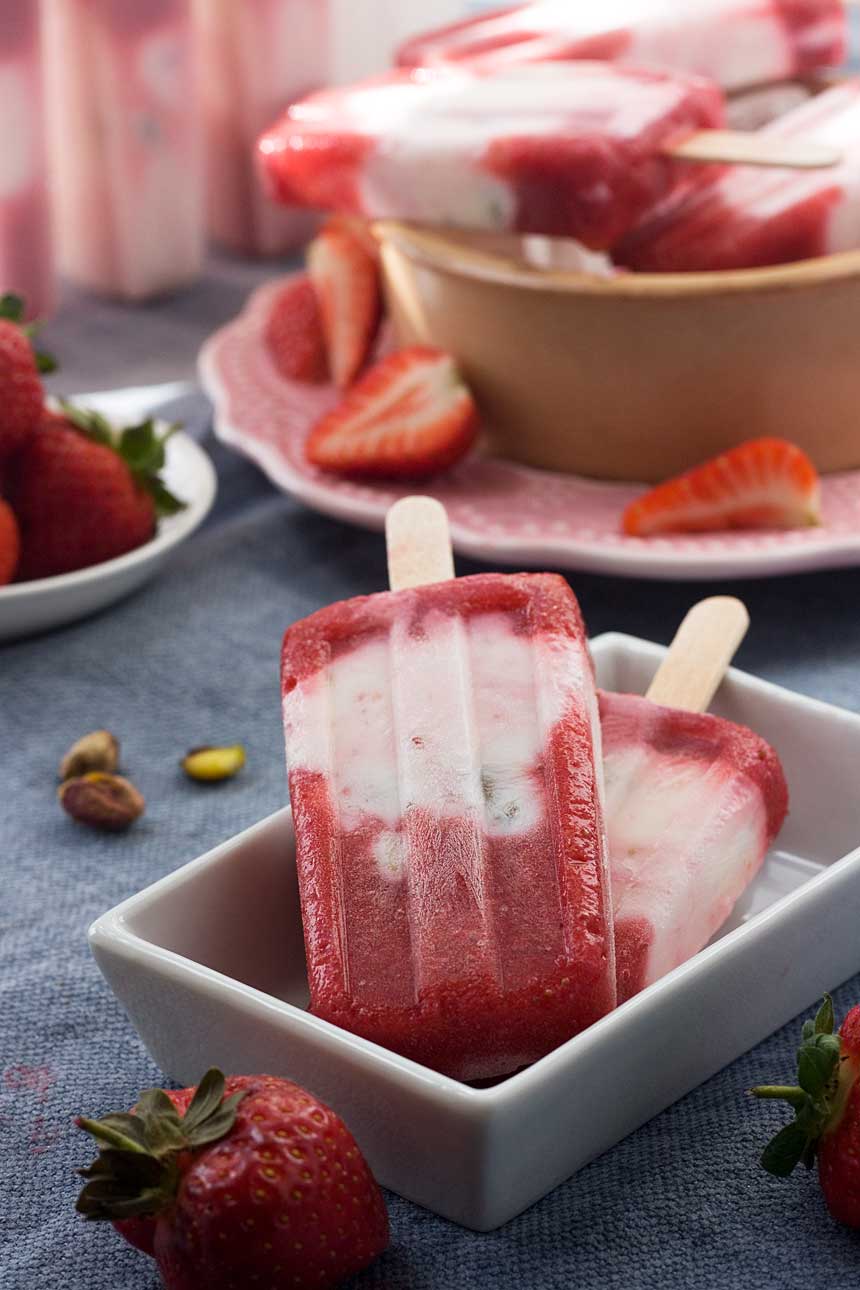 Mr. Scrummy and I have a long-established routine of parking ourselves on the sofa over dinner and an episode of a Netflix series. After dinner's done with, the sweet craving always strikes.
Usually it's chocolate or cake this naughty couple's indulging in, but lately we've switched over to… ice lollies!! (Don't laugh… this is really what we call popsicles here in the UK.)
For me it's been a delicious strawberry, lime and pineapple twisty thing with a combination of frozen fruity ice lolly and ice cream that's been tempting me, while Simon's been having fruity lollies with marshmallow flavoured ice cream inside.
Well, you see, we've been watching a great new Netflix series called 'Stranger Things'. Have you seen it? It's a good one! It's got a sort of 80s kids' movie vibe to it, so what better dessert to have while watching it than kids' ice lollies? Just perfect!
The only problem is, they're loaded with sugar, and not that cheap, either. Which is why I decided to order a popsicle mould and make some healthier and cheaper ones for myself.
This fan of all-things-Greek is hugely addicted to Greek yoghurt, as you can well imagine, so my first thought was to make something incorporating this. I decided to blend up some strawberries and layer it up in the moulds with the yoghurt. At the last minute, remembering a really delicious ice cream I used to buy often, I also decided to throw some pistachio nuts into the yoghurt.
I was really pleased with the result!
The only thing I got wrong at first was that my lollies weren't really sweet enough, but this was easily rectified by adding some honey into the mix.
Strawberries aren't your only option here, of course. I'm thinking blueberries, peaches, pineapple, raspberries. I think all these would work.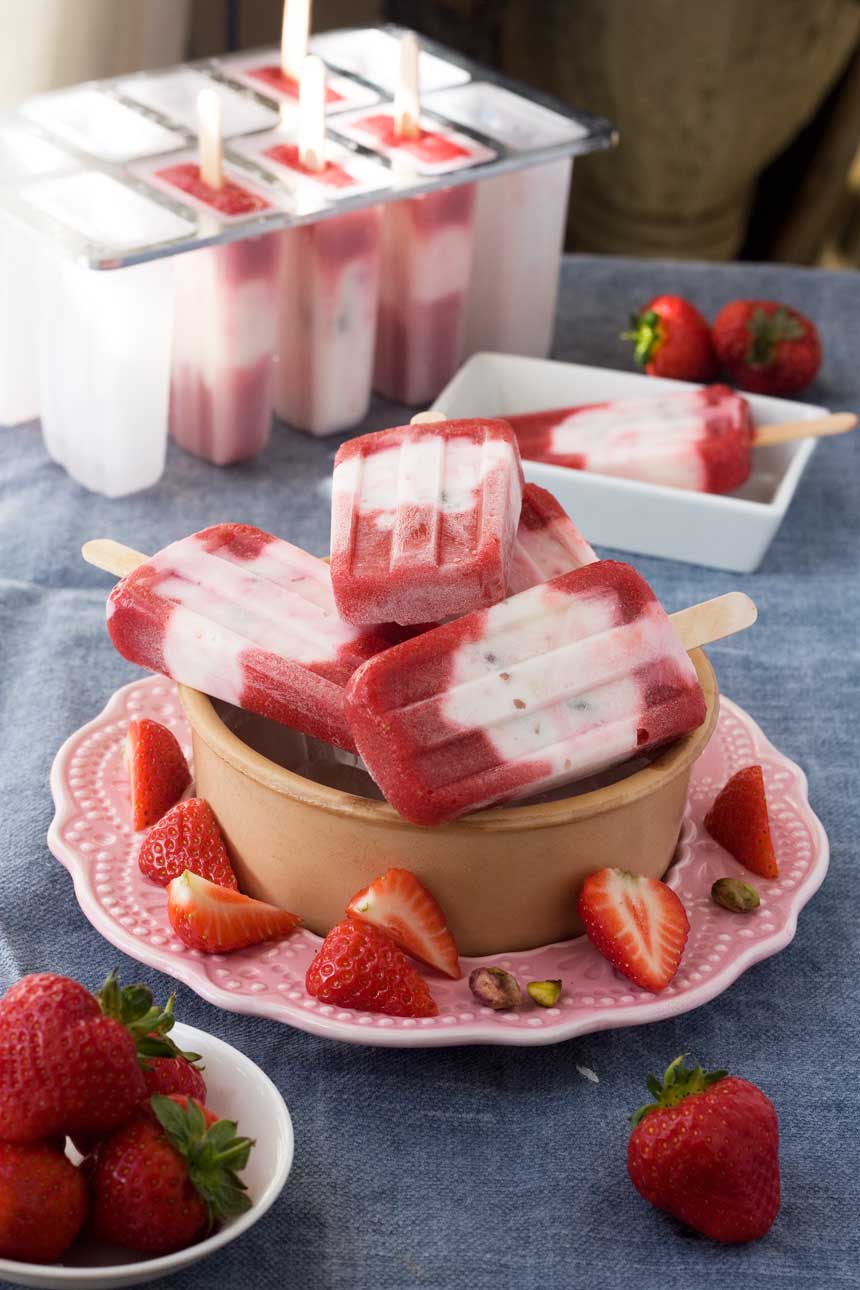 Fill up those moulds, stuff them in the freezer, park yourself on the sofa with a good Netflix series, and you can stuff yourself with popsicles to your heart's content – and without feeling guilty!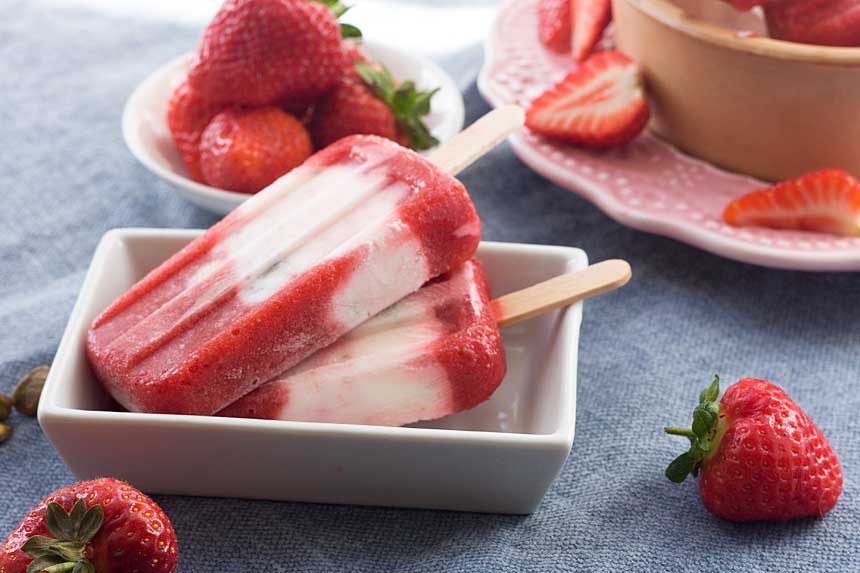 Strawberry pistachio yogurt popsicles (4-ingredient)
Delicious fresh fruit and yogurt popsicles made with just 4 ingredients - blended strawberries, Greek yogurt, pistachio nuts and honey to give it a bit of sweetness. So simple and delicious!
Ingredients (UK/Australia? Click below for grams/ml)
14

ounces

strawberries

washed

4

tablespoons

honey

plus extra to taste

2 1/4

ounces

Greek Yogurt

5

ounces

pistachios

shelled weight
Instructions
Whizz the strawberries in a food processor until smooth. Add 2 tablespoons honey and whizz again to combine. Taste and add more honey if you like.

Add the Greek yogurt to a medium-sized bowl and stir through the pistachios and 2 more tablespoons honey. Pour in about a third of the strawberry mixture and stir a few times to create a swirly effect.

Spoon alternative layers of strawberries and yogurt mixture into your popsicle moulds, leaving a little bit of space at the top to allow for expansion during freezing.

Add your popsicle sticks and lid (if your mould has a lid) and freeze for at least 6 hours, or overnight.
Notes
Popsicles can sometimes be a little tricky to remove from their moulds! I get mine out of the freezer about 10 minutes before I'm going to eat them, then run the moulds under a warm tap to help release them.
I find these are best eaten soon after freezing. If you leave them in the moulds for too long (a week, let's say), unappetizing ice crystals can form. If you'd like to save some or all of the popsicles for later, however, I'd recommend removing from the moulds, wrapping individually in grease-proof or baking paper and sealing in plastic bags before putting back in the freezer.
Nutrition
Calories:
121
kcal
Carbohydrates:
14
g
Protein:
3
g
Fat:
6
g
Sodium:
3
mg
Potassium:
219
mg
Fiber:
2
g
Sugar:
10
g
Vitamin A:
60
IU
Vitamin C:
24.2
mg
Calcium:
28
mg
Iron:
0.8
mg

Made one of my recipes? Take a pic and tag @scrummylane on Instagram so I can see it!
You can also find more from Scrummy Lane on Facebook, Pinterest, Twitter and Instagram and follow me on Bloglovin! Thanks so much for reading!
*This post may contain affiliate links* 🙂