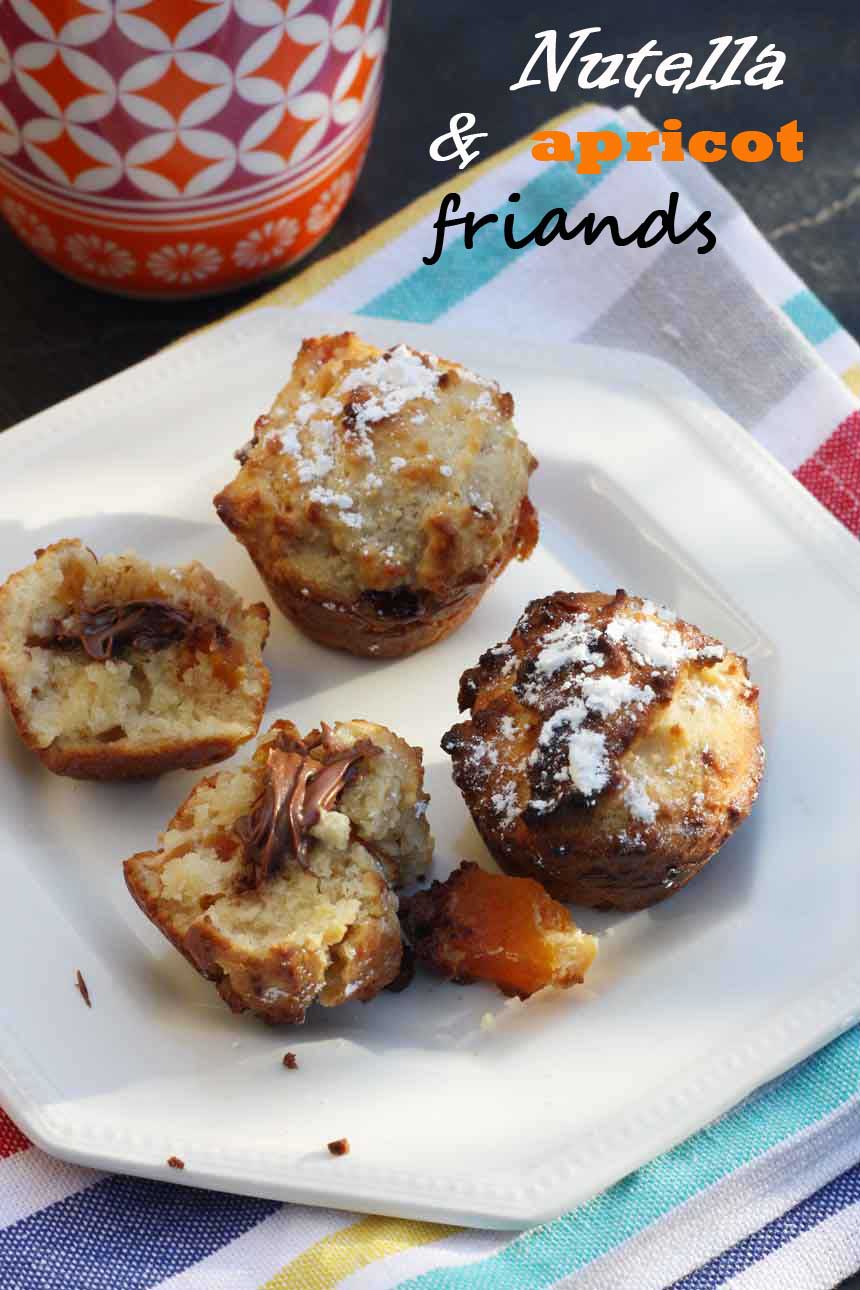 Many years ago, I did a couple of weeks of voluntary work in southern Spain and stayed with a team leader in her home. Every morning, we popped down to the local bakery for fresh bread for breakfast (yum), and it wasn't long before the group of us staying there discovered our host's big jar of Nutella and began smearing it onto our bread in far too large quantities. Before long, the Nutella was all gone and we hastily and guiltily ran to the shops to replace it … and then gobbled up that jar as well. Until then I'm not sure I'd ever really thought to eat chocolate spread with bread. The few times I'd had it at home in England I'd just eaten it right off the spoon.
Another place where Nutella seems to be pretty popular is France, where I once spent a year teaching English to school children. Yes, in the land of champagne, foie gras and truffles, it's also perfectly acceptable to eat humble hazelnut chocolate spread smeared thickly onto a piece of freshly baked bread or stuffed into a warm buttery croissant.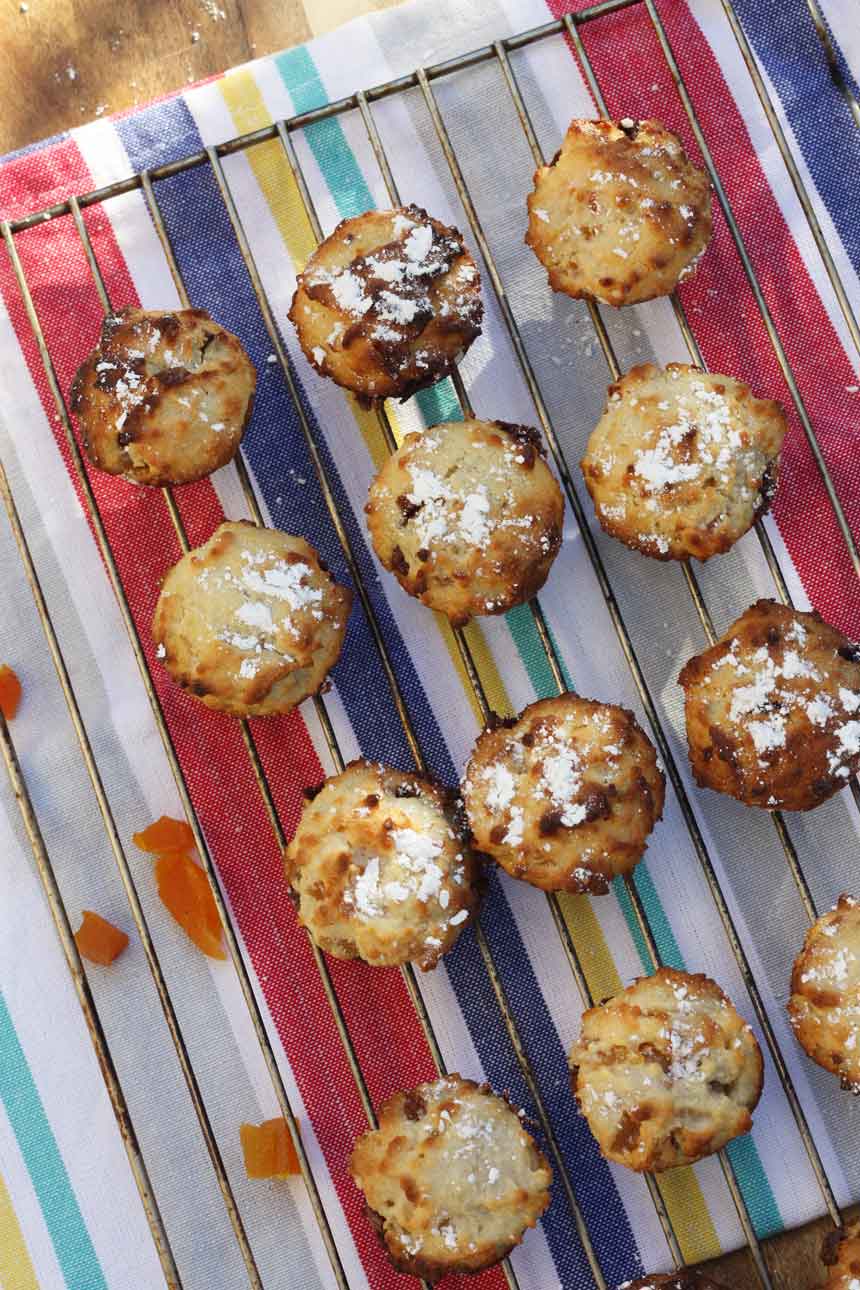 So if it's okay for the mostly healthy Spanish and French to put chocolate spread on and in baked things, then surely it's okay for me to do the same. Besides, I took another tip from the French for these little Nutella-stuffed apricot friands of mine.
I made them small!
Let me explain. Apparently, part of the reason that the French are able to eat fatty cheeses and rich pastries and pretty much what they like without getting unhealthy or overweight is pretty simple – they just eat less. Well, plus a few other little tricks. They'll have a piece of chocolate or a tiny little macaron or a balanced meal but not piled up high on a plate.
If anyone is interested in finding out more about how the French eat really well without depriving themselves and yet stay 'magically' healthy (I for one certainly am!) then apparently this is a pretty good read: French Women Don't Get Fat by Mireille Guiliano. Great book title, right?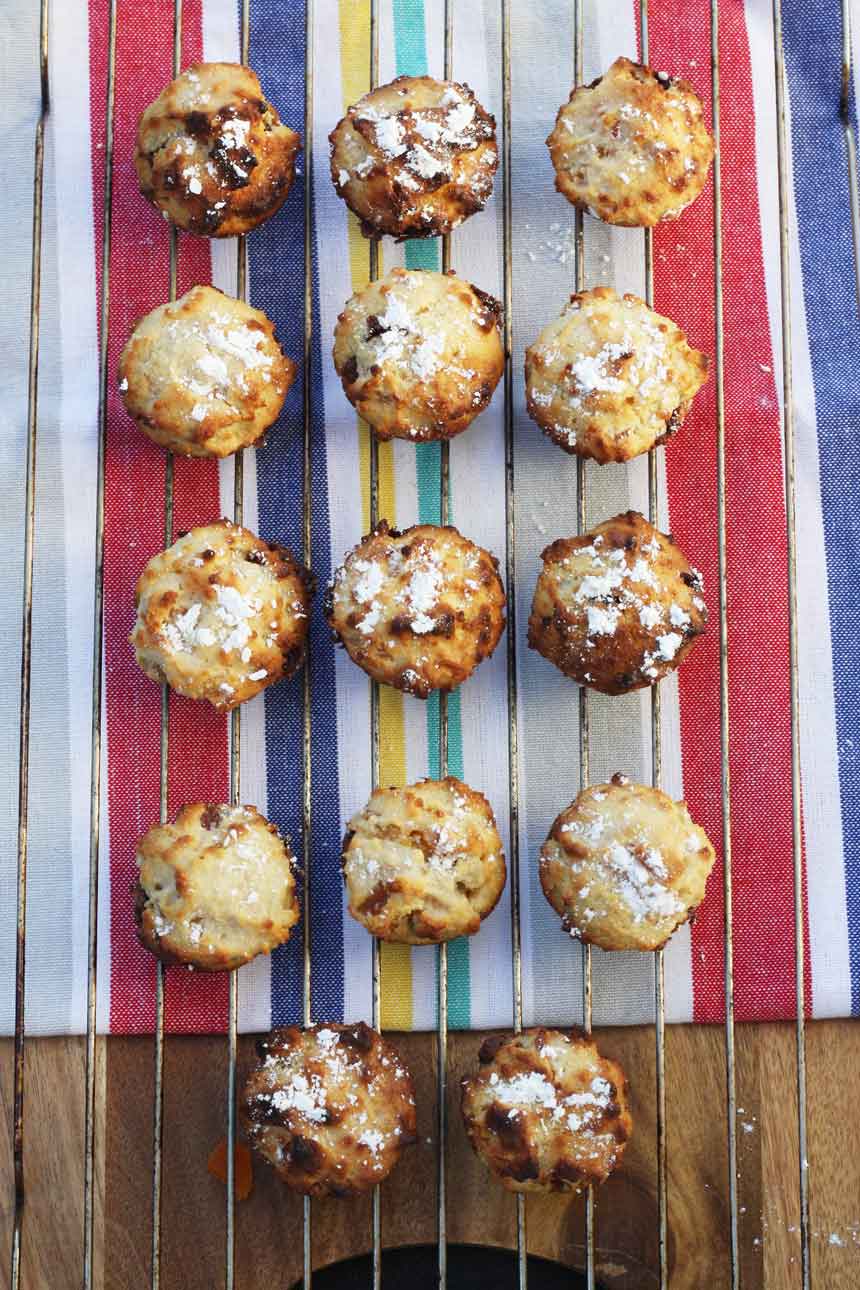 Oh, and if you would like to read more about all the lovely things that you can eat without feeling guilty, it seems, 'en France', the lovely Erin from The Law Student's Wife is over there right now posting about all sorts of delicacies that will make you want to drop what you're doing and get yourself booked onto a flight to Paris tout de suite.
Meanwhile, back to these cute little friands. Obviously you've figured out by now that there is Nutella in this recipe I'm about to share with you today. And no, this is not a sponsored post for Mr. Nutella (although I think it should be, don't you?) Other than this slightly naughty sweet stuffing, though, there is absolutely nothing bad in these mini muffins. Honestly, nothing bad at all. Nada. Rien.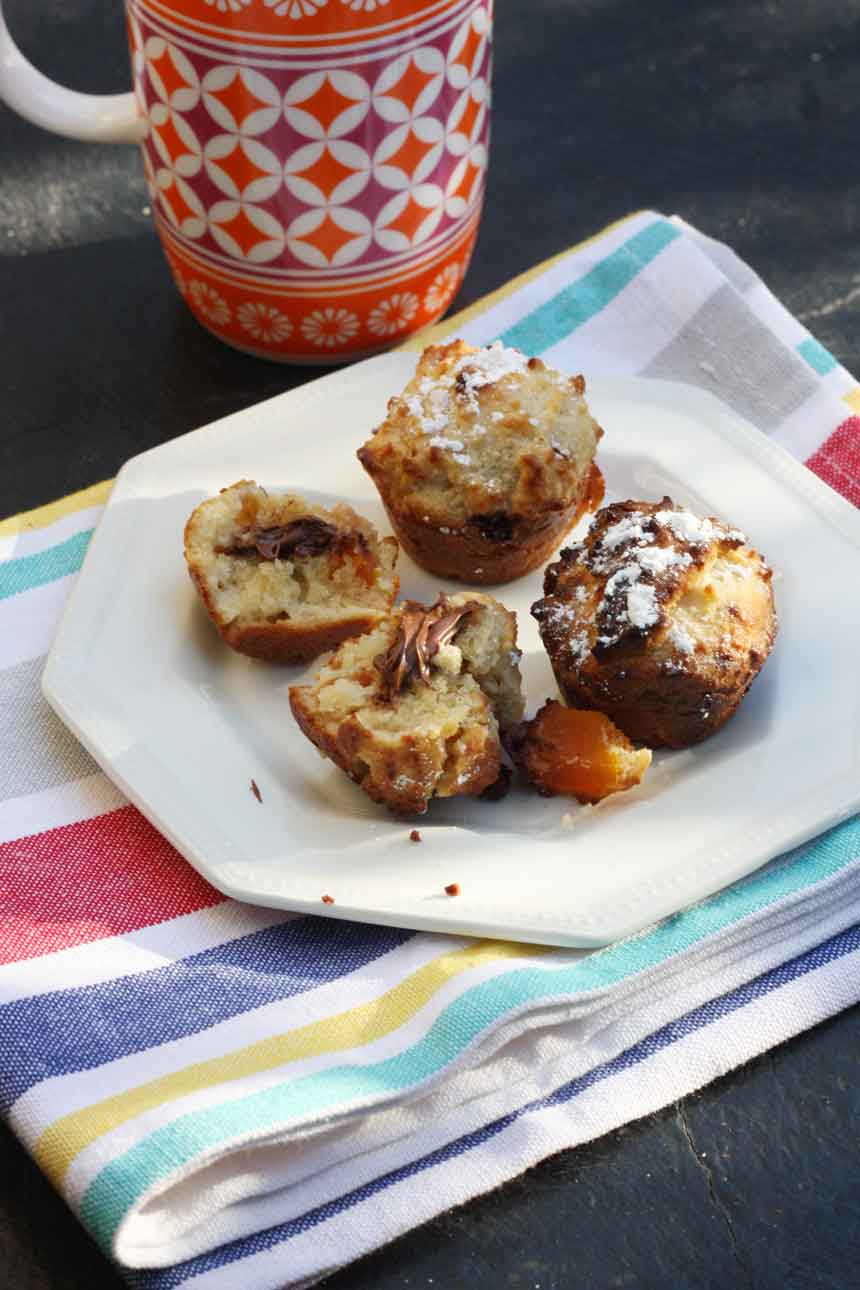 'So what is in them?' I hear you wondering. Well, apart from a teaspoon of baking powder and a splodge of Nutella, just five ingredients, that's what. Just almond meal, coconut oil, honey, eggs and dried apricots.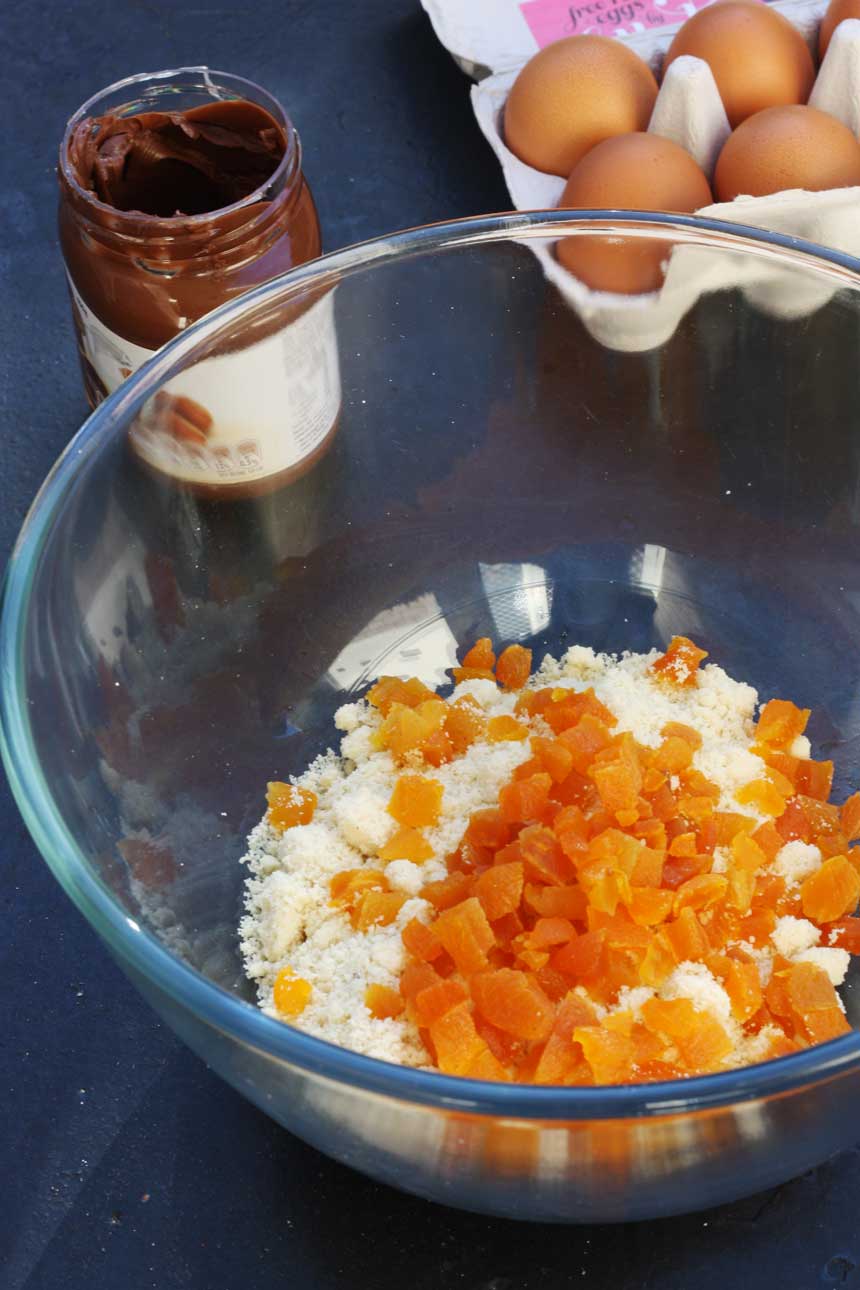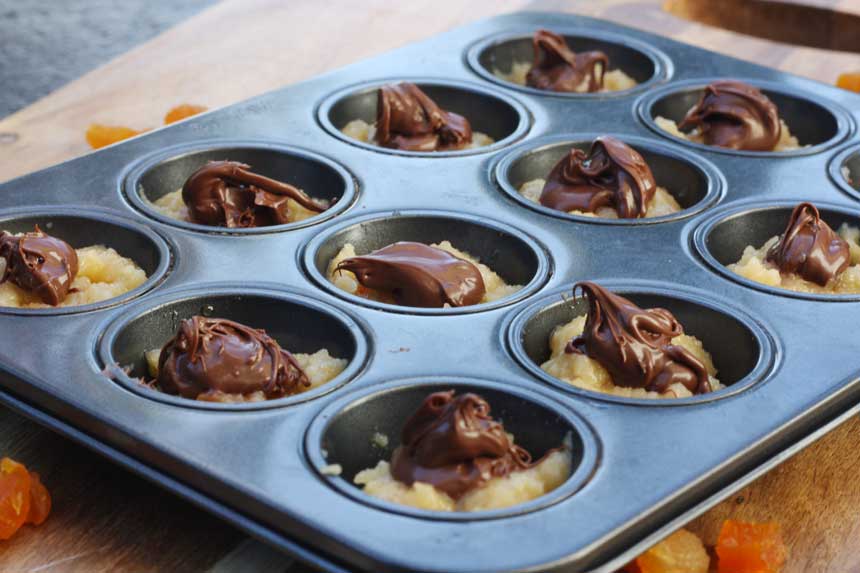 As they are so tiny, maybe it hardly matters that they are so healthy, but as they are, well … bonus! It just means that you can eat two or three at a time if you like, although in my humble opinion the size is just about right as the almond meal makes them seem a little richer than a regular muffin (I used a pan a little like this one but if you can find a mini friand pan, then even better!) A friand, in fact, is basically just a French version of a muffin made with almonds. My versions are not strictly speaking friands though as they contain whole eggs rather than just the whites and coconut oil instead of butter. I also missed out the sugar that is usually in friands, replacing it with a bit of honey, as I figure that they're sweet enough from the apricots and the chocolate in the middle.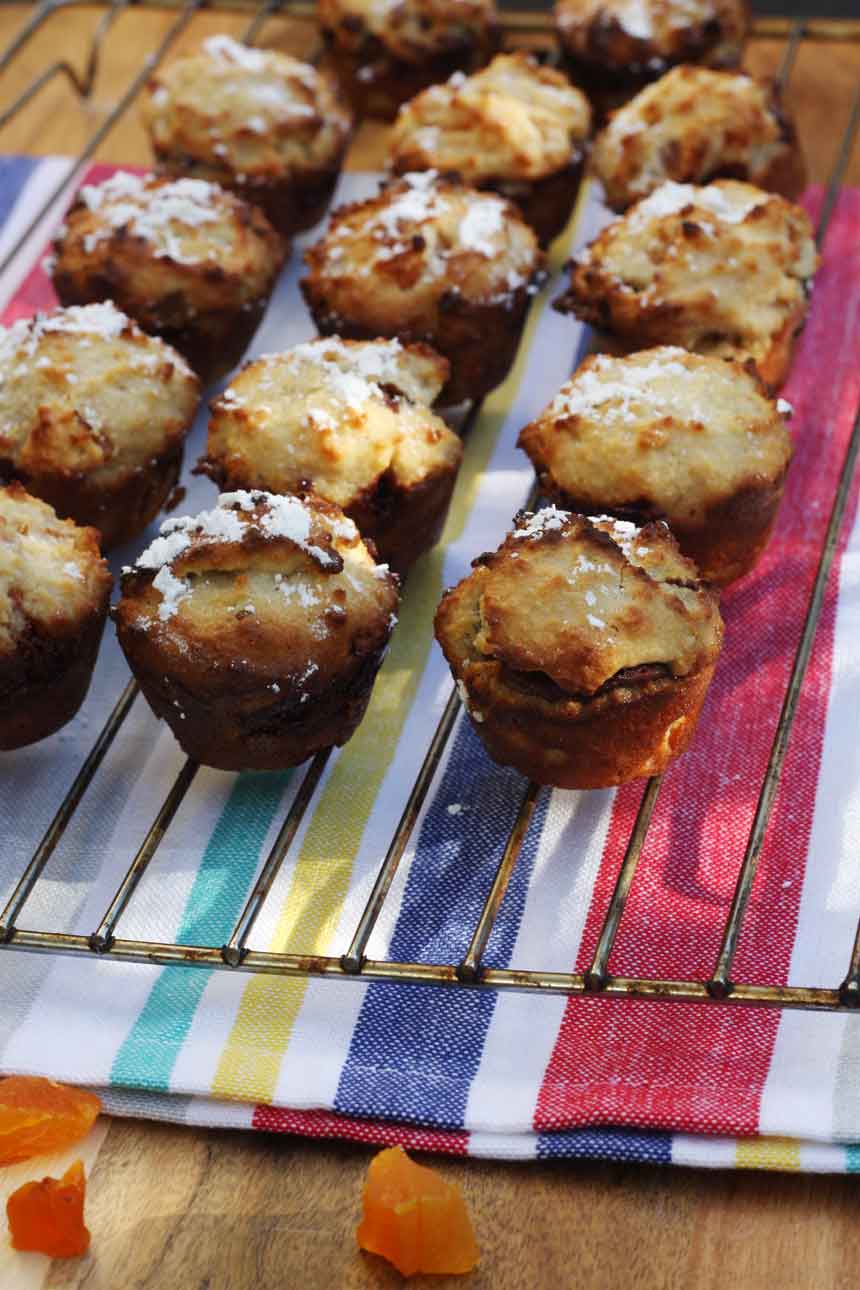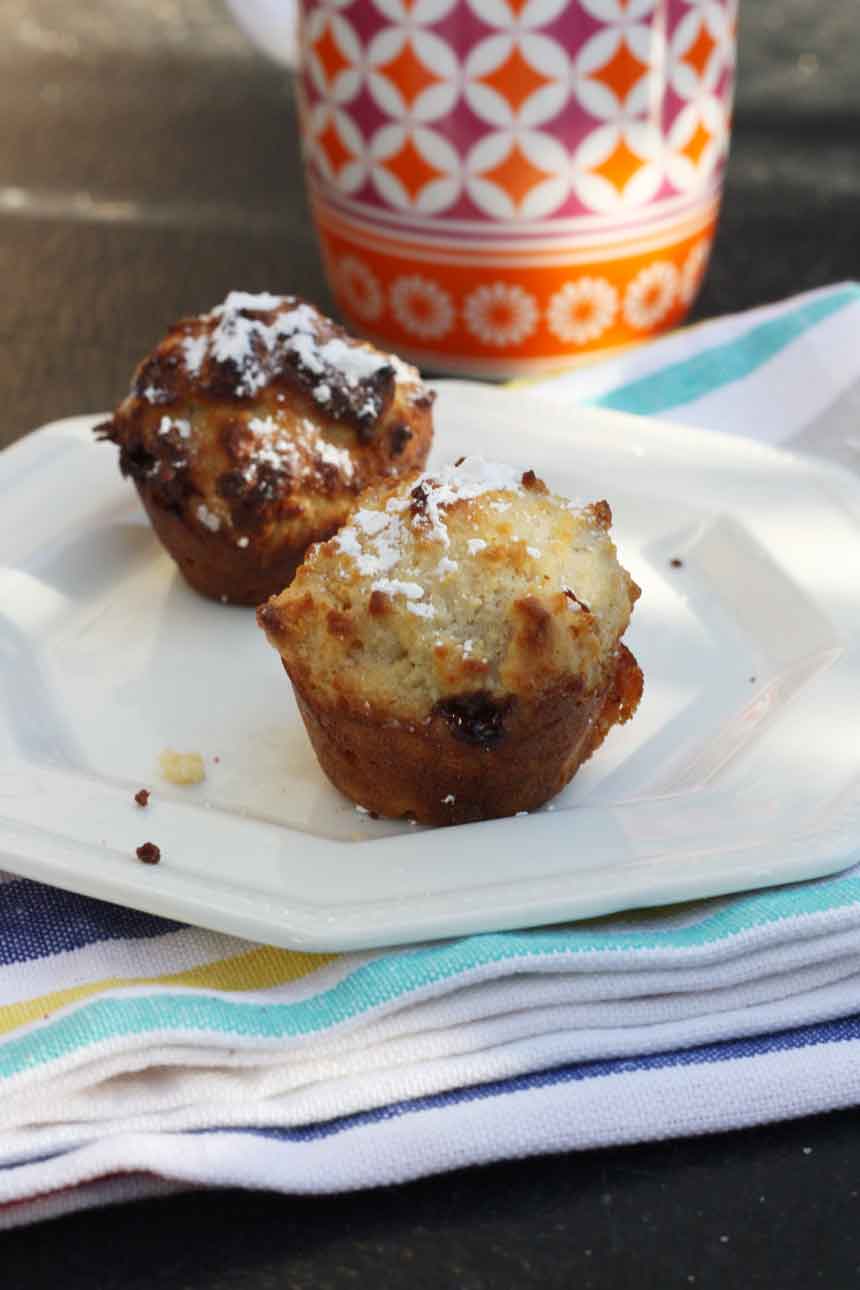 Just to tie up this post, I thought I'd share this little morsel of info that I found. There was a fairly recent 'scandal' at Colombia University, New York, in which students gobbled up $2,500 worth of Nutella in a week! Apparently this quickly dropped to $450 a week, but, erm, hello? Obviously this beats mine and my team mates' gobbling up of our host's choccy spread in Spain all those years ago in a pretty big way!
Anyway, enough of all this free promotion for Nutella. Obviously I highly recommend you having a go at these little mini friands. Just make sure you aren't too light-handed with the nutella in the middle. It won't matter if it oozes out of the cake a little – they'll just be all the more delicious, I'd say.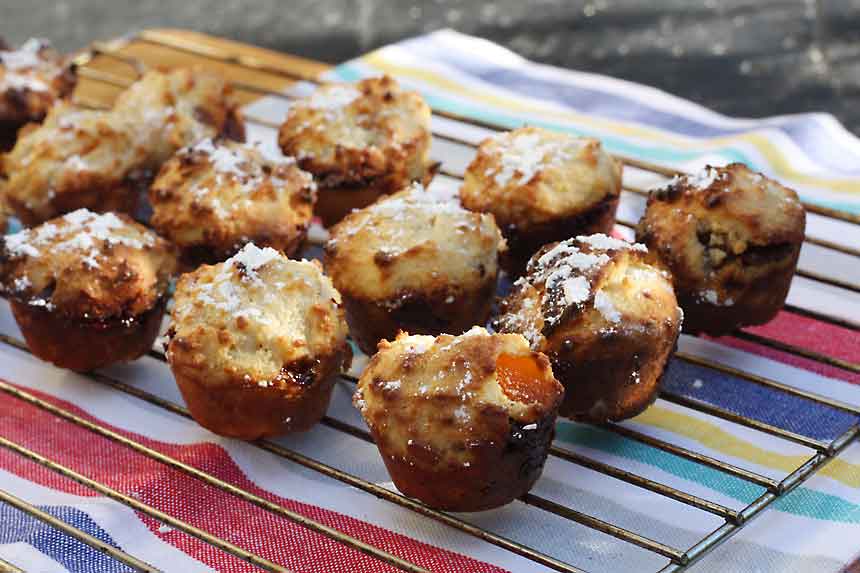 Little Nutella-stuffed apricot friands (gluten free)
These cute Nutella-stuffed apricot friands made with just almond meal, coconut oil, honey, eggs and dried apricots (oh, and Nutella of course) are a perfect little guilt-free snack.
Ingredients (UK/Australia? Click below for grams/ml)
2

tablespoons

coconut oil

1 1/2

tablespoons

honey

1 1/2

cups

almond meal

sometimes called almond flour

1

teaspoon

baking powder

gluten free if necessary

2

eggs

lightly whisked

2 1/2

ounces

dried apricots

chopped into small pieces

15

teaspoons

chocolate spread

1 for each little friand

a little icing sugar for sprinkling at the end

optional
Instructions
Pre-heat the oven to 325F/170C and lightly grease a

mini muffin pan

or

mini friand pan

with a little oil or butter.

Melt the coconut oil and the honey together in a small pan. Put the mixture aside to cool a little.

Put the almond meal into a large bowl with the baking powder, then mix in the coconut oil/honey mixture and the eggs. Stir in the apricots.

Put about a teaspoon of mixture into the bottom of each hole in the muffin tin, then spoon a small teaspoon of chocolate spread in the centre. Then spoon in more almond mixture so that it covers the chocolate and the muffin holes are almost full of mixture.

Bake for about 12 minutes or until the muffins are a light golden colour on the top. Try not to overbake!

Leave the friands to cool then, if you like, sprinkle them with icing sugar.
Notes
These 'healthy' friands were most delicious eaten the day they were baked, but they will keep pretty well for a few days after that in an air-tight container.
You could replace the dried apricots will another dried fruit such as cranberries or even raisins if you like.
Nutrition
Calories:
132
kcal
Carbohydrates:
10
g
Protein:
3
g
Fat:
9
g
Saturated Fat:
3
g
Cholesterol:
21
mg
Sodium:
11
mg
Potassium:
109
mg
Fiber:
1
g
Sugar:
7
g
Vitamin A:
200
IU
Calcium:
46
mg
Iron:
0.9
mg
I hope you enjoyed this post! You can subscribe to receive posts directly to your inbox by entering your email address in the box below or at the top of the sidebar on the right.
You can also find more from Scrummy Lane on Facebook, Pinterest, Twitter and Instagram and follow me on Bloglovin! Thanks so much for reading!
*This post contains affiliate links which means that if you click on a link and make a purchase I get a small percentage of the amount you spend. At no extra cost to you, of course! Thank you!*