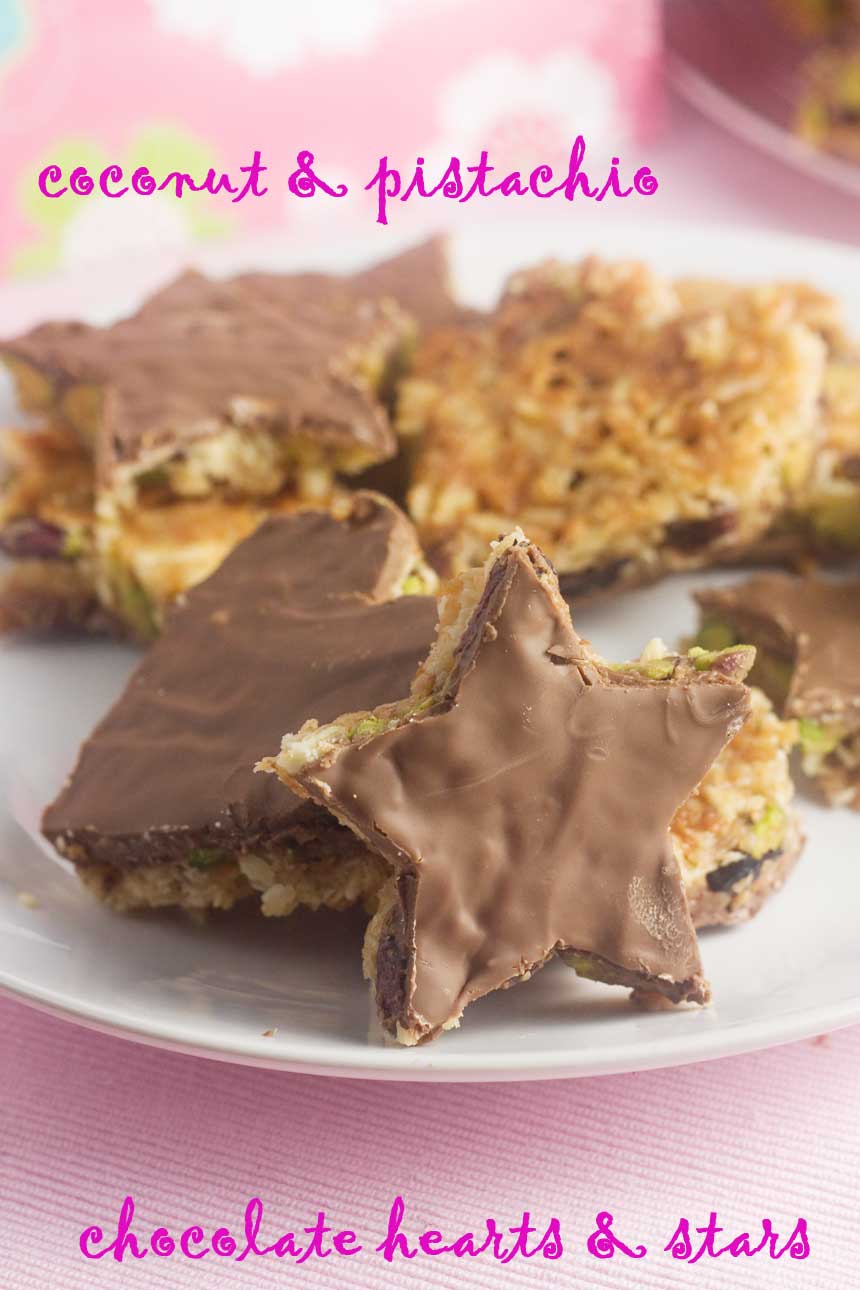 The past few days have been full of little unexpected things. Not awful things. Just either mildly annoying or … different. I'm sure you have those days, too.
While flying back from Greece yesterday, for instance, I settled in to sleep, watch the fun movie (Paddington … so cool!) that was supposed to be showing and generally chill out after our mad few days of cleaning our Greek apartment. But instead I ended up chatting to a lovely Greek lady who hadn't ever flown before. She was understandably nervous about facing the journey on her own and wasn't sure how to go on when she arrived in London for her transfer to the US, so I tried to help her as best I could.
Now I must admit that when I realised her worried/excited chatting was likely to go on for a large part of the journey, I couldn't help feeling disappointed at losing my much-anticipated chill-out time. Especially as Mr. Scrummy was soon snoozing away beside me, obviously feeling no remorse whatsoever at not contributing to the conversation, too. Hmmm … I suppose we have to let him off though as the lady didn't speak English and Mr. Scrummy's Greek doesn't extend too much further than 'Hello', 'Goodbye' and 'A beer, please'.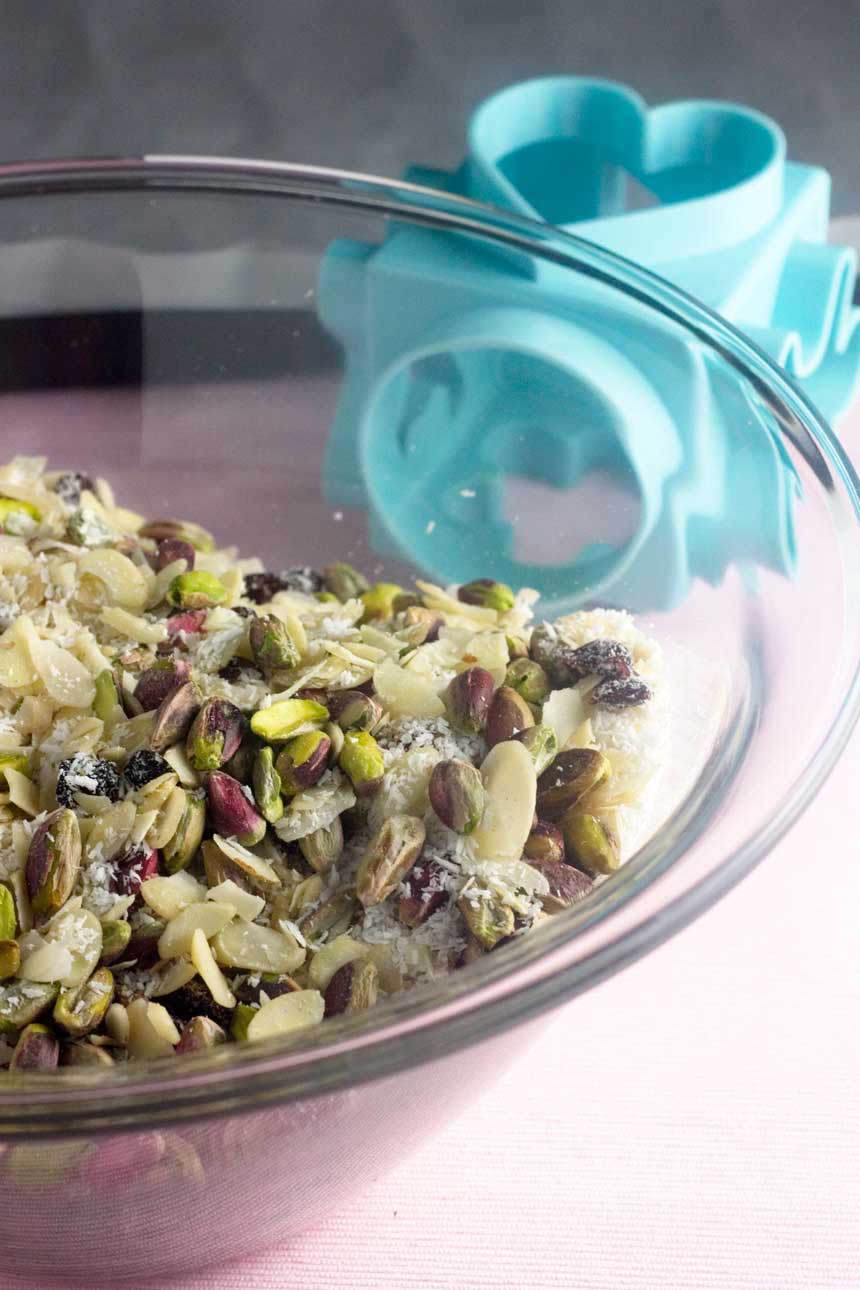 Now before you start thinking I'm a selfish and antisocial so-and-so, I'd better just qualify that by the end of the journey I had well and truly made a new friend and even been invited to stay with the lady in her beautiful village on the west coast of Greece. And I must admit that all the times I have got talking to a stranger on a plane it has been equally as life-enriching an experience. Once I even got chatting to a life coach and she ended up giving me some great tips!
So what's this got to do with these coconut & pistachio chocolate hearts & stars? Well, not too much really, except that I made them to try to get my mind off missing the fresh pastries and coffee Mr. Scrummy and I grabbed every single day from the local bakery while we were in Greece. And the broken fridge – freezer we came home to (hello meat juice from defrosted chicken thighs in bottom of fridge …) And to warm me up in our freeeezing cold apartment that had had no heating on for 2 weeks.
Needless to say, these are perfect for Valentine's day. Which I'm a bit 'bah humbug' about if I'm completely honest. Buuuut … as I know that most of you just luuurve going all gah-gah about V-day and making cute little treats for your lurverrr, I thought I'd have a go at these easy-to-make (but of course) chocolate hearts and stars anyway.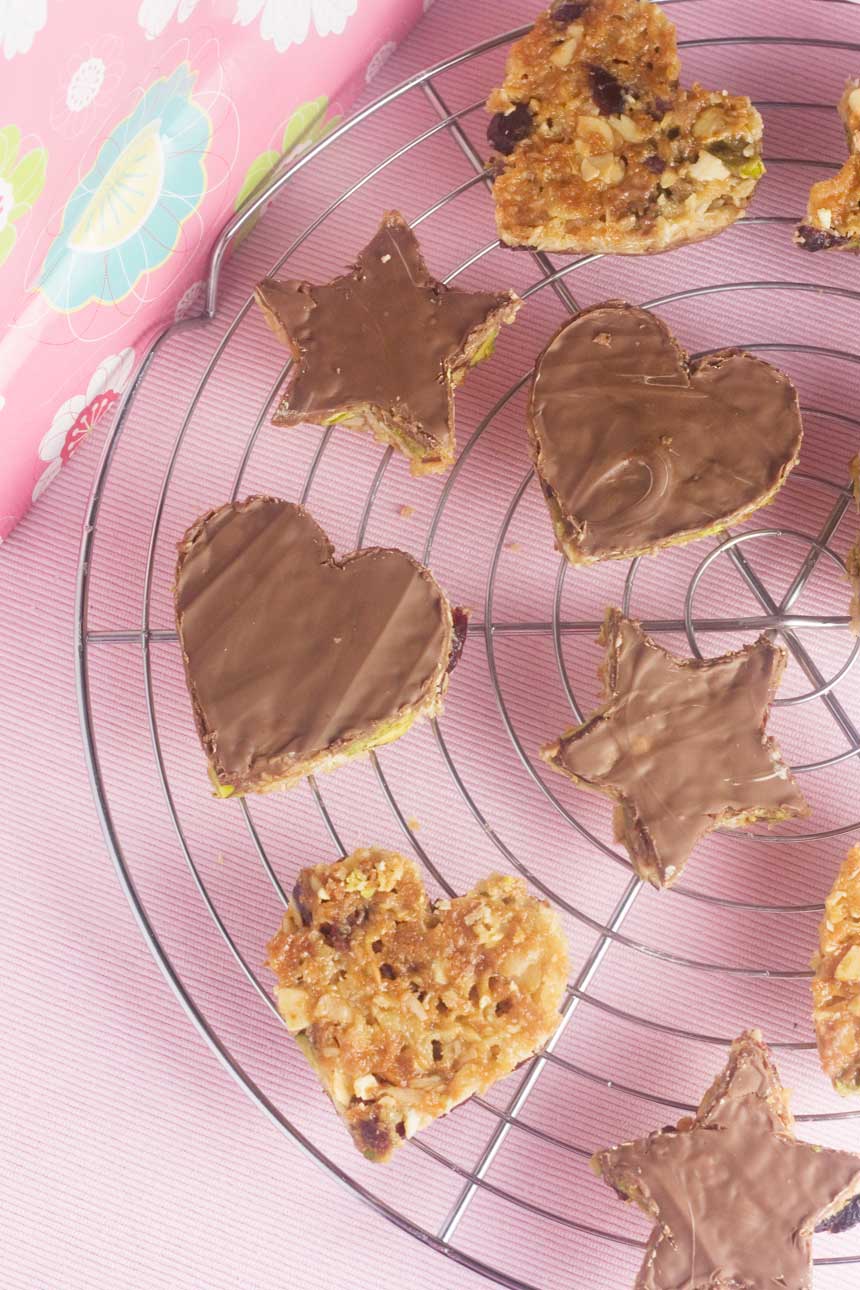 The best thing about these little gooey coconut-y, other nutty, honeyed, brown sugared, fruited and chocolate-d little treats is that you can easily vary the ingredients to use what you've already got. I realised that I had coconut, almonds and pistachios in my cupboard already, for instance, so that's what I threw into the mix. You could just as easily add glace cherries or different kinds of nuts, though. You could say that these are a little healthier than they could be, too, with all that nutty, fruity and honey goodness in them. Who cares about the little (OK, so big …) chunk of butter and piles of sugar you also add? And if you can't forget about the butter when making a treat for your loved one then heck, when can you?
… or indeed when making a treat for yourself! Well, why not? Obviously these don't have to be heart-shaped.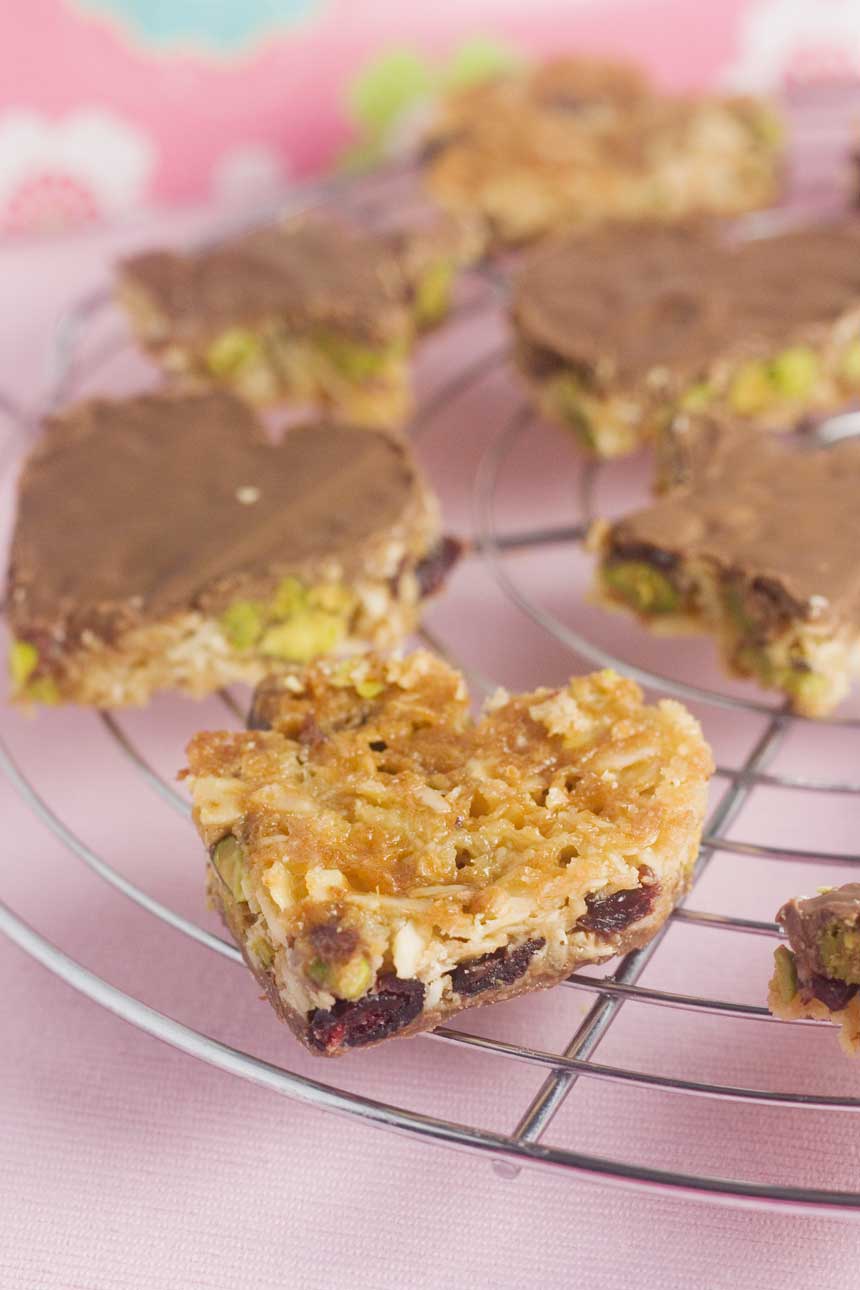 I made these by spreading my mixture over a baking sheet and baking it, then letting it cool and harden a bit before spreading it with melted chocolate. Once the chocolate was set, I stamped out my shapes with a really good metal cookie cutter. Well, OK, that was a little lie. I actually only had a pretty naff plastic one, which didn't work well at all. Lucky I had a nice sharp knife to cut around the shapes (which I don't recommend as it takes a pretty long time)
You might think that this method of stamping out the shapes is pretty wasteful, but no. Just think about it. You have all those semi-healthy off-cuts that you can throw into a bag and snack on for the rest of the week. What's wasteful about that? You also might be thinking that these are a bit like florentines. Well, you'd be right about that, but they are a bit thicker. If you'd like to make something a little more like a classic Florentine, then just spread the mixture onto two baking trays so that they end up thinner.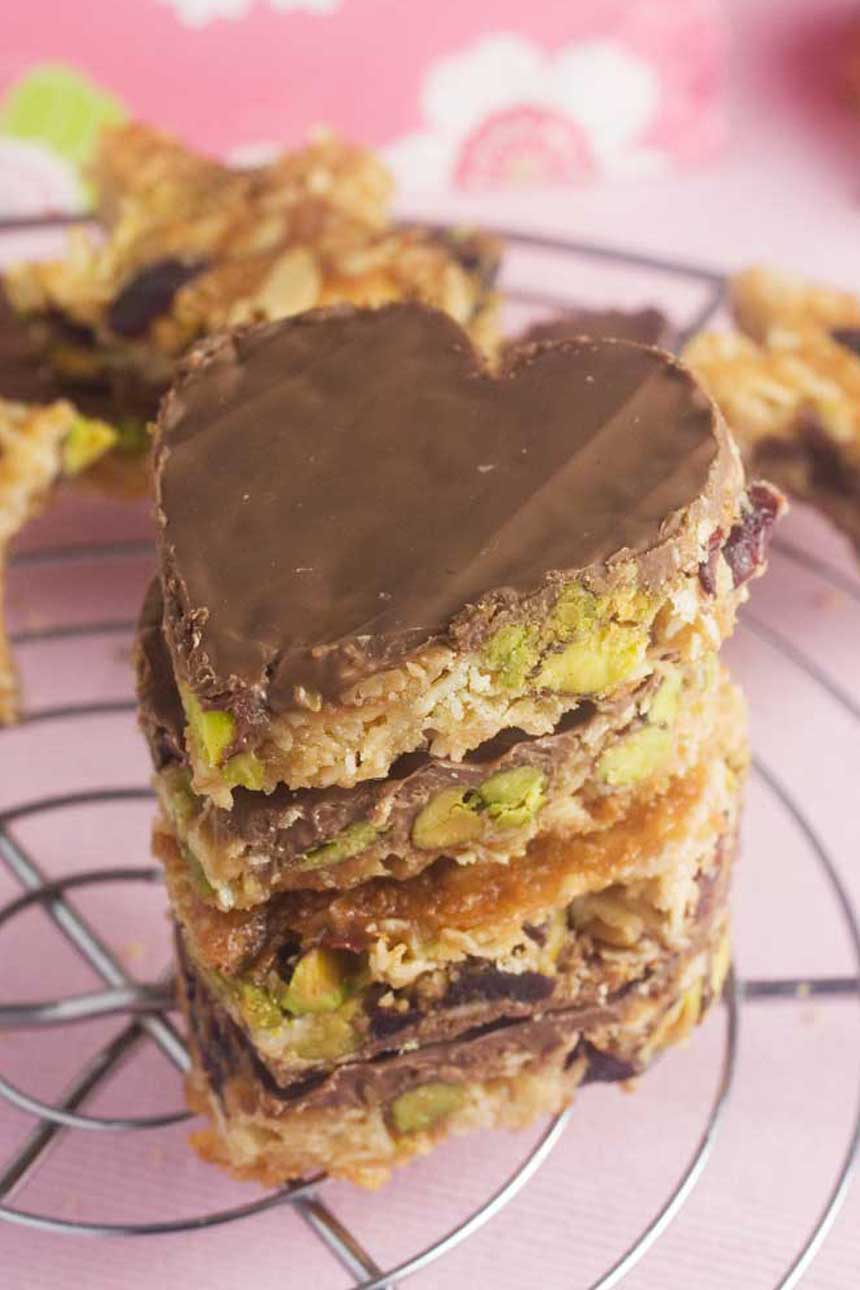 So before I go, I'm a bit curious. Do you ever get talking to strangers on planes … and if so, what's the most interesting 'encounter' you've had?
Oh, and Happy Valentine's Day for the weekend, of course!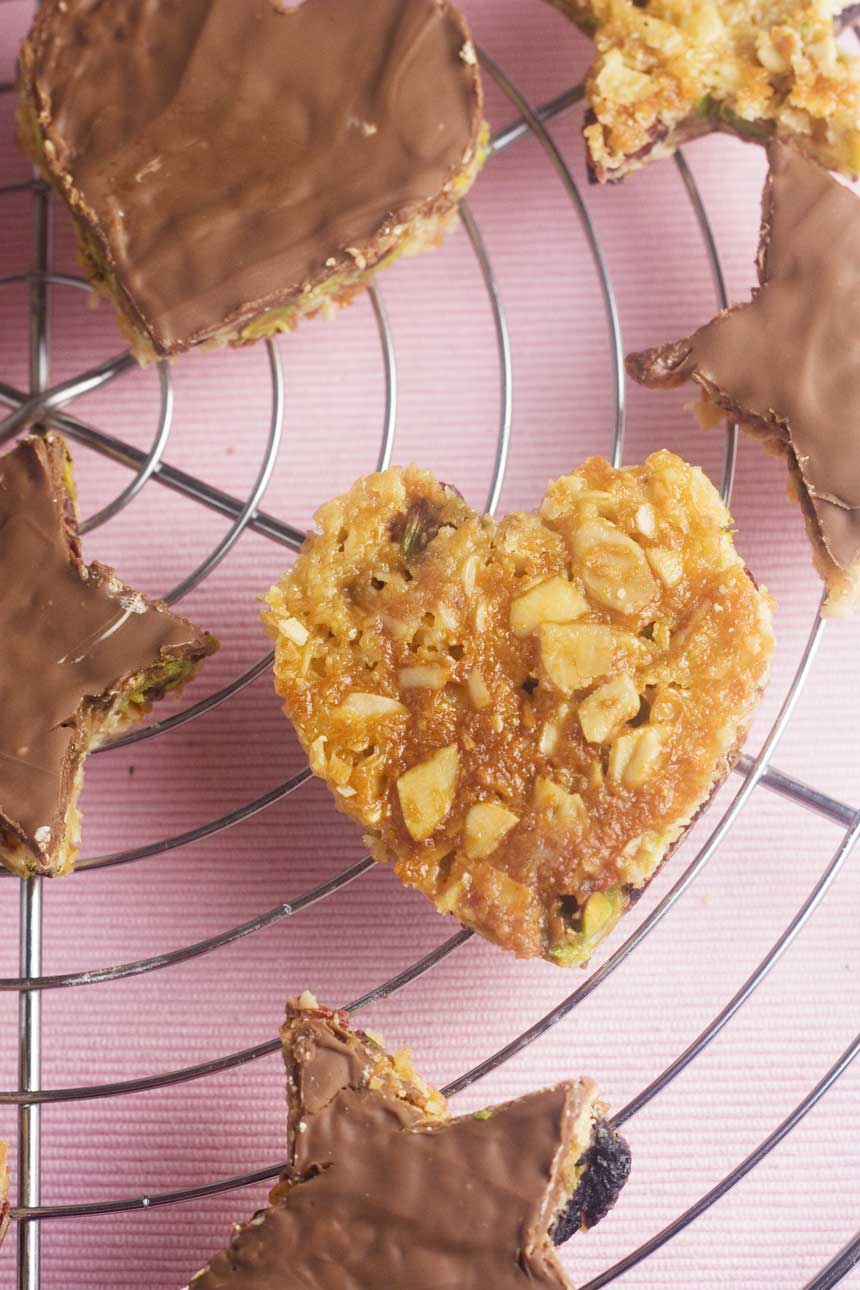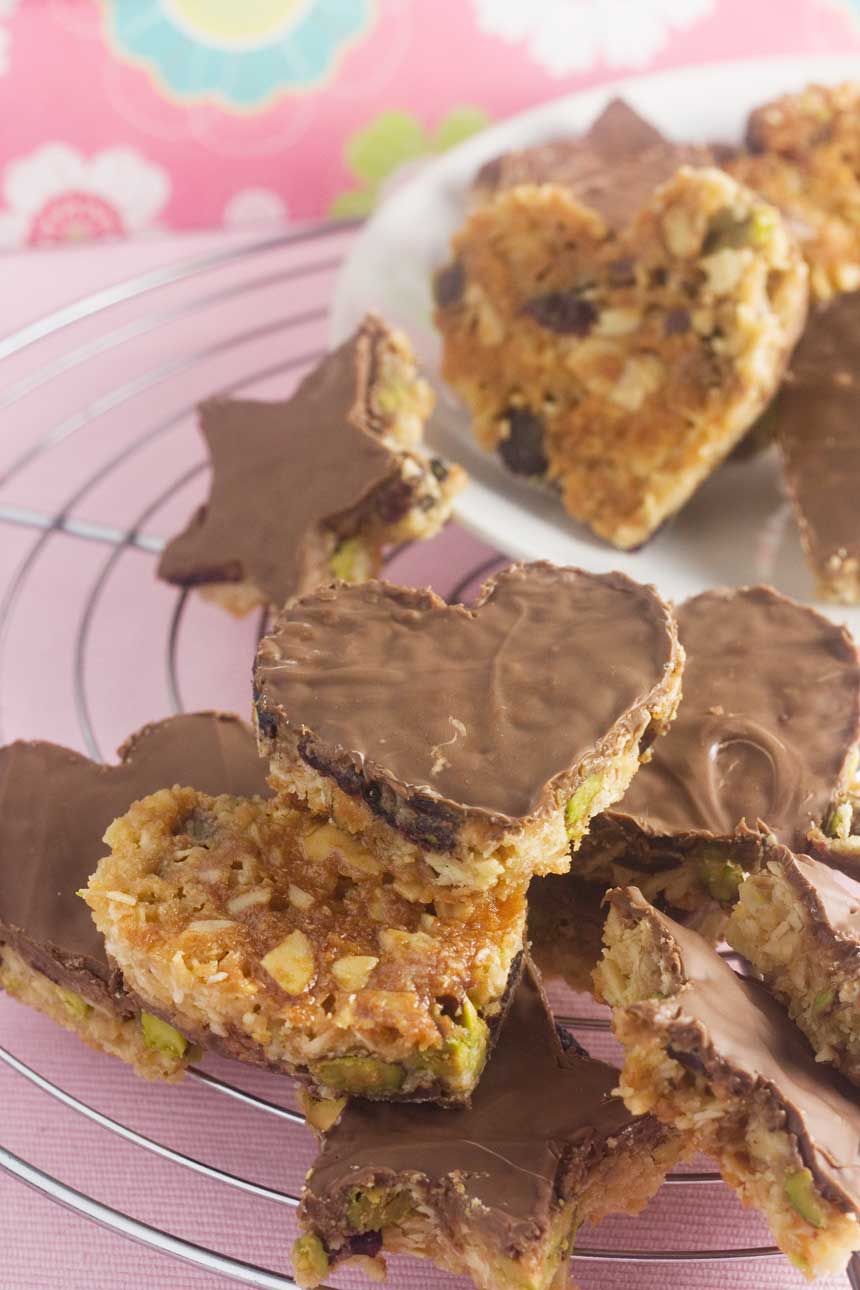 Coconut & pistachio chocolate hearts & stars
Nutty, coconut-y heart and star shapes covered in chocolate. Just perfect for a Valentine's day treat!
Ingredients (UK/Australia? Click below for grams/ml)
1/3

cup

runny honey

2/3

cup

brown sugar

14

tablespoons

butter

2/3

cup

flaked almonds

1/3

cup

dried fruit

I used 'berries & cherries' but any kind are fine

1

cup

shelled pistachios

feel free to use another kind of nut or a mixture if you like e.g. peanuts, crushed hazelnuts, cashews

1/2

cup

desiccated coconut

4

tablespoons

plain flour

9

ounces

chocolate

dark, milk or white or a mixture
Instructions
Pre-heat the oven to 200C/390F.

Melt the honey, butter and sugar together gently, then add the rest of the ingredients except the chocolate. Stir really well.

Now tip the mixture out onto a large baking tray (at least 30x20 cm) lined with greaseproof paper and spread it out (see note below). Bake for 10 to 12 minutes, until the mixture turns a rich golden brown, then set aside to cool.

Melt the chocolate in a microwave in 30-second intervals or in a bowl over a pan of simmering water, then spread it over the tray bake. Let it cool.

When cool, stamp out heart and star-shapes (or whichever shapes you like) using a good quality metal cookie cutter. Present to your beloved partner, family or friends!
Notes
Adapted from this recipe from BBC Good Food.
My baking tray was about 30x20 cm, but for thinner, more Florentine-like shapes, use a larger tray (about 40x30cm).
When you melt your chocolate, reserve 2 or 3 squares and add them in at the end. This is a 'cheat's way' to temper your chocolate and stop it from crystallising when it sets.
Even with a good sharp cookie cutter, you might find it quite tough to cut out the shapes. Put a tea towel between your fingers and the cutter if the cutter hurts your fingers.
Nutrition
Calories:
179
kcal
Carbohydrates:
17
g
Protein:
2
g
Fat:
12
g
Saturated Fat:
6
g
Cholesterol:
14
mg
Sodium:
51
mg
Potassium:
106
mg
Fiber:
1
g
Sugar:
14
g
Vitamin A:
180
IU
Vitamin C:
0.2
mg
Calcium:
21
mg
Iron:
0.7
mg
I hope you enjoyed this post! You can subscribe to receive posts directly to your inbox (for free, of course!) by clicking here or entering your email address into the box at the top of the sidebar on the right.
You can also find more from Scrummy Lane on Facebook, Pinterest, Twitter and Instagram and follow me on Bloglovin! Thanks so much for reading!
*This post may contain affiliate links which means that if you click on a link and make a purchase I get a small percentage of the amount you spend. At no extra cost to you, of course! Thank you!*