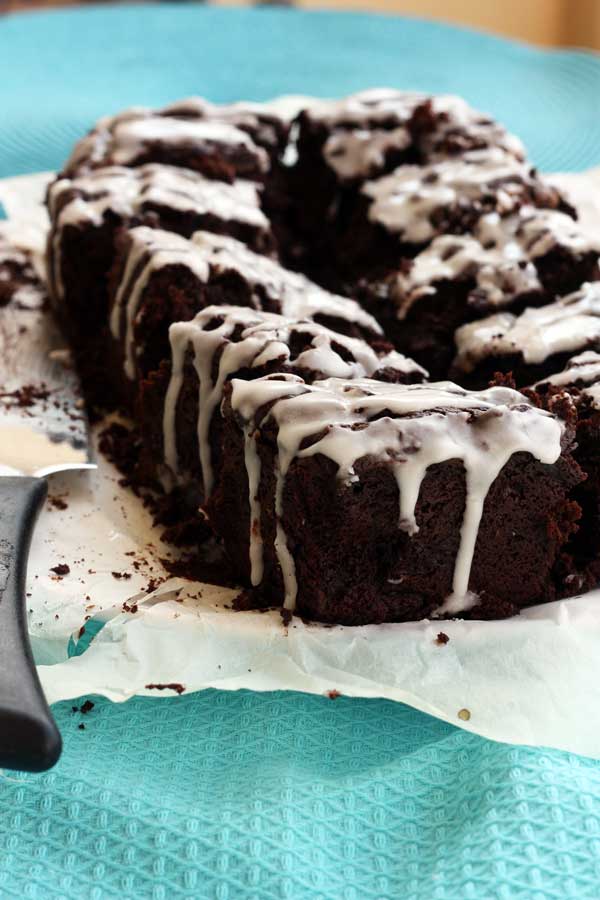 These brownies look delicious in the picture above, don't they? I bet you could just eat one right now! But how do you feel when you read the title of the recipe? Frankly, I was sceptical when I saw them in the recipe section of my mum's Good Housekeeping magazine when I was in the UK a couple of weeks ago. I do like beetroot, but still mostly associate it with Sunday teatimes as a child when we would 'catch' it with a fork out of vinegar in a jar, splashing the table cloth and ourselves with a bright purple stain.
Don't worry, I don't do this (so often) now. I also now get that you can buy beetroot fresh and raw with the leaves still on, boil it or roast it yourself and it'll become a wonderful bright addition to a salad or dip or soup. But adding beets to a cake? Specifically, to a brownie? Hmmm … I wasn't so sure about that.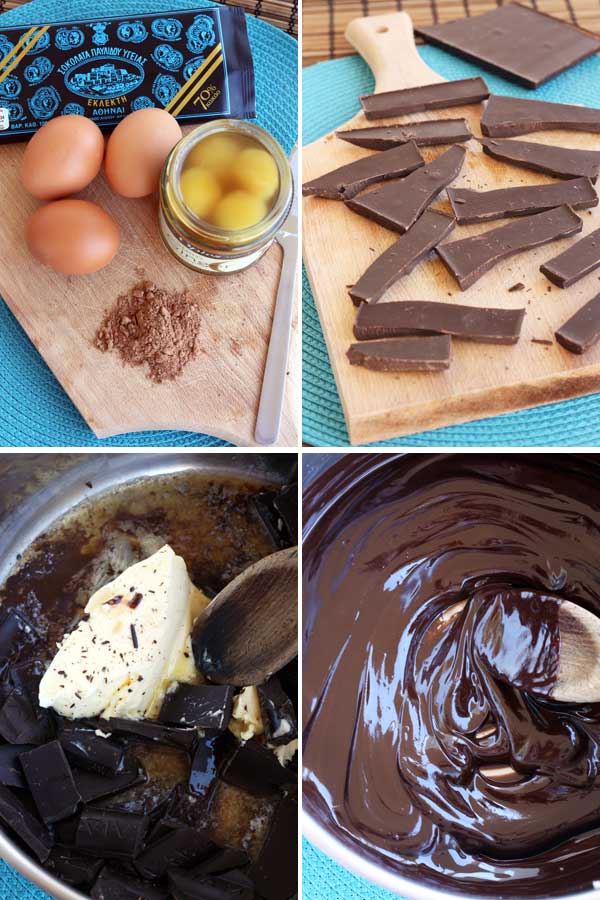 Before diving head first into the world of food blogging, I thought that a brownie was pretty much a brownie. There may have been fudgier ones and cakier ones, but they were still just brownies. I had never imagined that you could make them with avocado, or sweet potato, or black beans, or bacon. Yup, bacon. Most of us have heard of this trend of putting bacon in pretty much everything, including sweet cakes, so obviously it's good but … bacon? And, apparently, according to my mum's trusty magazine … beetroot!
If you think about it, though, putting beetroot in a cake really isn't too far a deviation from the carrot cake we all know and love. Come on, you have to admit it. I've seen chocolate zucchini cakes hanging out on recipe sites and blogs, too, so why not beetroot brownies? Hello hidden veggies!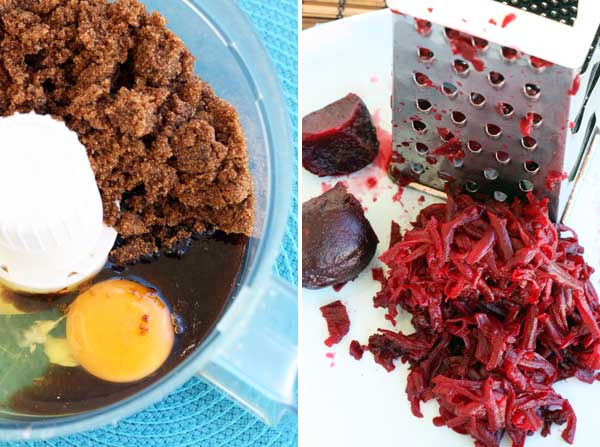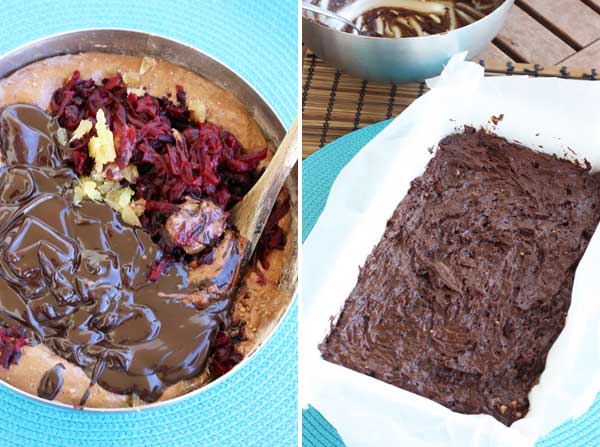 Like all veggie-additions to cakes, the beetroot keeps these brownies lovely and moist, as well as adding a certain 'je ne sais quoi'. Apparently red velvet cake was originally coloured with beetroot, but as these brownies are so chocolaty they just come out of the oven a wonderful deep dark shade of brown.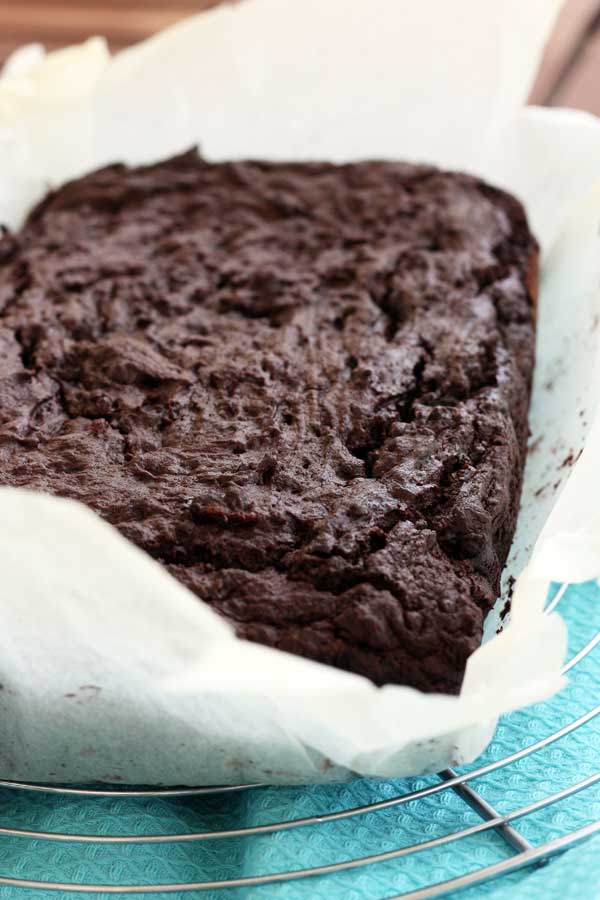 If I was a little unsure after first seeing this recipe, if I'm totally honest with you I didn't quite know what to make of the brownies after my first bite, either. It wasn't that I didn't like it but rather that it was a bit surprising. It's a densely rich, fudgy and chocolaty brownie, but somehow still light and delicate as well, almost like a really stiff mousse. Then there's the zingy and warm ginger hit and the slight earthy quality of the beetroot cutting through the intensity of the chocolate. After the first few cynical mouthfuls, I definitely began to warm up to the idea of a beetroot brownie. Yes, I definitely liked it! Especially warmed up a day later for a few seconds in the microwave and dolloped with a big spoonful of Greek yoghurt. The sour taste of the creamy yoghurt went perfectly with the dark dark chocolaty hit of the brownie.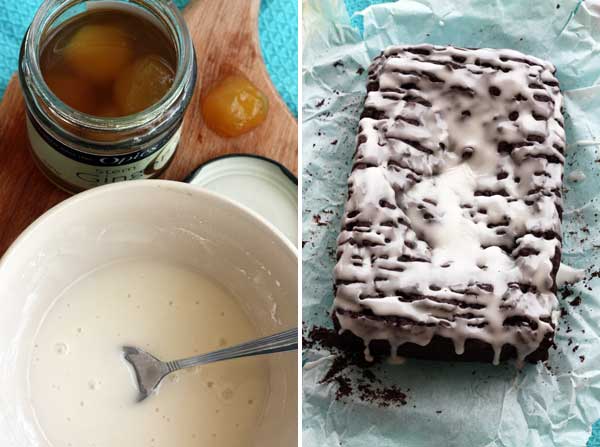 If you aren't the world's biggest ginger fan, I think you could very happily leave it out of this recipe. You could add a few white chocolate chunks to the batter mixture instead or just leave the brownies 'plain' with just a little icing sugar sprinkled over the top after they've come out of the oven.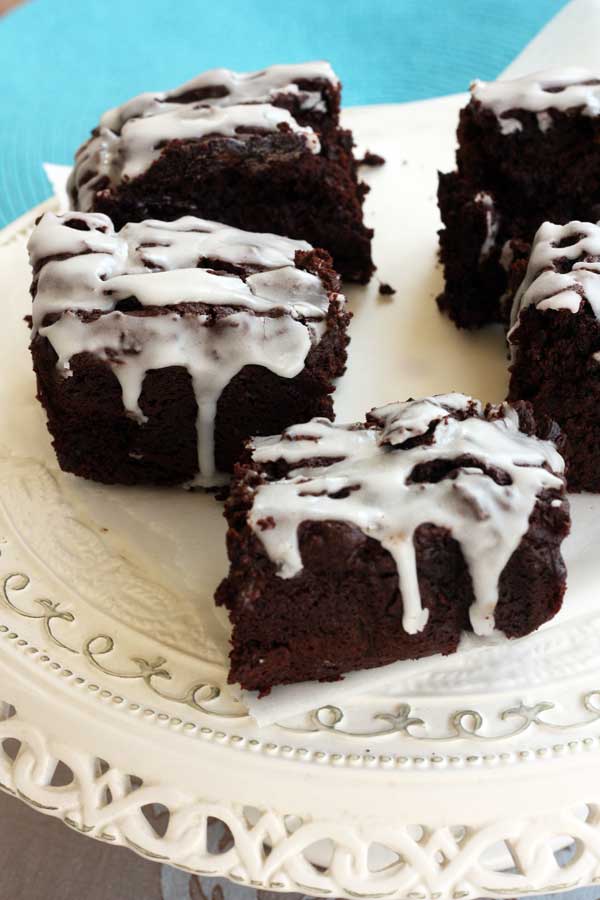 Finally … if I was worrying at all about my waistline here, which I'm not really (because they're brownies!), then I'd say that these aren't so bad. There's a good amount of nutritious beetroot in there, of course, but I also used dark chocolate with 70% cocoa solids and raw cacao powder. Plus real butter, and only about half the amount that you put in a regular brownie. But hey, as I said, don't think too much about this. Just eat and enjoy!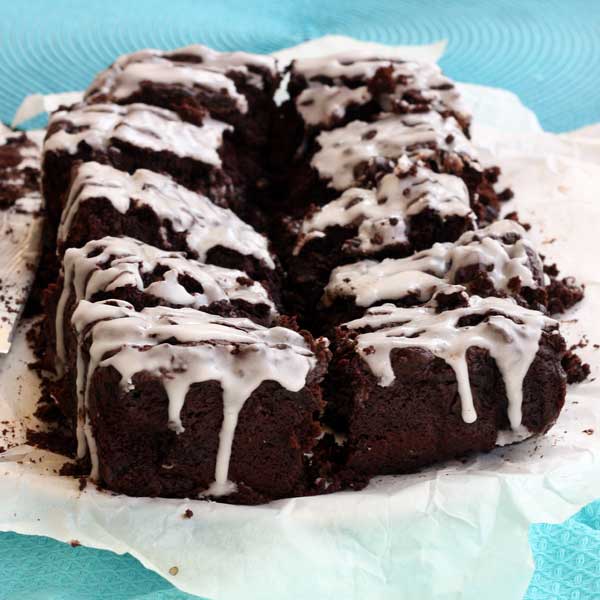 Oh, and by the way, I'm interested … what's the strangest ingredient you've ever put into a sweet treat?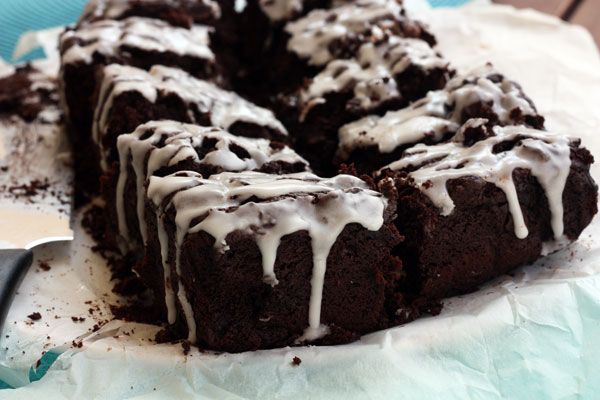 Beetroot & ginger brownies
These brownies may have an unusual veggie ingredient - beetroot - but this only makes them more delicious! They're dense, moist and fudgy without being too heavy and rich. Serve cold as they are or warmed slightly and dolloped with a spoonful of creamy Greek yoghurt. Delicious!
Ingredients (UK/Australia? Click below for grams/ml)
For the brownies
7

tablespoons

unsalted butter

8

ounces

good quality plain chocolate

(I used 70% cocoa solids)

3

eggs

3/4

cup

light or dark brown sugar

(I used dark)

1

teaspoon

vanilla extract

2/3

cup

self-raising flour

1/4

cup

cocoa powder

(I used raw cacao powder)

1

teaspoon

bicarbonate of soda

9

ounces

vacuum-packed cooked beetroot, drained well and grated

2

ounces

stem ginger from a jar

finely chopped (I used 2 ½ of the little balls of preserved ginger but you can use about 2 ½ tablespoons of chopped candied ginger instead if this is all you can find)
For the ginger drizzle (optional)
1/4

cup

icing sugar

3

or 4 tablespoons stem ginger syrup

from the jar, or water
Instructions
Preheat the oven to 180 degrees C/355 degrees F and line and lightly butter an 8x8 inch baking pan.

Melt the butter and the chocolate together on a low heat in a large pan. Stir together well, then take off the heat and set aside.

Using either a handheld electric whisk or a food processor, whisk together the eggs, sugar and vanilla until they are pale and fluffy (about 5 minutes). Sift the flour, cocoa and bicarb of soda into the egg and sugar mixture in a large bowl and fold in carefully with a metal spoon. Then fold in the ginger, beetroot and melted chocolate and butter mixture. Don't over-mix so that the mixture stays light and moussey.

Pour into the tin and bake for about 35 minutes or until set, but take care not to overcook. Then leave to cool completely in the tin.

Mix the ginger syrup or water into the icing sugar, if making, then drizzle roughly over the brownies. Leave them to set before cutting them into about 16 squares. Eat cold or heat for 20 to 30 seconds in the microwave and serve with a tablespoon or two of creamy Greek yoghurt. Enjoy!
Notes
Barely adapted from the March 2014 edition of UK Good Housekeeping magazine.
Nutrition
Calories:
206
kcal
Carbohydrates:
27
g
Protein:
2
g
Fat:
10
g
Saturated Fat:
6
g
Cholesterol:
43
mg
Sodium:
99
mg
Potassium:
158
mg
Fiber:
1
g
Sugar:
20
g
Vitamin A:
205
IU
Vitamin C:
1
mg
Calcium:
23
mg
Iron:
1
mg
I hope you enjoyed this post! You can find more from Scrummy Lane on Facebook and Pinterest and you can also follow me on Bloglovin! Thanks so much for reading! It really makes my day!