When you taste these chicken pieces coated in a sticky, super simple Asian sauce and toasted sesame seeds, you'll be so impressed with yourself for getting something so flavoursome on the table in just 15 minutes!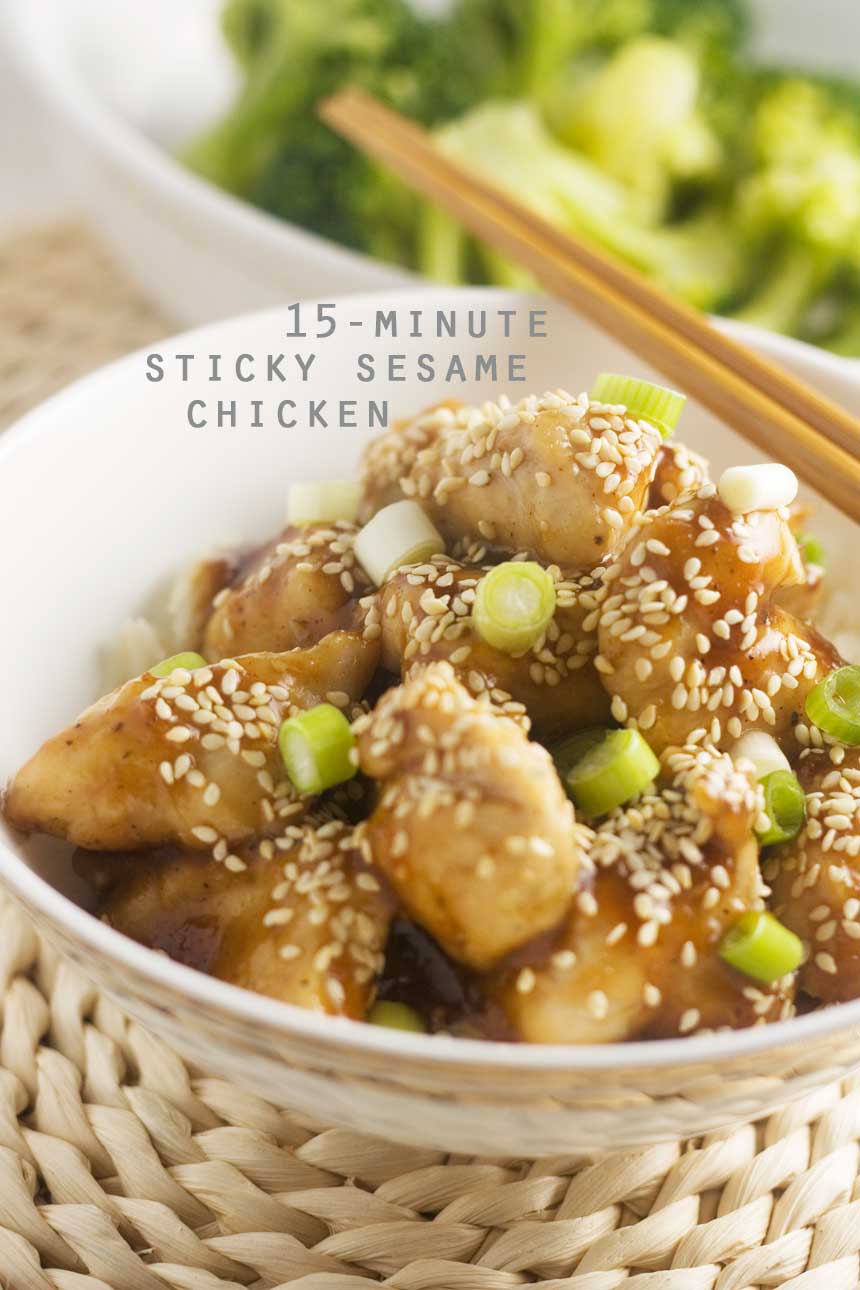 Mr. Scrummy and I got all excited by a purchase we made a couple of weeks ago. Not a car or brand new sofa or anything like that, but a second-hand freezer we snapped up from Gumtree for only £30. It was a bit battered here and there, but after a quick wipe down it was (almost) as good as new. Most importantly, it ended our 4 months of frustration with having the tiniest freezer compartment known to man in our rented apartment. Many a day included a spell of me huffing and puffing while kneeling in front of said fridge-freezer while unsuccessfully trying to squish things in.
For the last week or so, then, it's been frozen meals central around here (and ice cream central, but I blame Mr. Scrummy for that one). Not the preservative-laden pre-prepared variety, you'll be relieved to know. Just loads of leftover portions of food that I immediately started smugly tucking into our new freezer drawers – just because I could!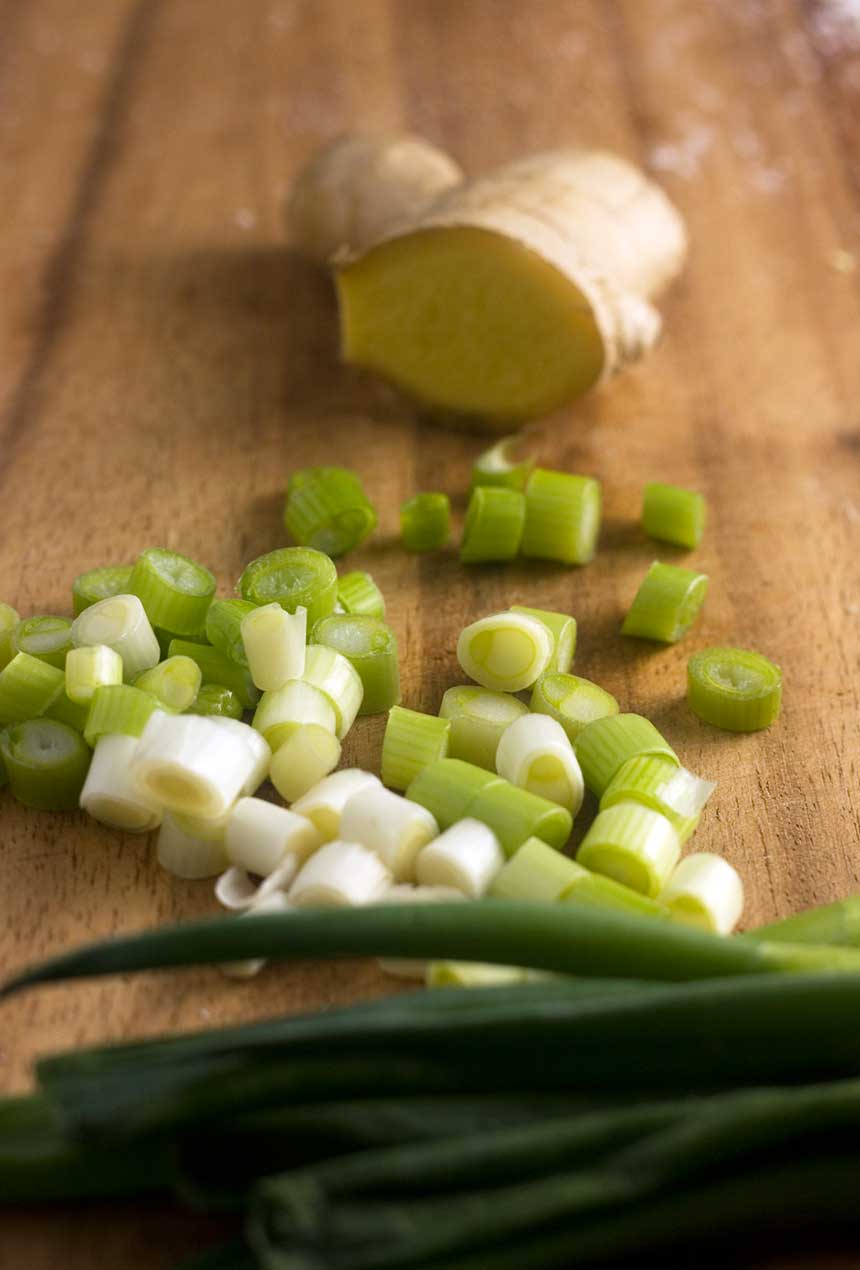 But the day finally came when there were no more frozen-meals-for-two left and I had to start getting off my *** again and get cooking some meals. That day was yesterday, but I decided to ease myself out of my lazy ways by cooking something that wouldn't take very long but would still taste really good.
After a quick leaf through my 'to make' list, I decided on a version of a recipe I found on the Weight Watcher's website, of all places. Now just to be clear, I am not a 'weight watcher' (with no disrespect to any of you who are, of course) but I guess it's still good to know that this recipe is a pretty healthy, light one. Even if you account for the fact that the Weight Watcher's recipe is supposedly good for four, but Mr. Scrummy and I ate the whole lot to ourselves. AND, ahem, tripled the amount of sauce …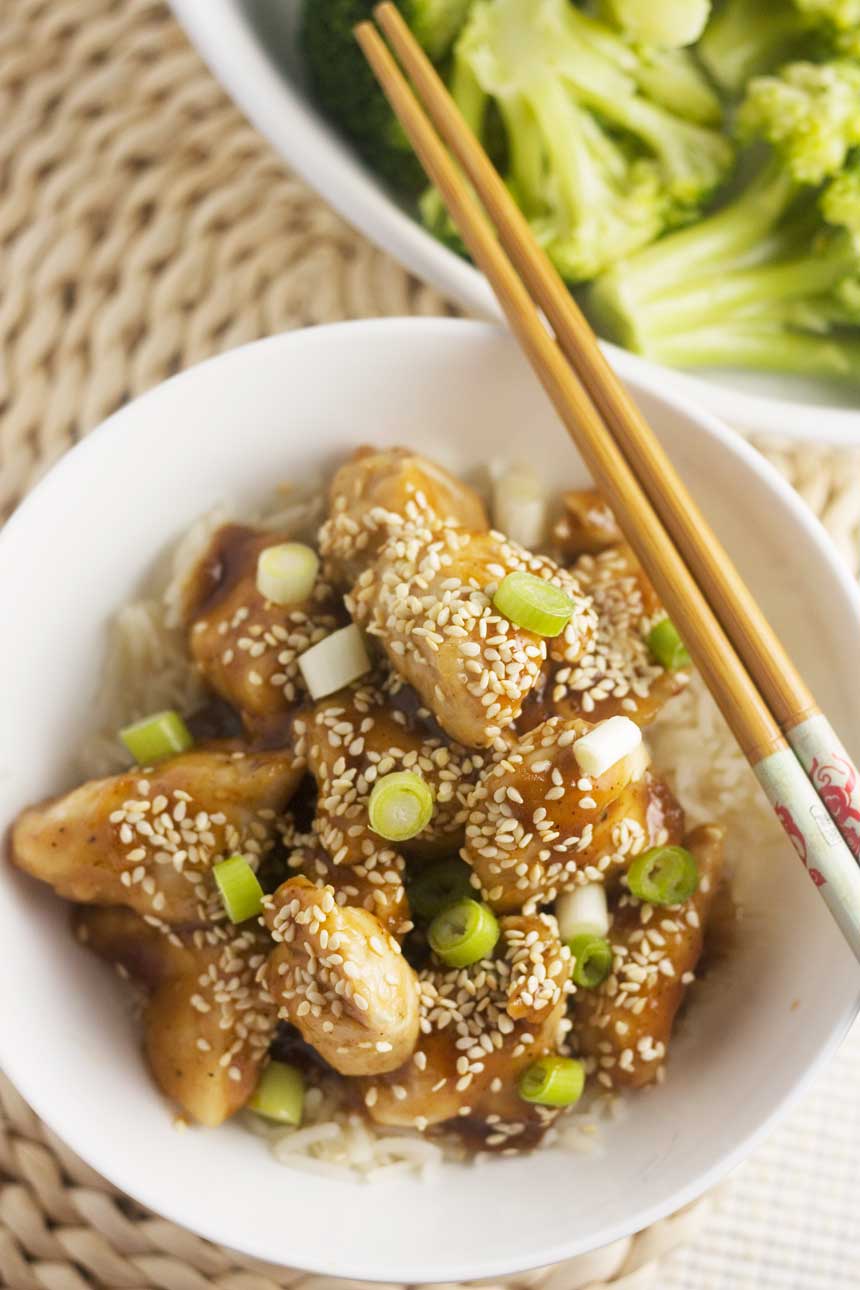 I definitely could have got away with making a little less of the sauce, but I figure that it's best to have some extra for those who want it. You can always leave some in the pan, but you don't want to feel like you don't have enough now, do you? 😉
Mr. Scrummy raved about how flavourful this was … and it really is. There are only four ingredients in the sauce (maple syrup, rice wine vinegar, soy sauce and ginger) but they are all pretty punchy flavours which meld together beautifully to make a sort of sweet and sour, glaze-y sauce that clings to the chicken and makes it all sticky and delicious.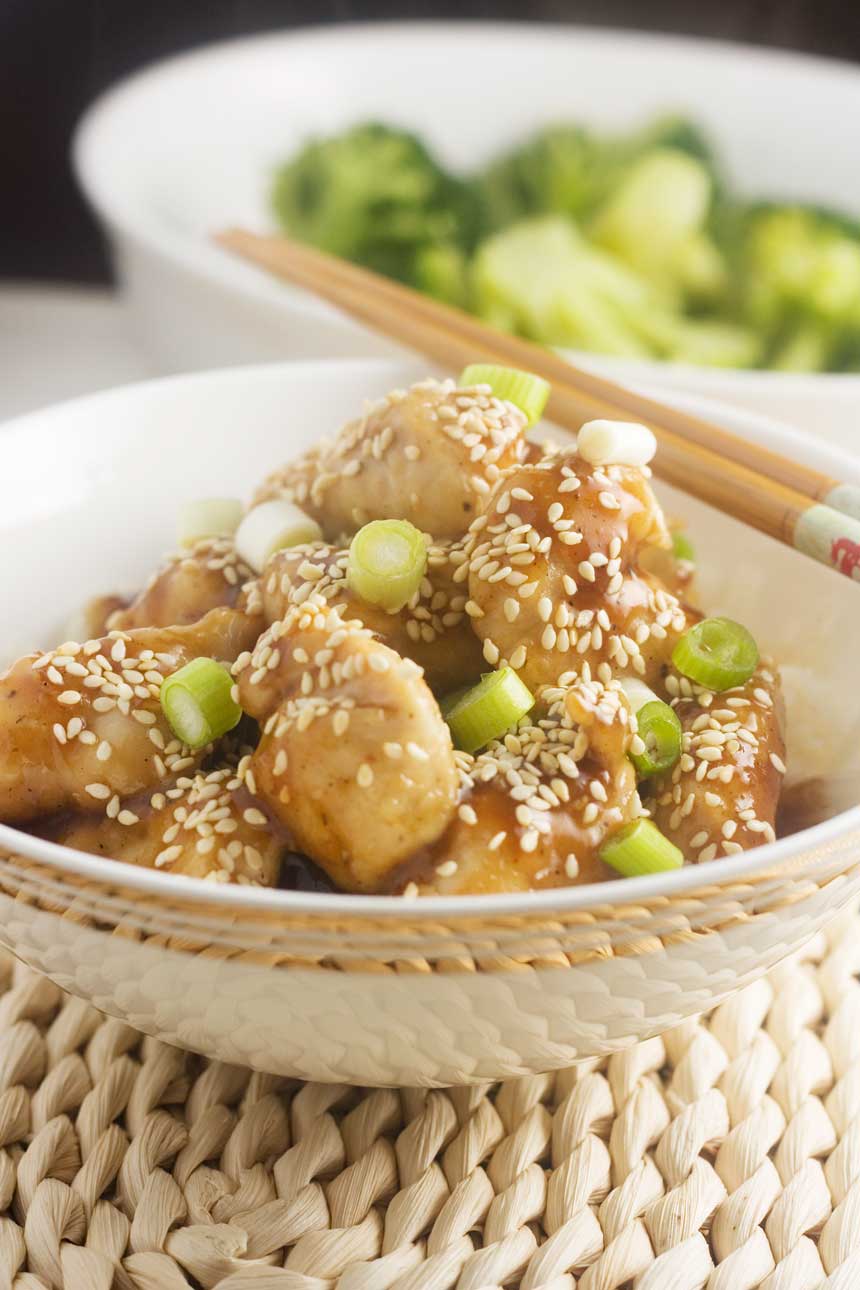 Spoon a good portion of the chicken and sauce over a bowl of rice, sprinkle nutty toasted sesame seeds and chopped spring onions generously over, grab some chop sticks and sit down and enjoy … only 15 minutes after you started cooking.
What's your favourite 15-minute meal?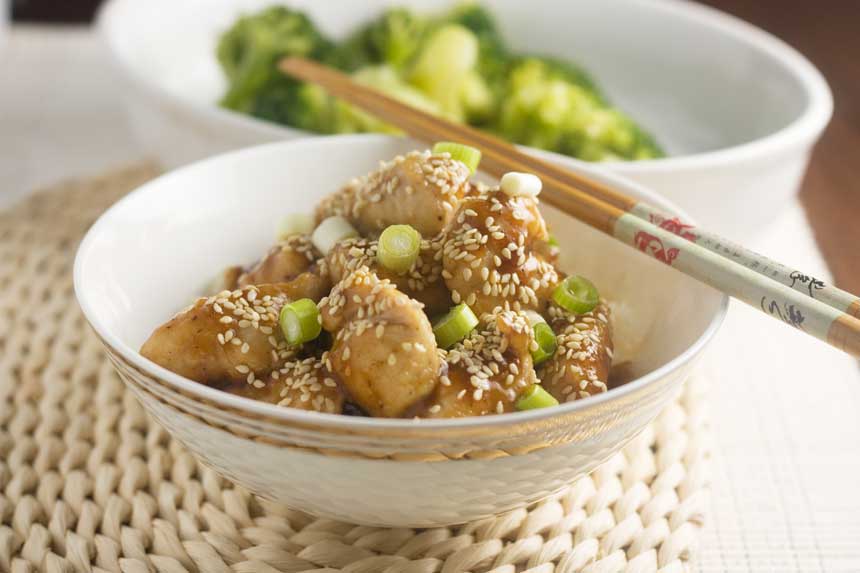 15-minute sticky sesame chicken
This dish of tender chicken pieces smothered in a sticky sauce and sesame seeds is absolutely bursting with flavour. This is a real crowd-pleaser ... and you'd never guess it only takes 15 minutes to get on the table!
Ingredients (UK/Australia? Click below for grams/ml)
2

tablespoons

raw sesame seeds

3

tablespoons

water mixed with 1 tablespoon cornstarch

3

tablespoons

soy sauce

3

tablespoons

maple syrup

3

tablespoons

rice wine

I used Japanese mirin, but Chinese rice wine is OK, too

about 2-inch piece fresh ginger

grated or finely chopped

1/2

teaspoon

Chinese 5-spice

2

tablespoons

plain flour

1/2

teaspoon

salt

1/4

teaspoon

black pepper

1

pound

boneless skinless chicken breast

chopped into bite-sized pieces

about 3 spring onions

chopped

oil

for cooking

rice to serve
Instructions
Heat a large skillet/frying pan on a medium heat, then toast the sesame seeds until a light golden colour (about 2 to 3 minutes). Transfer to a bowl.

In a medium bowl, whisk together the water & cornstarch, soy sauce, maple syrup, rice wine, ginger & 5-spice. Set aside.

Put the flour, salt and pepper onto a plate and roll the chicken in it until all of the chicken is lightly coated.

Heat a good drizzle of oil in the pan on a medium-high heat, then brown the chicken for about 5 minutes until golden on all sides.

Add the sauce to the pan and let it bubble and thicken for a minute or two. Serve the chicken over rice, then sprinkle generously with the toasted sesame seeds and chopped spring onions.
Notes
Based on Weight Watchers recipe for sesame chicken.
This recipe makes a generous amount of sauce (because that's how we like it!) Just reduce the first 4 sauce ingredients (water, soy sauce, maple syrup, rice wine) to only 2 tablespoons if you're a little less 'saucy'!
This is lovely served with some simple boiled broccoli. Put frozen broccoli on to boil about the same time you start cooking the chicken and everything should be ready around the same time.
I took the lazy approach to my rice and bought a packet of the stuff you just bung in the microwave for a couple of minutes. If you'd rather cook your own, just remember to put it on to cook when you start making your meal so that it's ready in time.
Nutrition
Calories:
508
kcal
Carbohydrates:
42
g
Protein:
53
g
Fat:
10
g
Saturated Fat:
1
g
Cholesterol:
145
mg
Sodium:
2358
mg
Potassium:
1001
mg
Fiber:
1
g
Sugar:
18
g
Vitamin A:
70
IU
Vitamin C:
2.7
mg
Calcium:
134
mg
Iron:
3.4
mg

You can also find more from Scrummy Lane on Facebook, Pinterest, Twitter and Instagram and follow me on Bloglovin! Thanks so much for reading!
*This post may contain affiliate links which means that if you click on a link and make a purchase I get a small percentage of the amount you spend. At no extra cost to you, of course! Thank you!*