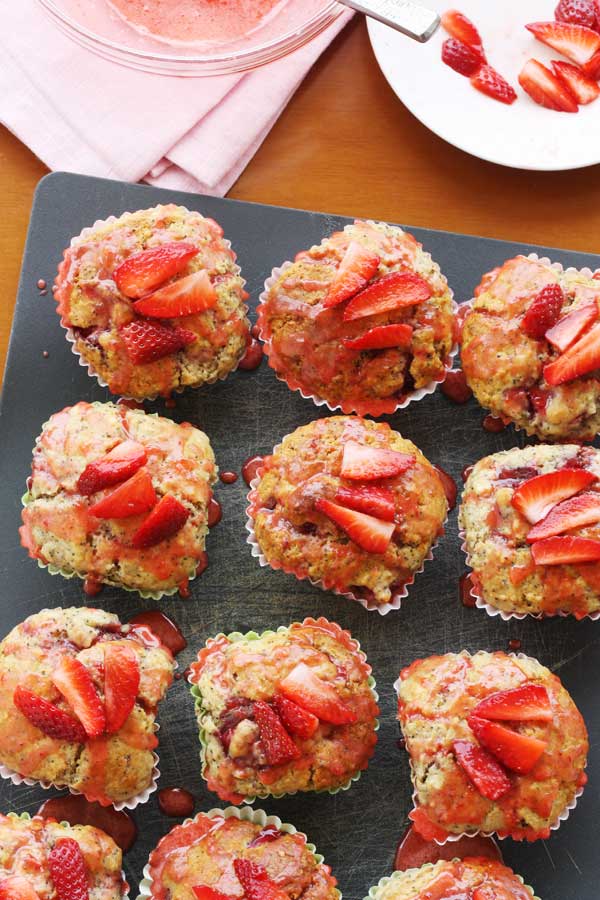 Somehow, making these strawberry poppy seed ricotta muffins reminded me of my late granddad. It may seem like a loose connection to you, but strawberries are berries and berries always make me remember going hunting for small round berries called elderberries as a child. So that my granddad could make elderberry wine, no less. He was tee-total himself, but he still loved making this wine for others. I never got a straight answer from him regarding why he did that. Just as I never got a serious answer from him as to how he 'magically' made his thumb split in two, which always, always impressed my sister and I. Most likely he simply enjoyed the experience of picking something fresh from nature and being able to make something with it to bring pleasure to others.
Unfortunately, now new homes have been built on the site of those elderberry bushes and the last time I saw fruit, blackberries I think, growing wild on the outskirts of the city was by a very busy road, traffic fumes no-doubt infusing into the fruit, and with a huge ditch full of stinging nettles between myself and the bushes. So I can't say I was tempted to hop across and grab some!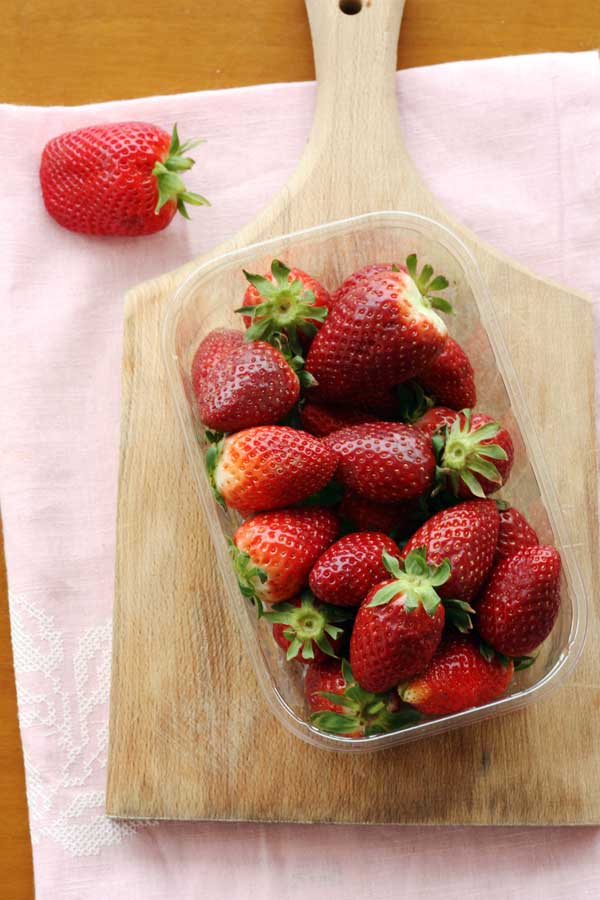 I also have fond memories of picking strawberries as a child. Now I'm not the world's biggest fruit fan by any means, but for me there is nothing that shouts out that summer is here or at least approaching than a lovely bowl of freshly washed and lightly sugared strawberries. Their bright red colour, their pretty shape, their irresistible smell, the way they pair so well with other yummies like chocolate and cream. Let's face it, strawberries would probably win first prize in all manner of food contests; popularity, beauty, health, taste. You name it, they would be up there on the podium with a smug look on their beautiful heart-shaped faces.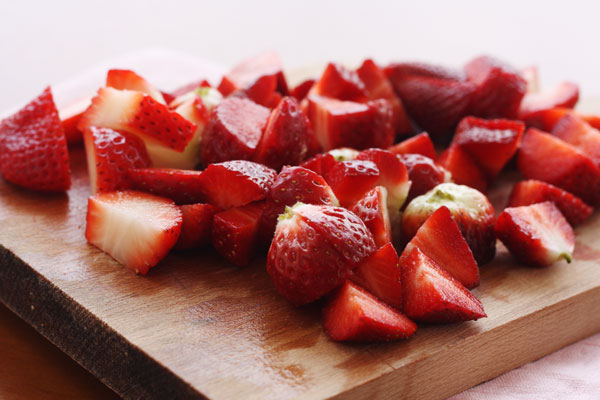 Oh dear. Yes, I am talking about strawberries as if they are people. I'd better talk about these muffins instead before you all decide I'm totally mad and never come back here again.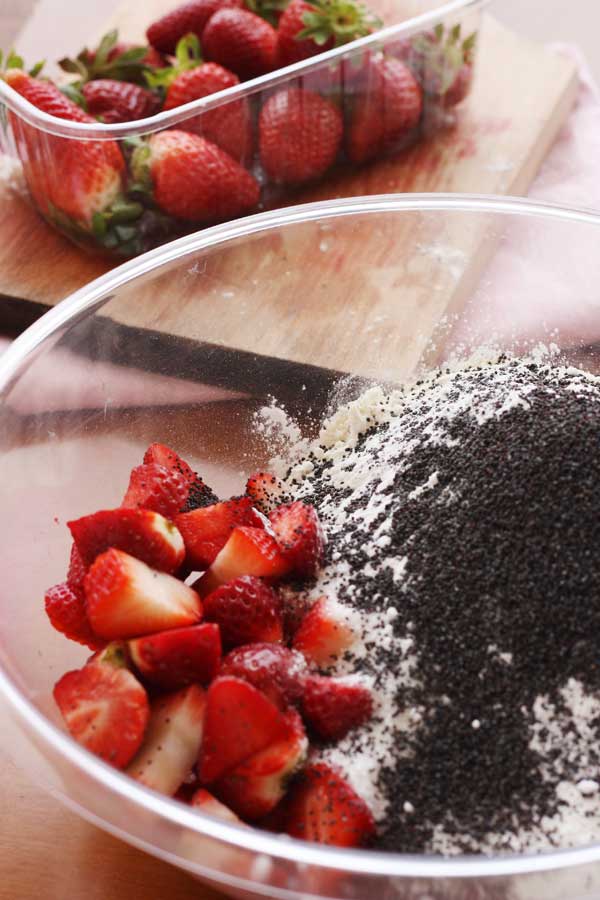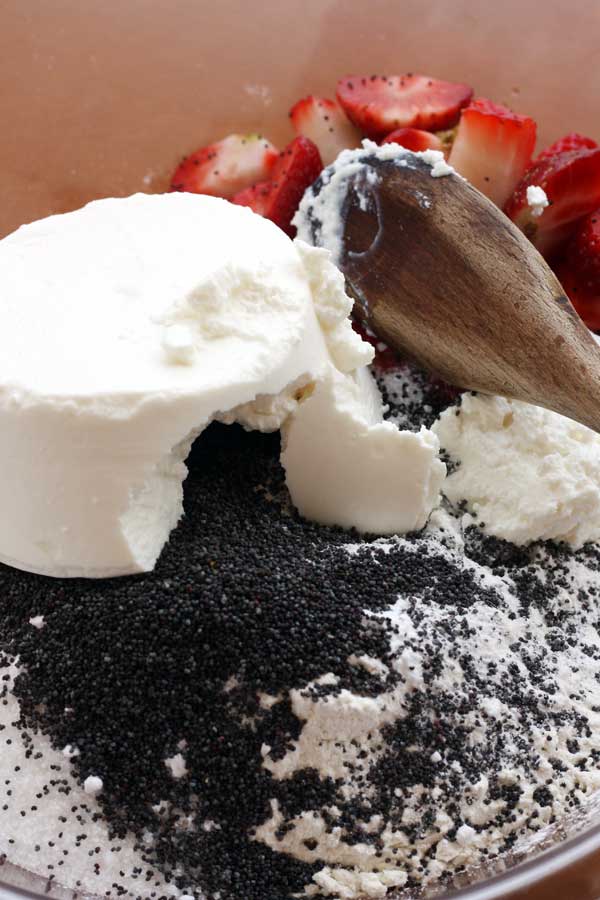 So I first saw a recipe for strawberry ricotta muffins on Sneh Roy's excellent blog Cook Republic and I've now made them several times. I found them so quick and easy to whip up and the ricotta gives them a lovely deep milky flavour. They also aren't overly sweet, so the second time I made them I added a good amount of white chocolate chunks, which worked perfectly. This time, though, I decided to try adding some poppy seeds that I had lurking in my cupboard and to top the muffins with a little icing sugar, blended strawberries and lemon juice to give that extra little sweet something. If you'd rather enjoy the fact that these muffins are lighter on the sugar, though, do go ahead and skip the icing. If you do decide to leave them plain, I would recommend sprinkling over a little brown sugar before baking, however, which gives the muffins a lovely caramelized crunch.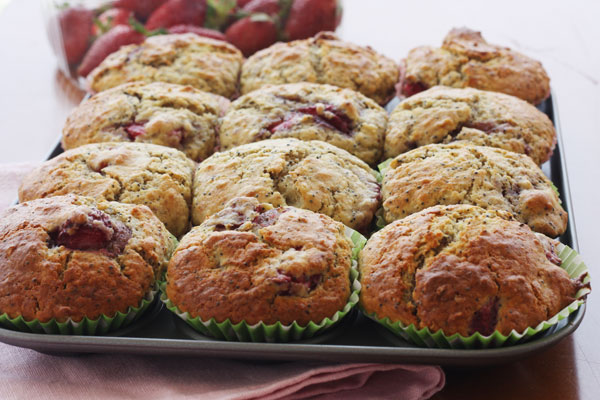 Some muffin or cake recipes that I've seen warn NOT to add strawberries because of their high water content. Personally, though, I love the fact that the strawberries sort of melt and mush into the batter when cooked. The only caveat I would add is to eat the muffins within a day or two because after that the cooked strawberries do make the cakes debatably a little too wet.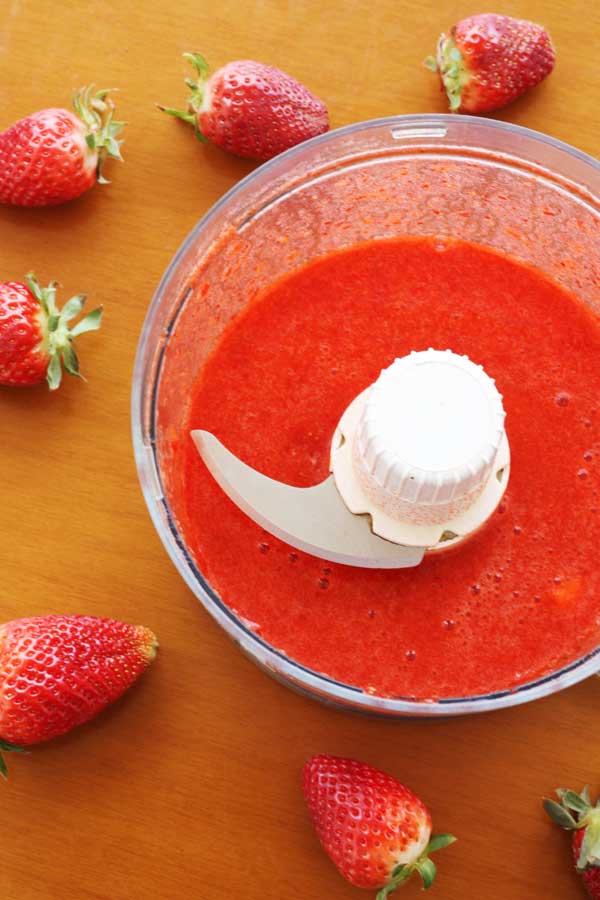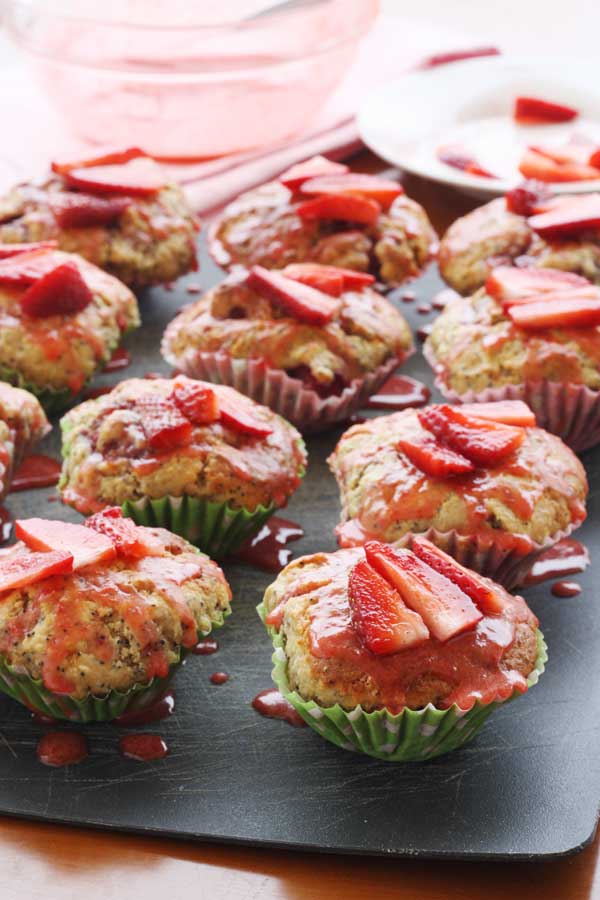 I think I'll leave you with some strawberry-flavoured good wishes …
Wherever you are in the world, and whether you have said goodbye to winter there yet or not, I wish you many strawberry tarts, bowls of strawberries and cream, strawberry smoothies, strawberry salads perhaps, these strawberry and poppy seed ricotta muffins (of course) and general warm fuzzy strawberry feelings this summer! Amen.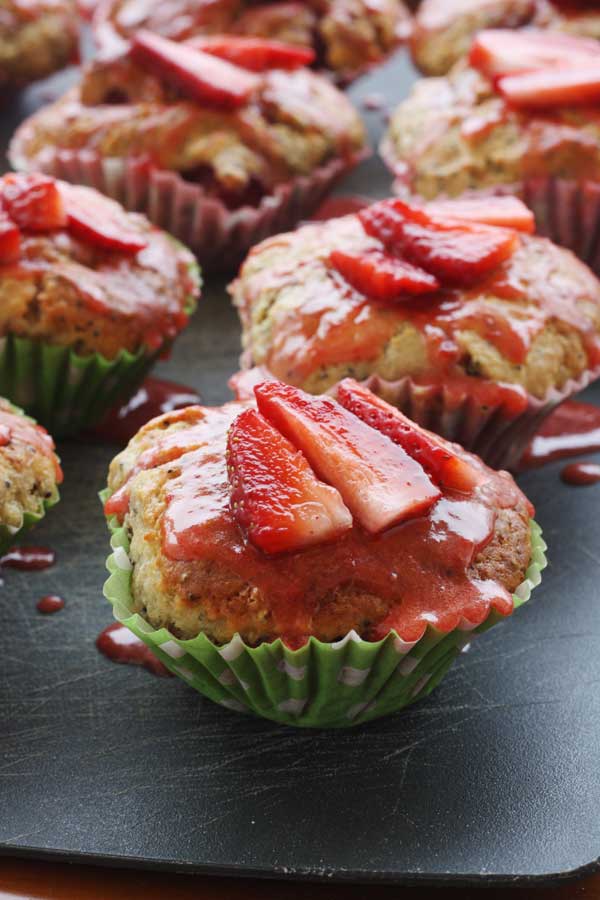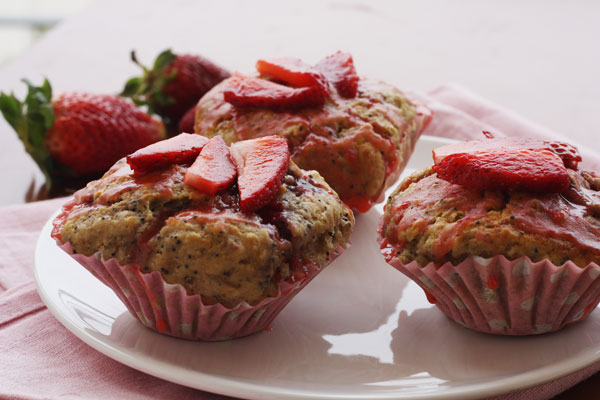 Strawberry poppy seed ricotta muffins
Beautiful light & summery muffins made with fresh strawberries, poppy seeds & ricotta cheese and topped with a strawberry glaze.
Ingredients (UK/Australia? Click below for grams/ml)
For the muffins
2 1/2

cups

self-raising flour

3/4

cup

sugar

1

teaspoon

bicarbonate of soda

a pinch of salt

2

tablespoons

poppy seeds

1 1/2

cups

fresh strawberries

washed & chopped into quarters (plus four or five extra for decorating, if you like)

1

cup

ricotta cheese

4

tablespoons

butter

melted (1/2 stick)

2

eggs

3/4

cup

milk
For the glaze
1

cup

icing sugar

4

or 5 strawberries

1

lemon

a couple of squeezes of the juice
Instructions
Pre-heat the oven to 350F/180C and line a muffin tin (or two) with 16 or so muffin cases.

Put the flour, sugar, bicarb of soda, salt,

poppy seeds

& strawberries together in a large bowl, then stir in the ricotta until combined but still a bit lumpy.

Melt the butter and let it cool a little, then whisk the eggs and milk into it. Add this wet mixture to the dry ingredients and stir until just combined.

Spoon the mixture into the muffin cases until they are about 2/3 full. Bake for about 20 minutes or until golden on the top and a skewer stuck into the middle comes out dry.

Let the muffins cool on a wire rack. Meanwhile, make the glaze. Whizz the strawberries up in a food processor with a couple of squeezes of lemon juice, then add tablespoons of it to the icing sugar until your glaze is the desired consistency (probably 2 or 3 tablespoons). Pour over the cooled muffins. Decorate each muffin with 2 or 3 slices of strawberry, if you like.
Notes
Adapted from Cook Republic's ricotta muffins with strawberries.
If you prefer:
1. omit the poppy seeds and add about 100 grams of chopped white chocolate instead.
2. instead of the strawberry glaze, simply scatter over a little brown sugar before baking.
Eat the muffins within a couple of days to enjoy them at their best (I bet they won't last even that long, though!)
Nutrition
Calories:
215
kcal
Carbohydrates:
34
g
Protein:
5
g
Fat:
6
g
Saturated Fat:
3
g
Cholesterol:
36
mg
Sodium:
120
mg
Potassium:
101
mg
Fiber:
1
g
Sugar:
18
g
Vitamin A:
205
IU
Vitamin C:
13.3
mg
Calcium:
72
mg
Iron:
0.5
mg
I hope you enjoyed this post! You can subscribe to receive posts directly to your inbox by entering your email address in the box below or at the top of the sidebar on the right.
You can also find more from Scrummy Lane on Facebook, Pinterest and Twitter and follow me on Bloglovin! Thanks so much for reading!
*This post contains affiliate links which means that if you click on a link and make a purchase I get a small percentage of the amount you spend. At no extra cost to you of course! Thank you!*