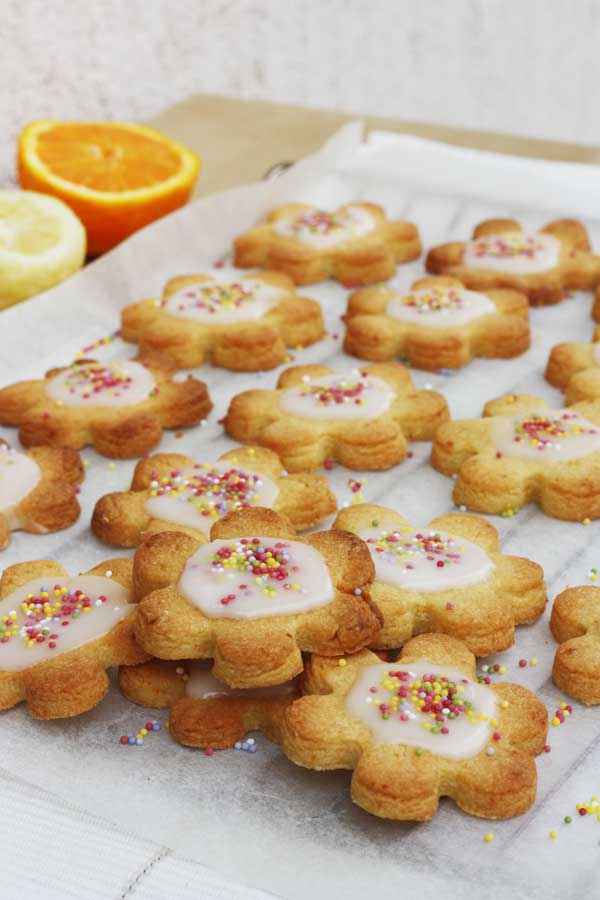 Making these biscuits (OK then, go ahead and call them cookies, if you must) reminded me of a long-held grudge.
Many moons ago, way back when I was a young teenager, I had a home economics teacher who we'll call Mrs. X.
Now I don't know whether you have these kinds of classes in your country, but let me tell you, they were a welcome distraction from the daily drudge of Maths, English and so on … and hence looked forward to for days. You would be given a list of ingredients the week before, you'd go off and do your shopping with your mum, carefully pack said ingredients into a wicker basket with a gingham cover over it (it had to have the gingham cover) and then on 'the day of' you'd excitedly carry them to school with you to make your cake, or lasagne, or biscuits, or scones, or whatever it was you'd been told you were making that day.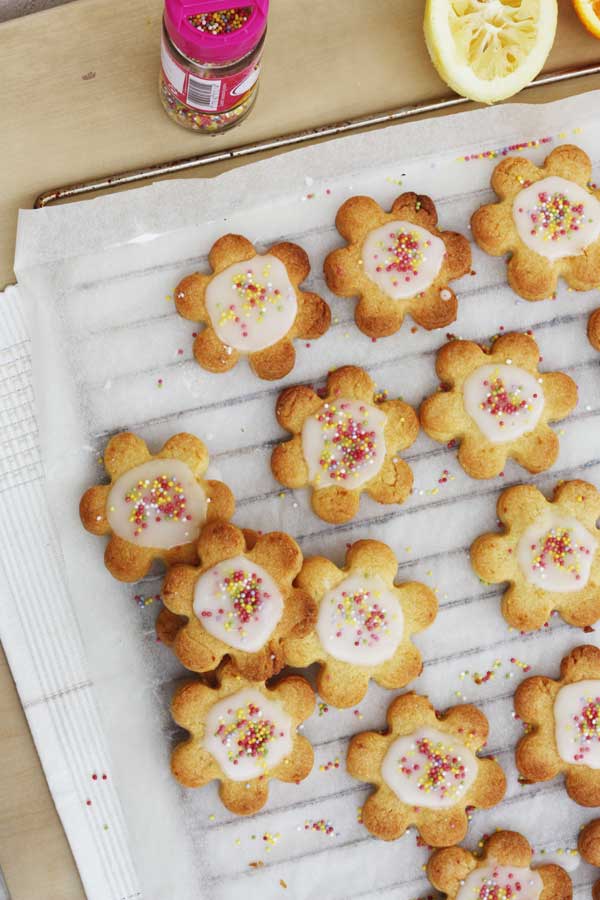 This one particular time we were going to make a Christmas cake. I remember being extra excited about that. I guess even at that age it gave me a bit of a warm fuzzy feeling to know that others might get to enjoy something I'd cooked or baked. So you can imagine my disappointment when we cut into my cake on Christmas Day (after oh-so-carefully icing it, I might add) and the middle immediately started to run and dribble its way out to the edge of the plate, like some cake version of a mudslide laden with currants and raisins and cherries and brandy and mixed peel and mixed nuts and spices and whatever other ingredients that you generally stuff into a typical Christmas cake. And all this after Mrs. X had insisted that my cake was done and ready to take out of the oven, coincidentally (?) just before the bell for the end of the lesson was about to ring. Even to my untrained eye it still looked a little too pale and wobbly in the middle, but out it came. She didn't give me any other choice.
Needless to say, I (and my mum who had spent a pretty penny on the ingredients) were more than a little bit miffed.
And am I really admitting that I'm still a little bit annoyed about this? Oops, I think I am. I'm usually such a forgiving soul as well. But anyway, luckily for Mrs. X, I can't remember her name so she's safe from being named and shamed at least.
Besides, since then I too have spent a stint working as a teacher and I'm now pretty convinced it's the world's most challenging job. At times at least. And so I'd be willing to bet that probably somewhere out there in the world some poor now-grown-up teenager is holding a similar sort of grudge against me. I guess that would serve me right. I'm sorry, unknown teenager(s) who I unwittingly offended, wherever you are in the world.
And Mrs. X … if you ever come across this post, all is forgiven. Erm, well almost. Grrrr.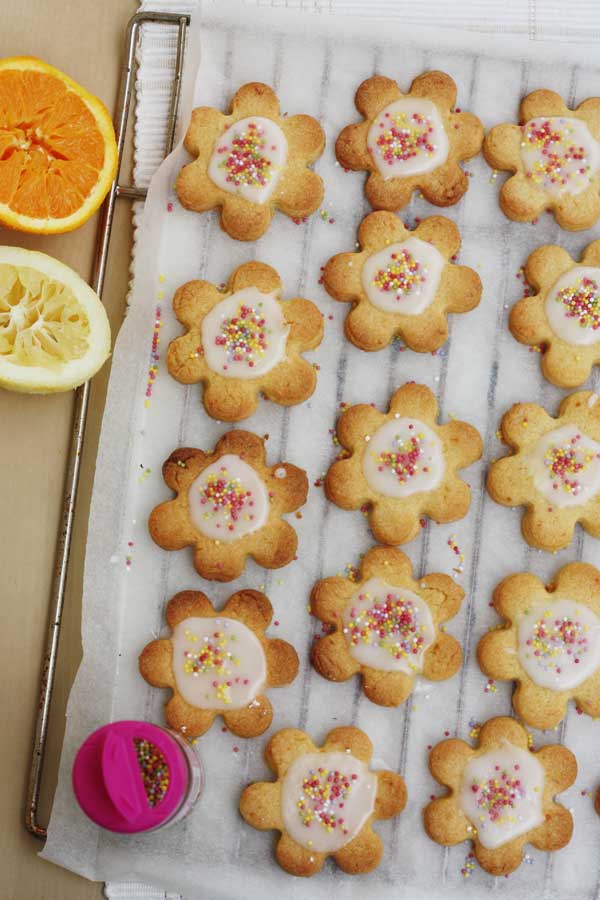 Another better (not to mention much earlier) memory of school economics lessons is the one where I got to make some Shrewsbury biscuits. Now I don't think I can go any further without explaining a few things about these biscuits. They're basically a very simple shortbread-y type of cookie (aka biscuit) with the optional addition of various flavourings such as rosewater, caraway seeds, nutmeg, cinnamon, citrus and vanilla. Apparently (according to Mr. Google), they date way way back to as early as the 1500s. Which I find a little bit hard to get my head around. How on earth can we still be eating these things six (SIX!) centuries later? Oh, and the original commercial recipe is said to have originated from the town of Shrewsbury in England in the 17th century. Hence the name.
And another thing about these biscuits. Pretty much every child in the history of Britain (probably starting in the 1500s) has to make them in their home ec class. In one of their very first classes, in fact. Yes, they're that easy.
Literally, all you do to make these little beauties is cream together butter and sugar, stir in egg yolks, flour and lemon zest (and orange zest, if you like – I made this part up but it seemed to work), gather up into a ball, chill for a little while then roll out, cut out and bake. Done.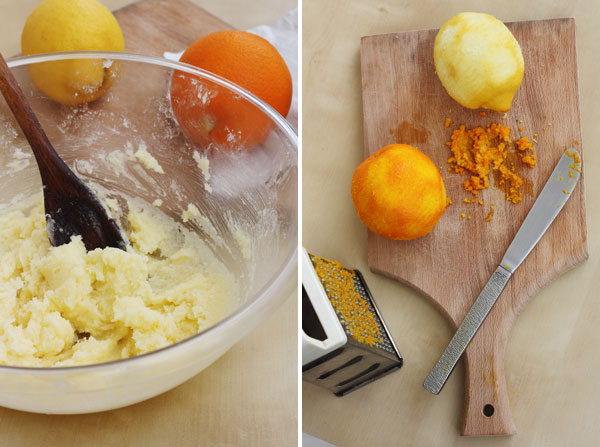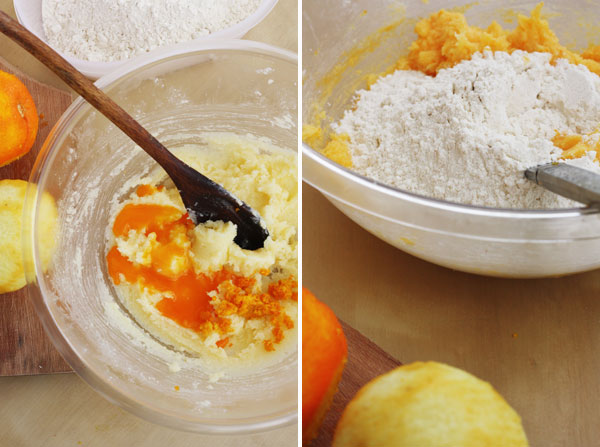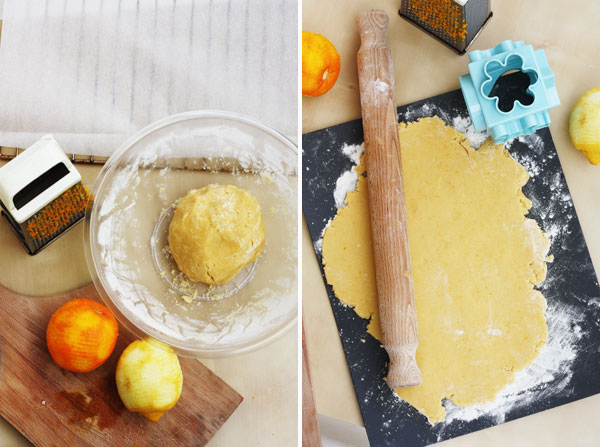 As it's Easter this week and all that, I decided to use a flower-shaped cutter to cut my cookies out, ice them with a little icing sugar and lemon juice and finally sprinkle them with pastel-coloured full-of-the-joys-of-spring sprinkles. Preeee-teeee! The biscuits end up crispy around the edges but with a lovely soft-ish interior. Very much like shortbread but perhaps a little lighter. Perfect with a proper English cup of tea if I may say so!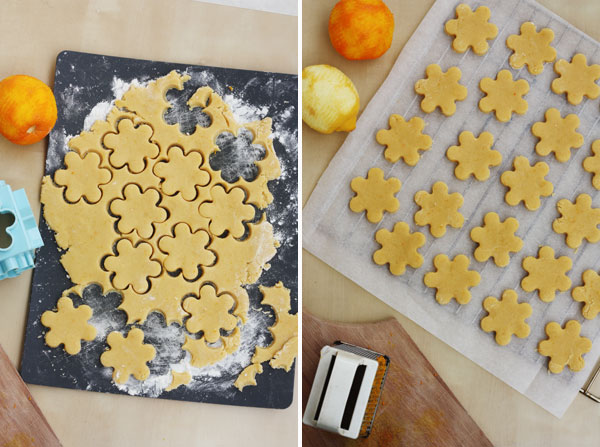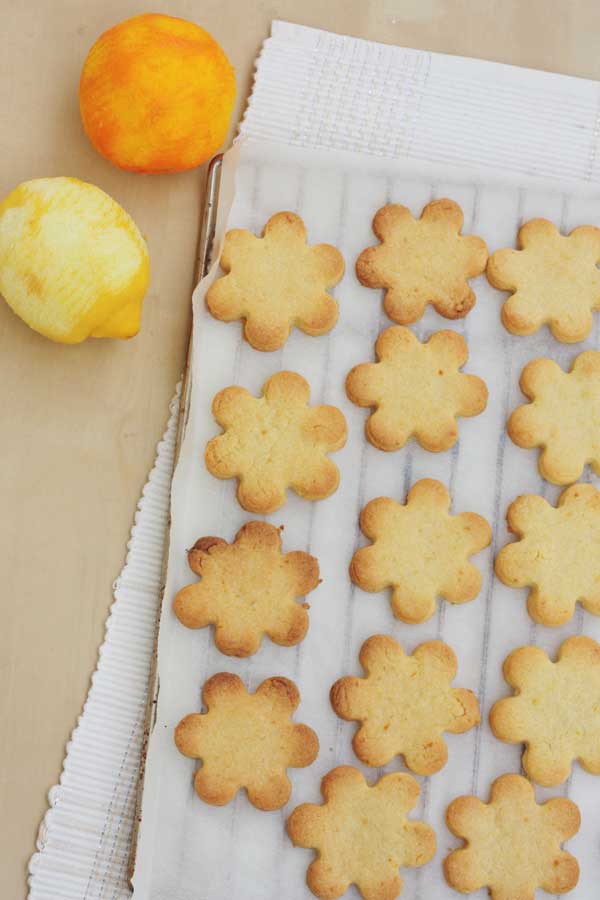 OK, so just before I go, it's confession time. Here goes: 'I'm Helen and I've never made a proper American cookie.' There, I said it.
But I reckon making these lovely simple and perfectly Easter-worthy citrusy biscuits was a great way to start working up to it.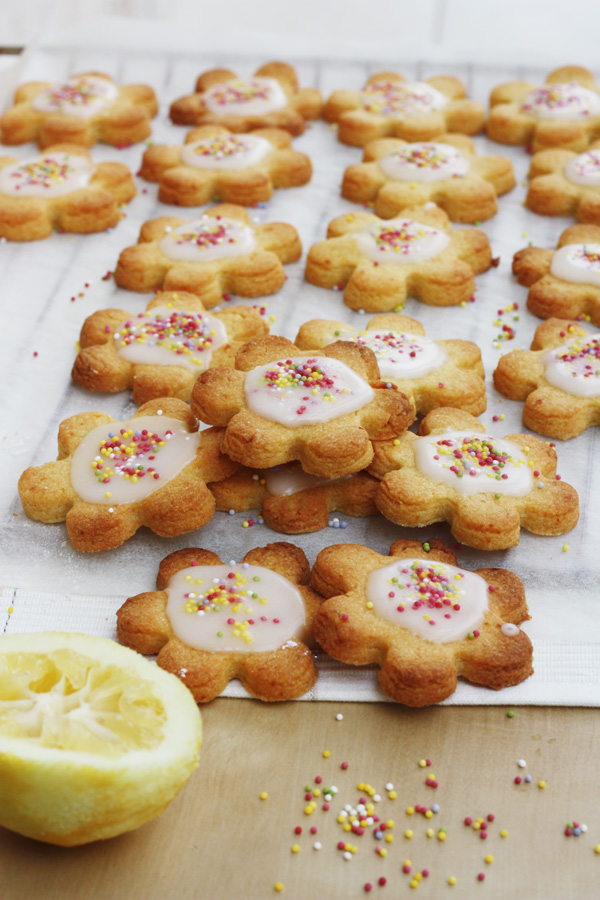 Which leads me onto this. I need your advice. In your opinion, what American cookie should I have a go at first? Chocolate chip? Double chocolate? Triple chocolate banana brown butter pecan caramel s'mores swirl? 😉 (note that chocolate isn't really optional) What recipe should I use? What's your top cookie-making tip?
Hope you can help me. And finally … Kalo Pasxa! (Happy Easter in Greek)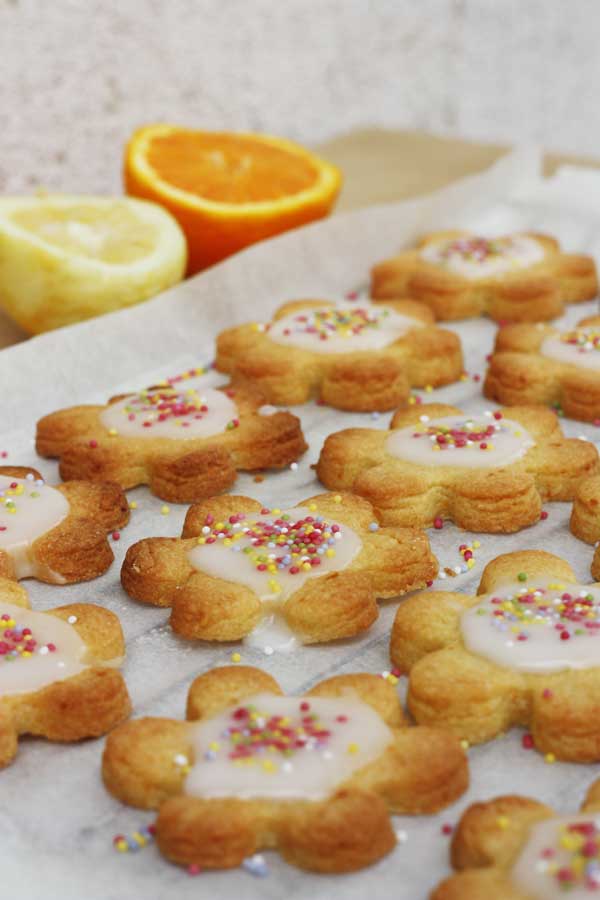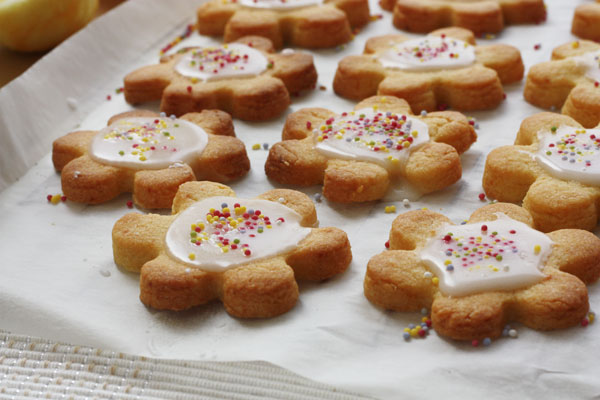 Iced citrus Shrewsbury biscuits
Traditional English shortbread-y biscuits flavoured with citrus, iced with a tangy lemon icing and topped with pretty pastel sprinkles. Perfect for Easter!
Ingredients (UK/Australia? Click below for grams/ml)
For the biscuits
8

tablespoons

butter

left out of the fridge for a while to soften

2/3

cup

sugar

2

egg yolks

lightly whisked

1

cup

flour

zest of 2 lemons & 1 orange
For the icing
1

cup

icing sugar

a few squeezes of lemon juice
Instructions
Preheat the oven to 350F/180C and grease two baking sheets.

Cream the butter and sugar together either by hand with a wooden spoon or with a hand-held whisk until pale and fluffy.

Stir in the eggs, then the flour and citrus zest with the blade of an eating knife until it's lumpy and all roughly worked in. Then gather the mixture up into a stiff dough with your hands. Wrap in plastic wrap and chill for at least half an hour.

Roll the dough out to a thickness of 4-5mm on a floured surface.

Cut out your biscuits with your chosen cutter, then place them on your baking tray and bake for about 15 minutes or until the biscuits have browned lightly.

Let the biscuits cool on a wire rack.

In the meantime, make the icing. Add a couple of squeezes of lemon to your icing sugar or until your icing is of the desired consistency.

Drop 1/2-teaspoons-full of icing into the centre of each biscuit and carefully spread out a little. Don't put too much on as it easily runs over the edge of the biscuit.

Quickly sprinkle over your coloured sprinkles. Leave to set. Store in an airtight container if not eating immediately.
Notes
I kept my biscuits very simple, but if you like, you can experiment by replacing/adding to the citrus zest with 2 ounces/60 grams currants or raisins, ½ a teaspoon of caraway seeds, ½ a teaspoon of cinnamon, 2 teaspoons of rosewater or ¼ teaspoon of nutmeg … or a combination of these flavours.
My dough came together really easily, but if yours doesn't, just add a tablespoon or so of milk.
You could replace the icing with a little melted chocolate (white, milk or dark!)
Nutrition
Calories:
94
kcal
Carbohydrates:
13
g
Fat:
4
g
Saturated Fat:
2
g
Cholesterol:
25
mg
Sodium:
32
mg
Potassium:
6
mg
Sugar:
10
g
Vitamin A:
135
IU
Calcium:
4
mg
Iron:
0.3
mg
I hope you enjoyed this post! You can subscribe to receive posts directly to your inbox by entering your email address in the box below or at the top of the sidebar on the right.
You can also find more from Scrummy Lane on Facebook, Pinterest and Twitter and follow me on Bloglovin! Thanks so much for reading!