This delicious treat of a brunch (or any meal, really – why not?) aka giant cheddar & bacon rösti, comes to you today because I decided that it was perfectly reasonable to try to squeeeeze in a 'tasty brunch' cooking session last Sunday before an already-too-full schedule. I scavenged around in my fridge to see what I could make with what was already there in the hope of saving myself a trip to the supermarket, decided on a giant rösti (mmm …), got all my pots and pans out and then realised that I had potatoes but didn't really have enough cheese … and the use-by date on the bacon suggested it wouldn't be very wise (at all) to use it … oh, and chives would go well in this dish, too, I thought. So off I dashed to the supermarket after all as if my life depended on it. The result, not surprisingly, saw me flailing around the kitchen with bits of potato peelings and cheese hanging off my hair and pots and pans and camera equipment strewn everywhere as if a bomb had dropped.
After I'd finished cooking and taken my photos, you should have seen Mr. Scrummy and I wolfing down our food in a mad dash to get out the door and to the early afternoon cinema screening we'd arranged to go to. It was not a pretty sight, I can tell you …
… but all this madness was totally worth it a. to rush off to the Stephen Hawking film 'The Theory of Everything' (you have got to see that film if you haven't already!) and b. to be able to post this scrummy giant cheddar & bacon rösti today. Hope you like it!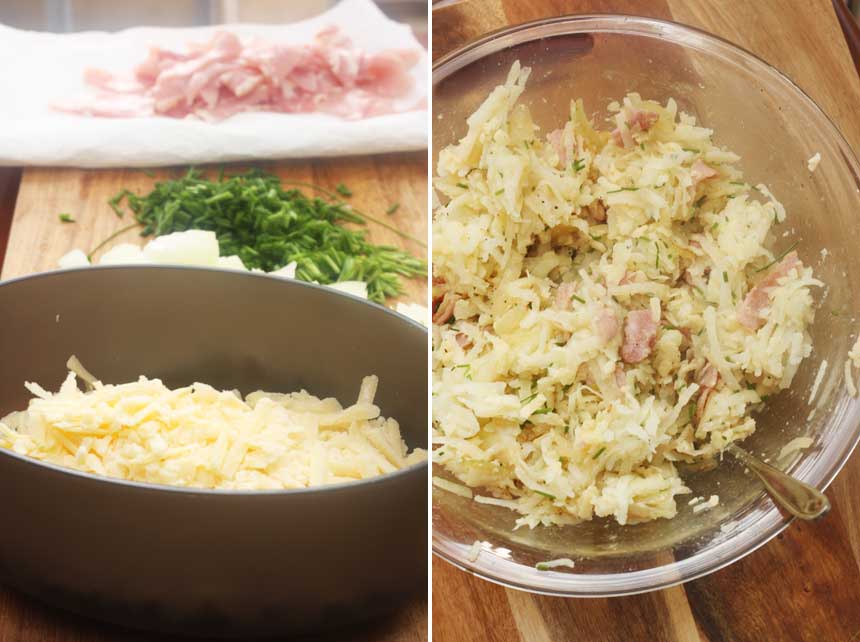 The idea of making something resembling this giant cheddar & bacon rösti has been floating around and maturing in my head for a little while now, ever since I visited a famous tea shop that specialises in traditional Swiss röstis (Betty's of York, in case anyone is interested – highly recommended!) 'And what on earth is a rösti?' I can hear you muttering under your breath. Well, just imagine a sort of big and posh hash brown – but much richer and tastier and cheesier and, let's face it, altogether more cool and elegant.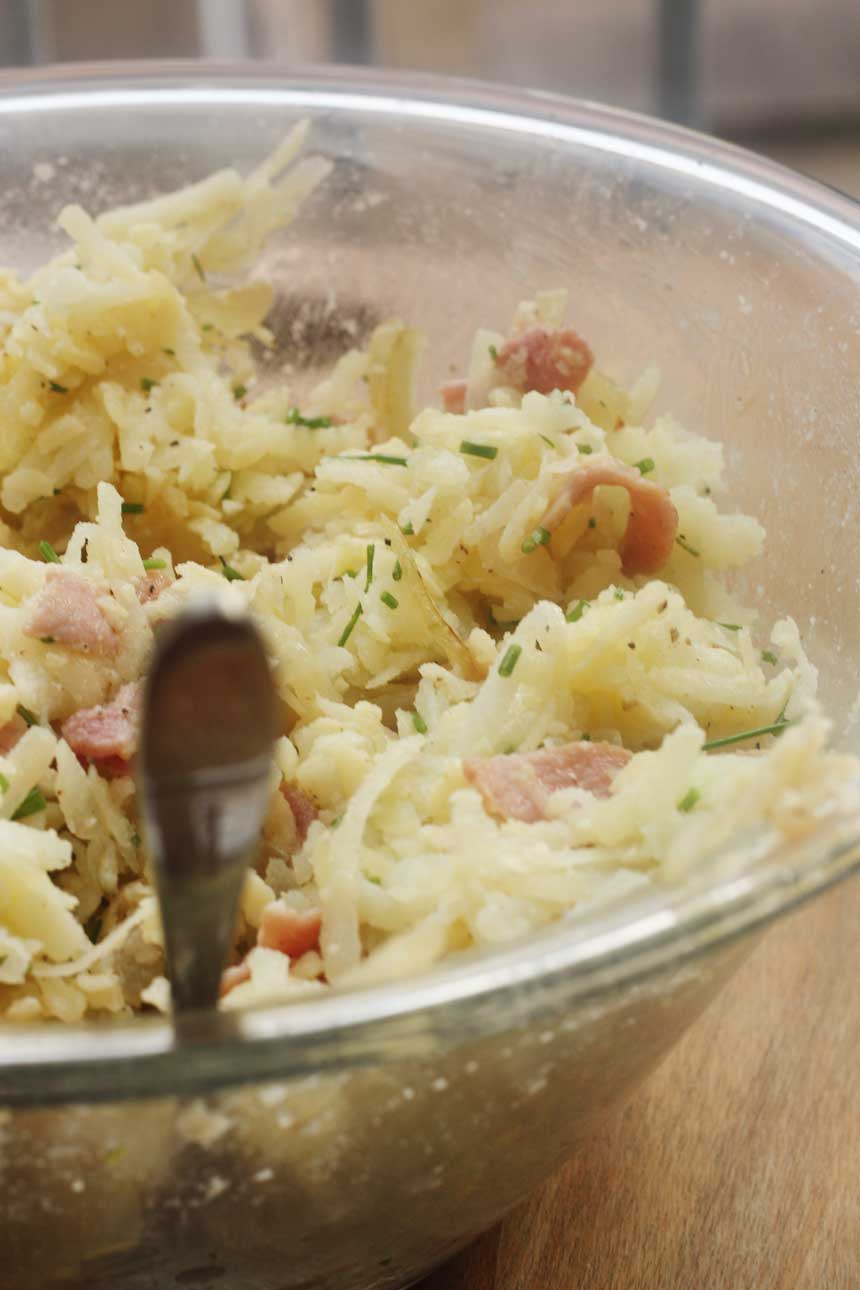 So all that lies between you and having this delicious brunch on your table is boiling up some peeled potatoes (for about 5 minutes), then grating them into a bowl after letting them cool down in the fridge. Add to the bowl plenty of strong cheddar cheese, a softened onion and a bit of tasty cooked bacon, a drizzle of melted butter to help everything to stick together, some chopped fresh chives and a few good grindings of salt and pepper. Then heat up a bit of oil in a frying pan, tip the potato mixture into it and flatten it down and neaten it up. Leave to cook for about 8 to 10 minutes until nicely crisped and browned on the bottom (you can easily have a little peak using a fish slice) then …
OK, so now here's the slightly tricky part … you need to flip the giant rösti over so that it can cook on the other side. But don't worry, if I can do it (and I have been known to be slightly clumsy in my time) then you can too. Just place a plate that's about the same size as the frying pan over the rosti, then carefully flip the pan and the plate over so that the rosti drops out onto the plate. Then you can slide it carefully back into the pan and let it cook for another 8 or 10 minutes. Confession – my rosti did actually crumble slightly on one side during this process, but it was pretty easily patched up! 🙂
Just one more consideration – make sure you let the par-boiled potatoes cool down in the fridge before you try to grate them. If they are still warm, they won't grate, they'll just crumble.
Unbelievably, even while making this in a total panic, I managed to poach up a couple of eggs and serve it with the runny eggs on top. I must say the combination was perfect! Just imagine … al-dente slivers of potato oozing with tasty cheddar cheese and sweet onion and bursting with the intense flavour of smoked bacon. Now imagine all this with a lovely crispy texture … and with a yummy runny egg yolk mingled in.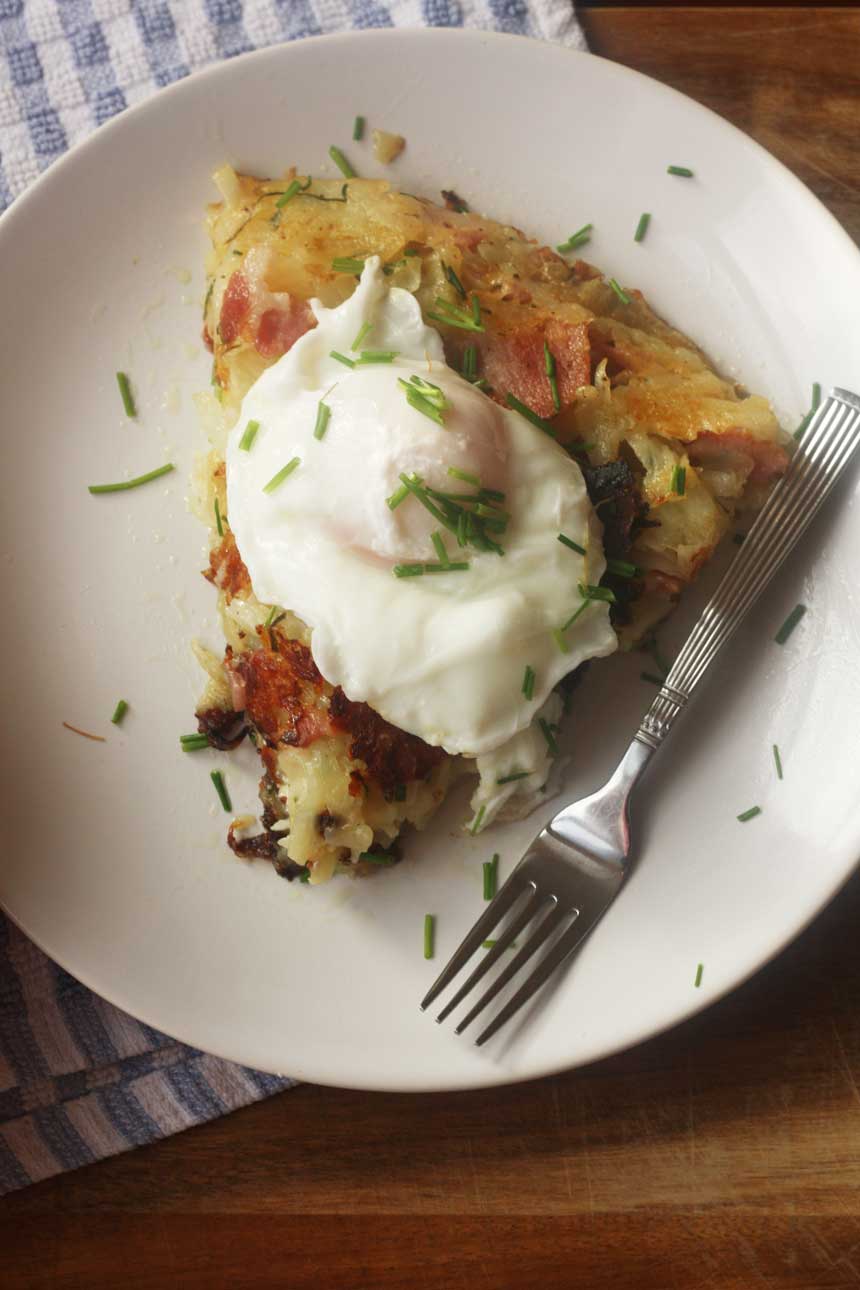 Am I making you hungry yet? I certainly hope so!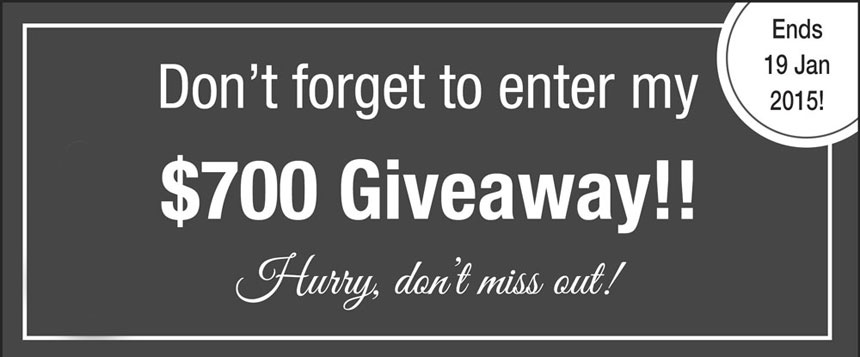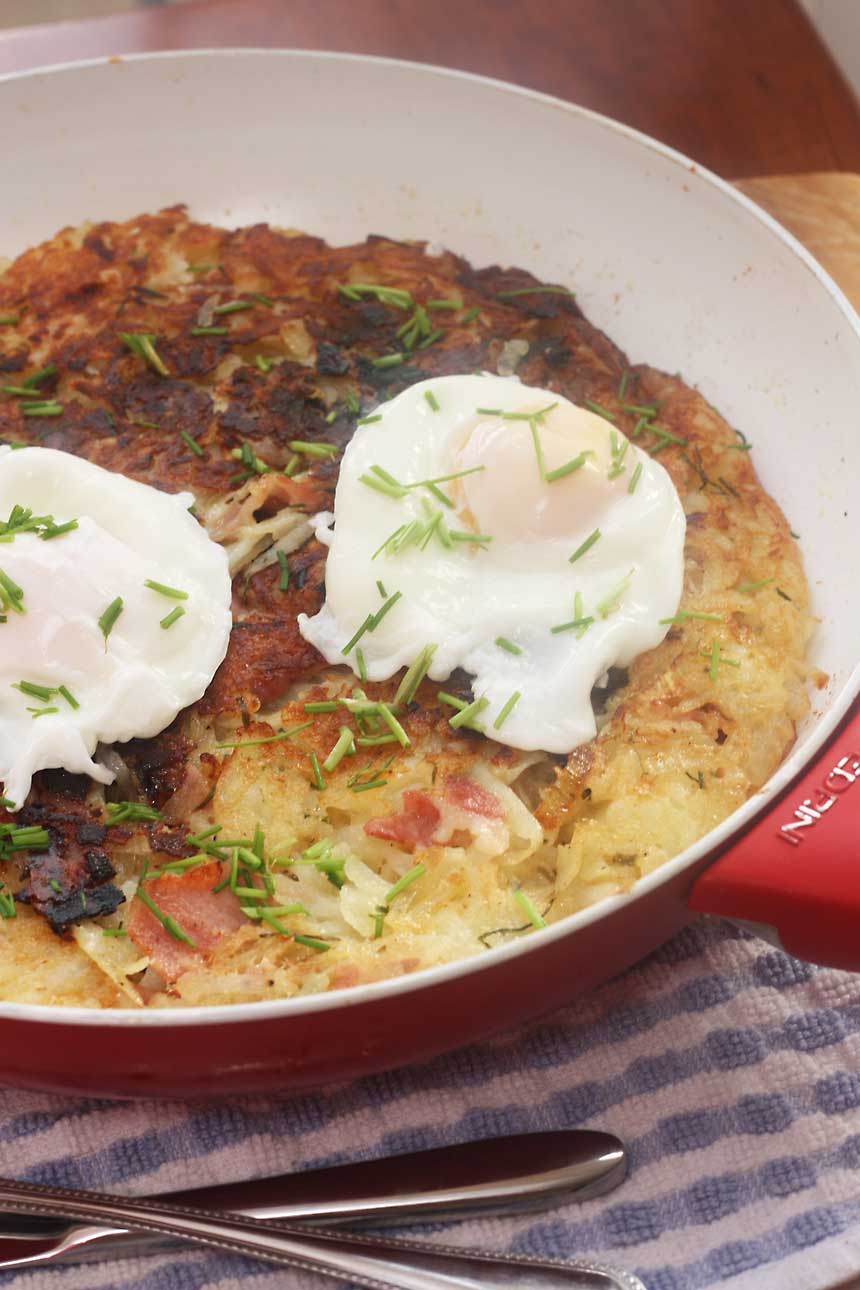 Giant cheddar & bacon rösti
A giant cheesy, bacon-y potato brunch - perfect with a runny poached egg!
Ingredients (UK/Australia? Click below for grams/ml)
4

medium potatoes

1

medium onion

3.5

ounces

bacon

cut into small pieces

1/2

cup

tasty cheddar

grated

3

tablespoons

chopped fresh chives

2

tablespoons

of butter

about 2 tablespoons

salt & pepper
Instructions
Peel the potatoes, bring a pan of water to the boil, then boil for about 5 minutes (and no longer than 8). Drain and rinse with cold water, then let totally cool in the fridge.

When cool, grate the potato into a large bowl, then fry the onion and bacon together in a little olive oil for about 8 to 10 minutes or until the onion is softened and the bacon cooked and a little crisp/browned. Then add the butter to the pan so that it melts before adding the bacon and onions to the potato bowl.

Add the cheddar, about two thirds of the chives and a bit of salt and plenty of pepper to the bowl and mix thoroughly with a wooden spoon or even with your hands.

Now heat up a little oil in a frying pan, then tip the potato mixture into the pan. Flatten and shape it a little, then leave to cook for about 8 minutes or until the bottom is nicely crisped up. Then put a plate over the top of the pan and flip the pan over so that the rosti falls out onto the plate. Then carefully slide it back into the pan so that the other side can cook.

Leave to cook for about another 8 minutes, then take off the heat, sprinkle with the rest of the chives and cut into slices. Serve immediately (with poached eggs if you like!)
Nutrition
Calories:
388
kcal
Carbohydrates:
29
g
Protein:
15
g
Fat:
24
g
Saturated Fat:
12
g
Cholesterol:
57
mg
Sodium:
390
mg
Potassium:
993
mg
Fiber:
5
g
Sugar:
1
g
Vitamin A:
520
IU
Vitamin C:
27.6
mg
Calcium:
249
mg
Iron:
7.2
mg
I hope you enjoyed this post! You can subscribe to receive posts directly to your inbox (for free, of course!) by entering your email address into the box at the top of the sidebar on the right.
You can also find more from Scrummy Lane on Facebook, Pinterest, Twitter and Instagram and follow me on Bloglovin! Thanks so much for reading!
*This post may contain affiliate links which means that if you click on a link and make a purchase I get a small percentage of the amount you spend. At no extra cost to you, of course! Thank you!*