Gnudi? What's that (or those?) How do you even pronounce it? Don't worry, all you need to know is that they're a bit like gnocchi, they're delicious and, big bonus, they're super easy to make!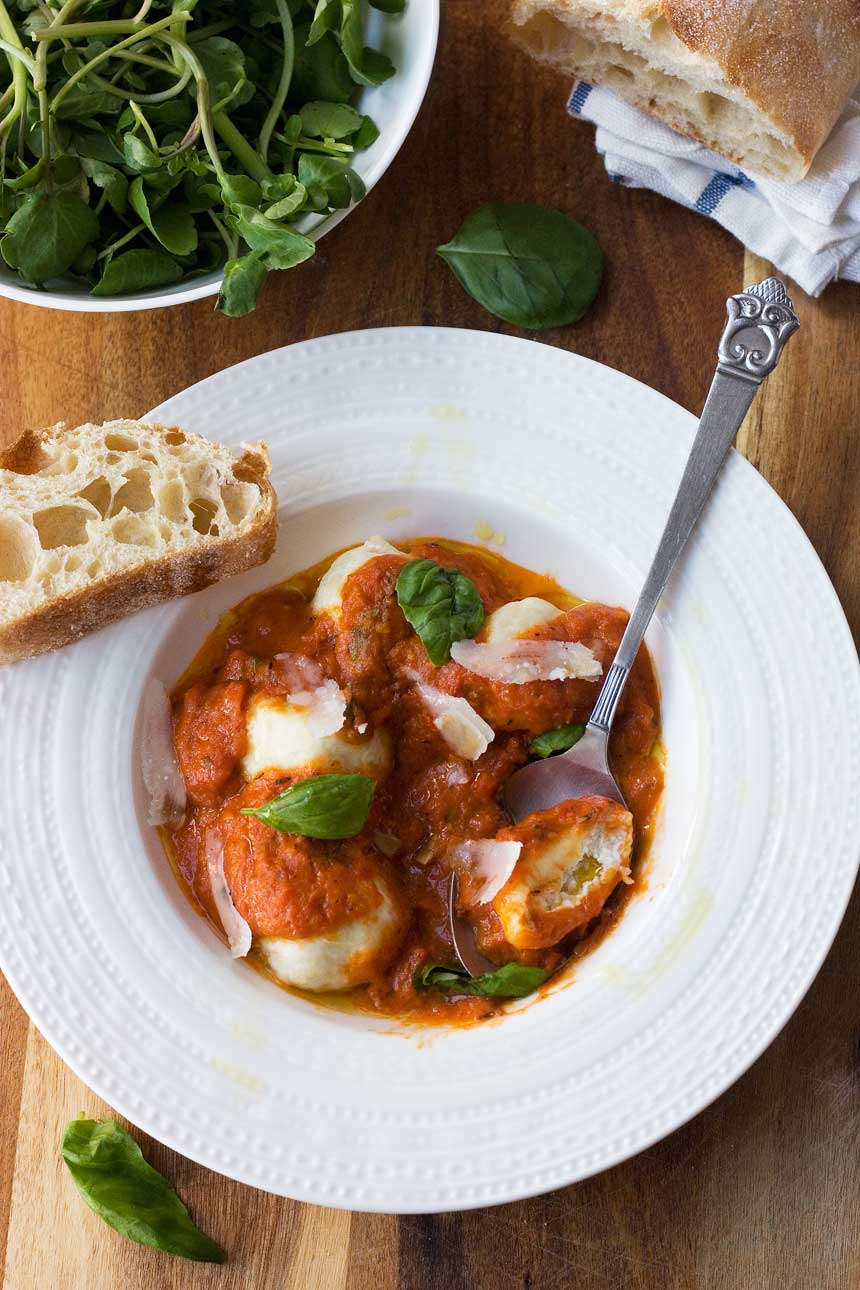 Warning: I might be about to be a bit childish. Oh, OK then, a lot childish.
I've been wanting to make gnudi (pronounced 'nudy' … tee hee, snigger, smirk … well I did warn you …) for quite some time. If you don't know what they are (I didn't for the longest time) they're little soft and fluffy Italian sort of dumplings, a bit like gnocchi, but much easier to make – which of course is why they are appearing on this blog and not gnocchi!
Actually, it turns out that gnudi (insert just one more little snigger snigger here) are even easier than I thought. When I was looking through different recipes, I found out that you can make them in a few different ways. The gnudi are always made from ricotta cheese, but some recipes include an egg, others don't, some have flour in, others don't, some are coated in semolina flour, others aren't.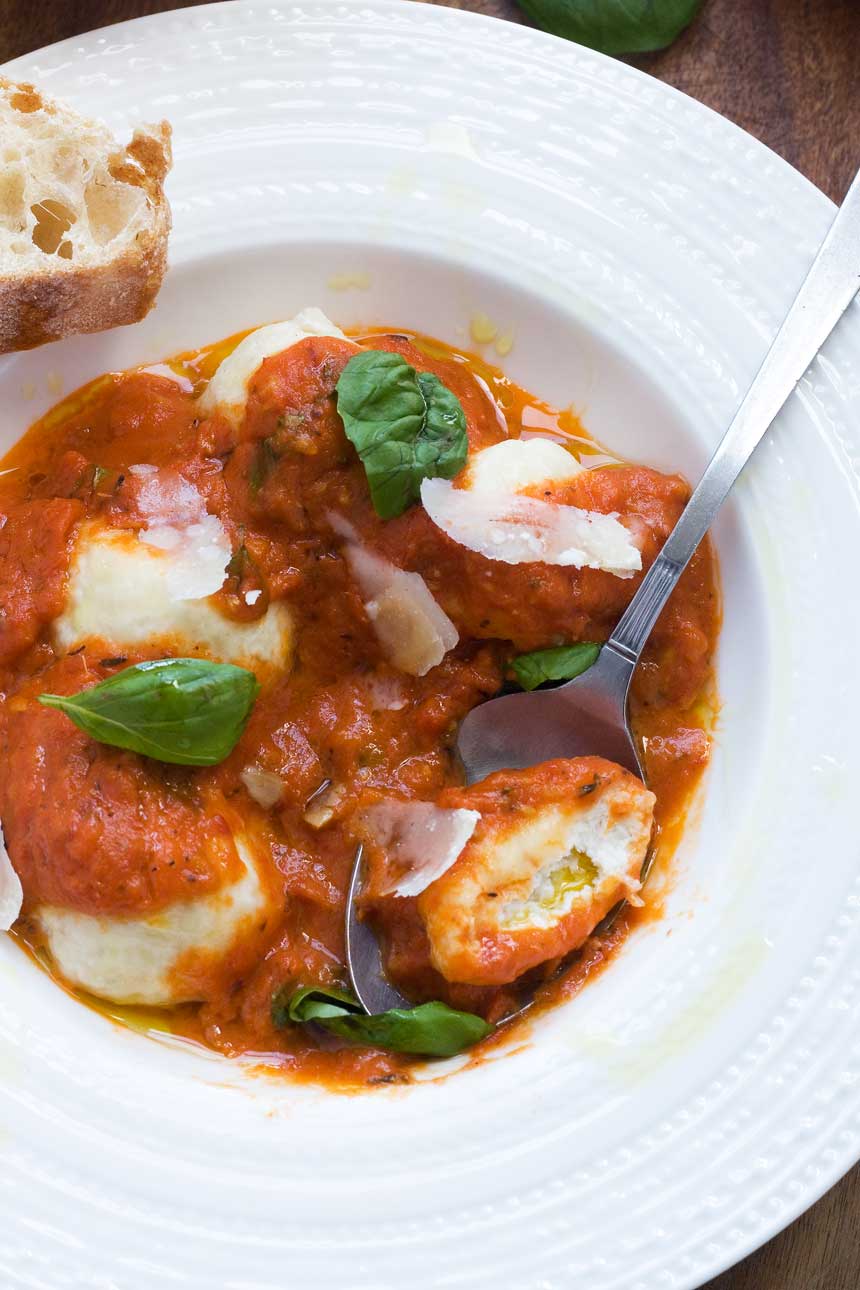 So in the end I decided to plump for a really easy way of making these gorgeous little dumplings – just ricotta, grated nutmeg and grated parmesan cheese and breadcrumbs to bind the mixture together (I used a mini food chopper/processor to make my breadcrumbs. Worth its weight in gold, by the way. I use mine all the time!) I was going to add an egg too but decided not to. Well, actually, if I'm being totally honest with you, I had it all ready to add and forgot, but I don't think it's needed. And if it's not needed then … great! The recipe becomes even easier!
So … just mix these four ingredients together with a wooden spoon, scoop up super heaped teaspoons and roll the mixture into little balls. You might think they'd be really sticky as they're made mostly from just ricotta, but they aren't too bad at all and roll into a ball very easily. Roll in flour, let chill out in the fridge for a while, then boil for a few minutes until they float to the top.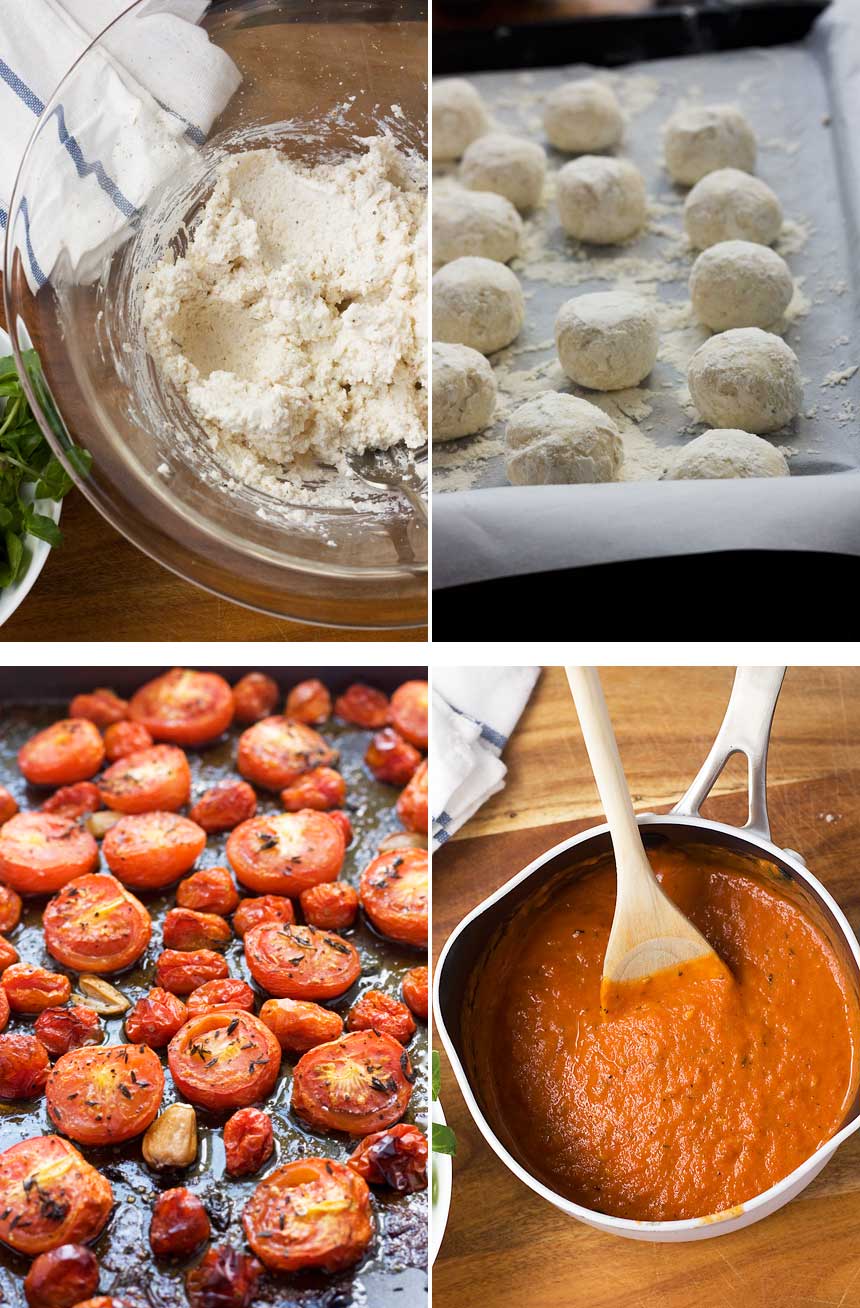 Serve with a wonderfully simple roasted tomato sauce (just roast tomatoes with garlic, thyme & olive oil and blitz into a sauce!) and scatter with fresh basil and you've got a perfect little impressive appetizer to serve to dinner guests …
… or a main course! This recipe serves 4 as an appetizer, but Mr. Scrummy and I ate most of it as a main with some rotisserie chicken and toasted ciabatta on the side. If you're a vegetarian, it's also perfect – obviously just skip the chicken and serve with a nice side salad and plenty of bread instead. Truly delicious!
Without wanting to confuse you, I was really pleased with these ricotta gnudi as they were, but I also tried pan frying them for a few minutes after boiling to see what they were like that way. Oh my gaaawsh! Definitely my fave way of serving them, Just place the drained gnudi (they are quite fragile, so really carefully!) in a pan with a drizzle of heated oil and fry (turning regularly) for a few minutes. The gnudi end up with a light, crispy, cheesy crust – sort of like little ricotta fritters. Worth the extra few minutes of work, in my humble opinion!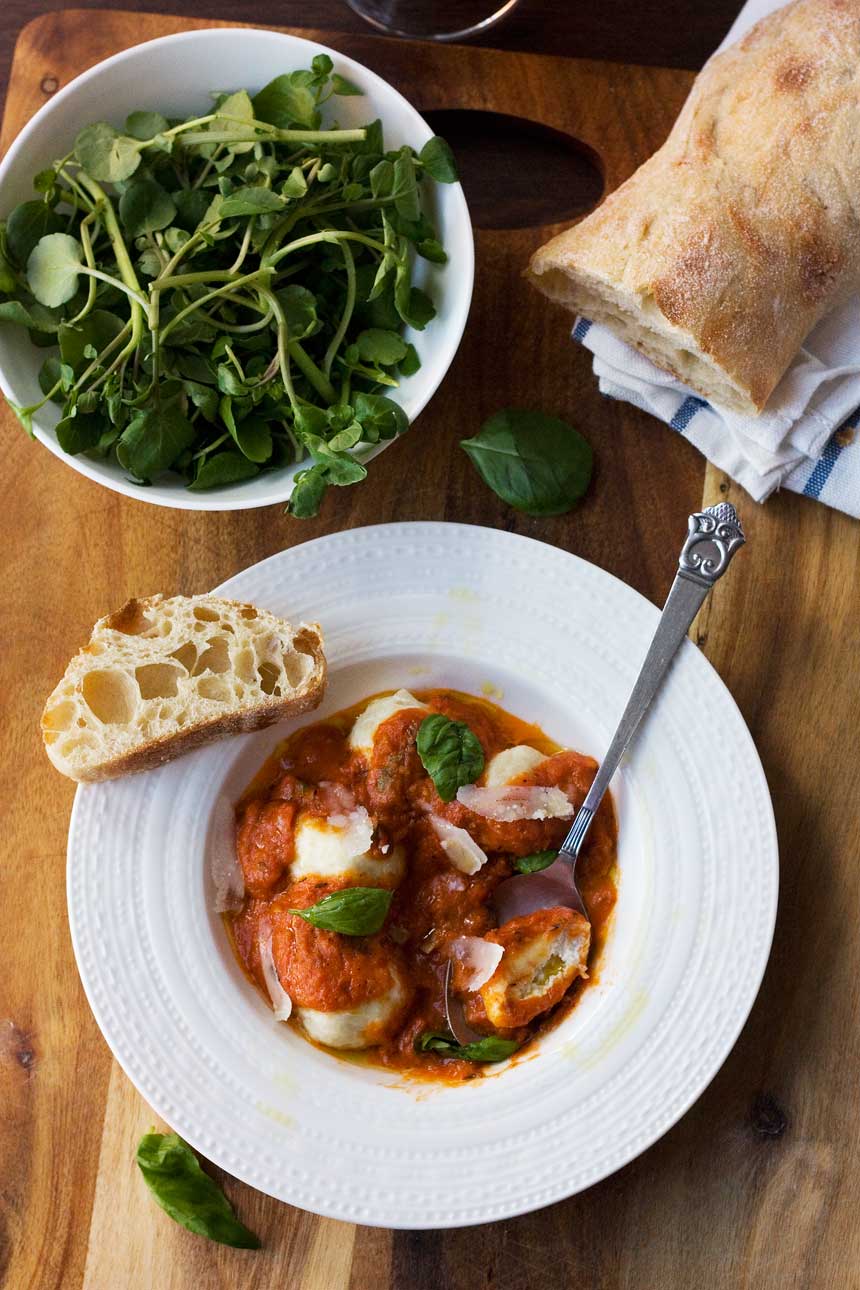 Oh, and just a note on the sauce. It takes an hour to slow roast the tomatoes, but all you have to do is scatter everything on a baking tray, drizzle with oil, shove them in the oven and then ignore for an hour. In the meantime you can work on your gnudi! After the hour's up, blitz in the food processor and there's your sauce! As I was eating it with those lovely fluffy ricotta dumplings, I was thinking what a great pizza sauce it would make. It would also work in lasagne or just as a classic tomato sauce to dip things into. A brilliant sauce recipe to have in your repertoire!
I really hope you give these easy ricotta gnudi with roasted tomato sauce a try some time. Once you've bought the ingredients, which let's face it are minimal, they take very little time and effort to make – but I'm sure your family and/or friends will think you've spent hours slaving away in the kitchen over them.
My perfect kind of food!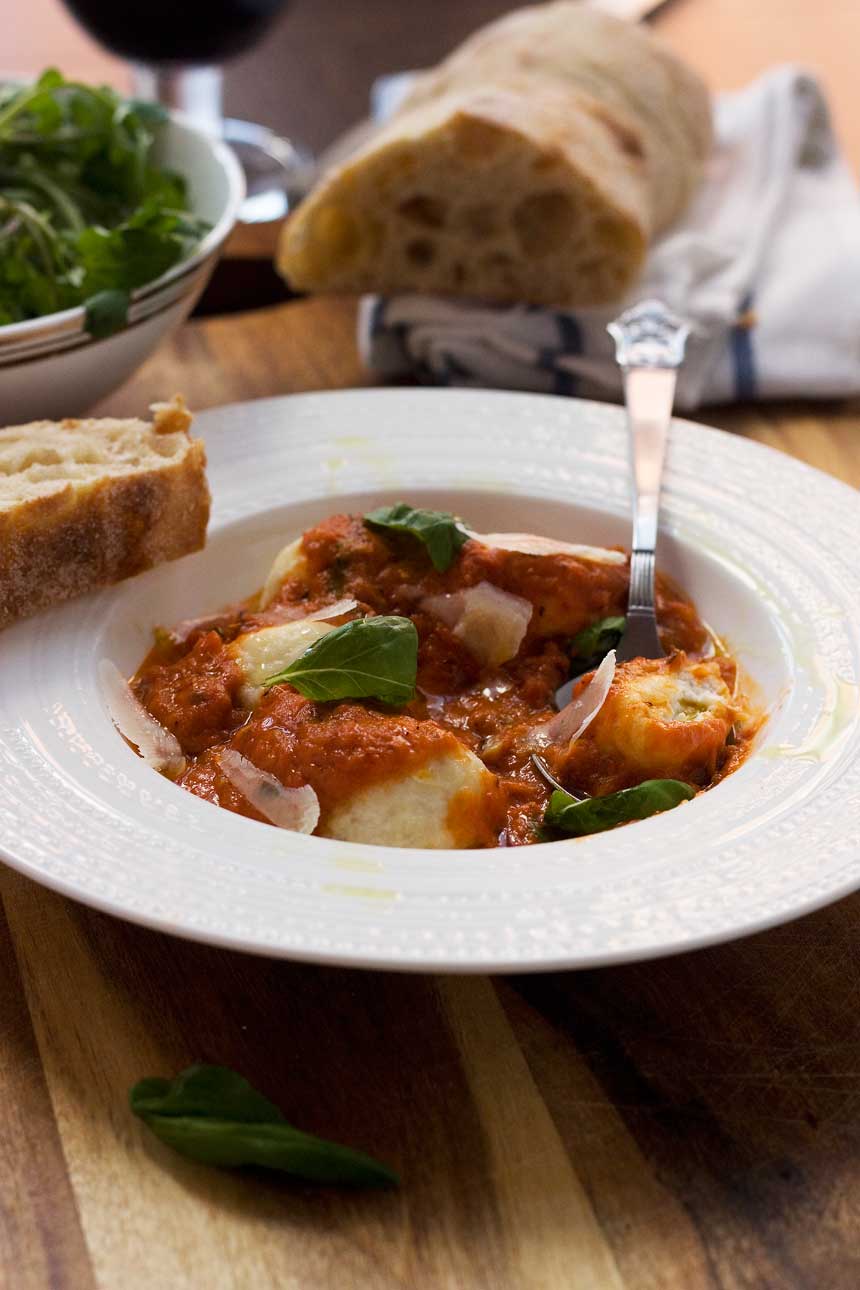 Update: Don't you dare scrape those leftovers into the bin! They're yummy re-heated and smeared onto fresh crusty bread for a quick lunch. The voice of experience speaks … 🙂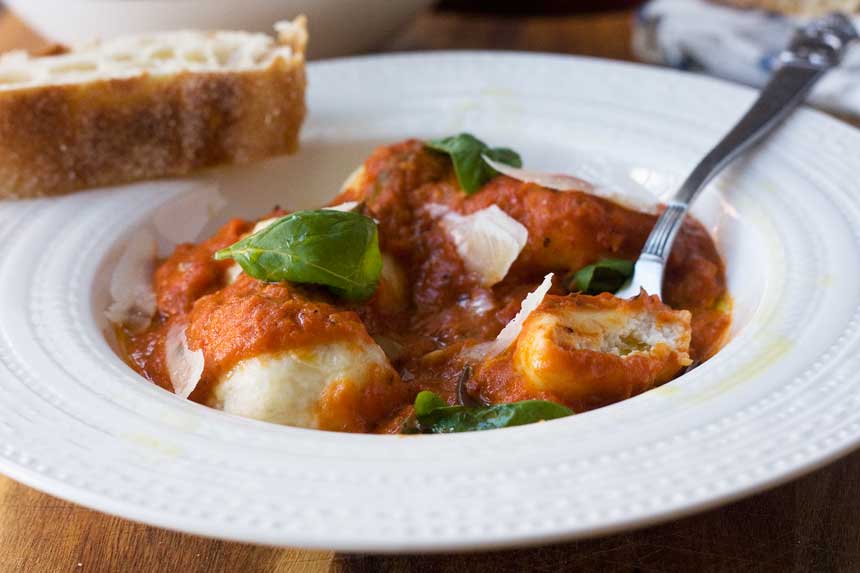 Easy ricotta gnudi with roasted tomato sauce
Light and fluffy little ricotta and parmesan dumplings (called gnudi - pronounced 'nudy'!) - sooo easy to make and absolutely delicious smothered with a homemade roasted tomato sauce. Oh, and don't forget the fresh basil!
Ingredients (UK/Australia? Click below for grams/ml)
for the tomato sauce
28

ounces

tomatoes

I used half smallish ordinary tomatoes & half cherry tomatoes

3

garlic cloves

peeled

4

or 5 sprigs thyme

4

or 5 large fresh basil leaves
for the gnudi
8.8

ounces

ricotta cheese

drained of any excess liquid

1/4

of a whole nutmeg

grated

1/4

cup

parmesan cheese

finely grated

5

tablespoons

fresh breadcrumbs

I made mine in my mini food processor

salt & pepper to taste

plain flour or semolina for rolling
to serve
extra fresh basil & parmesan shavings

crusty bread & salad leaves

optional
Instructions
First, prepare the tomato sauce. Pre-heat the oven to 160C/320F. Spread the tomatoes out on a baking tray (keep cherry tomatoes whole, halve larger tomatoes and spread cut side up) with the garlic and thyme leaves stripped off the sprigs. Drizzle with olive oil and roast for 1 hour.

While the tomatoes are roasting, put the ricotta, nutmeg, parmesan, breadcrumbs and salt & pepper in a bowl and mix well with a wooden spoon. Add salt and pepper to taste.

Take very heaped teaspoons of mixture and roll into rough balls. Roll well in flour and place on a floured baking tray or plate. Chill while the tomatoes finish roasting.

When the tomatoes are done, scrape them into a food processor and blend to a sauce. Tip into a small saucepan, tear in the fresh basil and heat gently to warm through.

Bring a medium pan of water to the boil, then boil the gnudi for about 3 minutes or until they float on top of the water. Remove from the pan with a slotted spoon and put carefully in a colander.

Serve the gnudi with the tomato sauce poured over. Top with a little more fresh basil and shavings of parmesan cheese.
Notes
If you like, you can gently fry the cooked gnudi in a little hot oil in a frying pan before serving. This way, they end up slightly crispy on the outside. Delicious!
Nutrition
Calories:
254
kcal
Carbohydrates:
20
g
Protein:
15
g
Fat:
12
g
Saturated Fat:
7
g
Cholesterol:
41
mg
Sodium:
381
mg
Potassium:
582
mg
Fiber:
3
g
Sugar:
6
g
Vitamin A:
2110
IU
Vitamin C:
29.5
mg
Calcium:
348
mg
Iron:
1.7
mg

You can also find more from Scrummy Lane on Facebook, Pinterest, Twitter and Instagram and follow me on Bloglovin! Thanks so much for reading!
*This post may contain affiliate links which means that if you click on a link and make a purchase I get a small percentage of the amount you spend. At no extra cost to you, of course! Thank you!*