Last Updated on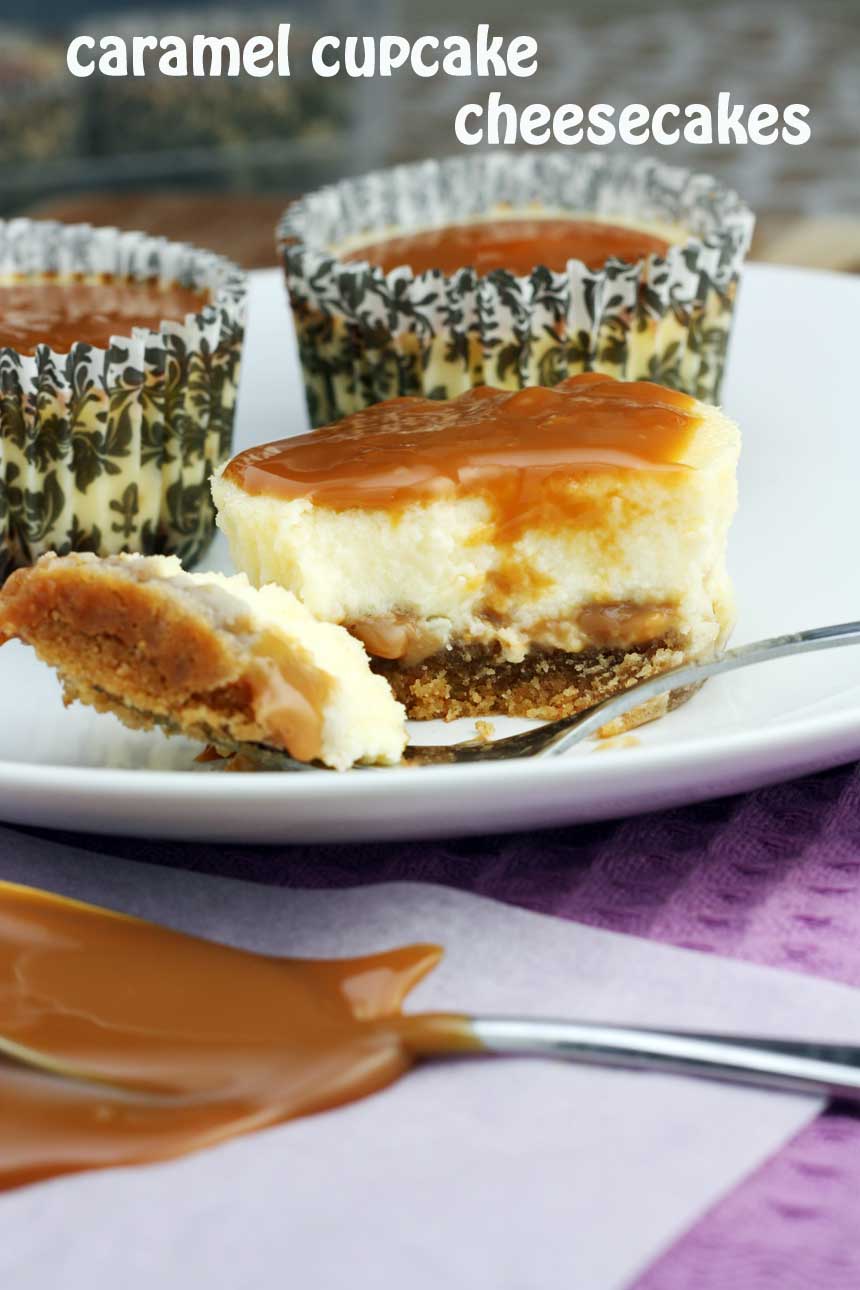 This past weekend, during a mini weekend adventure to York (= stunning northern English city with jaw-dropping ancient things to see!), Mr. Scrummy and I were taken to a buffet-style restaurant – the kind where you pay a certain amount of money and help yourself to whatever starters, mains and desserts you like. Now I don't think this kind of set-up is so common over here in the UK, so it felt like a bit of a novelty, to be honest. So, with wide eyes and slightly child-like enthusiasm, we all hurried eagerly up and down the aisles taking a little bit of this and a little bit of that. By the time we got back to our tables, our plates were piled slightly too high and with things that should really never be seen on a plate together (onion bhajis with roast meat and gravy, Thai green curry and mixed bean salad … that kind of thing).
The food available at this buffet was certainly not bad, but not exceptional by any means. But I still found myself feeling a bit anxious not to miss out on anything good! I took tiny amounts of each dish in my quest to avoid this, but alas couldn't fit a bit of everything on there (or in my stomach, more to the point)!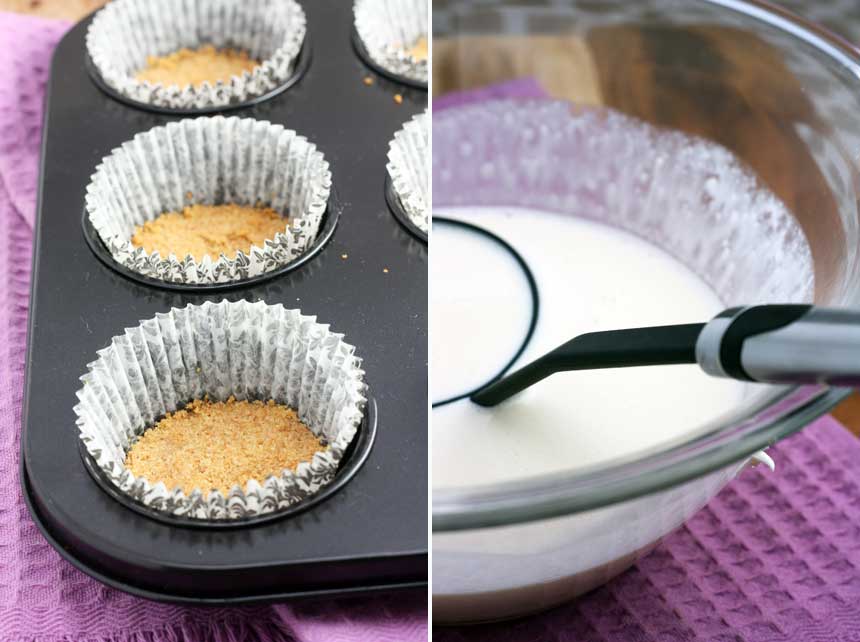 Now we all know this kind of thing is only going to keep on happening all over Christmas (there are the little hanging chocolate santas on my Christmas tree, the posh chocolate biscuits in a box on top of my kitchen cupboards, mulled wine on the counter all vying for attention … where to start?) So, I've decided that there's only one solution to this …
MINI versions of yummy Christmasy things! This way you can have your cake … and eat other types of cake, too, without getting super full super quick, feeling like a total piggy and, most importantly, missing out on all the other scrummy things.
Cue these mini caramel cupcake cheesecakes – perfect for taking along to parties where you know there are going to be other desserts, too. Or even for serving at a dinner party. I served these at a family dinner a few weeks ago and they went down extremely well after a relatively heavy main course. So well in fact that I've been 'commissioned' to make them again for Christmas.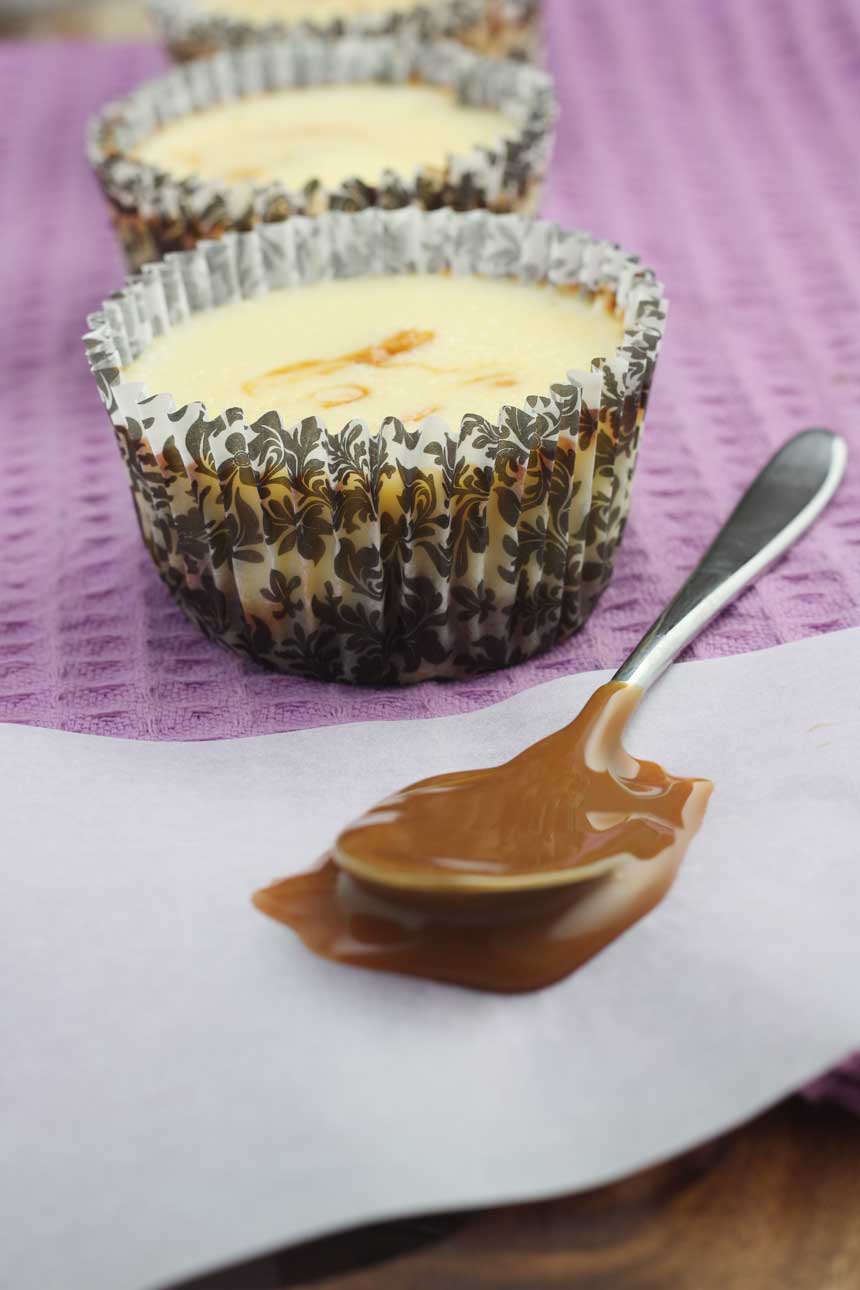 The finished cuties not only end up pretty good looking, in my humble opinion, but they're also really easy to make with fairly few ingredients (now there's a surprise …) All you do is press biscuit crumbs and melted butter into muffin cases and bake for 10 minutes, mix up your cheesecake mixture and spoon into the cases, then drop tiny bits of caramel into the mixture (most of it will sink, which means that when you bite into your cheesecake caramel oozes out of the middle … mmmm!) Finally, I topped my cheesecakes with a little more caramel just to make it extra delicious. I used ready-made caramel (if you're in the UK, I used the Carnation ready-made caramel – usually found next to the condensed milk. This worked fine even though I was actually looking for something like dulce de leche, which I just couldn't find).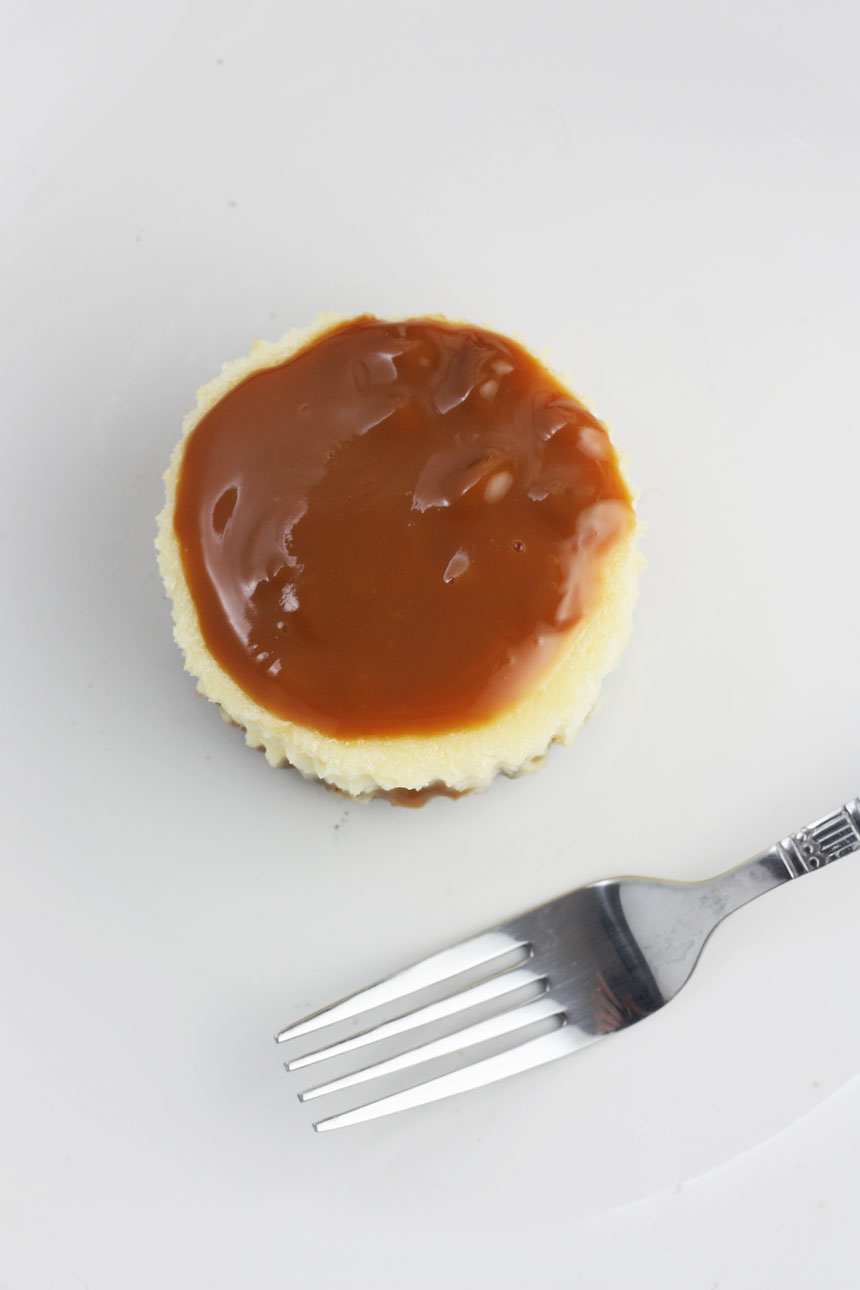 I reckon these cupcake cheesecakes would be pretty easily customisable. You could drop chocolate or raspberry sauce (or maybe even fresh raspberries) into the cheesecake mixture instead of caramel if you like.
Whatever flavour you decide on, these little cupcake cheesecakes are sure to get plenty of oohs and ahhhs … and leave plenty of space in that expanding tummy of yours to try something else! Definitely a win-win Christmas situation!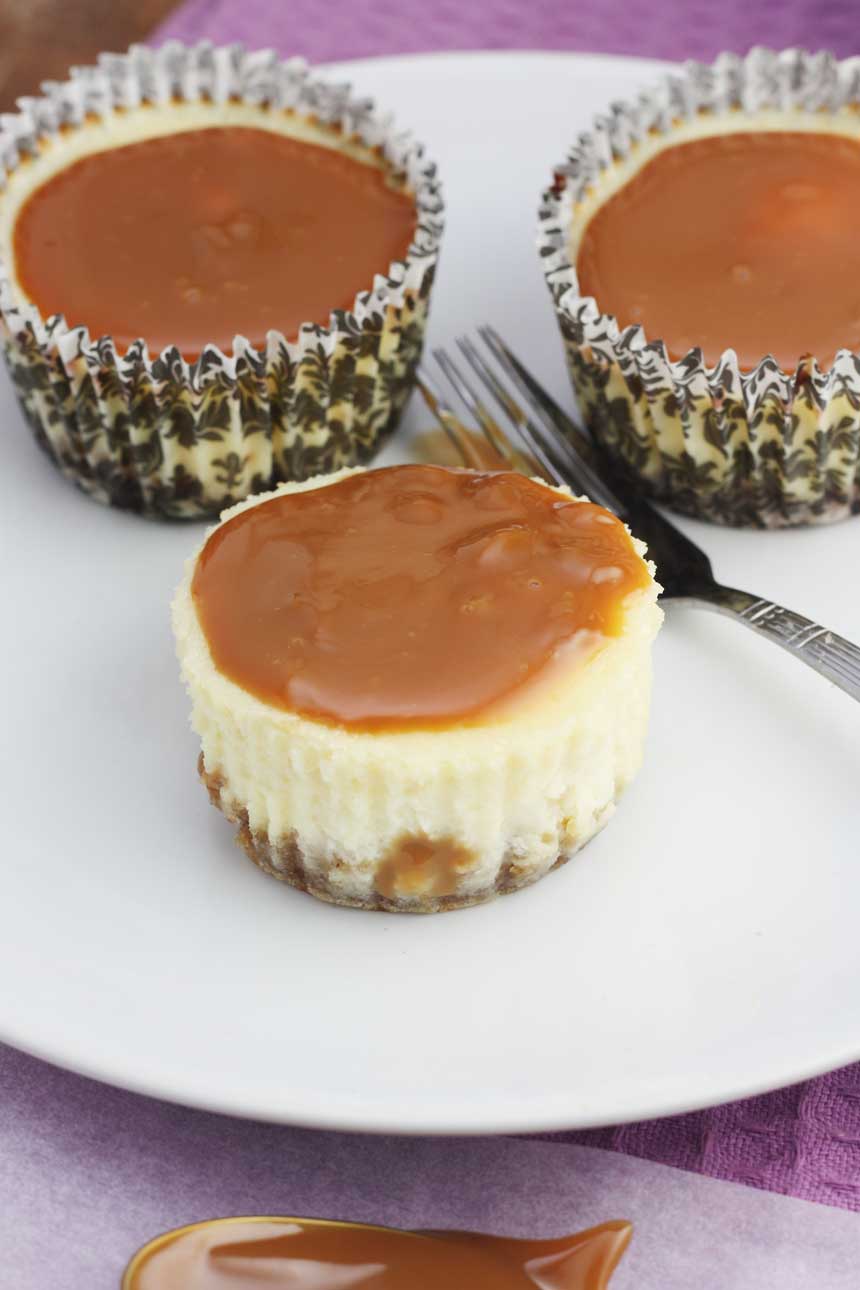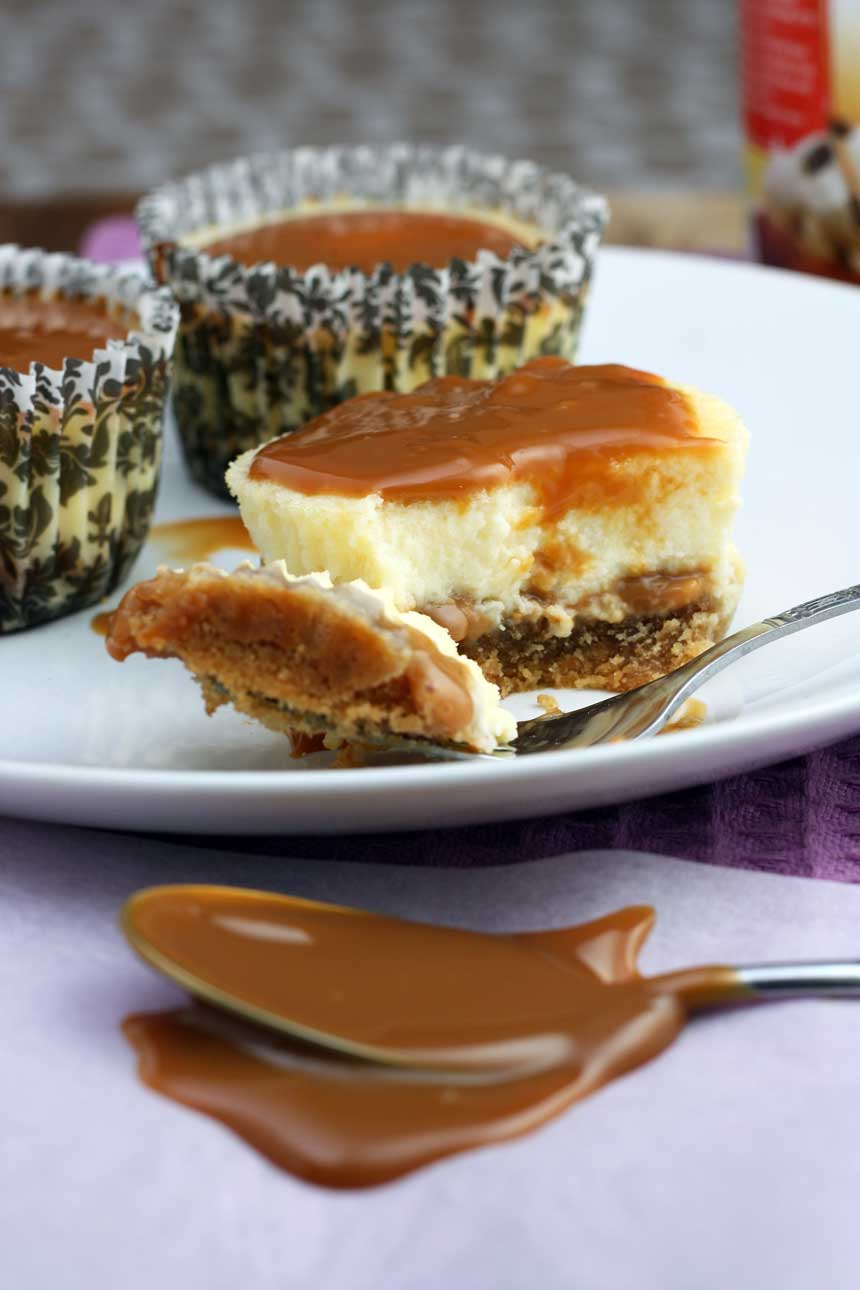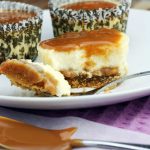 Print
Caramel cupcake cheesecakes
Cute little cheesecakes in a muffin case with caramel oozing out of the centre and on the top. Perfect for that holiday dessert buffet!
Servings
8
cheesecake cupcakes
Ingredients (UK/Australia? Click button below for grams & ml)
8

digestive biscuits

crushed (I used my food processor – you can use graham crackers instead if you like)

3.5

tablespoons

butter

melted

10.5

ounces

cream cheese

1

tablespoon

plain flour

1/4

cup

caster sugar

1

teaspoon

vanilla extract

1

egg

plus 1 egg yolk

3

tablespoons

sour cream

ready-made caramel
Instructions
Preheat the oven to 180C/350F and line a muffin tin with 8 regular muffin cases.

Stir the biscuit crumbs into the melted butter, combine well then press into the bottom of the muffin cases. Bake for 10 minutes.

Now make the cheesecake filling. Beat together the cream cheese, flour, sugar, vanilla, eggs and sour cream until smooth.

Use a ladle to divide the mixture between the 8 muffin cases. Quickly drop tiny amounts of caramel into each case (no more than a small teaspoon in each), then bake for about 20 minutes (or until the cheesecake is set but still slightly wobbly).

Let the cheesecakes cool for about half an hour, then add another small teaspoon of caramel to the top of each. Finally, chill in the fridge for at least a couple of hours before serving.
Nutrition
Calories:
266
kcal
|
Carbohydrates:
16
g
|
Protein:
4
g
|
Fat:
20
g
|
Saturated Fat:
11
g
|
Cholesterol:
76
mg
|
Sodium:
241
mg
|
Potassium:
84
mg
|
Sugar:
9
g
|
Vitamin A:
710
IU
|
Calcium:
49
mg
|
Iron:
0.8
mg
Follow me on Pinterest!
Follow @scrummylane to pin more quick and easy recipes for later
I hope you enjoyed this post! You can subscribe to receive posts directly to your inbox by entering your email address into the box at the top of the sidebar on the right.
You can also find more from Scrummy Lane on Facebook, Pinterest, Twitter and Instagram and follow me on Bloglovin! Thanks so much for reading!
*This post may contain affiliate links which means that if you click on a link and make a purchase I get a small percentage of the amount you spend. At no extra cost to you, of course! Thank you!*