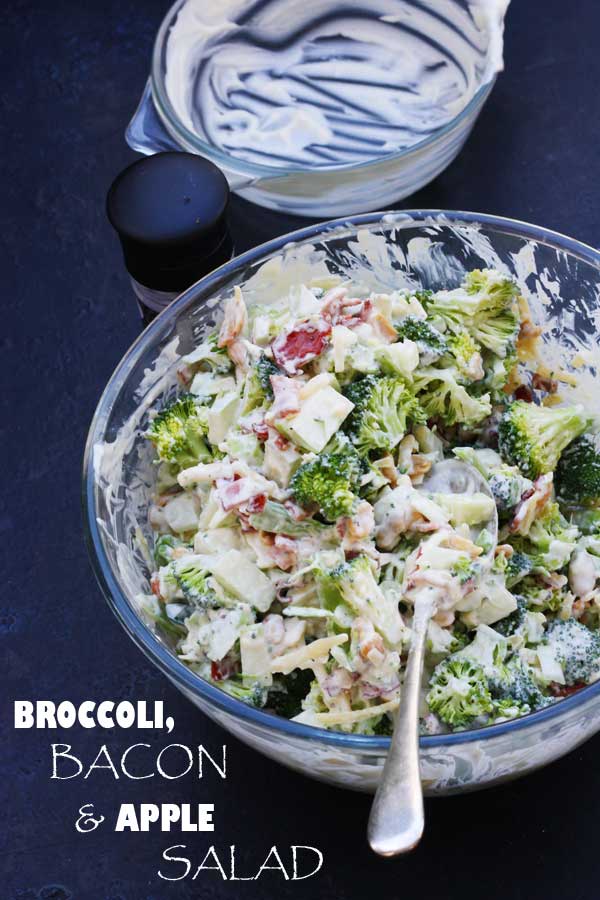 Yesterday, I found out that I definitely didn't miss my vocation by not becoming a spy.
Too many negatives there, maybe? Oh well, never mind.
You see, Mr. Scrummy and I decided not to tell our Australian relatives that we were coming back to Perth again so that we could surprise them when we got here. But despite a few days of Mr. Scrummy's mum 'fishing' for clues as to when would be a good time for us to drop in on them to 'launch' said surprise visit, suddenly it was the weekend and we just hadn't managed it yet. So, early(ish) Saturday morning, I wandered into the kitchen still a bit jet-lagged, sat at the kitchen table leafing through a magazine, and suddenly there was a loud knock at the door. I looked up and saw Mr. Scrummy's brother's car in the driveway.
Bleary-eyed no more, Mr. Scrummy and I jumped up in a panic and manicly tried to grab all 'evidence' that we were there. It was almost as if everything moved in slow motion as we grabbed laptops and cables and handbags and coats and flew into our bedroom and jumped behind the door … just in time to hear Mr. Scrummy's brother letting himself into his mum's house.
Now, I would like to be able to report that Mr. S's brother satisfied himself that his mum wasn't at home and left, but no. Ohhh no. He opened his mail, talked to the cat, talked to himself, went out into the garden and rustled around in the shed, came back into the house, rustled around a bit more, went out to his car, came back in … you get the idea.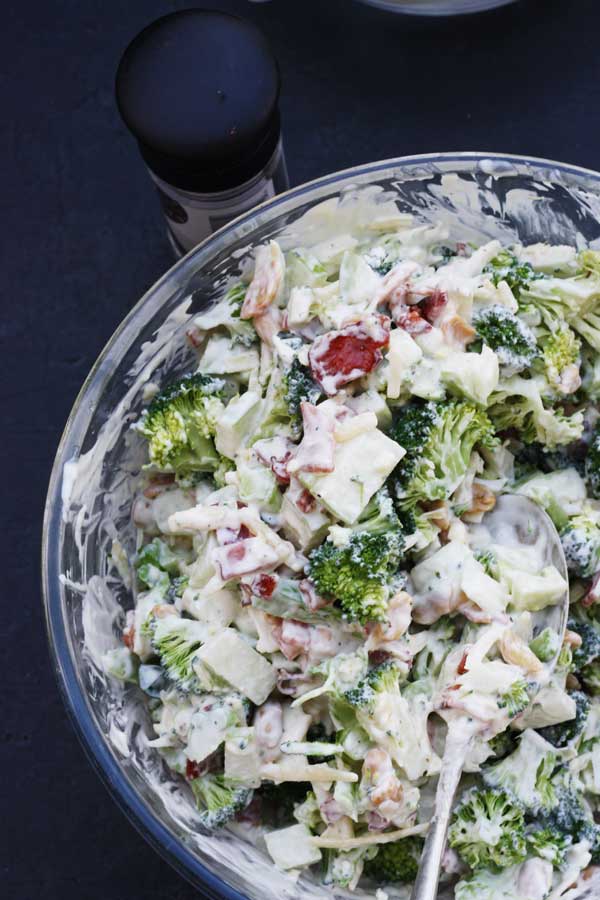 An hour and a quarter later (yes, ONE HOUR AND A QUARTER), we were still there holding our breath behind the door, willing him NOT to come down that end of the house, freezing our socks off I might add (Aussie winter, you know …), except, oh yes, I didn't have any socks on so my feet were just about turning blue.
I pictured having to break the news to my sister-in-law that Mr. Scrummy's brother was no more because he had had a heart attack after poking his head around the door and spotting two pyjama-clad people hiding there.
Now, not to beat around the bush too much with this story, let me just say that for the rest of the morning and afternoon we behaved like a couple of giggly ten-year-olds. Giggly ten-year-olds pretending to be spies, no less. We had another 'near-miss' later on when Mr. Scrummy's brother left a message on the answerphone that his son would be passing by shortly to pick something up. We dashed out of the house, not even showered after our late morning 10k walk/jog, and drove to the safety of the pub and our potato wedges and sweet chilli sauce (poor us). We then retired to a coffee shop where we found out via Mr. Scrummy's mum that my sister-in-law was very probably shopping nearby. We drank the rest of our coffees while furtively peering over a menu held over our faces (I made that last part up but it isn't too far off the truth).
It was all worth it of course when we finally pulled off our surprise shortly afterwards. The family were indeed surprised and delighted to see us, but I have to say I think Mr. Scrummy and I had the most fun. So if you were wondering why I didn't reply to any of your lovely comments yesterday then that would be the reason. Too busy with our undercover op. If you ever need a private investigator then you know who (not) to call.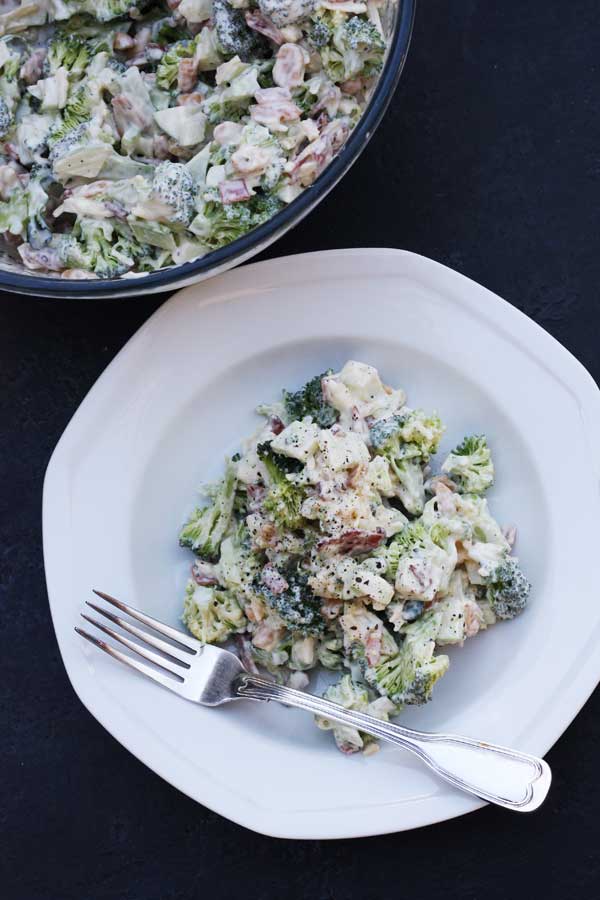 OK, well if any of you are still there reading (I'm impressed if you are!) I think it's time to move onto this very tasty, if I may say so, broccoli, bacon & apple salad. After almost a whole 24 hours of eating not-the-healthiest plane food plus a few days of mostly snacking since we had little idea where we were and what time it was, I decided to make something fairly simple but healthy and tasty. This salad seemed to fit the bill.
If you're the kind of person who likes an explosion of different flavours and textures in your mouth all at one time, then this salad is definitely for you. There's:
… crunchy little raw florets of broccoli,
fresh, juicy apple,
sharp cheddar cheese,
super flavoursome bits of bacon,
salty peanuts,
& the subtle zing of a little raw onion …
all bound together in a creamy (but on the light side) dressing made of Greek yoghurt, a little mayonnaise, mustard and honey.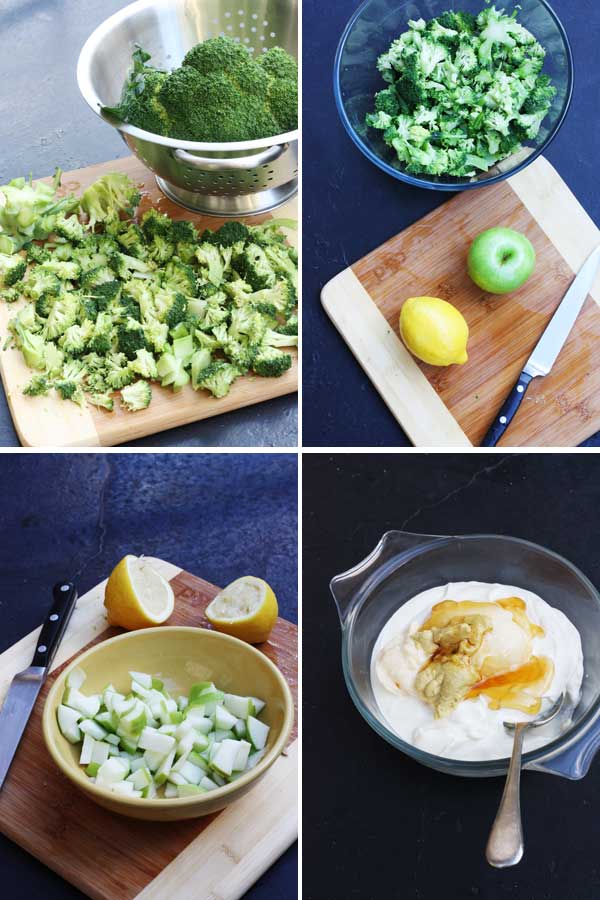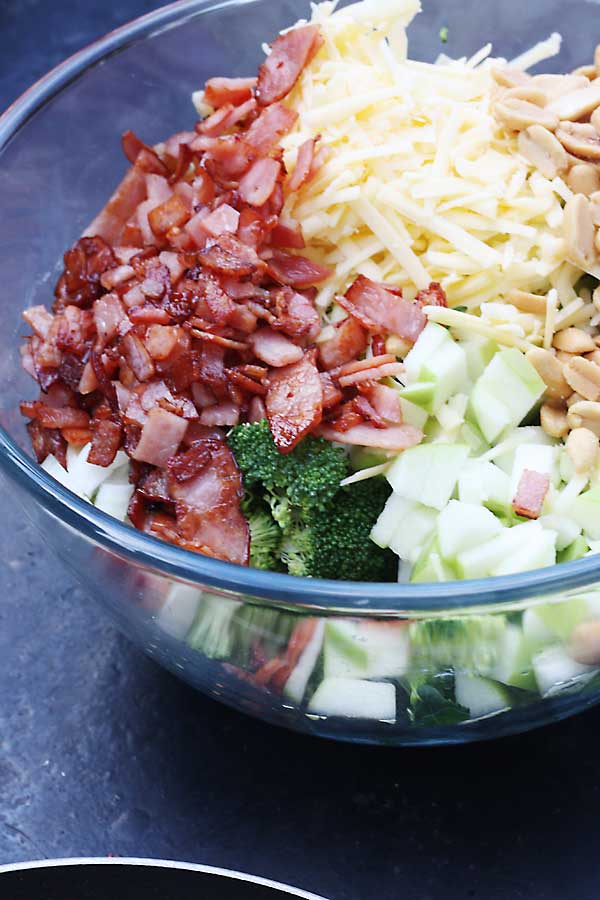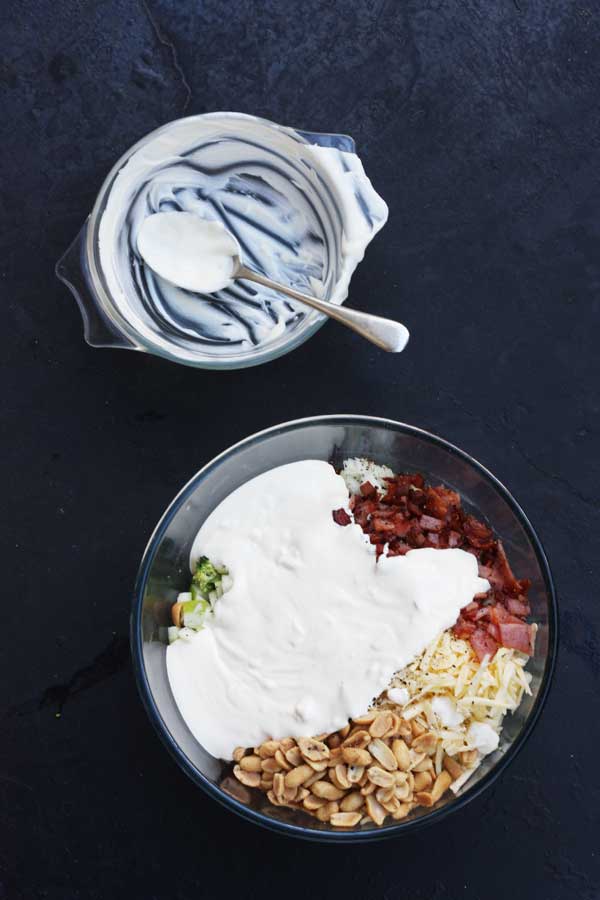 I enjoyed a bowl of this salad by itself, and it was very satisfying indeed. I think it would be great as a side with roast chicken, or quiche, or even fish, too. It could also be a great work lunch or make-ahead take-along buffet dish. If you soak the apple in lemon juice before adding it to the salad, the apple doesn't go brown and you can quite happily keep it in the fridge for a day (or two or three – I am eating the leftovers while typing this and it is still perfectly fresh-tasting). If you do make ahead, though, it's best to add the peanuts at the last minute because they don't hold onto their crunchiness for too long. Next time, I might also throw in a handful of raisins for an extra fruity kick.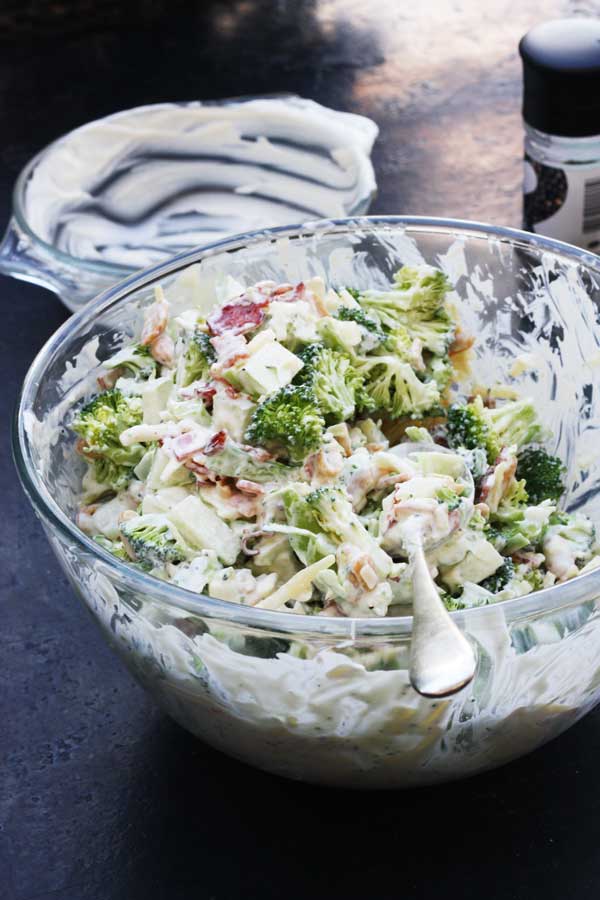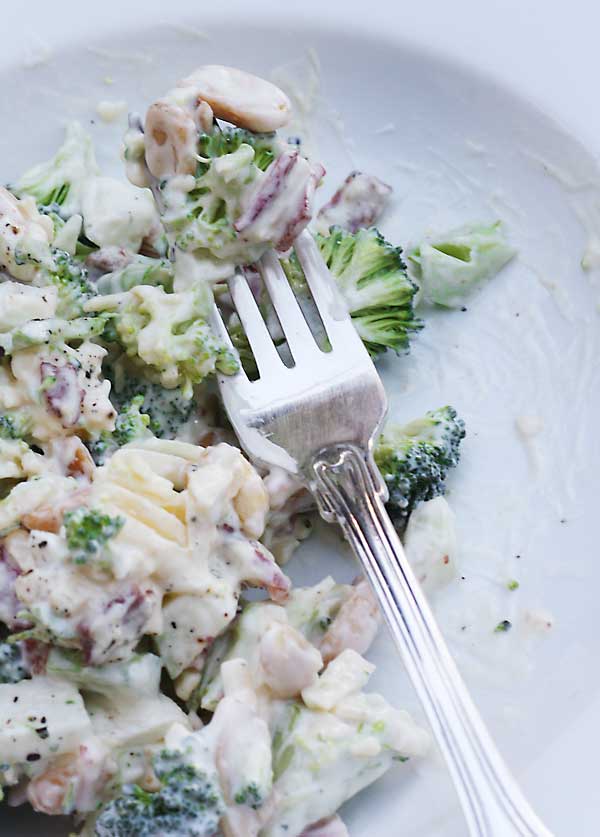 We have another relative lined up to surprise this afternoon – Mr. Scrummy's sister. Hopefully there will be no hiding behind doors involved this time!
So are you a fan of surprises? And how would you feel if you found out that someone was hiding in the house without you knowing about it? Creepy or what?!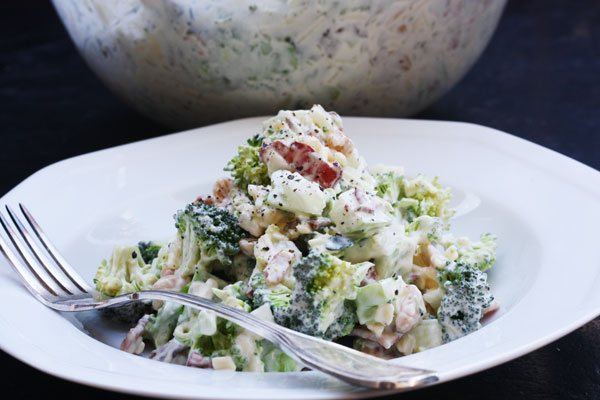 Broccoli, bacon & apple salad
A healthy salad with great flavours in every bite. Crunchy broccoli and apple, smoky tasty bacon, sharp tangy cheddar, onion and peanuts. All doused in a tangy, creamy (but lighter) dressing made of Greek yoghurt, mayo, mustard and honey.
Ingredients (UK/Australia? Click below for grams/ml)
For the salad
6

rashers of bacon

sliced into small pieces

a little oil of your choice for cooking the bacon

2

small to medium heads of broccoli

thoroughly washed

1

apple

1

lemon

1

smallish onion

chopped finely

3.5

ounces

strong cheddar cheese

grated

about 2 handfuls of salted peanuts

optional – 1 handful raisins

freshly ground black pepper
For the dressing
3/4

cup

Greek yoghurt

1 1/2

tablespoons

mayonnaise

2

teaspoons

mustard

1

tablespoon

honey
Instructions
Fry the bacon in the oil until cooked through (and crispy if you like), then set aside.

Discard the 'woody' end part of the broccoli stalk, then chop the rest of the stalk finely. Then separate the broccoli heads into small florets. Put the florets and chopped stalk into a large bowl.

Slice the apple (no need to peel) into small pieces and put them into a small bowl. Squeeze the juice of the lemon all over the apple, then add the apple and any extra juice to the large bowl with the broccoli.

Now add the onion, cheese and peanuts.

Stir all of the dressing ingredients together well in a medium-sized bowl, then add to the salad. Add black pepper to taste. Mix really well.
Notes
You could substitute the apple for grapes and the peanuts for pecans or walnuts if you like.
Nutrition
Calories:
468
kcal
Carbohydrates:
38
g
Protein:
24
g
Fat:
27
g
Saturated Fat:
10
g
Cholesterol:
52
mg
Sodium:
554
mg
Potassium:
1176
mg
Fiber:
10
g
Sugar:
17
g
Vitamin A:
2190
IU
Vitamin C:
289.6
mg
Calcium:
387
mg
Iron:
2.8
mg
I hope you enjoyed this post! You can subscribe to receive posts directly to your inbox by entering your email address in the box below or at the top of the sidebar on the right.
You can also find more from Scrummy Lane on Facebook, Pinterest, Twitter and Instagram and follow me on Bloglovin! Thanks so much for reading!