One thing that I will miss once we've left Perth for the UK in a couple of months is the 10km jog stroke walk that Mr. Scrummy and I diligently do around the beautiful river here in the city early every Saturday morning. I'll let you imagine how much running vs. walking we do, but in any case there are great paths to run stroke walk on, provided that you can dodge the bikes zipping past so fast that I think they must be training for the Tour de France. There's also a good collection of birdlife such as black swans and flocks and flocks of scraggy-looking birds called shags and nine times out of ten it's beautifully sunny, albeit a little chilly when we first set off. Really, what more could a guy and gal out in the open air ask for?
In my last post I told you all about my short but sometimes interesting little wander from home to the local supermarket. Well, just like this, on our weekly jog stroke walk around the river we sometimes come across some surprising sights. No word of a lie, one time as we approached what we assumed was a wedding party gathered in a big open tent, who should we spot giving a speech as we got closer but Richard Branson! Right there at that moment at a random spot along the river bank in Perth Australia. Amazing. We stopped and listened for a moment, of course, and were treated to a couple of Richard's jokes and down-to-earth bantering with his staff. Who would have thought it?
This is also a great place for people-watching. Most people are doing pretty 'normal' things for this spot such as cooking breakfast on the public BBQ grills dotted alongside the paths, tying up balloons in wooden shelters in preparation for birthday parties for family or friends or feeding the swans (erm … should I tell them a swan can break a child's arm??)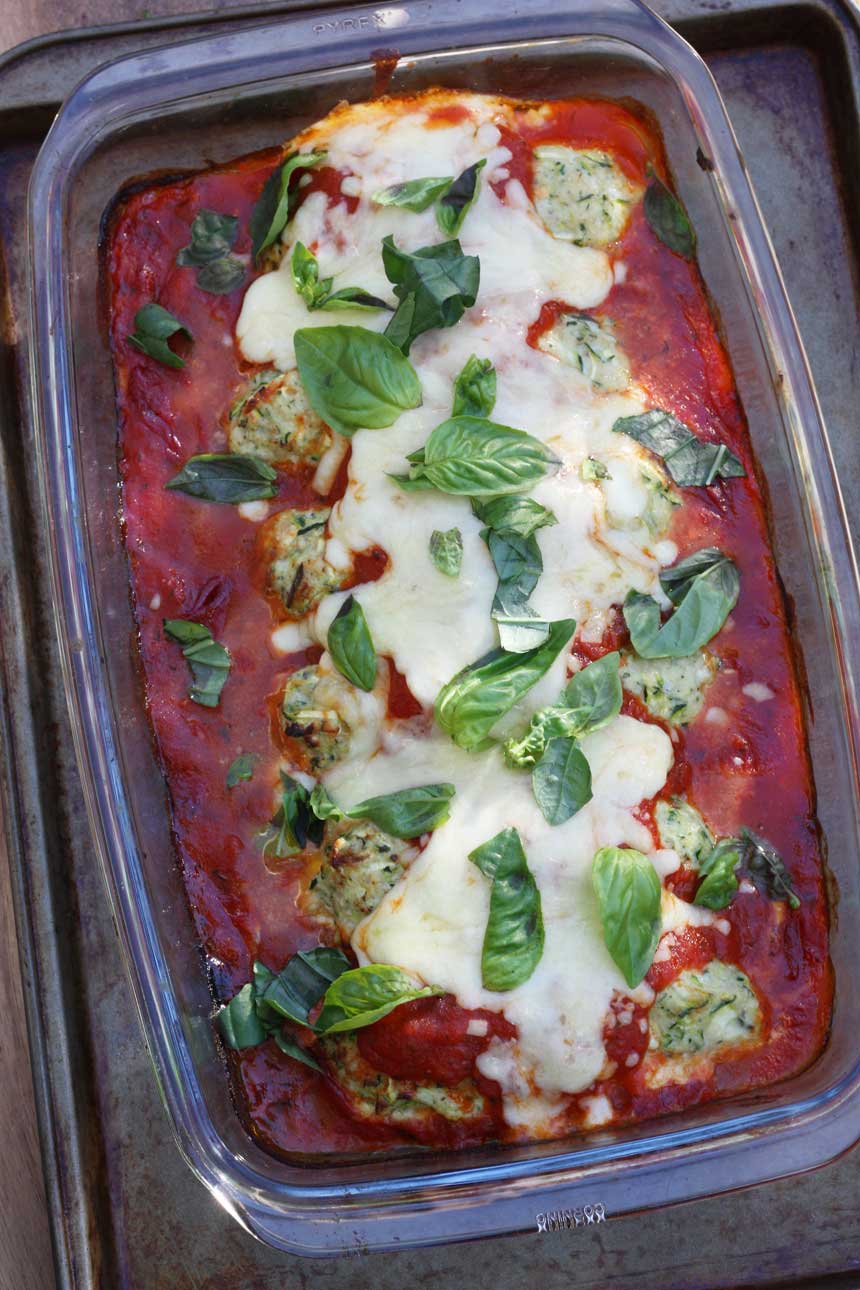 But there have also been a few curious sights. Occasionally we see one of those bikes that you peddle while lying horizontally, which always makes me smile a bit. There was also the time that we saw a man jogging past in what looked like a woman's sports bra-like running top. To reduce wind resistance, maybe? To reduce sweating? Very curious indeed. But possibly the icing on the 'curious sights around the river' cake was the couple we saw last week. A man was walking in front of a lady and as we passed he said 'Come on, dear' or something along those lines. Nothing strange about this, except for the fact that the lady was wearing a woolly hat pulled right down over her face so that she couldn't see. There were no holes in the hat, just a couple of 'eyes' made out of material stuck onto the front! I wish I had a picture to show you. I don't know if I've ever seen anything more ridiculous!
Finally, I'd better admit that we possibly add to the curious sights ourselves. Or Mr. Scrummy does, anyway. He insists on wearing footwear that he calls 'monkey shoes' which are a sort of barefoot running shoe that fits onto your feet almost like a glove. Hmmm … now the less said about those the better.
Now there is absolutely no connection between this little description and the turkey & zucchini 'parmigiana' dish that I'm about to tell you about other than the fact that the inspiration for it came to me suddenly while on this weekly little outing. All those bizarre sights obviously got the creative juices flowing.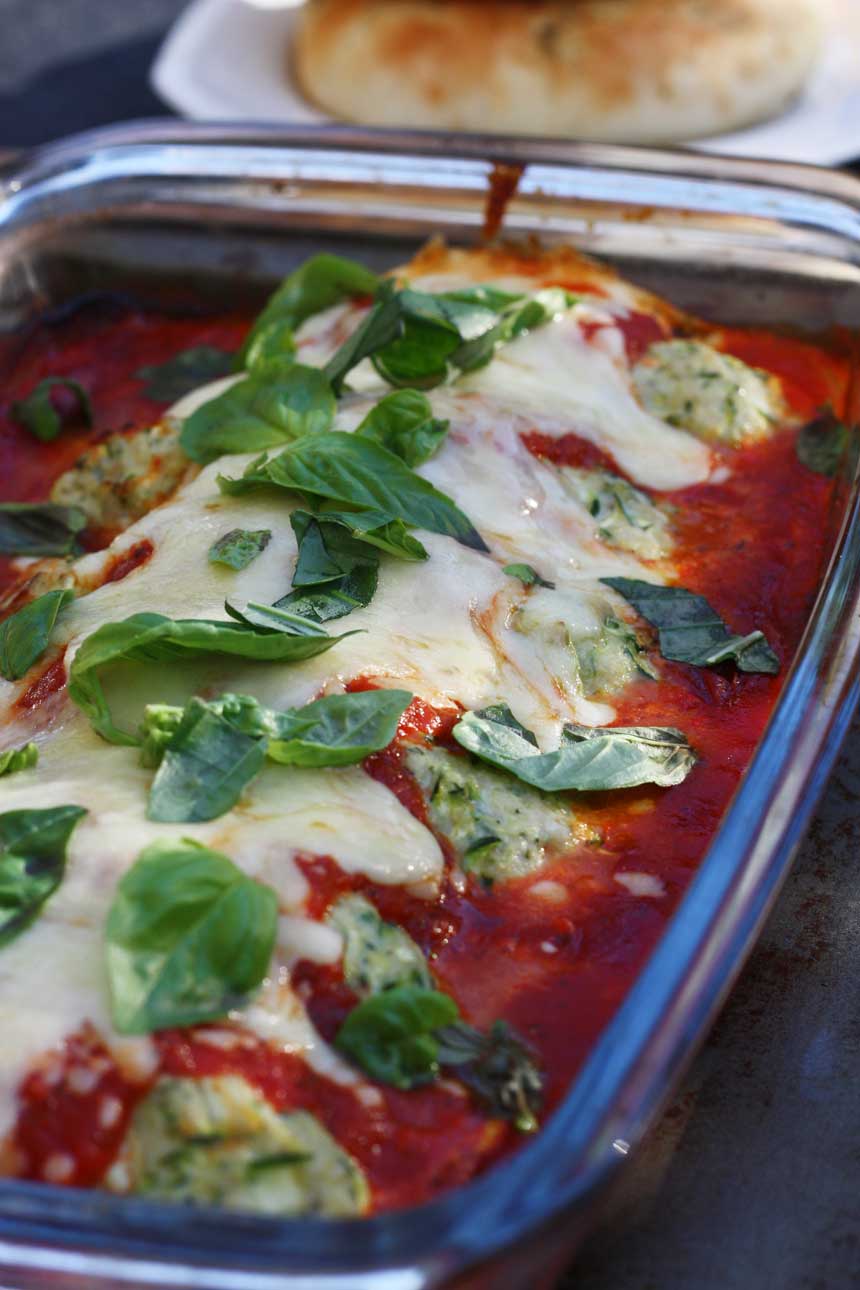 Once again, this is an incredibly easy dish that is really just sausage-shaped meatballs made of turkey mince with grated zucchini and herbs, all baked on top of a tomato sauce and topped with melted cheese and fresh basil. A bit like a chicken parmigiana dish but with a twist, if you like. The first time I made it I used a jar of supermarket tomato sauce, so the whole dish was super quick and easy to make. This way is certainly fine, especially if you're short of time, but I made this a second time using my own homemade marinara sauce and the dish was lifted up to a whole new level. You can always do what I did and make the sauce the day before. Even better if you make a double batch so that you have plenty left over for pizzas or just plain marinara dipping sauce another time.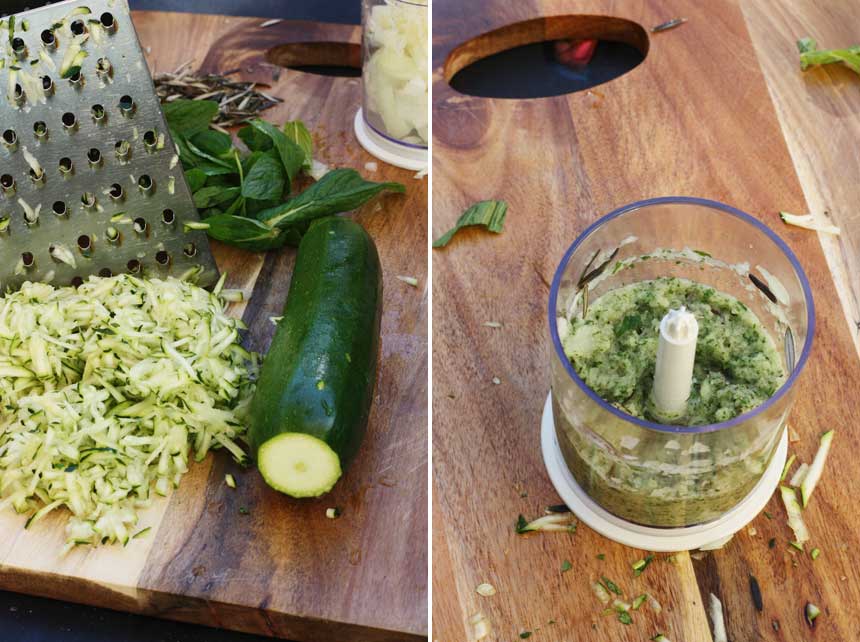 There are a couple of other things to note here, and then you're ready to get into the kitchen and start cooking! You need to take a few extra moments to squeeze some of the moisture out of the grated zucchini before adding it to your meatball mixture so that it isn't too 'sloppy'. You also need to chill the mixture for at least half an hour or so so that it's easier to shape into the sausage-shaped pieces. Finally, I found that it was much better to brown the meatballs for a few minutes than to just put them straight into the oven to bake. They are quite soft and delicate but I found that by shaping them in my hands, placing them straight into a hot pan, carefully rolling them so that they brown on all sides then carefully lifting them into the baking dish with a fish slice they survived just fine.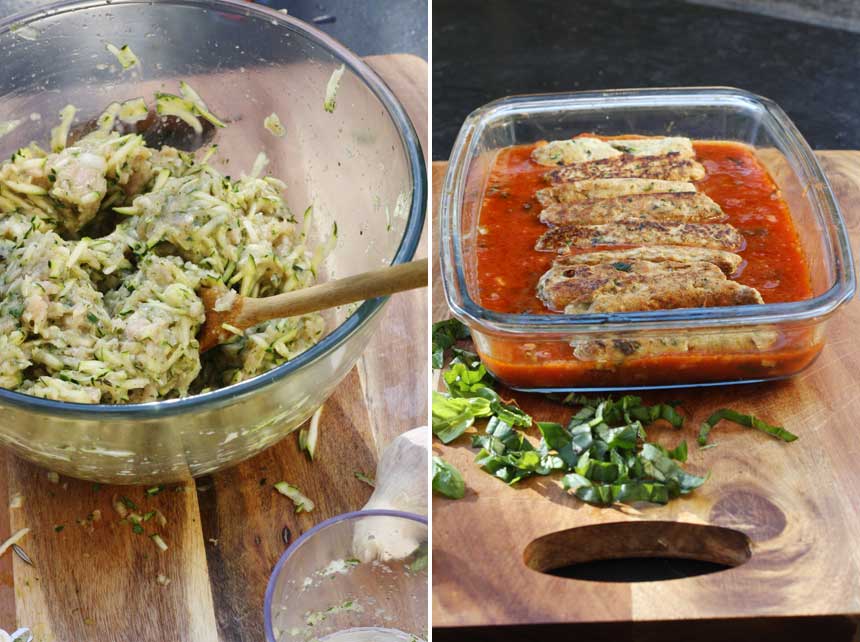 The first time, I reserved a little of the tomato sauce to pour over the top of the meat a few minutes before the end of cooking with all the cheese on top of that. The second time, I actually forgot to do this and just put the cheese straight down the middle of the meat. The choice really is yours. For the sake of aesthetics I also arranged the meat in just a single row down the centre of my baking dish. This ends up feeding only 2 to 3 people if baked in a medium-sized baking dish so what you could do if you're feeding more is use a larger dish and turn the meat the other way around so that you can fit more in. You can even shape the meat and zucchini mixture into meatballs rather than sausage-shaped logs if you prefer. The taste of course would be exactly the same.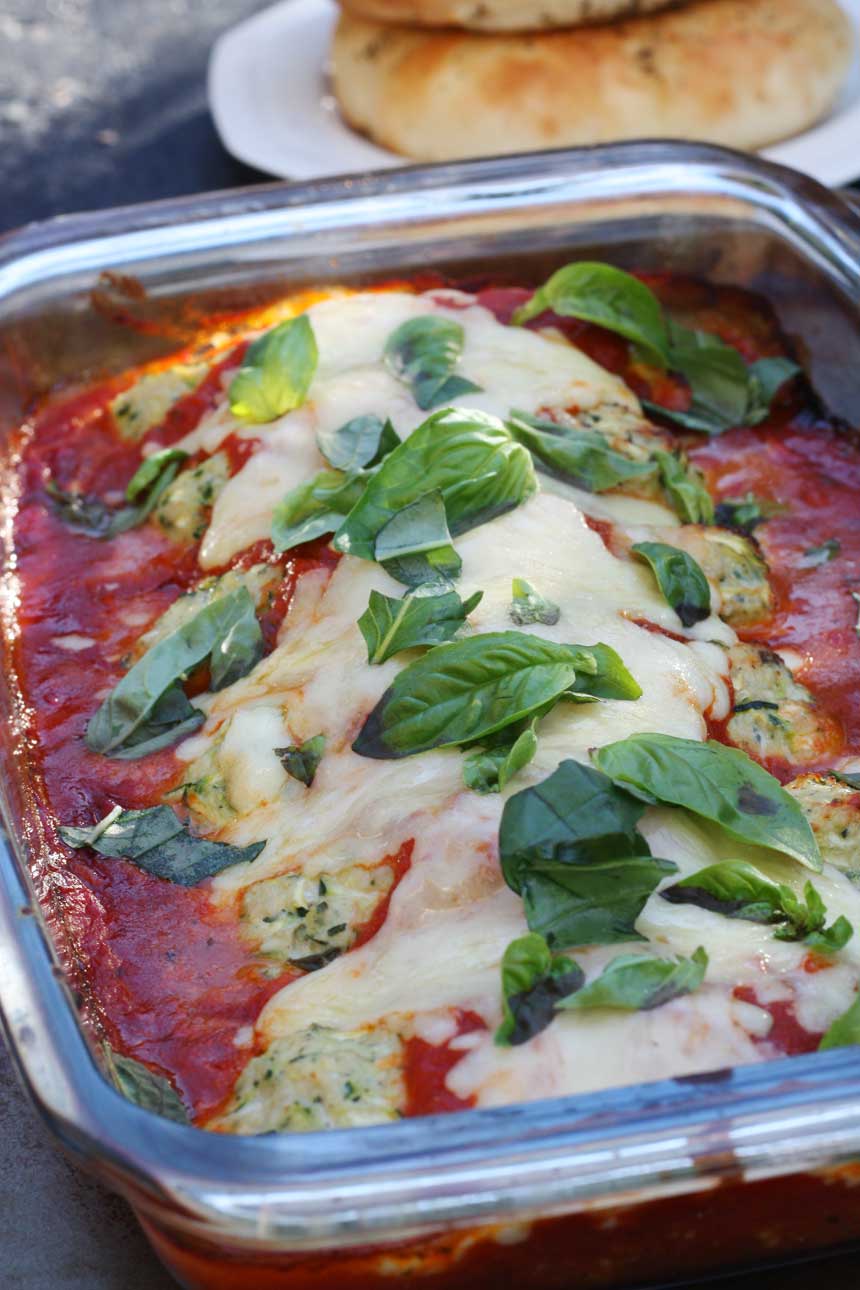 I'll leave you with the recipe and a question. What are the most curious sights you've ever seen while out and about? Come on now, give me a little giggle!
Turkey & zucchini 'parmigiana'
Sausage-shaped 'meatballs' made with minced turkey, grated zucchini and fresh herbs and bathed and smothered in a delicious homemade marinara sauce. Topped with lots of oozy melted cheese and fresh basil leaves. This is like a slightly different, more flavoursome and veggie-packed version of a traditional chicken parmigiana.
Ingredients (UK/Australia? Click below for grams/ml)
1

pound

minced turkey

2

medium-sized zucchini

coarsely grated

2

garlic cloves

roughly chopped

1

onion

chopped

1

tablespoon

chopped fresh rosemary

2

tablespoons

chopped fresh mint

1/2

teaspoon

cayenne pepper

optional

1/2

teaspoon

pepper

1/2

teaspoon

salt

1

egg

lightly whisked

a little olive oil for searing the meatballs

28

ounces

quantity of homemade or jarred tomato sauce

about 1 can tomato sauce (I used my own recipe for homemade marinara sauce)

grated cheese & fresh basil leaves for scattering over the top

toasted bread and fresh salad leaves to serve

optional
Instructions
Pre-heat the oven to 350F/180C.

Put the minced turkey into a large bowl. Extract some of the moisture out of the zucchini by blotting it with kitchen paper, then add the squeezed-out zucchini to the bowl as well.

Put the garlic, onion, herbs, cayenne pepper and salt & pepper into a food processor and pulse a few times. Add the mixture to the turkey along with the egg and mix well. Chill the mixture for at least half an hour in the fridge.

Heat up a skillet/frying pan with a couple of tablespoons of olive oil in it. Meanwhile, pour a good layer of tomato sauce over the bottom of your dish.

Shape tablespoons of the mixture into sausage-shapes with your hands. Place them carefully in the hot pan and sear them on all sides for a couple of minutes. Remove them carefully with a metal slice and place them in one or two rows down the centre of your baking dish.

Bake for 30 minutes. Then pour a little more tomato sauce over the top of the meat and sprinkle plenty of cheese over the top of that. Bake for another 3 or 4 minutes until the cheese is melted. Scatter with plenty of fresh basil just before serving.
Notes
You can either use a large baking dish to prepare this meal for 4 people, or use the ingredients to make 2 meals for 2 people in a smaller baking dish. I split my mixture into 2 and froze half for another time.
I put one neat row of the minced turkey and zucchini 'sausages' down the centre of my smaller dish for aesthetic purposes, but you could turn them around and arrange them in the dish the other way around to make better use of the space!
You could even make little meat balls instead of the 'sausages' if you prefer.
You can also vary the herbs in the meatballs if you like. Don't like rosemary? No problem, use thyme, oregano or basil instead. Don't fancy adding the mint? Then don't!
I used one of these
to whizz together all of my onions, garlic and herbs. My favourite new kitchen toy!
Nutrition
Calories:
268
kcal
Carbohydrates:
17
g
Protein:
26
g
Fat:
11
g
Saturated Fat:
3
g
Cholesterol:
124
mg
Sodium:
1434
mg
Potassium:
1223
mg
Fiber:
4
g
Sugar:
12
g
Vitamin A:
1425
IU
Vitamin C:
35.1
mg
Calcium:
93
mg
Iron:
4.2
mg
I hope you enjoyed this post! You can subscribe to receive posts directly to your inbox by entering your email address in the box at the bottom of this page or at the top of the sidebar on the right.
You can also find more from Scrummy Lane on Facebook, Pinterest, Twitter and Instagram and follow me on Bloglovin! Thanks so much for reading!
*This post contains affiliate links which means that if you click on a link and make a purchase I get a small percentage of the amount you spend. At no extra cost to you, of course! Thank you!*