Fan of lemon drizzle cake? Just love poppy seed muffins? How about combining the two in an easy-to-make lemon poppy seed drizzle cake? Mmm!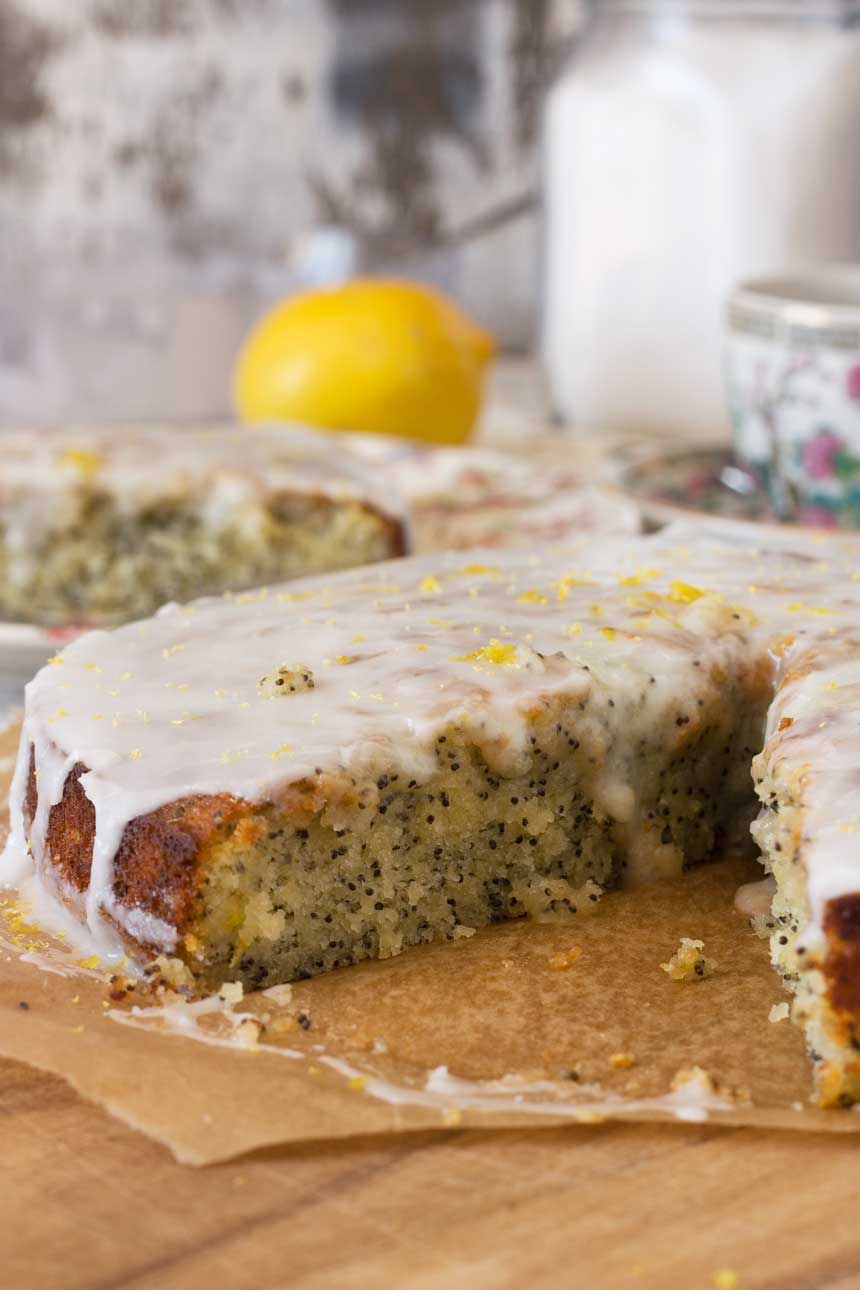 More than likely just like in thousands of households all over the UK (all over the world, in fact), I have a few go-to cake recipes – some sort of banana cake, Swedish chocolate kladkakka (incredible!), and… lemon drizzle cake!
Now I don't know whether this is 'a thing' in your country too, but just about everyone I know here in the UK loves a good slice of drizzle cake – and knows how to make this cake.
A lemon drizzle cake is one of those cakes that's incredibly simple to make. It's also very satisfying – you poke holes in it after it's done and pour a simple lemon and sugar syrup all over it while it's still warm. It's just so… lemony.
The other type of lemon cake that I love, and also find satisfying to make and eat in a sort of quirky way (all those tiny little crackly seeds!), is lemon poppy seed cake.
So I decided to combine these two recipes and make an easy torte-style lemon poppy seed drizzle cake – involving nothing more complicated than creaming together butter and sugar, adding eggs and dry ingredients, plus LOTS of lemon, and pouring into a cake tin. Add lemon icing to the finished masterpiece (if you like) and you're done.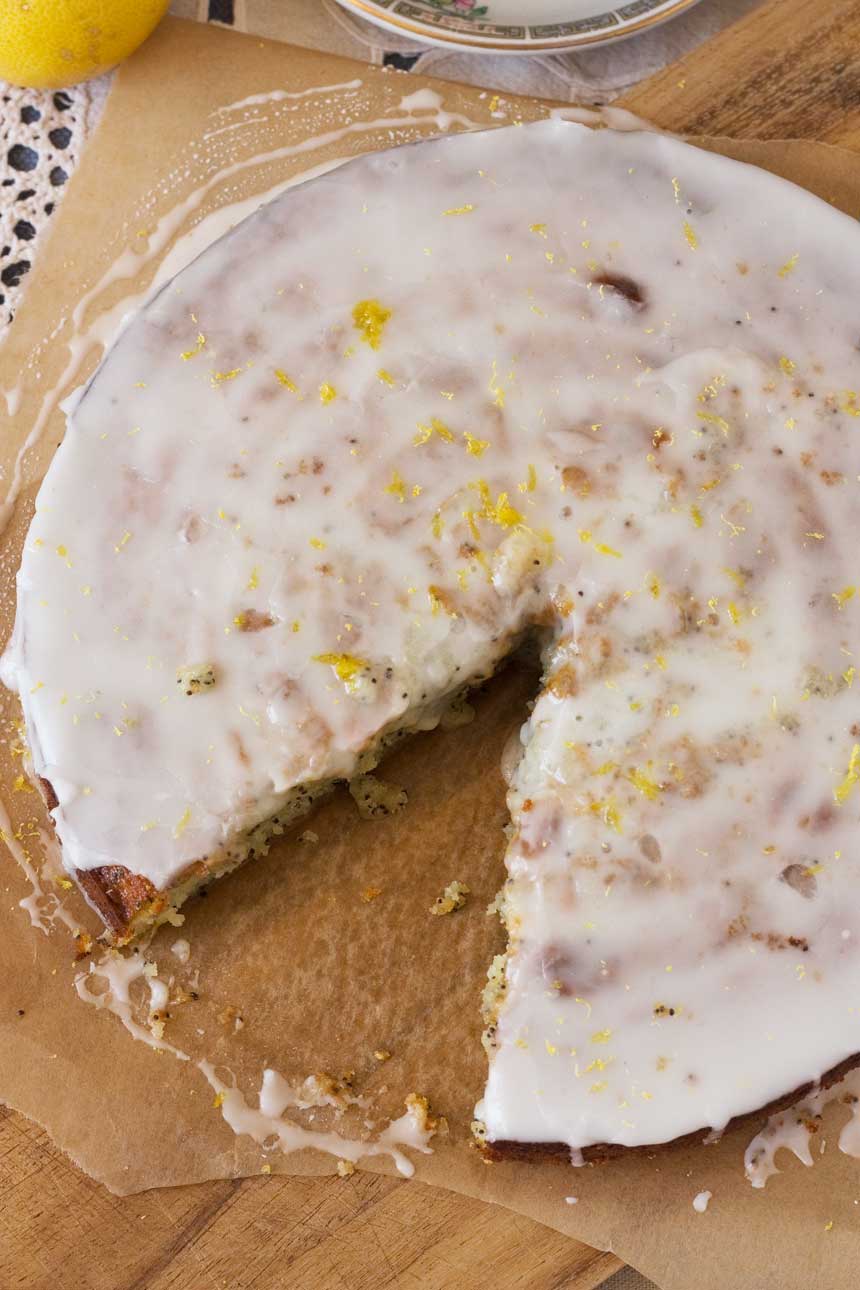 Well, actually, you have two choices to 'finish off' your cake. I do love lemons, and things with deeply lemony flavours, but I have to admit I made my cake FAR TOO LEMONY the first time I made it. Altogether, I think I used about 5 lemons, which made the flavour just far too intense, even I suspect for the most ardent of lemon-lovers.
So I'm suggested one of two things. EITHER poke your finished cake with holes and pour a simple lemon syrup over it (makes the cake super moist!), OR make a simple lemon icing out of icing sugar and lemon juice, and drip over the top!
Here you can see I went with the lemon drippy icing, just because it looks so pretty that way, but really you've got enough oomph in your cake already, with the gorgeous poppy seeds, to keep it plain on top. Totally up to you!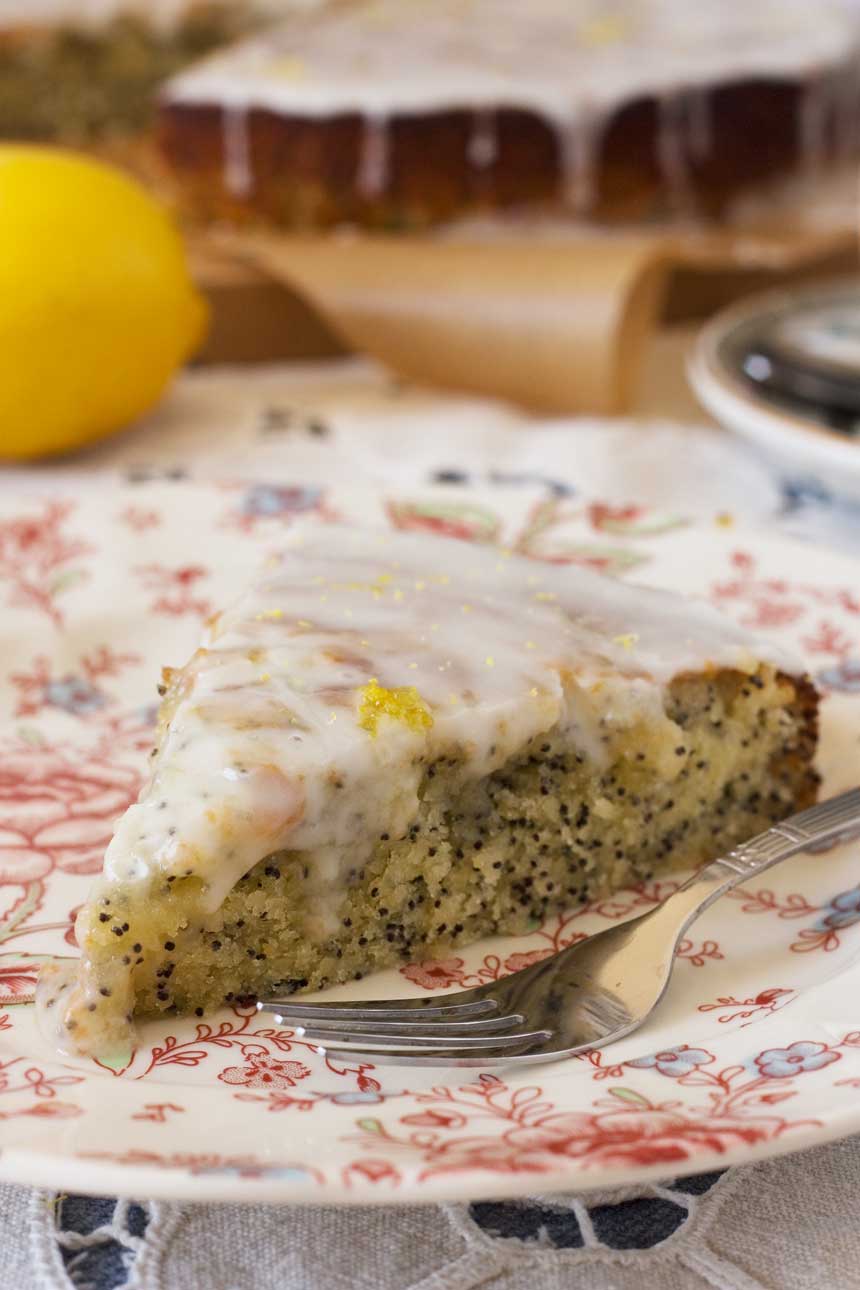 Just one little 'observation' before you run off to make this cake. I just googled 'poppy seeds' to see whether it was one word or two (the shame), and apparently eating poppy seeds can make you test positive for opium!
Fancy that. So make this cake and eat it all, but just maybe not if you're going to be competing in the Olympics this year!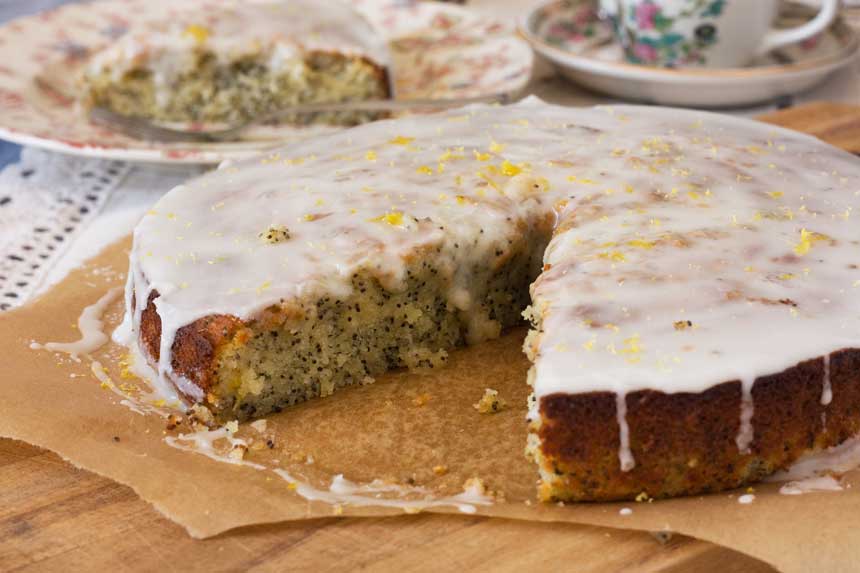 Lemon poppy seed drizzle cake
A fresh, zesty and easy-to-make cake. A combination of two of your favourite lemon cakes: lemon poppy seed, and lemon drizzle!
Ingredients (UK/Australia? Click below for grams/ml)
12

tablespoons

butter

( 1 1/2 sticks) left out of the fridge for a while to soften slightly

3/4

cup

sugar

3

eggs

zest and juice of 1 lemon

1/2

cup

self-raising flour

1.75

ounces

ground almonds

1

ounce

poppy seeds
Option 1
Juice of 1½ lemons

1/3

cup

caster sugar
Option 2
juice of 1 lemon

3/4

cup

icing/confectioners' sugar
Instructions
Pre-heat the oven to 180C. Line the bottom of a 9-inch round cake tin with baking paper, and lightly grease the bottom and sides.

Cream together the butter and sugar in a food processor or with a hand-held whisk until light and fluffy (about 2 minutes).

Whisk in the eggs one by one, then stir in the lemon zest and juice.

Fold in the flour, almonds and poppy seeds, then pour the batter into the cake tin.

Bake for 30 to 35 minutes, or until a skewer poked into the middle of the cake comes out almost clean.
EITHER
(Option 1) Heat the juice from the 1½ lemons with the caster sugar until the sugar has dissolved. When the cake has just come out of the oven, poke the cake all over with a skewer or fine knife, then pour the syrup all over the cake. Let cool, and serve.
OR
(Option 2) Add the lemon juice to the icing sugar to make lemon icing. Pour/Spread the icing over the cake (don't worry if it drips down the sides of the cake – it's supposed to do that!). Let the icing set, then serve.
Nutrition
Calories:
391
kcal
Carbohydrates:
43
g
Protein:
5
g
Fat:
23
g
Saturated Fat:
11
g
Cholesterol:
106
mg
Sodium:
174
mg
Potassium:
61
mg
Fiber:
1
g
Sugar:
35
g
Vitamin A:
615
IU
Calcium:
78
mg
Iron:
0.9
mg

Made one of my recipes? Take a pic and tag @scrummylane on Instagram so I can see it!
You can also find more from Scrummy Lane on Facebook, Pinterest, Twitter and Instagram and follow me on Bloglovin! Thanks so much for reading!
*This post may contain affiliate links* 🙂