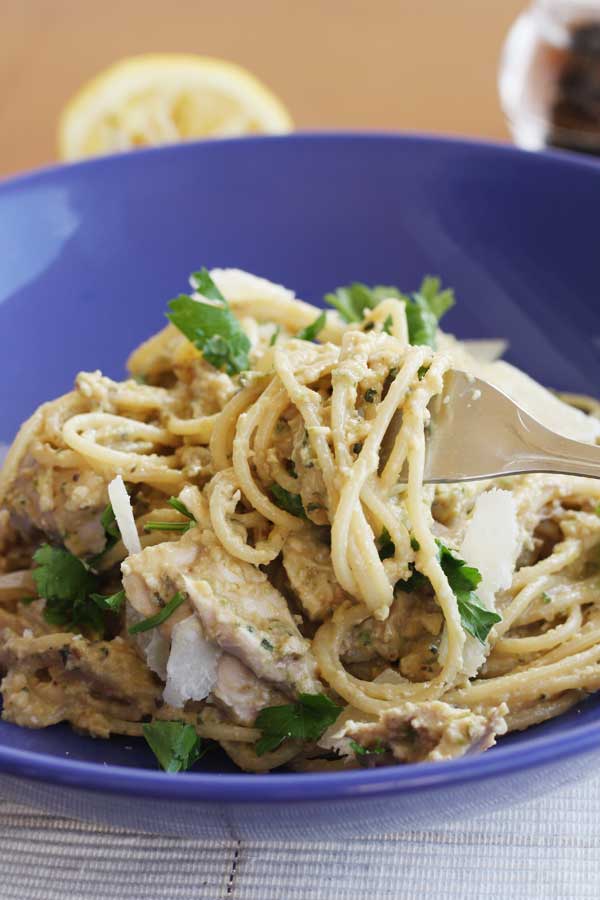 Last Friday, I did what I often do when it comes to an evening meal for Mr. Scrummy and I. I schemed and planned in my little down-time moments (aka day-dreaming at my desk) throughout the day what I was going to cook.
But by the time I got home, I was so exhausted in that Friday night way that we all know only too well that, well, let's just say I wasn't bounding into the kitchen full of the joys of spring to roast my chicken that I'd just bought in quite the same energetic fashion that I'd imagined earlier in the day! 'Forget roasting a chicken, let's just get a takeaway,' said thoughtful Mr. Scrummy. 'Oh no, that's OK, it won't take long to do,' she replied, still totally convinced that the words coming out of her mouth were true. But as pots and pans and carrots and potatoes and half lemons to shove up a chicken's bottom flew, and half an hour ticked over to an hour … and the rest … OK, yes I did regret my earlier enthusiasm. A lot.
Because, as we all know, Friday is the night for flaking out on the sofa with a pizza and a movie. Not roasting your own chicken and all the trimmings. Silly me!
But … and now here's the point … IT WAS WORTH IT THE NEXT DAY. Because what did I have then? Lots of lovely juicy leftover roast chicken of course. Which really did turn out to be super handy because Mr. Scrummy and I were painting our apartment that day ready for renting as we prepare to leave Greece and settle in the UK. It was pretty useful to have something to throw into a quick dinner at the end of all the hard work.
Soooo … I made this aubergine, courgette, walnut & chicken pesto spaghetti. I know, that's a bit of a mouthful to say and doesn't sound easy at all (sorry, I couldn't decide what to leave out of the title so I shoved it all in!) Plus, aubergine and courgette? What's she talking about? (That's eggplant and zucchini to you … or most of you, I suspect.)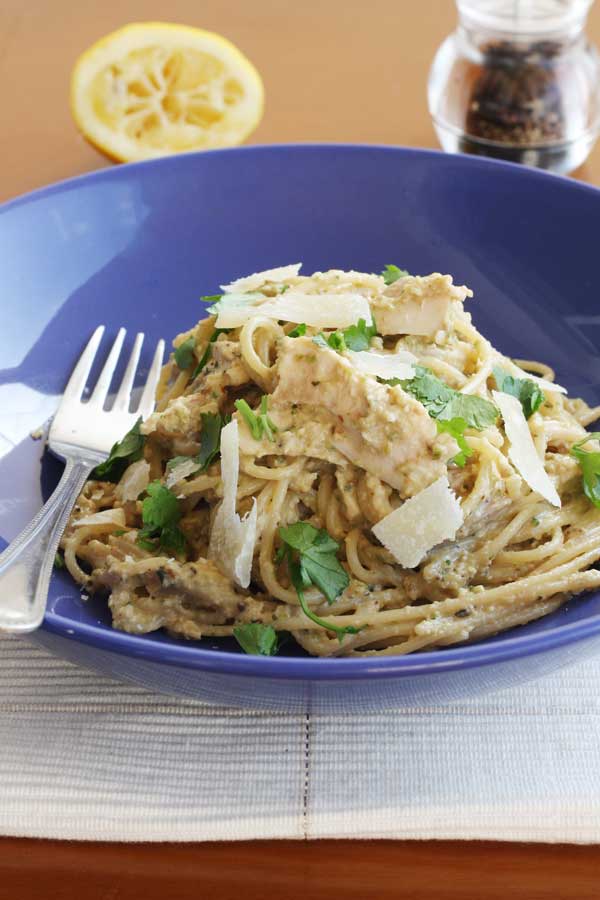 Trust me, though, like any pesto this really was easy. And truly delicious, too, if I may say so. The sauce reminded me a little of a usually-smoky and sometimes-creamy dip we have over here in Greece called 'melitzanosalata' (say 'mel-itz-an-o-sal-AT-a'), or aubergine salad. Basically, very similar to the Middle Eastern Baba Ganoush, if you're familiar with that at all.
All I did to make this simple beauty was roast a small diced aubergine together with a diced courgette for about half an hour. Why the courgette? Well, to be honest I just had one in my fridge, so decided to add it in. You know, extra veggies and all that. I do like courgettes but they don't have the most memorable flavour when mixed in with other things, so I suspect you could leave it out of this recipe if you didn't have one and that would be just fine!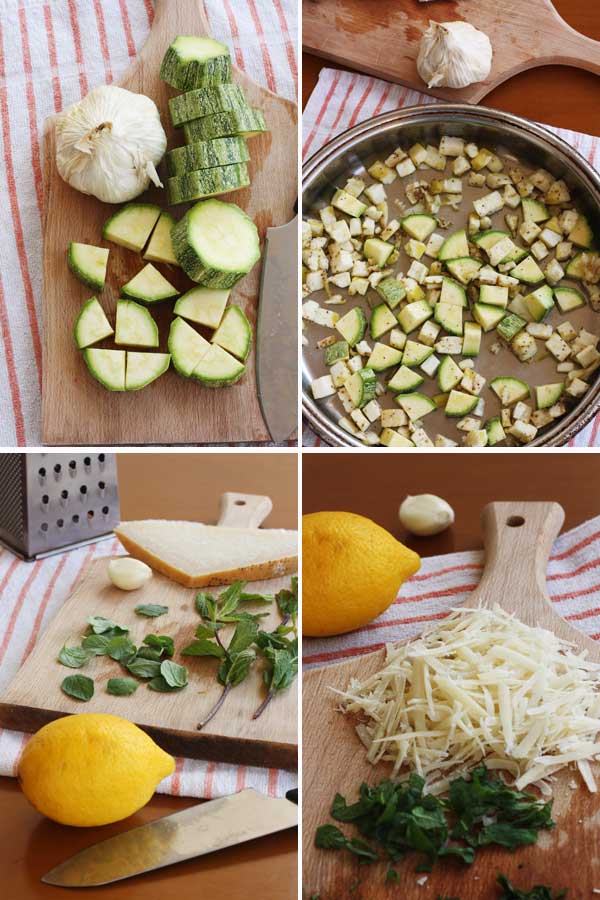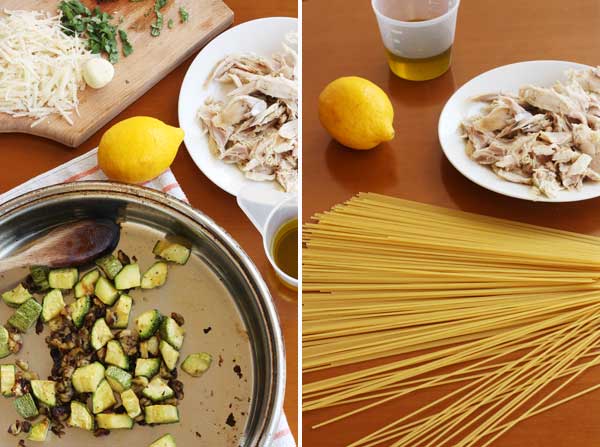 I then whizzed the roasted, diced veggies in the food processor with a handful each of walnuts, parmesan cheese and fresh herbs (looking back at my photos, I see that I used mint and oregano, but you could use whatever you have), a small garlic clove (or half a clove if you prefer to be on the conservative side with raw garlic in pesto) and a squeeze of lemon. Af-TA, as the Greeks say … that's it!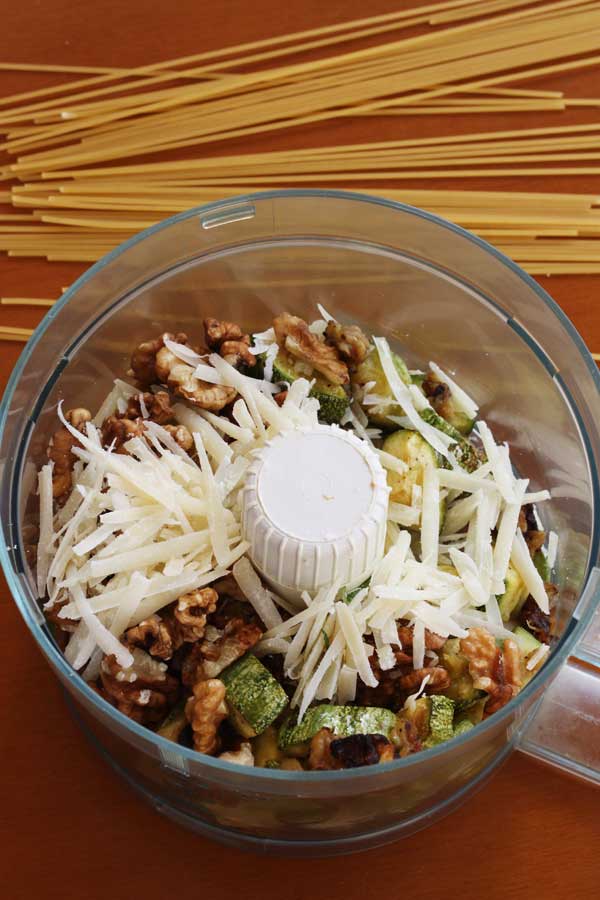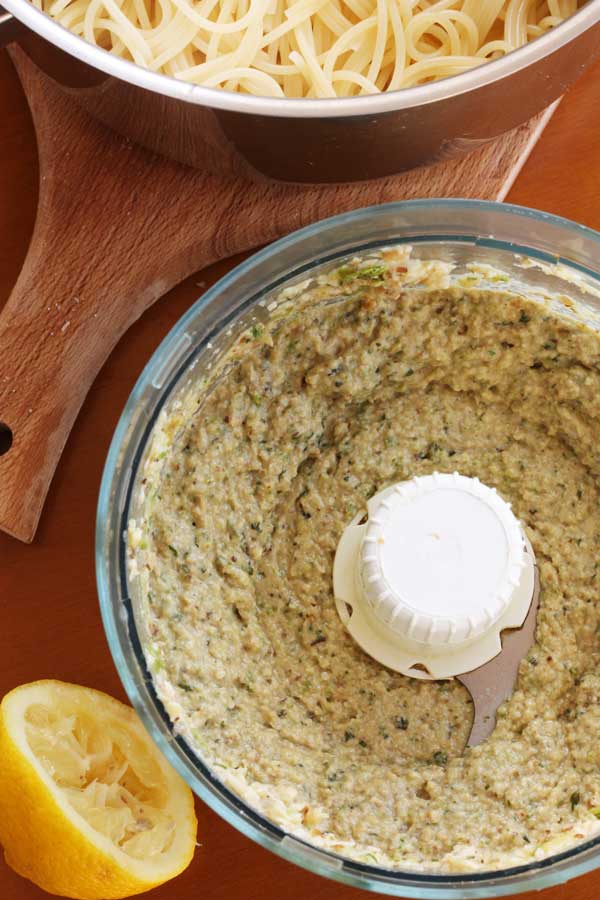 Then, stir the pesto sauce through your hot cooked pasta, adding a little reserved cooking water to make the sauce a little silkier, throw in your leftover chicken and heat through in the pan a little. Serve up your dish, then scatter over more parmesan and some chopped parsley and you've got one very delicious and fast Saturday-afternoon-while-painting-the-apartment meal. Or any-day-while-doing-(almost)-anything meal, of course!
And if you'd like to see where I live here in Athens, Greece, just look carefully at this next picture because just about the whole neighbourhood is reflected around the edge of the dish! Ha! Yes, I did forget that this particular dish, a pretty shade of blue though it is, doesn't behave itself very well in that sense. If you look closely on the left side, you'll also see that it was a lovely sunny day with only a cute little wispy cloud in the sky!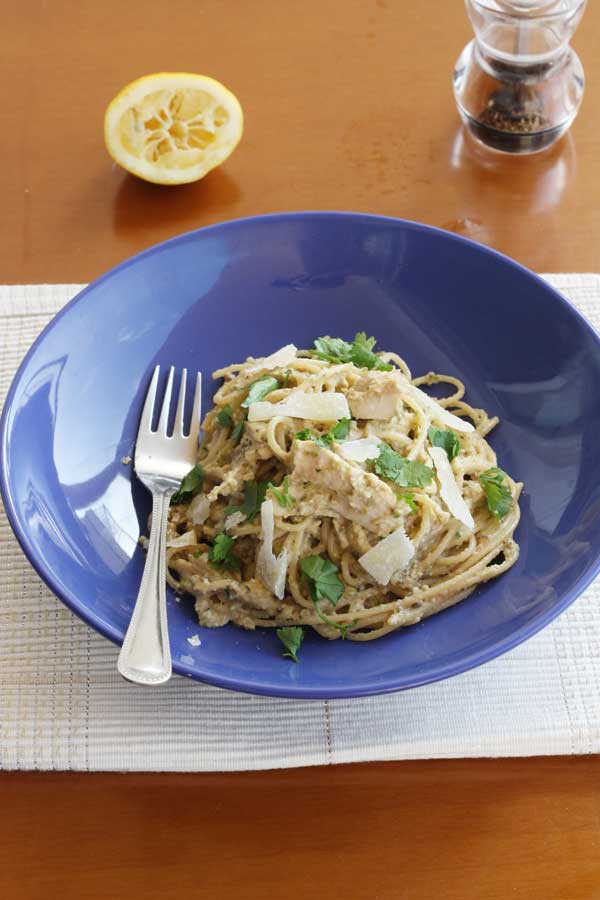 There are two things left to say here. Three, actually. 1. This pesto could very happily double up as a dip to eat with tortilla chips or raw veggies or whatever you usually like to dip into dips. 2. This recipe actually makes quite a lot of sauce. I stirred it all through the spaghetti, but you might want to save a little and use the rest for said dip. 3. You really don't need to add chicken to this dish. It would still be super tasty without it! In other words, you don't need to become Friday-night-crazy-lady-or-gentleman like I did in order to create this deliciousness!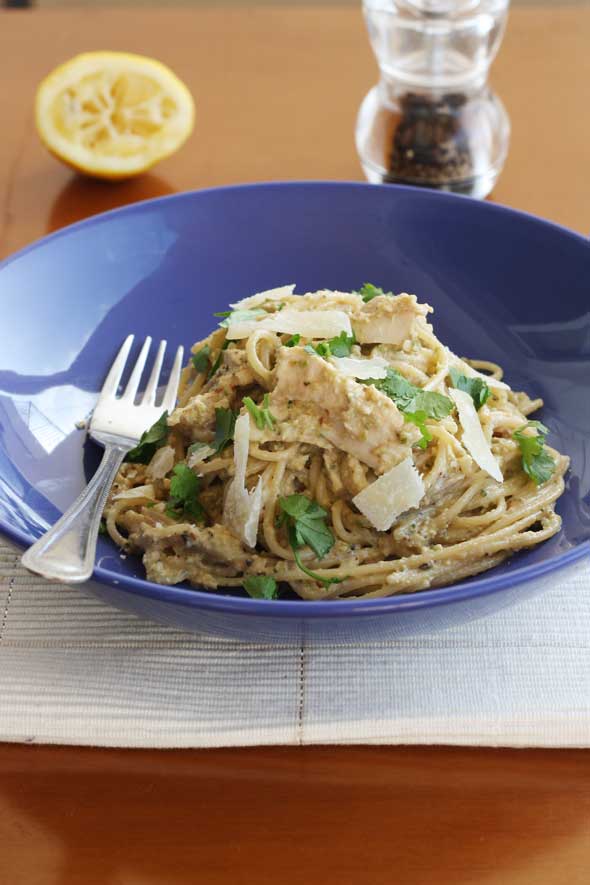 So, am I the only one to begin something a bit over-ambitious for the moment (not necessarily just cooking) and regret it? I know, probably just me on a Friday night. And … what dishes do you like to make to use up your leftover roast chicken in? Yes, I'm definitely looking to milk my readers (looking right at you!!) for all their great ideas!
Oh, and by the way, I decided I couldn't put off joining Twitter any longer and … oh my goodness, that thing is mighty addictive! Why didn't anyone warn me?!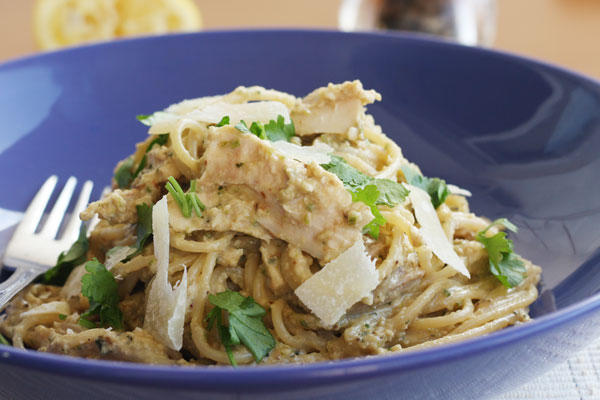 Aubergine, courgette, walnut & chicken pesto spaghetti
A different way to serve spaghetti – enrobed in a creamy, smoky aubergine-and-walnut-based pesto sauce. This dish has echoes of Middle Eastern Baba Ghanoush and definitely has the delicious factor!
Ingredients (UK/Australia? Click below for grams/ml)
1

small aubergine

eggplant, cut into smallish cubes

1

medium-sized courgette

zucchini, also cut into smallish cubes

1/3

cup

olive oil

plus a little more for roasting

2.6

ounces

walnuts

1/4

cup

parmesan cheese, grated

about a handful of fresh herbs

chopped (I used oregano & mint)

1/2-1

small garlic clove

a couple of squeezes of lemon juice

black pepper

to taste

spaghetti

fresh or dried (I used about 3.5 ounces/100 grams per person dried)

leftover roast chicken

I used about 2.6 ounces/75 grams per person, but use as much or as little as you like - or have left!

a little fresh chopped parsley and extra parmesan cheese

to serve
Instructions
Pre-heat the oven to 390F/200C.

Put the aubergine and courgette together on a baking tray, drizzle with a little olive oil and roast for 30 minutes or until the aubergine is nice and soft.

Put a pan of water on to boil for the spaghetti, then cook according to the packet instructions.

While the spaghetti is cooking, put the roasted aubergines and courgettes, walnuts, parmesan, herbs, garlic, lemon juice & pepper in a food processor and blitz until it forms a paste. Then, with the motor running, add the olive oil a little at a time until the paste has the consistency of a thick pesto sauce.

Drain the pasta, reserving a little of the cooking water, then return it to the pan

Stir the chicken and pesto sauce through the spaghetti (you may not wish to add all of the sauce, although I did!). Add a little of the reserved cooking water to make the sauce a little silkier. Heat through a little to make sure the chicken is well heated.

Serve immediately sprinkled with the chopped parsley and extra parmesan.
Notes
You could happily leave the chicken out of this recipe (even though the chicken was the star of the show in my post!)
Please do experiment with using this pesto as a dip ... and then write and tell me what you thought!
Nutrition
Calories:
666
kcal
Carbohydrates:
19
g
Protein:
12
g
Fat:
63
g
Saturated Fat:
9
g
Cholesterol:
8
mg
Sodium:
206
mg
Potassium:
686
mg
Fiber:
9
g
Sugar:
9
g
Vitamin A:
150
IU
Vitamin C:
5.5
mg
Calcium:
205
mg
Iron:
1.9
mg
I hope you enjoyed this post! You can subscribe to receive posts directly to your inbox by entering your email address in the box below or at the top of the sidebar on the right.
You can also find more from Scrummy Lane on Facebook, Pinterest and Twitter and follow me on Bloglovin! Thanks so much for reading!