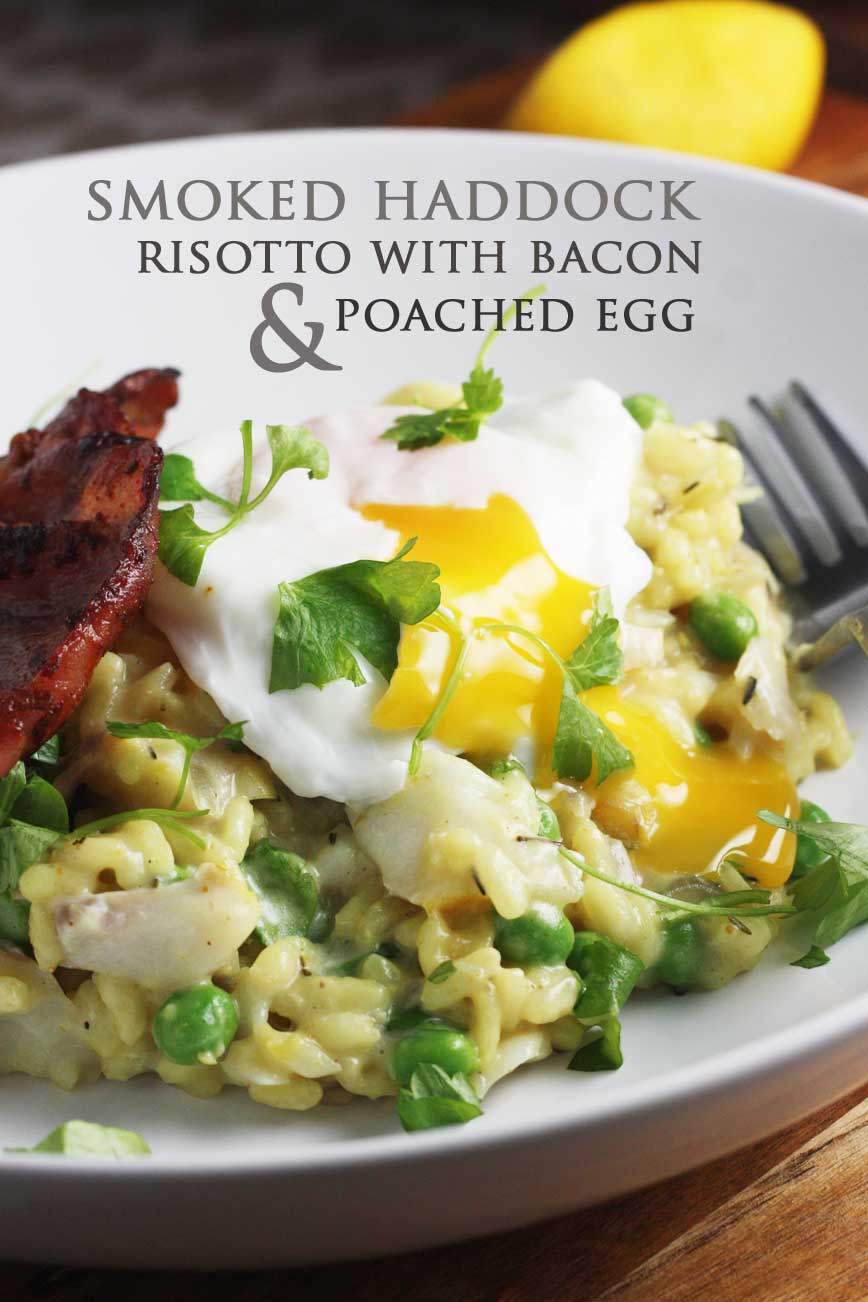 It was my birthday just over a week ago, and so Mr. Scrummy and I decided to go out for a meal to celebrate. Having just moved into the city, we weren't too sure where to go so we took a little advice and booked ourselves into a place with a pretty good reputation for Sunday lunch. We'd left it a little late to book, so ended up with an early midday booking, but that didn't bother us at all. We just made a mental note not to eat too much breakfast (and then did anyway – oh well, it was my birthday …)
When we arrived, we were seated at a little table for two that was ominously placed less than an arm's length from the next. Sure enough, no sooner had we ordered our starter, than another couple arrived and were shown to their table … you guessed it, right next to our own, despite the almost empty restaurant.
So this is what ensued. We chatted fairly quietly, they chatted fairly quietly, and we all heard every word the others said. No matter how hard we tried to concentrate on our own conversation, all myself and Mr. Scrummy could do was listen to theirs. When you're that close, it's almost impossible not to.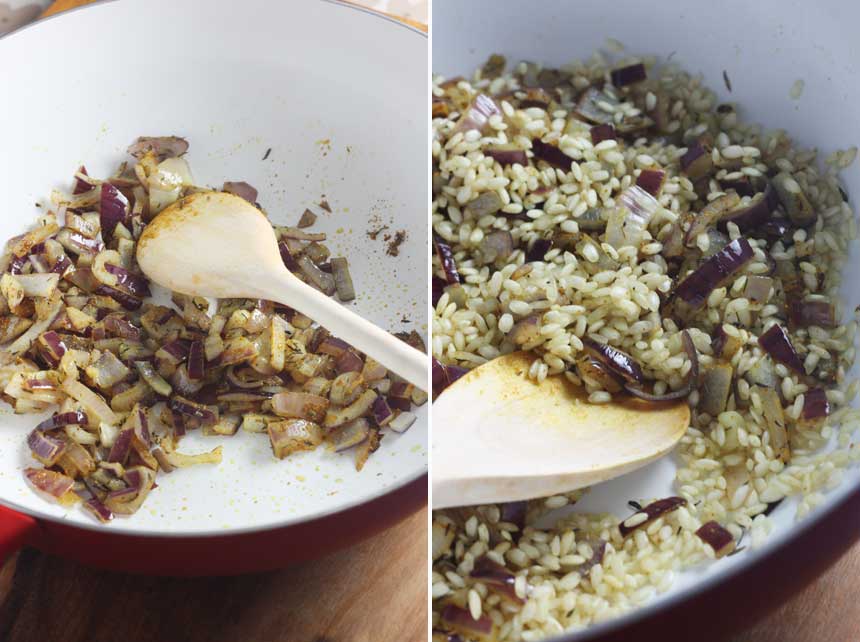 You might think this would make for the meal out from hell, but actually the whole thing ended up being pretty entertaining. The other couple were certainly quite different to us (their conversation was a little more 'high-brow' than our own, let's say), intellectually discussing this thing and that before moving onto an in-depth critique of the food and service (maybe they were undercover food critics?) Nothing wrong with all this, of course, but before long Mr. Scrummy began to roll his eyes and pull faces, which of course made me want to giggle.
In the end we gobbled down our dessert rather more quickly than we would have ordinarily done and got ourselves out of there asap. Awkward? Just slightly. I'm sure the minute we left the other couple breathed an equally as loud sigh of relief as we did when we walked out of those restaurant doors.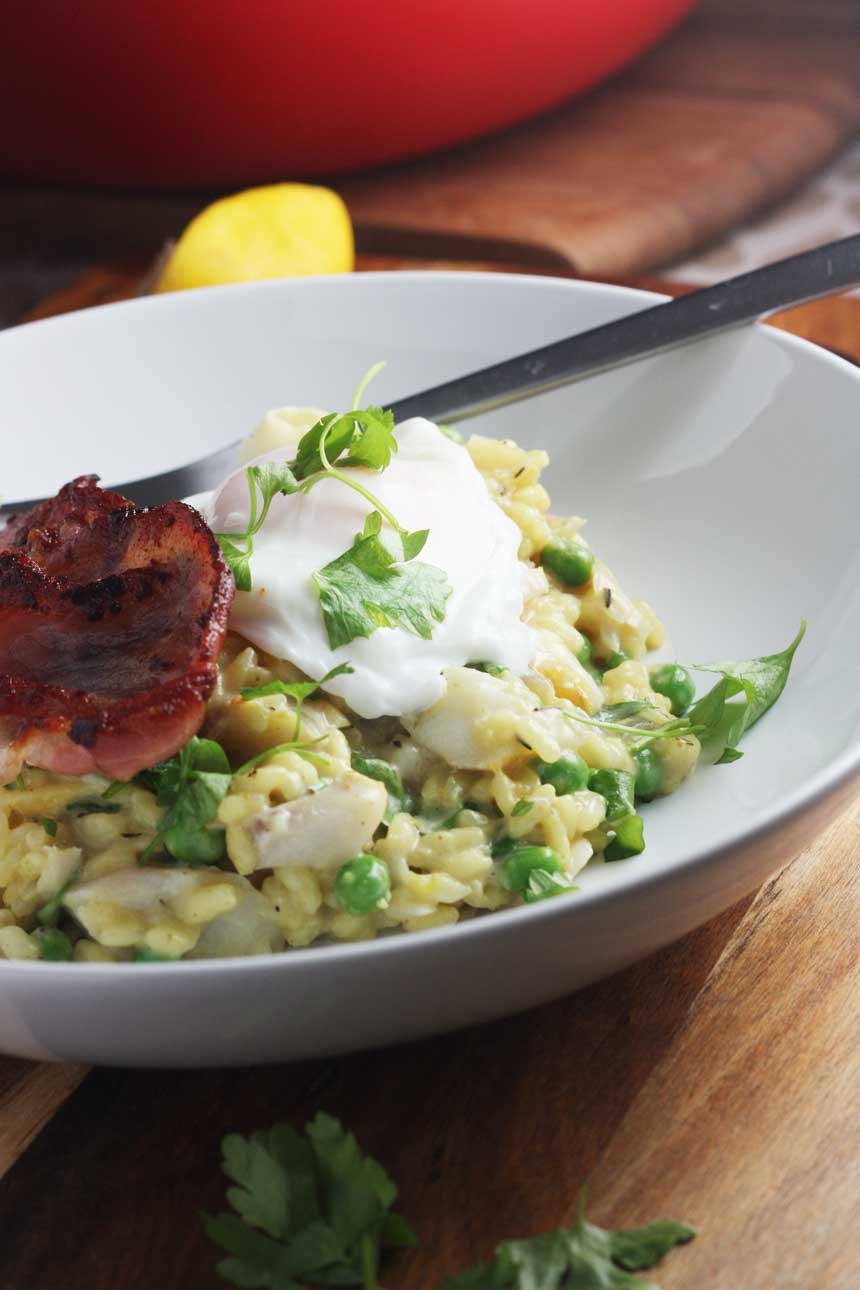 The upside of this whole experience was that my fish risotto starter gave me a little inspiration for today's recipe. I was going to call it 'smoked haddock' risotto because that's the fish that you'd use for any dish like this in the UK, but after doing a little research I realised that you may not be able to get smoked haddock where you are. If not, any uncooked smoked white fish will work, or indeed any ordinary white fish, although the smoked aspect gives the finished risotto such a hit of flavour … and goes brilliantly with the bacon and poached egg.
You make this risotto pretty much like you would any risotto, except when you fry up your onion at the beginning you add a little curry powder. You then add stock (fish stock, of course) to risotto rice ladleful by ladleful until it's all used up. Poach the fish in a little milk for a couple of minutes, flake it into the risotto, stir in some frozen peas, parsley, and a little butter and crème fraiche (or mascarpone if you can't find crème fraiche) and you've got yourself a creamy, intensely flavourful and comforting bowl of deliciousness. Top it with a couple of slices of bacon and a runny poached egg and for me this is pretty much food heaven.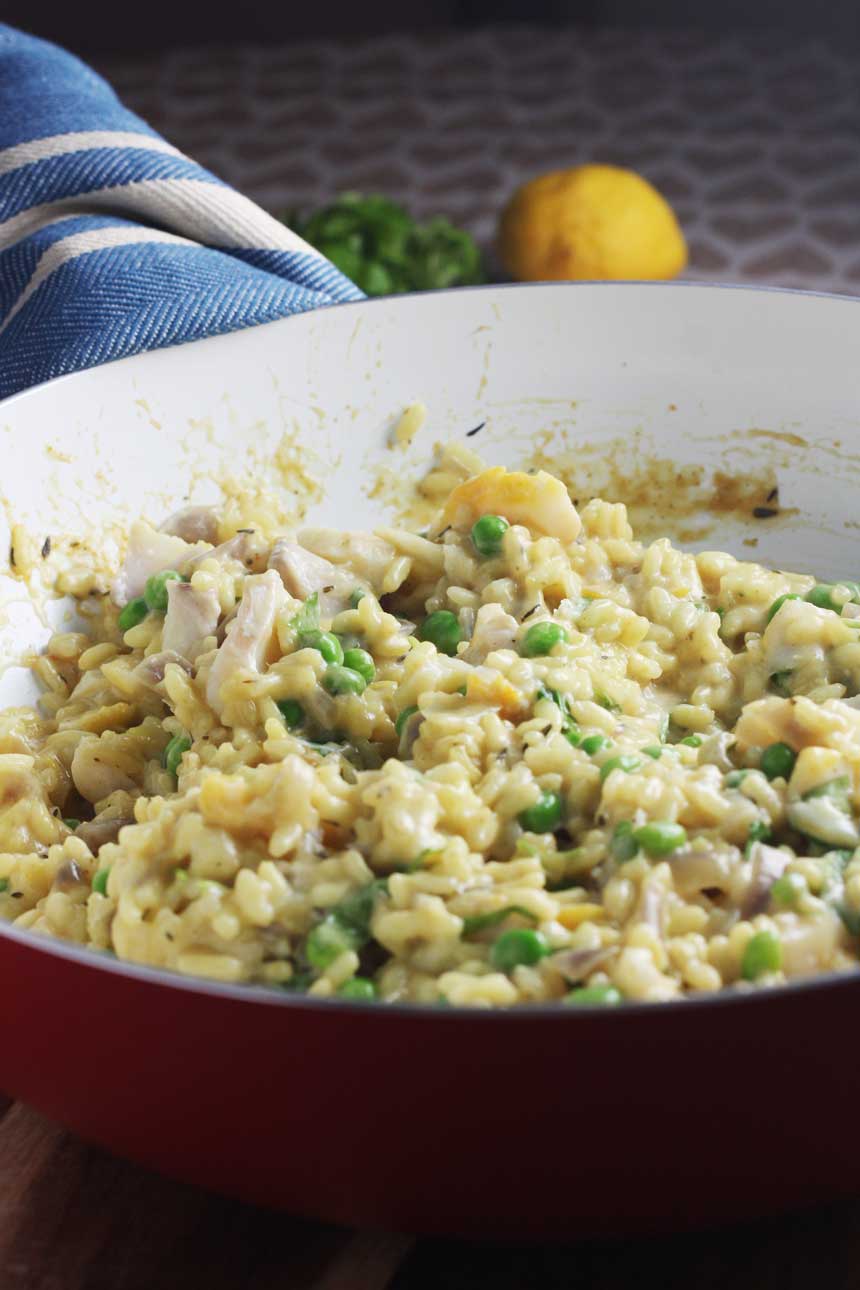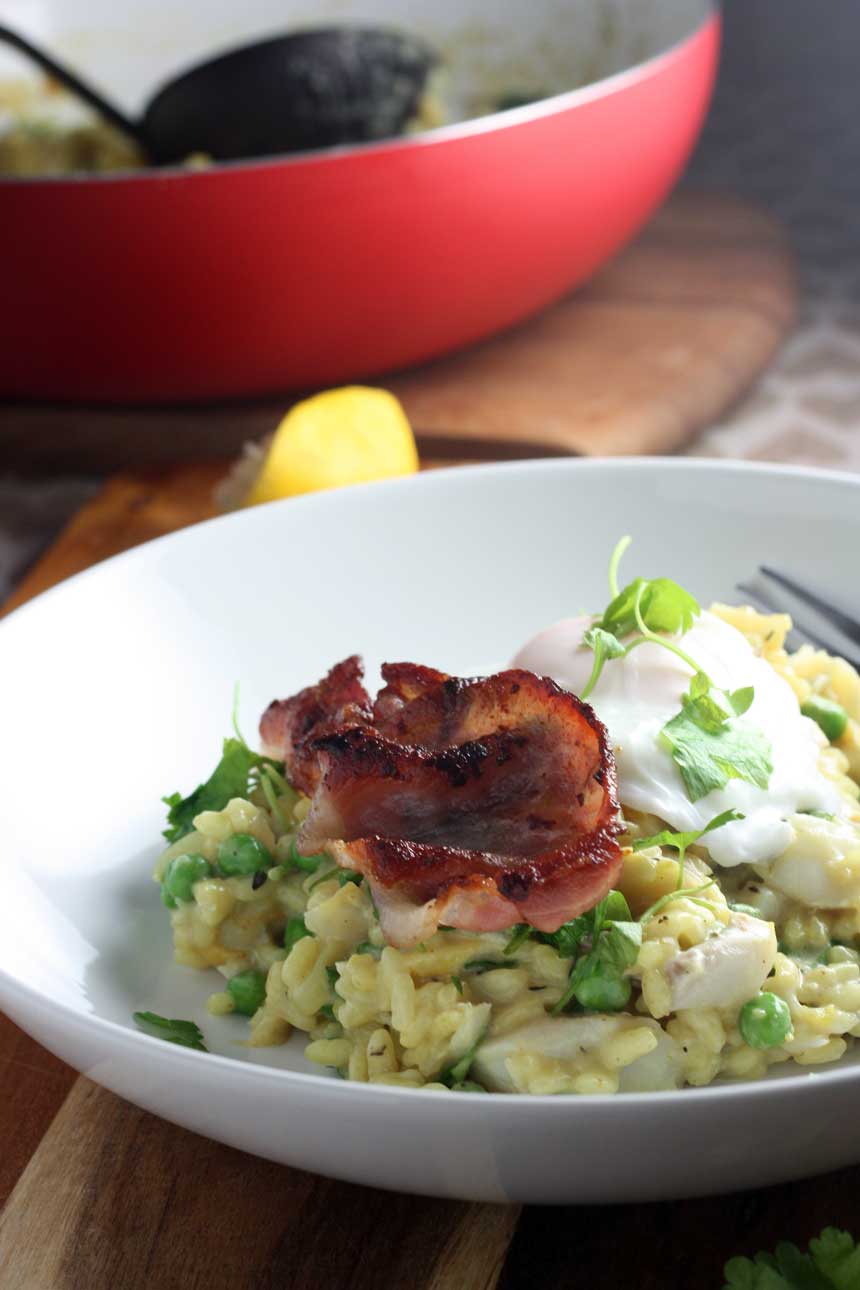 Unfortunately, though, not for everyone. I suspect that this dish may fall into that 'love it or hate it' category. Like olives and brussels sprouts and blue cheese and licorice, beets, sushi, tofu, liver, prunes and … well, I could go on and on, of course. Poor Mr. Scrummy just HATED everything about this and declared that it was his food hell. I suspected he would, to be honest, but naively thought I might be able to win him over because there was bacon with it. So my pre-dinner spiel went something like this: Now I know you don't really like 'fishy fish', I know you aren't so keen on risotto and I know adding an egg on the top of things isn't your favourite thing to do … but there's bacon on it so maybe you'll like it! Hmm … turns out he doesn't get the wool pulled over his eyes so easily.
So would this be your food heaven or food hell? Come on, you can be honest. What else would be your food hell? For me it would be a big fresh cream slice with layers of pastry in it. Yuck.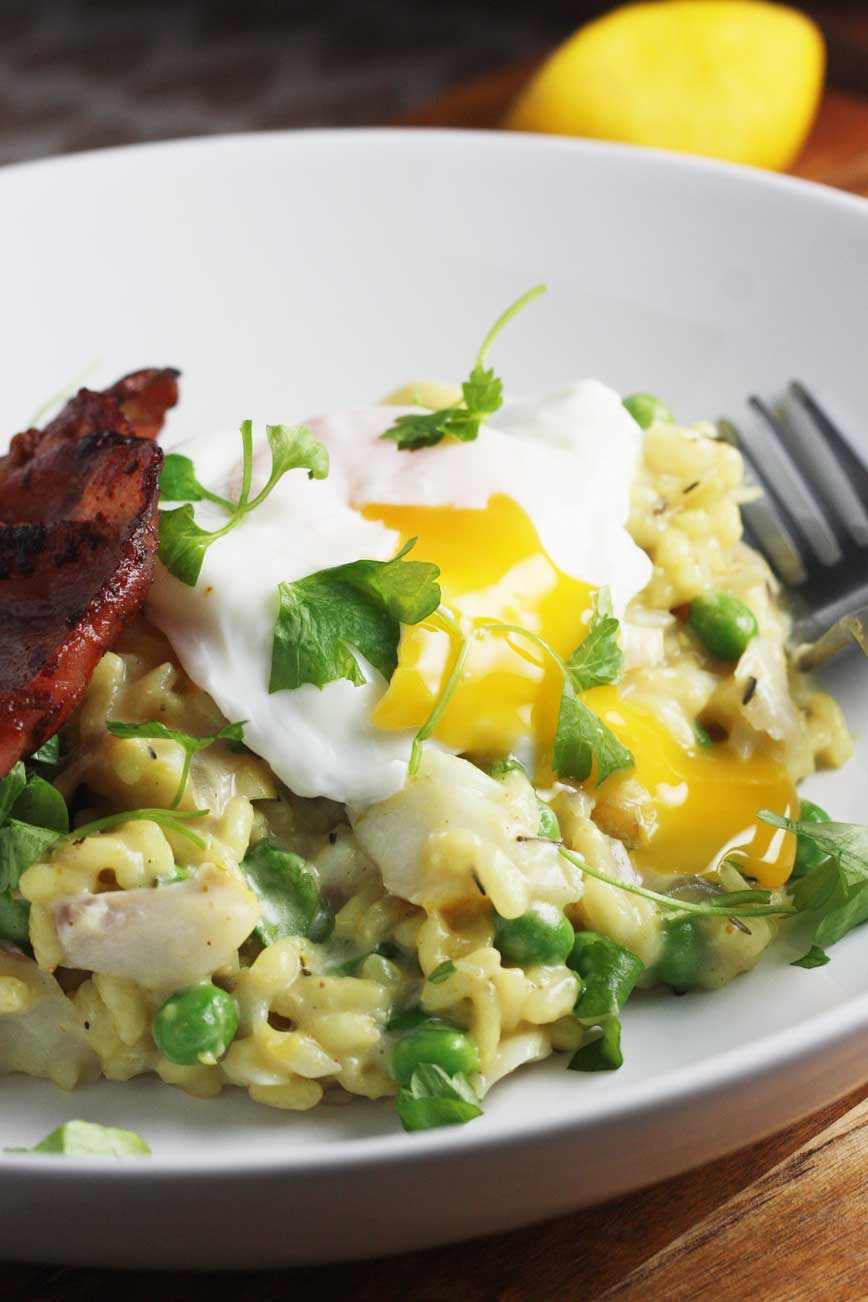 Smoked fish risotto with bacon & a poached egg
Creamy, super tasty smoked fish risotto with a hint of curry - all topped with tasty bacon and a runny poached egg. Food heaven!
Ingredients (UK/Australia? Click below for grams/ml)
1

small to medium onion

finely chopped

a little olive oil

1

bay leaf

optional

1

teaspoon

dried thyme

1

teaspoon

curry powder

medium strength

1

cup

arborio rice

2

cups

fish stock

10

ounces

smoked fish

uncooked – not smoked salmon, for instance - I used undyed smoked haddock

1

handful chopped parsley

2 1/2

ounces

small sweet frozen peas

enough milk to poach the fish in

1 1/2

tablespoons

butter

2

tablespoons

crème fraiche

or mascarpone cheese

1

rasher of bacon per person

pan-fried

a few squeezes of lemon juice

1

poached egg per person
Instructions
In a large high-sided wok or pan, fry the onion in the olive oil for a few minutes until soft, then add the bay leaf, thyme & curry powder and cook for another minute or so.

Add the rice and stir really well, then add the fish stock one ladleful at a time until it's all used up. If the rice still isn't cooked, add ladles of water until it is.

Meanwhile, cook the bacon and keep warm while you poach the fish. Bring the milk to a simmer, then poach the fish in it for a couple of minutes until cooked through. Discard the milk (or save it to make a fish pie!) then flake the fish into the risotto. Add the parsley, peas, butter & crème fraiche and give it all a good stir.

Finally, serve out the risotto and top each plate/dish with a squeeze of lemon, a rasher of bacon and a soft poached egg.
Notes
Slightly adapted from BBC Good food. If you can't find smoked haddock, any smoked white fish will be fine. Just don't use anything like smoked salmon – the fish needs to be uncooked when you buy it. If you can't get hold of crème fraiche to stir in at the end, use mascarpone cheese, or even sour cream or Greek yoghurt. Anything creamy will have a similar effect!
Nutrition
Calories:
377
kcal
Carbohydrates:
45
g
Protein:
21
g
Fat:
11
g
Saturated Fat:
5
g
Cholesterol:
61
mg
Sodium:
537
mg
Potassium:
426
mg
Fiber:
2
g
Sugar:
1
g
Vitamin A:
535
IU
Vitamin C:
3.7
mg
Calcium:
63
mg
Iron:
3.5
mg
I hope you enjoyed this post! You can subscribe to receive posts directly to your inbox by entering your email address in the box below or at the top of the sidebar on the right.
You can also find more from Scrummy Lane on Facebook, Pinterest, Twitter and Instagram and follow me on Bloglovin! Thanks so much for reading!
*This post may contain affiliate links which means that if you click on a link and make a purchase I get a small percentage of the amount you spend. At no extra cost to you, of course! Thank you!*