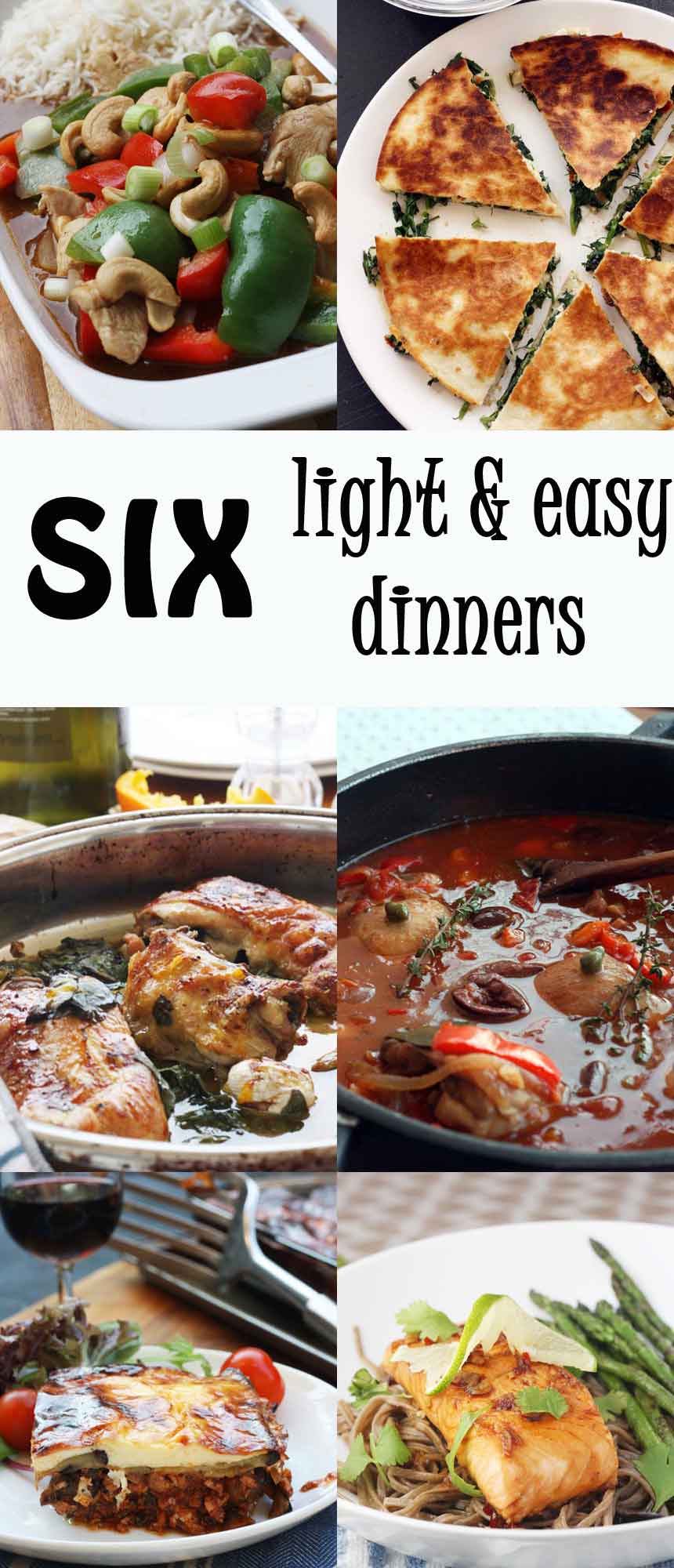 I don't know about you, but as much as I've enjoyed lazy days scoffing this special dinner and that followed by rich dessert after rich dessert over this holiday period (and let's not forget the endless baskets of chocolates that my arm automatically reaches into every time I pass them) … my slightly rumbling and gurgling digestive system (sorry … tmi?) is now rather hinting that it's craving some simpler, lighter, no-fuss food.
I have never been one to focus on calories or diets and am not about to start in 2015 (it's all about the balance!) but at the same time I think it can't hurt to give our systems a bit of a January rest by way of some dinners made with just a few healthy, wholesome and fresh ingredients. It also won't hurt if they happen to be quick and easy to throw together after all the frenetic activity of the last week or two. Sorry, rich meats and gravies and sauces and puddings, but I've had enough of you for a while …
So cue these six light & easy dinners. These are all meals that have appeared on this blog during the last year (the blog's first year!) and are some of my favourites, not least because, as you've probably realised by now if you're even half-way a regular reader, I am quite possibly one of the world's laziest cooks. I love to cook and eat, but not if it entails too much time and trouble. I would much rather chop up my few ingredients, potter around the kitchen for a (very) short while as I stir, fry, mash or pop in the oven, perhaps put my feet up for a bit as it cooks all by itself, then enjoy the tasty fruits of my, ahem, labour. All the better if the protein in the meal is fish, chicken or veggie. Don't gasp in horror too loudly, but nine times out of ten I'd much prefer any of these to a big fat juicy steak.
If this sounds like you (or even if you are less lazy than me and enjoy a challenge in the kitchen or a steak on your plate every now and again but want a rest from the challenges and rich and fussy food for now), I hope you can find a meal in this list to help make your life a little calmer, simpler and healthier over these next days.
First up is this stove-top Mediterranean chicken casserole. This has been the second most popular dinner on the blog this year (the top spot was taken by my feta & sundried tomato stuffed chicken with lemon butter gravy – delicious but perhaps not the lightest … although not too bad!) It's a super easy one-pan meal with great flavour thanks to the added pancetta, olives, capers and feta.
Number two are these Greek quesadillas with tsatziki. 'But this is not a dinner!' you may be shouting at your screen right now. Well, why not? For me, they fit the bill perfectly. They're pretty light, easy to make but most definitely not short on flavour. They're also packed full of nutrient-rich spinach, salad onions and sundried tomatoes. I'd happily eat these for breakfast (well, why not, the Greeks eat spanakopita – spinach pie – for brekky!) lunch or, yes indeedy, dinner!
Number three is maple, orange & spinach chicken and definitely one of my favourite dinners on the blog … it also happens to have a big endorsement from Mr. Scrummy, which is some endorsement indeed. It's another ridiculously easy one-pot meal with just a few ingredients (chicken, maple syrup, the juice of an orange, garlic & spinach). The recipe suggests using a whole chicken but I've also tried this with chicken pieces and it was just as good (just reduce the cooking time to about 45 minutes or until your chicken pieces are cooked if you do this).
Number four is maple teriyaki salmon with soba noodles. Again, very few ingredients in this, hardly any time needed to make it but it's got great flavour, most definitely feels light and wholesome and yet doesn't make you feel like you're on a diet (well, we're not doing diets in this post, remember …). Definitely one of my recent favourites …
Number five is this skinny chicken moussaka. Moussaka traditionally takes a little time to make, but I cut a few corners here to make an easier, lighter version. This is probably still slightly more time-consuming than the other five dishes in this post, but 100% worth it and really not tricky enough to stop me from making it again and again.
Number six is 'better than a take-away' chicken with peppers & cashew nuts. This was a last-minute addition (you guessed it, this post was going to be called Five Light & Easy Dinners!) but it's a dinner Mr. Scrummy and I have enjoyed again and again over the past few months. Again, it's healthy, light and super easy to make but … those simple Chinese flavours make you feel like you've ordered a Chinese takeaway. Which feels like a treat … a cheat's treat, if you like!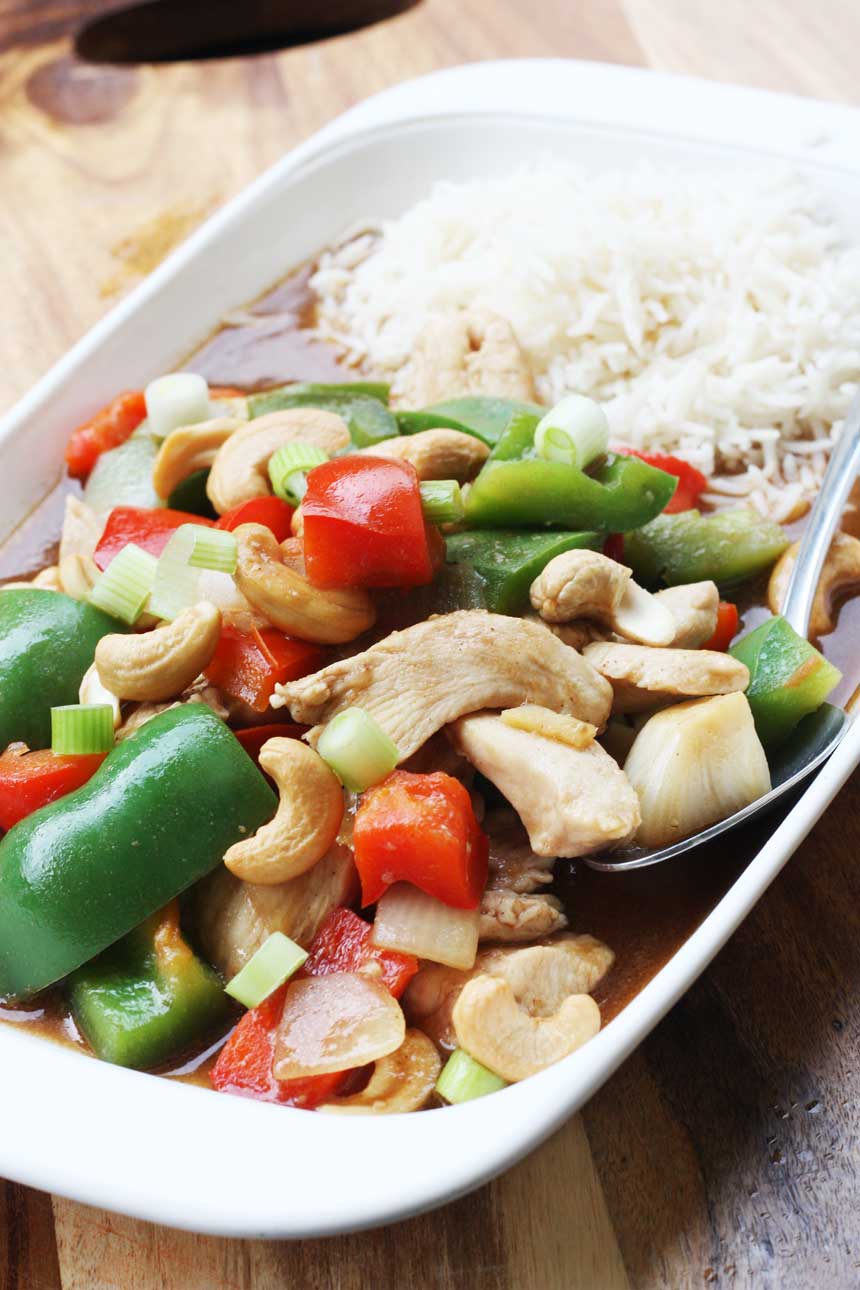 So there you have it … there's really now no excuse to be eating stodge and feeling bad this coming week. I really hope you give one (or all) of these dishes a go and that you do feel like they've helped to simplify (and healthify!) your life a little this January. And finally …
pleeeeaase don't miss Monday's post in which I will not only be presenting you with yet another light and easy dinner (the first of 2015!) but also giving you the chance to enter an amazing Worldwide Giveaway with a $700 (in Paypal cash or Amazon vouchers) prize – yes, $700 – you read it correctly! More details on Monday!
In the meantime … HAPPY NEW YEAR and I can't thank you enough for reading and following along with this humble little blog over this last year. It's been an incredible ride for me and I look forward to sharing many more (easy and simple!) recipes with you in 2015. 🙂
I hope you enjoyed this post! You can subscribe to receive posts directly to your inbox by entering your email address into the box at the top of the sidebar on the right.
You can also find more from Scrummy Lane on Facebook, Pinterest, Twitter and Instagram and follow me on Bloglovin! Thanks so much for reading!
*This post may contain affiliate links which means that if you click on a link and make a purchase I get a small percentage of the amount you spend. At no extra cost to you, of course! Thank you!*