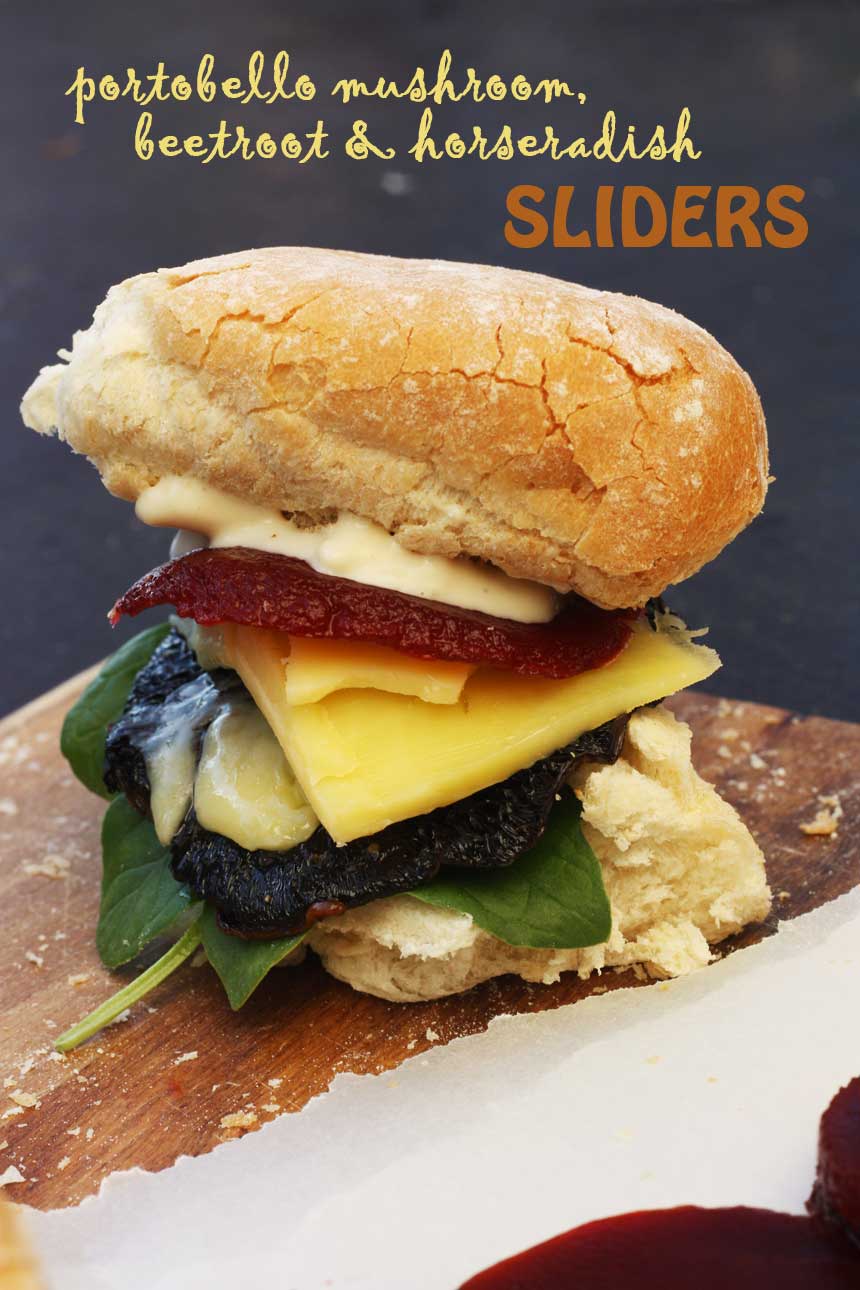 When I first lived in Greece, there were many things that I had to get used to. One of those things was constant last-minute changes to plans. This was true with respect to weekend plans with friends, work projects or professional appointments. If you are the kind of person who, like me, likes to know exactly what you are doing so that you can plan really well and/or look forward to it, then you can imagine how frustrating this could be!
It seems I may therefore have solved the whole 'nature or nurture' conundrum, because you would have thought that after over a decade of this, I would have got into the 'let's just see what happens' groove. But no. We have just slightly extended our stay in Australia, thus delaying our settling down in England by another two weeks, and I was not really a happy chappy when we did. Two weeks? Well, that's nothing, you might say. Just fourteen teensy days. True, but now I am really beginning to feel like the boy (well, girl) who cried wolf. 'Oh yes, for sure we're coming back on this date,' I say to a friend, only to have to tell them something different again a short time later. Then there are the Australian leaving meals and drinks. We've arranged them so many times that I would fully expect to see people's eyes glaze over the next time we talk about when we're leaving.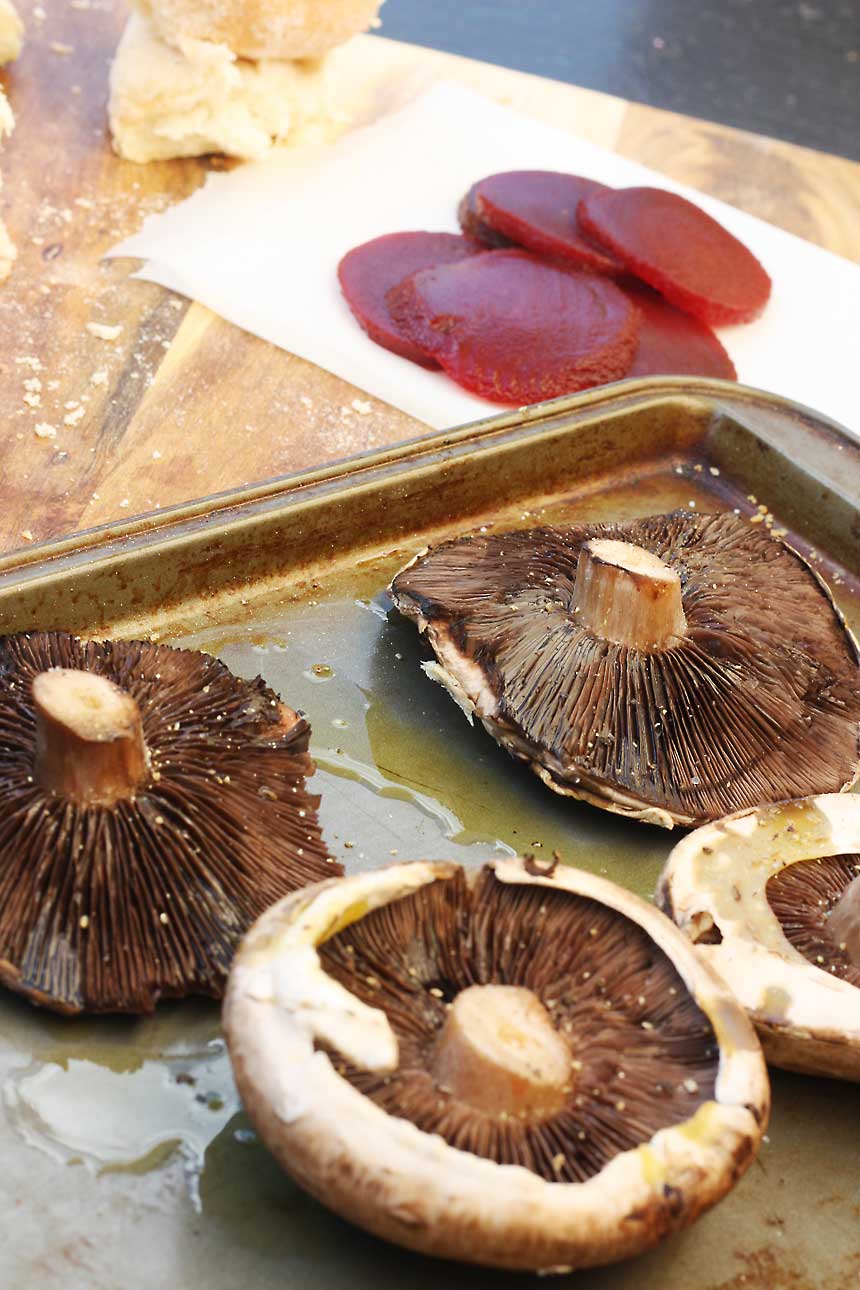 The good news is that it looks as though we may have managed to rent a cute little flat in the UK (with an extra bedroom, ensuite bathroom and a dishwasher which has been at the top of my wish list for about 20 years … sad but true!) I say 'may' because neither of us have lived in the UK for years, so we fall way out of 'the box' when it comes to the credit checks that are a normal part of the process of applying to rent a home. In other words, they have nothing on us! Hopefully, we can overcome this little extra bump in the road.
Maybe I could bribe the rentals company with some nice homemade brownies? Or a couple of these Portobello mushroom, beetroot & horseradish sliders?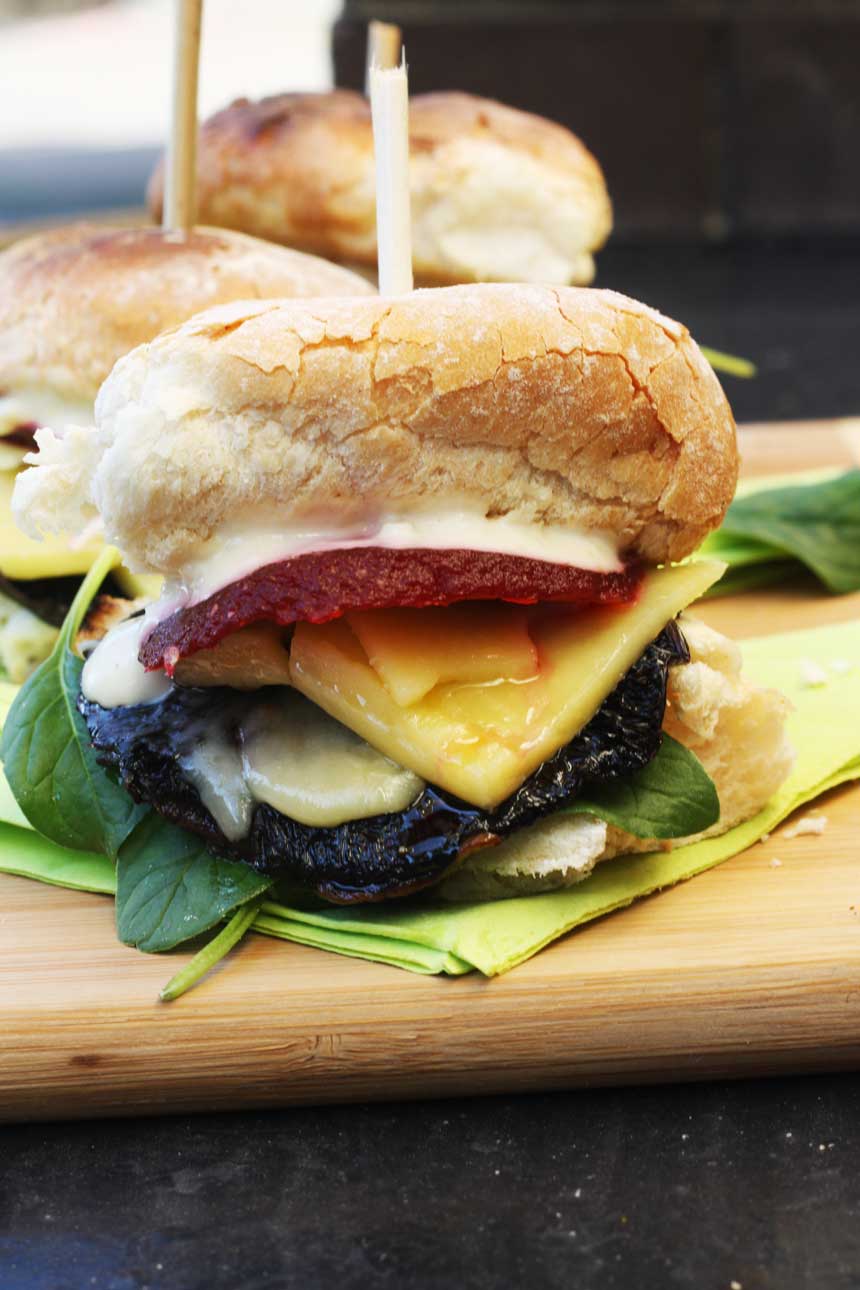 I decided to make these sliders to cheer myself up in the midst of my chance to settle down 'sliding away' from me once again. Sorry, very bad 'dad joke' there – in fact that might just be an insult to dads everywhere to call it that. But cheer me up they did! I like nothing better than to come up with recipes that take hardly any effort to create but taste like a dream, and these certainly fit the bill. Literally all you have to do is bake some medium-sized flat-ish Portobello mushrooms with a little olive oil for about ten minutes, then layer them up with a little greenery, beetroot (in vinegar is great), tasty cheese and horseradish sauce. To make my horseradish sauce, I mixed a store-bought 'horseradish cream' with a little Greek yoghurt and mayonnaise. You could use sour cream if you preferred. And if you can't find horseradish sauce or cream you could use a little fresh grated horseradish. In fact, I'm sure that would be even better!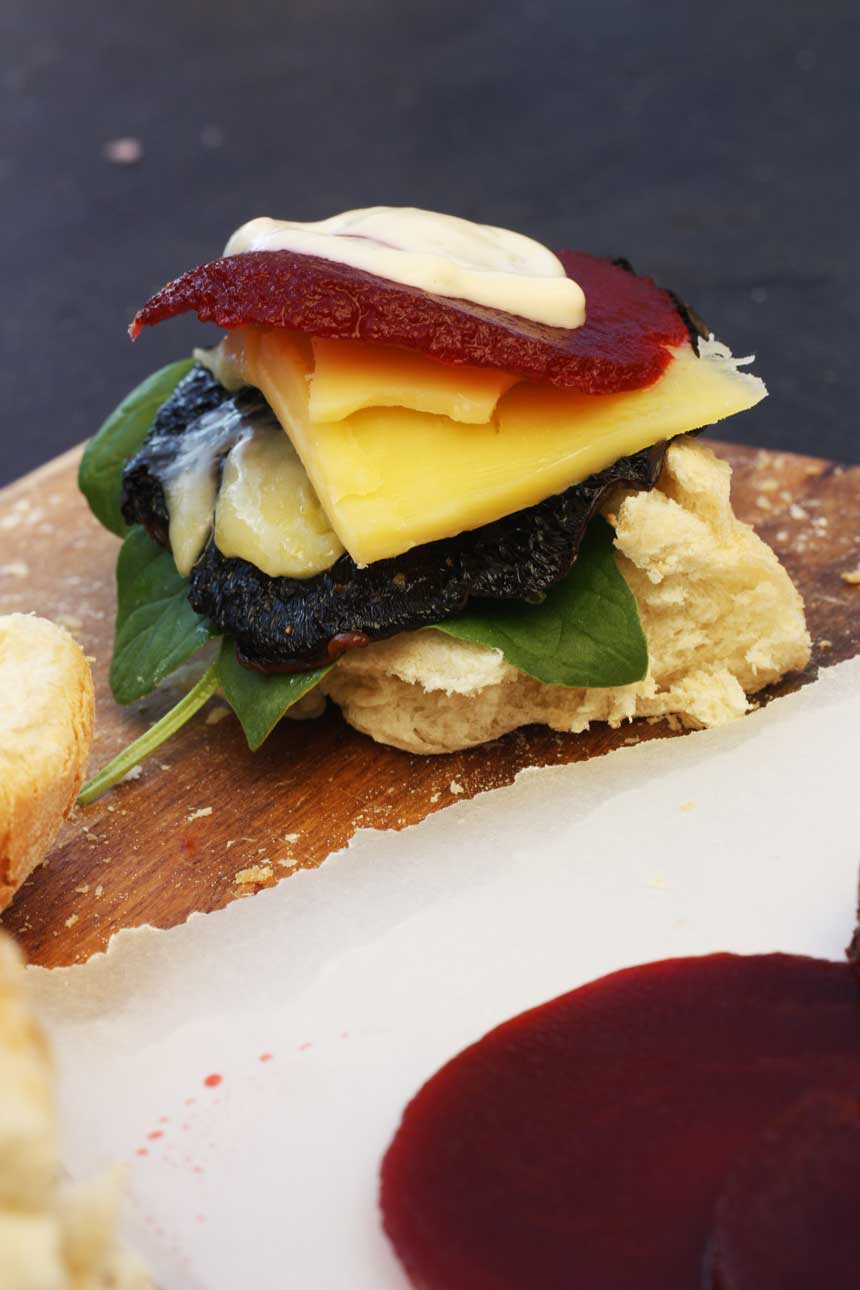 I love the tangy hot hit of horseradish and I think it goes absolutely perfectly with the meaty mushroom and tangy-but-in-a-different-way cheese and beetroot. For the cheese, I used a tasty cheddar because that's what I had, but I think next time I'll try a nutty gruyere.
I'll definitely be making this tasty snack again, but hopefully in my own kitchen and my own country.
So how do you cope with changing plans? Do you shrug and take them in your stride or do they drive you a bit loopy?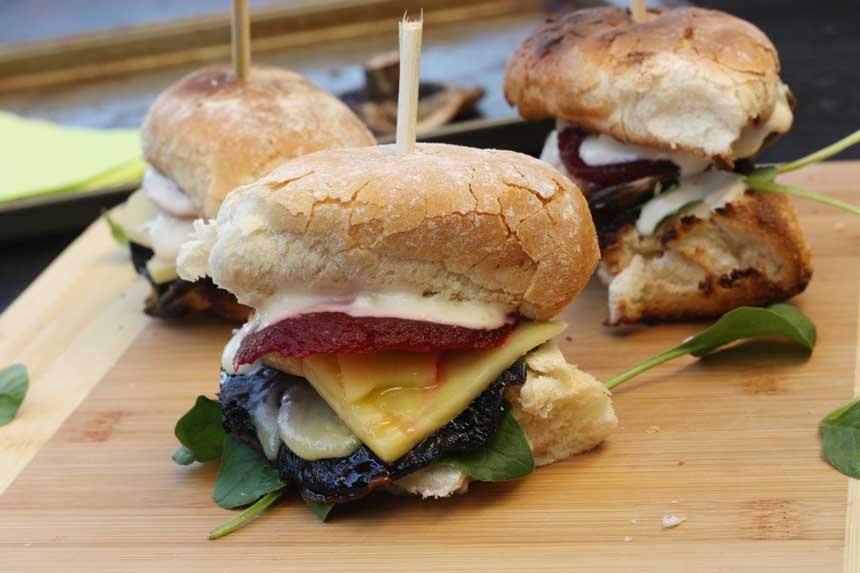 portobello mushroom, beetroot & horseradish sliders
A roll stuffed with a baked portobello mushroom, beetroot, tasty cheese and horseradish sauce makes for a simple but super tasty vegetarian slider!
Ingredients (UK/Australia? Click below for grams/ml)
1

Portobello mushrooms

1 per slider

2

slider buns

small burger buns/bread rolls of your choice

a few baby spinach/green salad leaves

1

slices

of tasty cheese

1 per slider

1

slices

of beetroot

preferably in vinegar

horseradish cream

Greek yoghurt or sour cream, mayonnaise
Instructions
Pre-heat the oven to 390F/200C. Place the mushrooms on a baking tray, drizzle with olive oil and bake for about 10 minutes.

Meanwhile, make your horseradish sauce. For each 4 sliders, mix about 2 teaspoons horseradish cream with 2 teaspoons yoghurt or sour cream and 1 teaspoon mayonnaise. Adjust to taste.

Lightly toast your bread rolls, then layer up your ingredients: a layer of spinach/lettuce followed by a mushroom, slice of cheese & slice of beetroot. Finish with a little of the sauce (I put some on top of the beetroot and spread a little more onto the roll).
Nutrition
Calories:
309
kcal
Carbohydrates:
36
g
Protein:
13
g
Fat:
12
g
Saturated Fat:
5
g
Cholesterol:
29
mg
Sodium:
187
mg
Potassium:
305
mg
Fiber:
3
g
Sugar:
7
g
Vitamin A:
280
IU
Calcium:
251
mg
Iron:
2.2
mg
I hope you enjoyed this post! You can subscribe to receive posts directly to your inbox by entering your email address in the box below or at the top of the sidebar on the right.
You can also find more from Scrummy Lane on Facebook, Pinterest, Twitter and Instagram and follow me on Bloglovin! Thanks so much for reading!
*This post may contain affiliate links which means that if you click on a link and make a purchase I get a small percentage of the amount you spend. At no extra cost to you, of course! Thank you!*