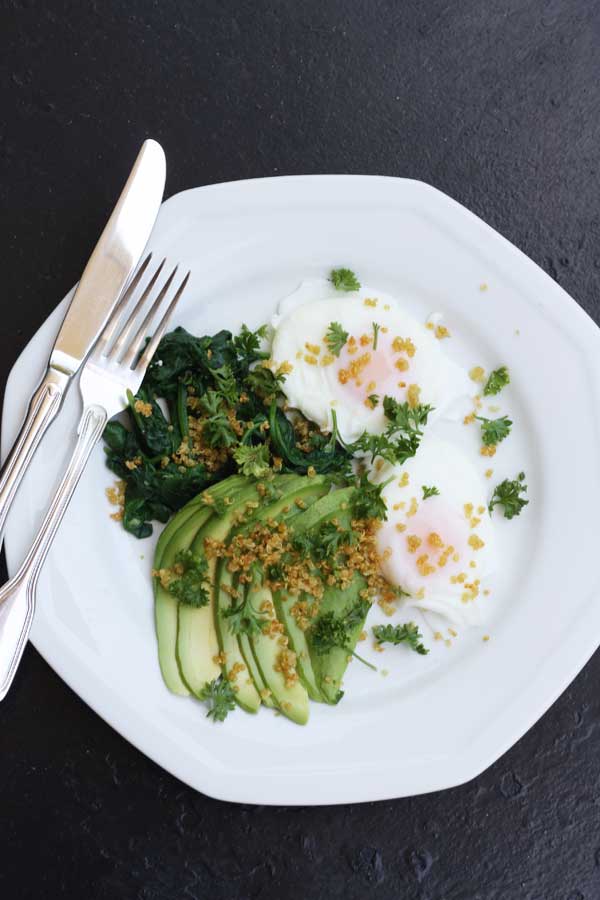 I'd love to be one of those people who races to the kitchen in anticipation of their first meal of the day. I love food, after all, but usually a quick banana or a small bowl of oatmeal is all my stomach can stand at 7am on a midweek morning! Unless of course – when I'm in Athens this is – I skip breakfast at home completely and grab a freshly-made feta cheese 'koulouri' (a ring of stuffed bread covered in sesame seeds) from the bakery across the road from the office. Now this I don't have to force down in the slightest, but then I have a different problem. Resisting the urge to stuff my face with one of these every day with my 10am coffee! It's a tough one, I can tell you!
Fast forward to the weekend and I do find myself feeling a little more enthusiastic about breakfast. I still don't get particularly fancy, mostly just rustling up some scrambled eggs and a nice cup of coffee from the posh machine when my stomach has woken up a little more. Or rather Mr. Scrummy rustles up the eggs, since we got married, and yes that's rather nice!
Since being in Australia though over these last few months I've discovered a whole new world of breakfasts! It seems to be a pretty big thing over here to go out for brekky at the weekend, which of course is pretty lovely on a nice sunny day.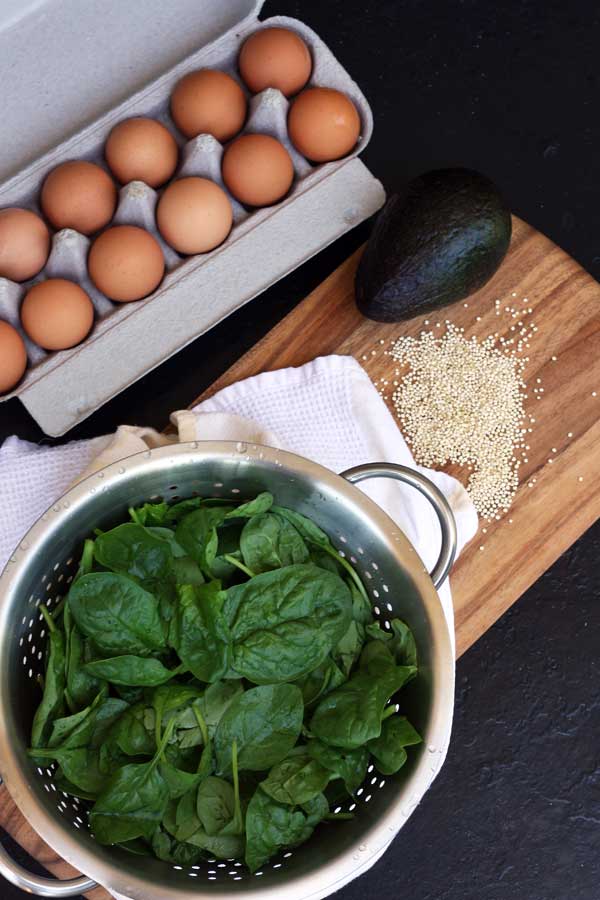 I got the inspiration for this particular breakfast idea on one such lovely warm (actually seeringly hot!) sunny Sunday morning recently while breakfasting with friends at a cute and trendy little Italian café by the beach here in Perth. It was nothing all that flash, just eggs, spinach and avocado with a sprinkling of this and that, but boy was it fresh and tasty. So tasty in fact that I decided to have a go at making something similar at home for one of those lazy Sunday breakfasts I love.
What made this for me were the lovely toppings. Lots of chopped, fresh parsley, a heavy sprinkle of crunchy fried quinoa and a generous drizzle of best quality olive oil. Lovely! Don't forget the olive oil. You'll see that I still hadn't drizzled it over in my photos but it really makes all the difference.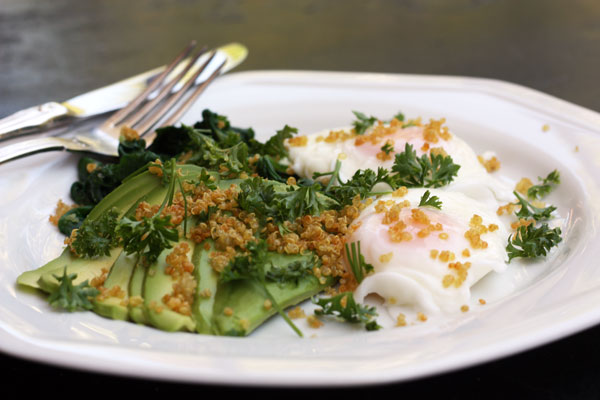 A note about the quinoa just in case you're not familiar with it. Quinoa = highly nutritious, protein packed, gluten-free ancient grain originally from high in the Andes. Apparently it's got all 8 essential amino acids, it's high in fibre and it's a good source of iron, calcium, magnesium and vitamin E, a powerful antioxidant. I know there's only a little quinoa on top of this dish but still … it feels good to know all this! Of course, eggs, spinach and avocado are also full-of-goodness superfoods so I think I can safely declare this a ridiculously healthy January-worthy post!
I warn you, though, this may not be for everyone. Mr. Scrummy wondered where the bacon was, for instance – cheeky monkey that he is. OK, fair point. For me on that lovely day this posh brekky was perfect as it was, but of course go ahead and add bacon to yours if you prefer!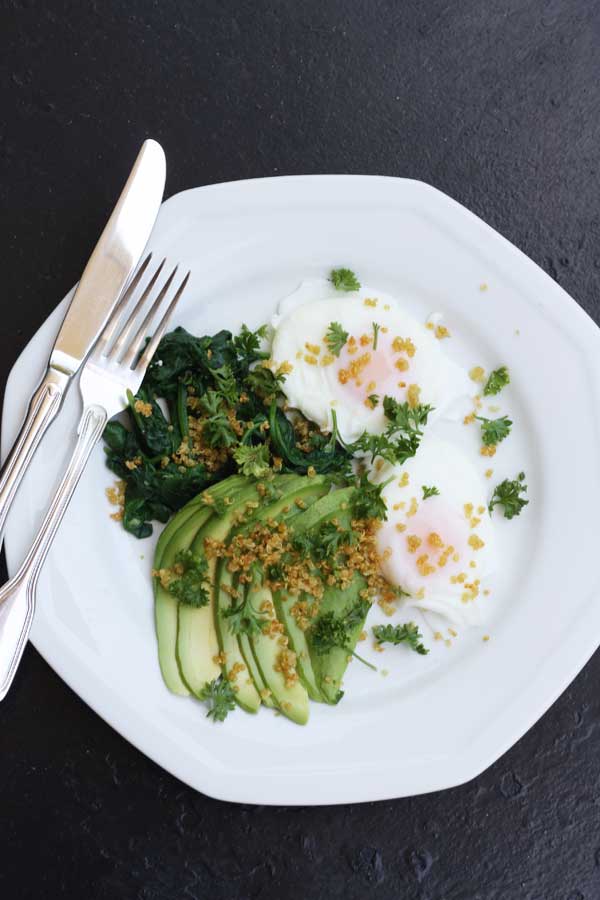 Poached eggs with avocado, spinach & crispy quinoa
A super healthy energy, protein and nutrient-filled vegetarian breakfast to kick-start your day.
Ingredients (UK/Australia? Click below for grams/ml)
1

tablespoon

quinoa

1/2

avocado

3.5

ounces

fresh spinach

(about 1 bag)

4

eggs

2 per person

a large handful of fresh parsley

chopped

olive oil for drizzling

your choice of toast or crusty bread to serve

optional
Instructions
Rinse the quinoa in a fine-meshed sieve, then cook it according to the packet instructions.

While the quinoa is cooking, put another pot on to boil for the eggs, slice the half avocado into slices widthways and chop the parsley.

Once it's cooked, drain the quinoa well, then put it back into the pan with the lid on for a few minutes to dry out. Meanwhile, rinse the spinach, then tip it into a pan and wilt it over the heat for a couple of minutes. Then fry the quinoa in a drizzle of olive oil for a few minutes, stirring every now and again, until nice and crispy.

Poach the eggs to your liking, two at a time (2-4 minutes depending on how soft/firm you like them - see

here

for poaching tips!)

While the eggs are poaching, begin to assemble the dish: Squeeze excess water out of the spinach by squeezing it with a spoon in the bottom of a sieve, then place half on each plate along with half of the fanned-out avocado. Remove the eggs from the water with a slotted spoon and also add to the plate.

Finally, sprinkle some of the crispy quinoa and chopped parsley over each plate and drizzle with a little olive oil. Enjoy by itself or with your toast or crusty bread.
Notes
The inspiration for this recipe came from a similar breakfast I had at Il Lido Italian Canteen in Cottesloe, Western Australia. Nice cafe!
Use the freshest, best quality free-range eggs you can get.
This is a super easy recipe, but a bit tricky to get everything together and on the plate at the same time. I would advise preparing everything else and making sure the last thing you do is the eggs so that they end up as you like them and don't get cold!
Nutrition
Calories:
244
kcal
Carbohydrates:
11
g
Protein:
14
g
Fat:
16
g
Saturated Fat:
3
g
Cholesterol:
327
mg
Sodium:
168
mg
Potassium:
683
mg
Fiber:
4
g
Vitamin A:
5200
IU
Vitamin C:
19
mg
Calcium:
104
mg
Iron:
3.5
mg