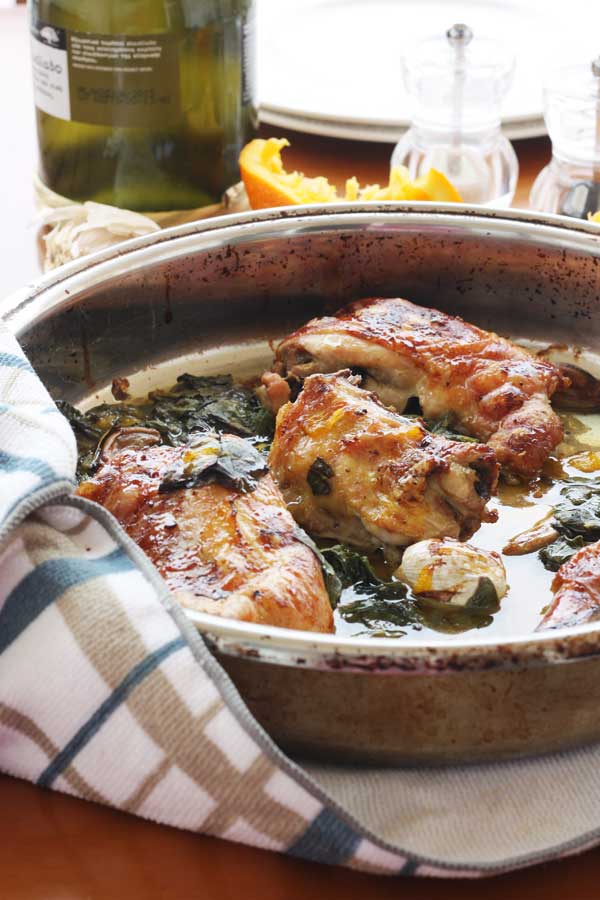 I recently had some sort of a 'chicken revelation'.
I realised that I had been ripping myself off by buying pre-packaged skinless and boneless chicken thighs and breasts for years. And years. Pretty much for ever, actually.
Now obviously I sometimes do specifically want to buy just thighs, or just breasts, or just drumsticks, but it suddenly occurred to me that it was much (much) more economical to pick out a whole chicken at the supermarket and get the butcher to chop it into pieces. Yup, I got all excited when I saw those two ninety-five chickens hanging out there at the supermarket butcher section. Ding! (the sound of the lights going on in my brain)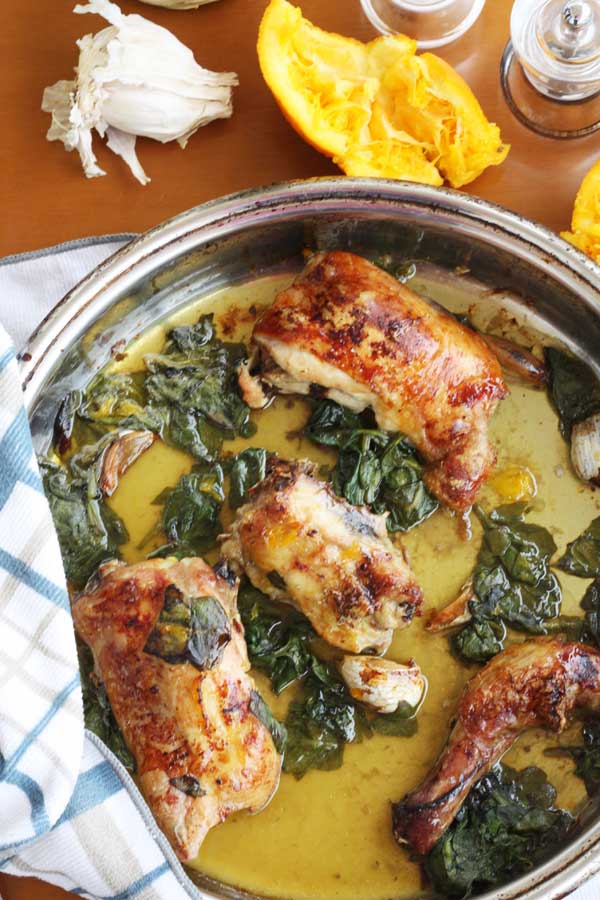 But then two days later, after we'd devoured this delicious-although-I-say-it-myself maple, orange & spinach chicken for two meals straight (and there were still some of the chicken pieces left in the freezer), I started to wonder about that two ninety-five chicken. How on earth is it possible to sell me a chicken that can effectively be turned into a meal for six (taking into account the freezer leftovers) for so little money? I know it might seem crazy to be worrying about something being too cheap, but you get what you pay for. Right?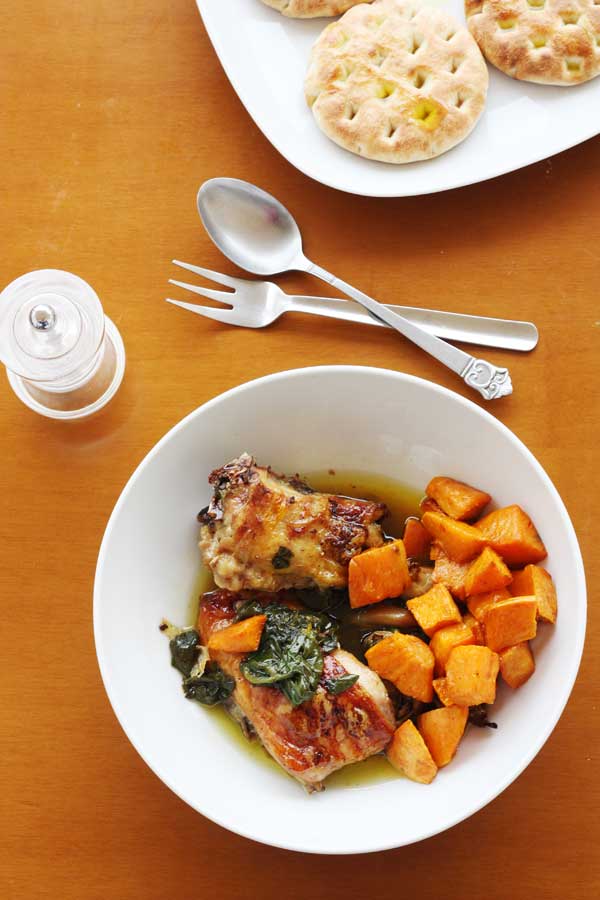 Anyway, the next time I decided to buy one of these whole chickens chopped up into pieces I noticed that there were two types of chickens right next to each other at the supermarket. One type were neat and pale … and still a suspiciously cheap two ninety-five. The other type were more yellow-y and wrinkly and, quite frankly, quite a bit uglier. Free-range. And double the price. I bought one of the second type with absolutely no doubts at all. It was still way cheaper than the pre-packaged chicken, after all.
So do you usually plump for the neat, prettier and conveniently packaged option, or do you go for the rustic, ugly even, probably healthier but more expensive one? Are you suspicious of food that is too cheap or do you think 'Great! What a bargain!' and grab it quick? I've liked to buy the best free-range eggs I can find for years, now I've moved onto thinking about meat. Hmmm. What's next?
Anyway, I am (sort of) digressing. The good thing about this whole voyage of chicken discovery is that I've had plenty of chances recently to perfect this insanely easy maple, orange & spinach chicken dish. It's a completely original 'Helen creation' and has quickly become a firm favourite in our house.
What I love about it is that you literally place the chicken pieces in a baking dish with some unpeeled garlic cloves and seasoning, drizzle over olive oil and bake for half an hour.
Thirty minutes later, after the chicken has started to brown nicely, you add maple syrup (or honey if you like) and the juice of a whole orange, and put it back in the oven for another half an hour or so. You don't even need to be all that exact with the amounts here. Just drizzle over roughly a few tablespoons of the syrup or honey and squeeze the two halves of the orange directly into the pan. All the better if a few bits of the orange flesh end up in there, too.
Five minutes before the end of the cooking time, you add some spinach to wilt down into the lovely gravy. And there you have it – a flavoursome roast chicken meal for four. Or for six if you cook the whole chicken. Or for two for two nights plus leftover raw chicken for another time, in our case. You get the idea.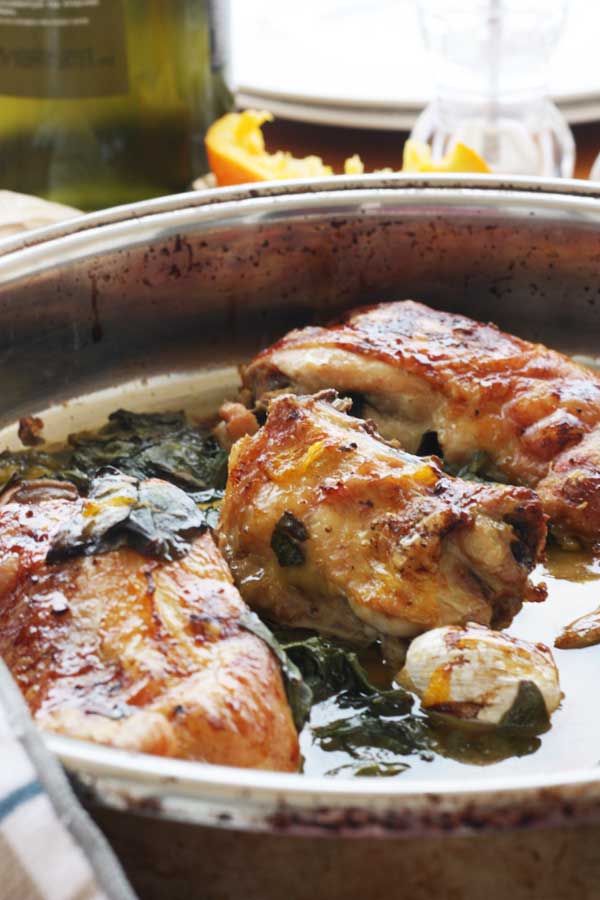 What Mr. Scrummy loves about this meal is that he can gnaw away on the crispy chicken skin and bones until he's polished off every last scrap of meat. There are literally a couple of totally bare bones left on his plate when he's done. Sometimes he even moves onto tackling my leftover bones (tmi?) No waste. At all. Suits me fine.
I'll leave you with the recipe. We really enjoy eating this with roasted sweet potatoes. I chop them into small chunks so that they cook easily, toss them with a little olive oil and put them into the oven at the same time as the chicken. I also toast a little Greek-style pitta bread to mop up the lovely maple-y orange-y juices and smoosh the sweet roasted garlic into.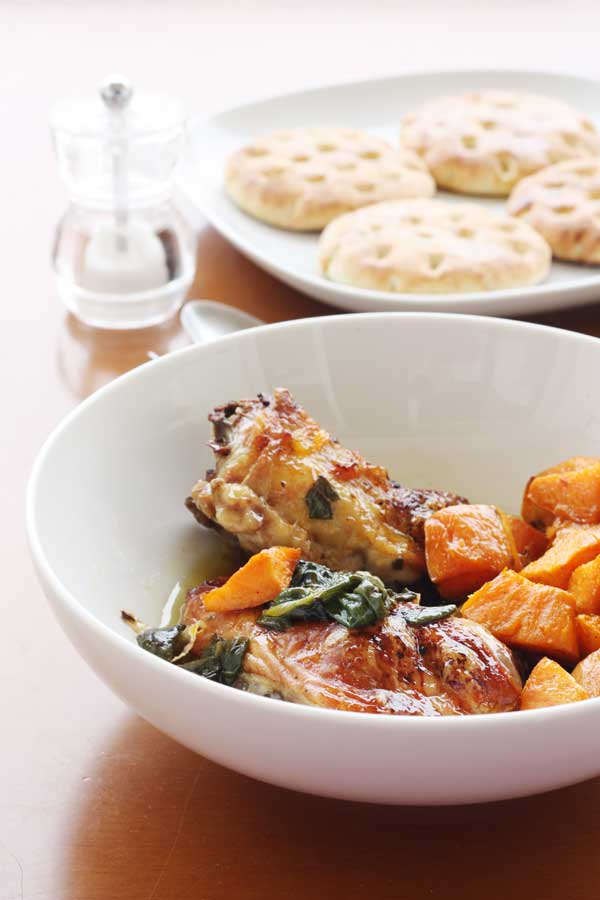 Scrummy!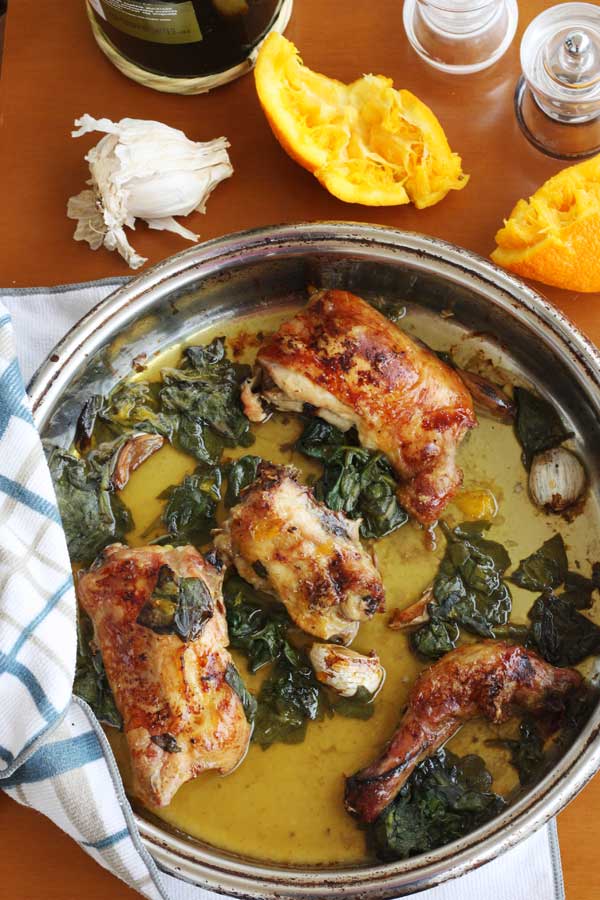 Easy mid-week meal: maple, orange & spinach chicken
The easiest, most delicious mid-week roast chicken dinner you could imagine. Just roast chicken pieces with garlic, maple syrup (or honey) and orange juice for an hour and you're done. Perfect served with roasted sweet potatoes and toasted pitta bread.
Ingredients (UK/Australia? Click below for grams/ml)
about 6 to 8 pieces of chicken from a whole medium-sized chicken chopped into pieces

5-7

unpeeled garlic cloves

3

tablespoons

of salt & pepper & a good drizzle of olive oil

about 3 tablespoons for roasting

3

tablespoons

maple syrup

or honey if you prefer

juice of 1 orange

5

ounces

fresh spinach

(about a few large handfuls)

chopped roasted sweet potatoes & toasted bread to serve

optional
Instructions
Pre-heat the oven to 350F/180C.

Place the chicken in a large baking/roasting dish with the garlic, grind over plenty of salt and pepper and drizzle over the olive oil.

Roast the chicken for 30 minutes, then add the maple syrup/honey and orange juice (just squeeze the juice through your fingers straight into the dish, catching the pips). Roast for about another 30 minutes or until the chicken juices in the biggest piece of meat run clear.

5 minutes before the end of the cooking time, stuff the spinach in between the chicken pieces so that it wilts into the tasty gravy.

Serve with the sweet potatoes and toasted bread (if you like).
Notes
To serve 2 people for 2 days (or to serve 4 people for 1 day, obviously), I used about two thirds of the chicken pieces from a whole chopped-up chicken. Obviously you can roast the whole chicken in one go, though. Just slightly increase the amount of syrup & orange juice you add.
Nutrition
Calories:
72
kcal
Carbohydrates:
16
g
Protein:
1
g
Sodium:
7016
mg
Potassium:
328
mg
Fiber:
1
g
Sugar:
12
g
Vitamin A:
4430
IU
Vitamin C:
14.9
mg
Calcium:
82
mg
Iron:
1.4
mg
I hope you enjoyed this post! You can subscribe to receive posts directly to your inbox by entering your email address in the box below or at the top of the sidebar on the right.
You can also find more from Scrummy Lane on Facebook, Pinterest and Twitter and follow me on Bloglovin! Thanks so much for reading!