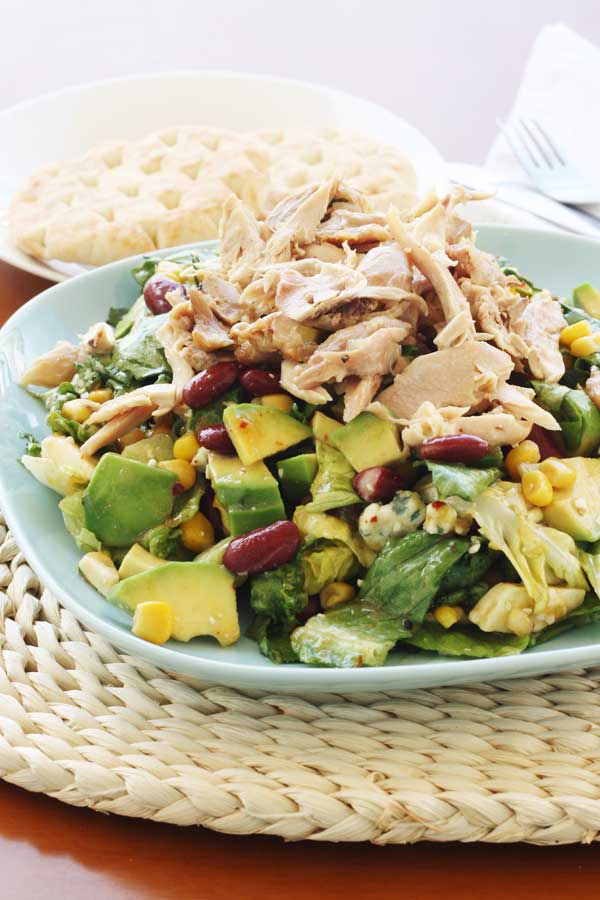 In this post, I told you all about my beautiful balcony and how much I'm going to miss it when I leave Greece in just one weeks' time. Another thing that I'm going to miss truly and deeply are the wonderful souvlaki restaurants, which is where you find Greece's national fast food. A thick piece of pitta bread stuffed with shaved-off slivers of pork or chicken, salad and tsatziki sauce, a side of crispy 'patatas' and maybe a Greek salad and a beer constitutes mine and Mr. Scrummy's regular order at these restaurants; and, with that, we are in food heaven.
And, incidentally, it's a curious thing but we place our order and the food appears on our table just about instantaneously. If we decide to order take-out, it's 'magically' at our door ten minutes later. Go to any Greek bank or government office and there's a good chance you'll be waiting in line and tearing your hair out there all morning long (believe me, at the moment, I know), but sitting on your ubiquitous Greek taverna wooden chair at your table with the paper-map-of-Greece table cloth on it you are served, at this lightning speed, with the most delicious of freshly-cooked simple national food. And all for a very reasonable few euros.
Oh yes, we will definitely miss this. Especially Mr. Scrummy.
Another thing about these restaurants is that you can decide what you'll order before you get there, because you pretty much know what will be on the menu. Just like you would go to a fish and chip takeaway in the UK or a burger restaurant and know that you'll order, well, fish and chips or a burger, of course.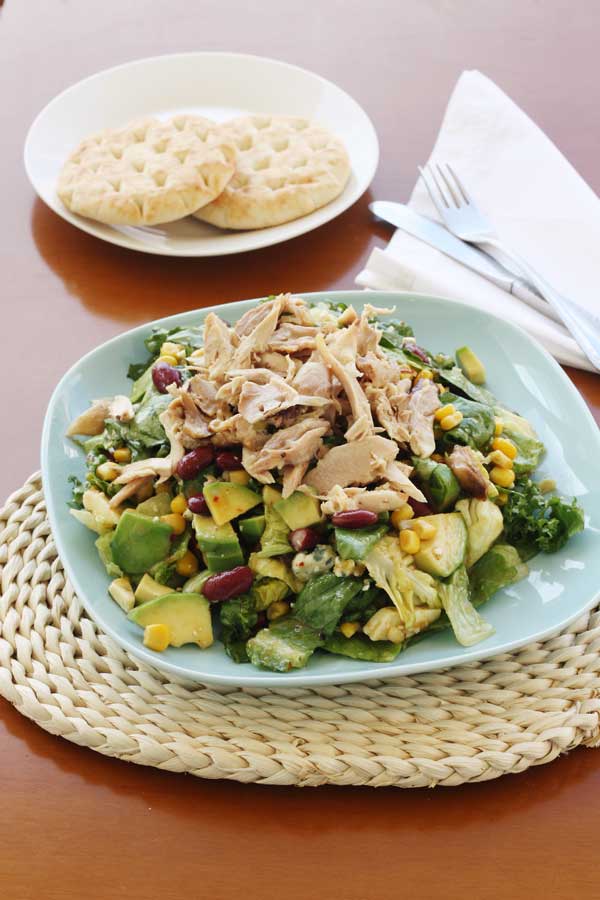 So … I was really surprised to see something pretty similar to this mango chicken salad on the menu at a local 'souvlaki' shop that we ate at recently. In a mall, no less. I ordered the salad 'for a change' and enjoyed it so much that I decided to try to re-create it at home. Just for you! (well, and for my tummy, of course)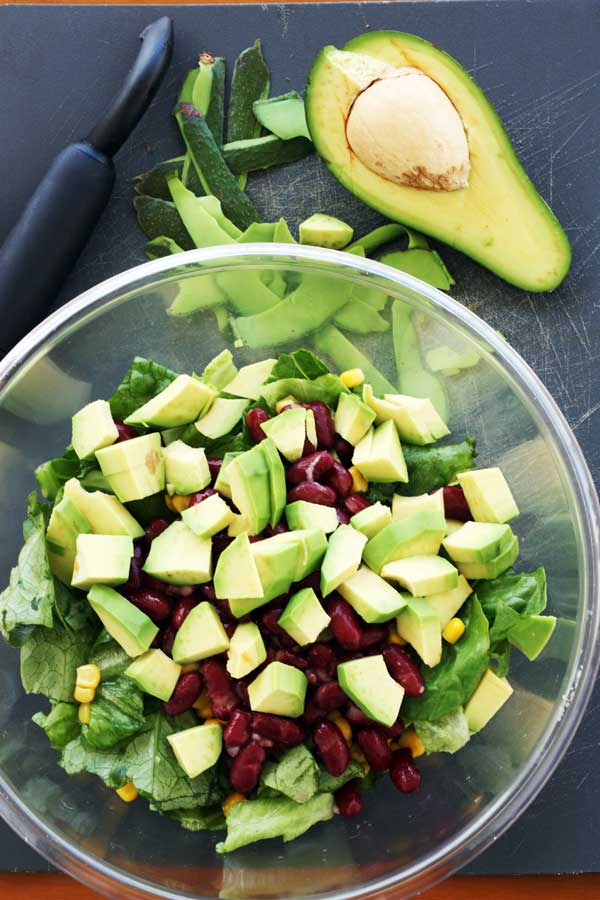 It's very simple (would I present to you anything else?) Just add tinned red kidney beans and corn, chopped avocado and a little blue cheese to your favourite salad leaves, stir through a couple of spoonfuls of mango chutney and top with some cooked shredded chicken. I used leftover roast chicken from this recipe for maple, orange & spinach chicken but you could use any leftover cooked chicken that you happen to have. Rotisserie-style chicken would be absolutely perfect. You could even add a little spice by replacing the mango chutney with sweet chili sauce, which I think is what the restaurant used. You could say it would then become a 'Mexican' salad, although I say this cautiously as … me and Mexican food? Well, let's just say we're not particularly well acquainted … yet!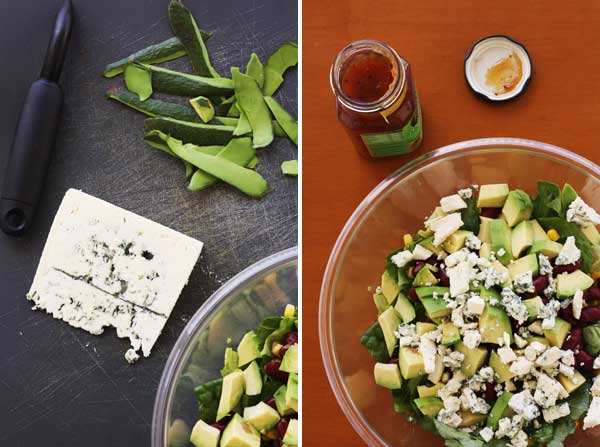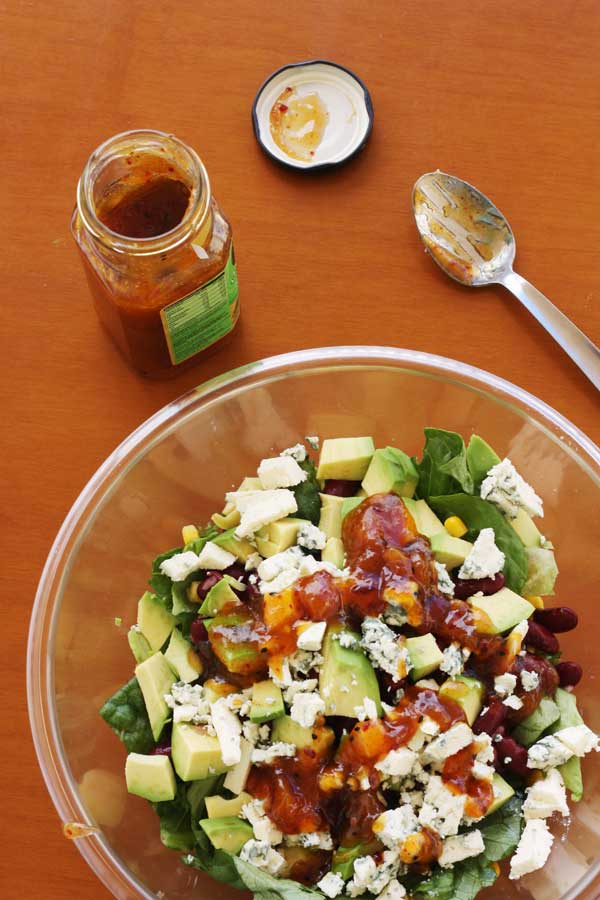 In my humble opinion, the blue cheese in this salad really makes it shine like the stars, but Mr. Scrummy probably would have left it out. Given a choice. Which he didn't have, poor thing. If you feel the same as he does about blue cheese, however, i.e. less than thrilled, you could easily substitute another sharp salty cheese. Even a little feta would probably work. Or of course it wouldn't be the end of the world (athough somewhat of a shame) to totally leave out the cheese. It's your call.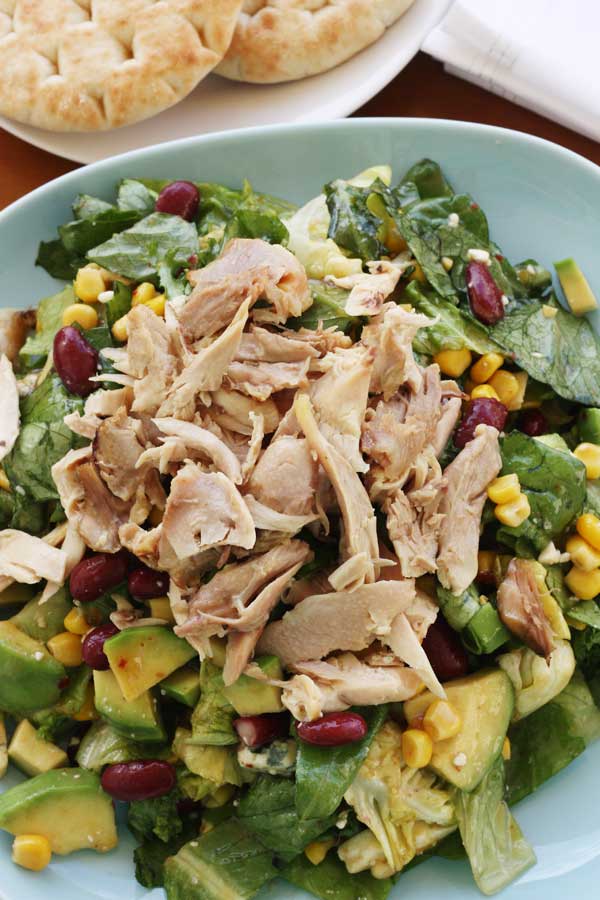 I love it when a restaurant visit inspires a new recipe. What about you? Do you ever try to recreate something you've eaten in a restaurant, or ordered from a takeaway? And what do you usually order from your favourite takeaway restaurant?
Have a wonderful weekend!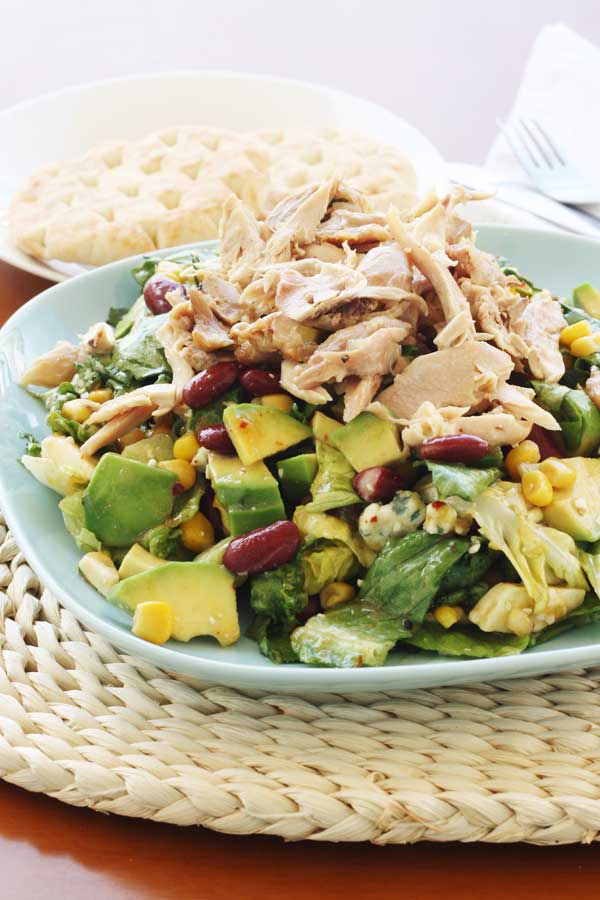 Mango chicken salad with avocado, kidney beans & blue cheese
A super tasty chicken salad with avocado, kidney beans, sweet corn, blue cheese and mango chutney. Serve with some toasted pitta bread and you've got deliciousness on a plate.
Ingredients (UK/Australia? Click below for grams/ml)
5

ounces

salad leaves

I used a pre-washed mixed bag

2-3

tablespoons

cooked sweetcorn

canned or fresh

2-3

tablespoons

cooked red kidney beans

canned

1/2

an avocado

chopped

2

tablespoons

blue cheese

1 1/2

tablespoons

dessert spoons mango chutney

leftover cooked chicken

shredded (however much you have or want to add)

toasted pitta bread or other bread & Greek yoghurt

to serve (optional)
Instructions
In a large bowl, add the corn, beans, avocado, cheese and mango chutney to the salad leaves and toss really well.

Warm the leftover chicken through if you like (I did this by blitzing in the microwave for a couple of minutes), then either top the salad with the chicken in the bowl, or arrange it on a nice big plate and place the chicken on the top.

Serve immediately with toasted pitta bread and big dollops of Greek yoghurt (if you like). Enjoy!
Notes
This salad is based on a similar one on the menu at Pita Plus in the Athens Metro Mall. You can even order their food online if you're ever in the area. (Well, you just never know!)
I think a vegetarian version of this salad would be just as delicious. Just omit the chicken, obviously!
Use sweet chili sauce instead of mango chutney if you prefer.
Nutrition
Calories:
184
kcal
Carbohydrates:
22
g
Protein:
4
g
Fat:
9
g
Saturated Fat:
2
g
Cholesterol:
5
mg
Sodium:
126
mg
Potassium:
467
mg
Fiber:
4
g
Sugar:
8
g
Vitamin A:
960
IU
Vitamin C:
23.8
mg
Calcium:
52
mg
Iron:
1
mg
I hope you enjoyed this post! You can subscribe to receive posts directly to your inbox by entering your email address in the box below or at the top of the sidebar on the right.
You can also find more from Scrummy Lane on Facebook, Pinterest and Twitter and follow me on Bloglovin! Thanks so much for reading!