Have you ever slow roasted a leg of lamb? You might not think it, but this authentic Greek slow cooked lamb recipe is a perfect meal for easy entertaining. Slow cook the lamb (oven or slow cooker!) until it's fall apart delicious, but with only 15 minutes hands-on attention!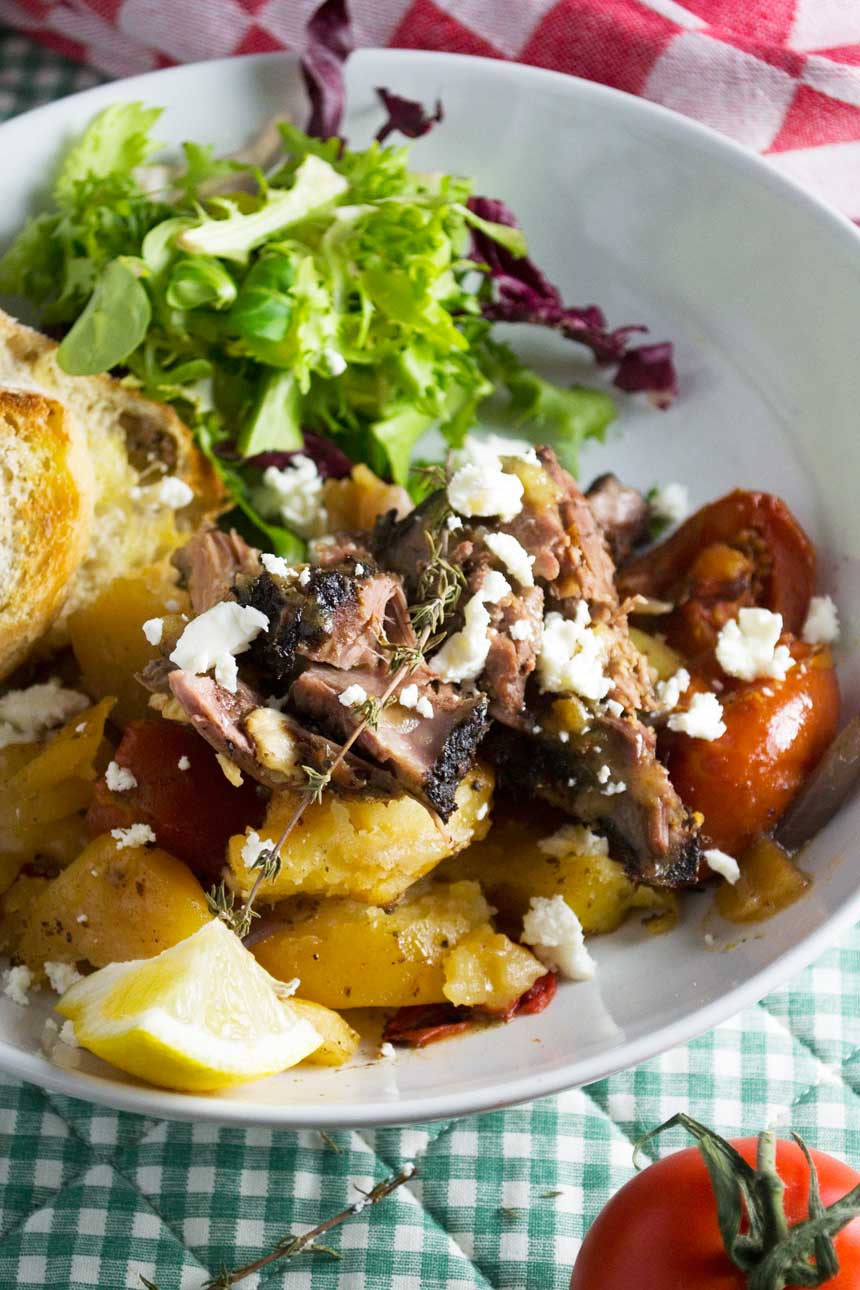 Not a big fan of lamb? Try this slow cooked leg of lamb and you'll be hooked!
I never used to be a big fan of lamb.
After my first bite of melt-in-the-mouth slow roasted lamb during my years in Greece, however, I was hooked. Whether it's cooked slowly on the spit or slowly in a pot, it's seriously delicious!
The best thing about this recipe (otherwise known as lamb kleftiko) is how amazingly easy it is. Just throw it all in one pot! Well, perhaps place instead of throw.
Erm… so what's lamb kleftiko?
It's one of those classic Greek dishes that you had on your Greek island holiday and find yourself dreaming about when you get back home. I'm looking at you, traditional Greek moussaka. I'm also looking at you, incredibly easy and yummy Greek lemon chicken and potatoes.
Just like many traditional and yet delicious Greek meals, this Greek lamb recipe with potatoes is made with super simple ingredients.
It packs in plenty of lemony, garlic-y, oregano-y, cinnamon-y flavour. It's truly scrummy!
It's slow cooked for about 4 hours, but don't worry – it's also super easy to make.
The result will be a Greek restaurant quality meal, but there's no messing around preparing elaborate side dishes or making gravy. That's the kind of meal we like around here!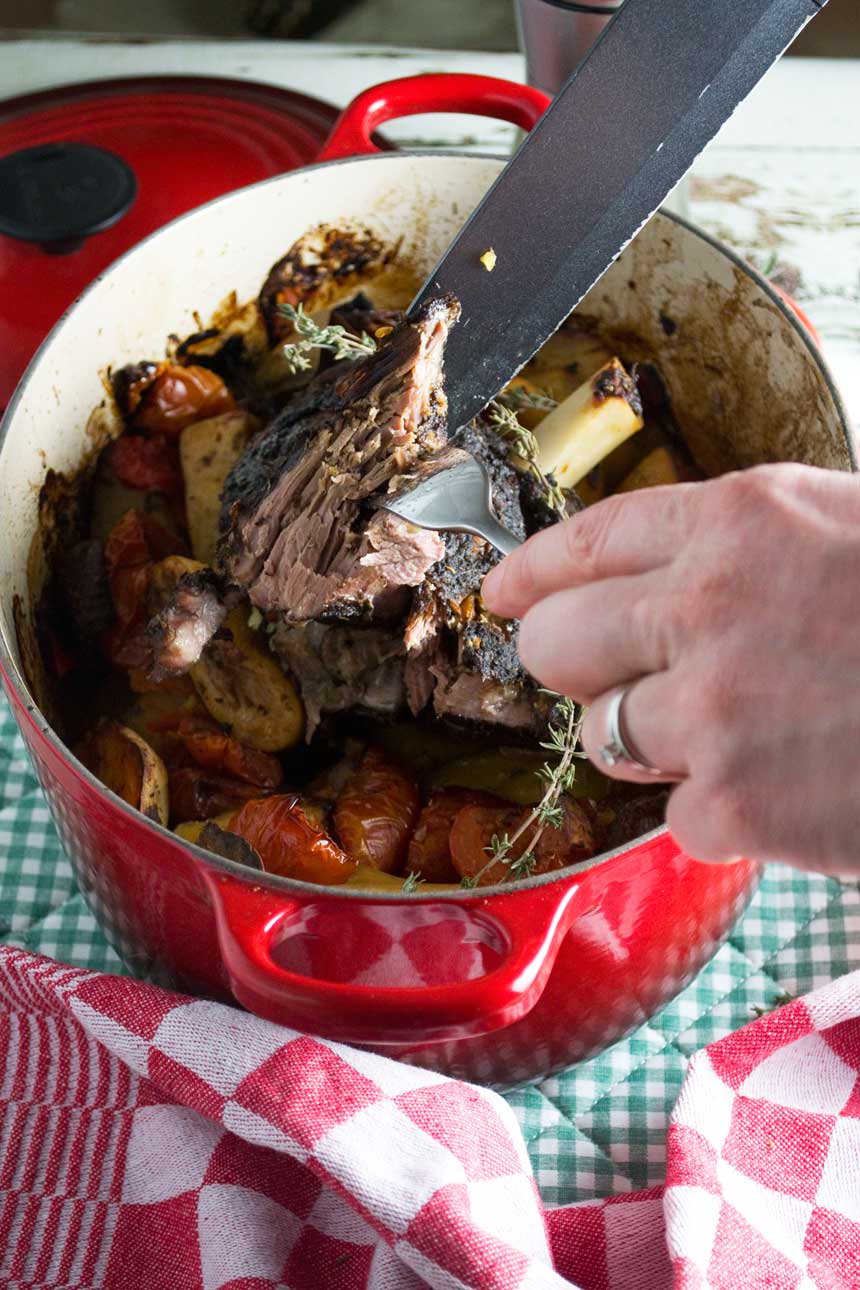 Why you should try making this lamb kleftiko/Greek roast lamb
This isn't a recipe you can have on the table in an hour. But it IS very hands-off once you've spent 15 minutes preparing everything. Sit the meat on top of the veggies (a Le Creuset Dutch oven or similar is perfect – they are on the expensive side but they literally last a life time). Then pop into the oven and plop yourself on the sofa with your Netflix series of choice!
Following on from the point above… this is a 4 hour roast lamb. Some roast lamb recipes require 7 or more hours of roasting. Win!
You have the usual Greek flavour suspects in this slow cooked Greek lamb recipe (lemon, oregano, garlic…) but cinnamon adds a surprising but also characteristically Greek depth of flavour. You'll love it!
It's perfect for feeding – and impressing – a large family or mini crowd. With bread and salad on the side you can safely serve 6.
Did I mention it's fall-apart delicious?
Lamb kleftiko ingredients
To go in the pot: a leg of lamb (of course!), potatoes, tomatoes, red pepper and red onions, bay leaves, salt & pepper
To rub all over the lamb: olive oil, dried oregano, cinnamon, lemon, garlic (half to stick into the lamb, the rest to scatter around it with all the veggies)
To serve on the side (highly recommended!): feta cheese, Greek yoghurt, salad & fresh crusty bread
How to make it
You're just a few steps away from fall-apart delicious lamb heaven!
Step 1: Throw all the veggies into the pot – cast iron works well – then sit the lamb on top.
Step 2: Rub the meat with olive oil, cinnamon, oregano, and lemon. Then make small slits in the meat and stick pieces of garlic into them.
Step 3: Tuck more garlic in with the veggies and squeeze more lemon over.
Step 4: Pour water over the whole dish, cover and let the oven do its magic! Add more water at various stages when needed.
Step 5: Serve your fall-apart-tender Greek lamb with a sprinkle of feta cheese, fresh green leaves, and crusty bread to mop up the delicious juices.
Step 6: Lap up all the compliments as everyone devours their crazy delicious meal.
Cheeky pro tip: Try replacing 1/3 or even 1/2 of the water you pour over with wine for some extra depth of flavour!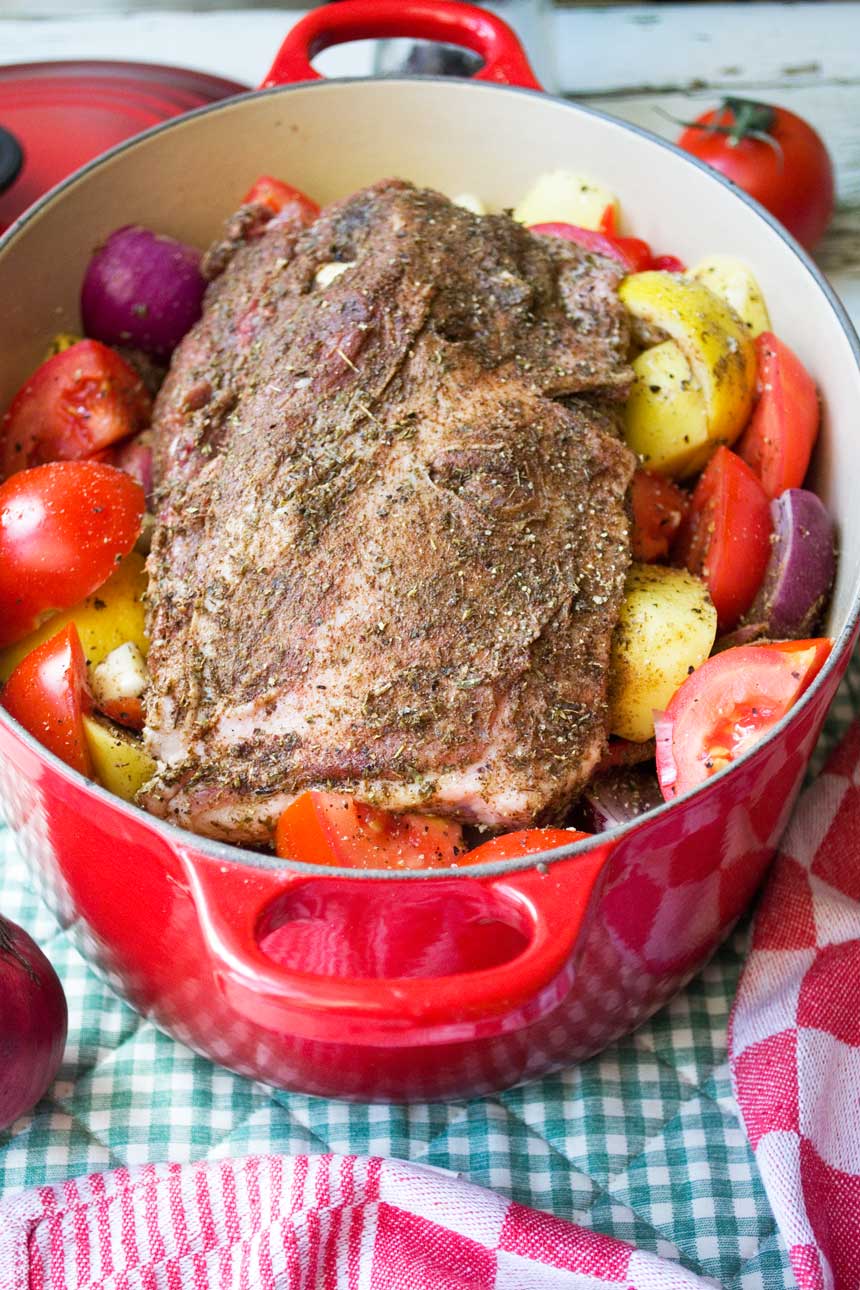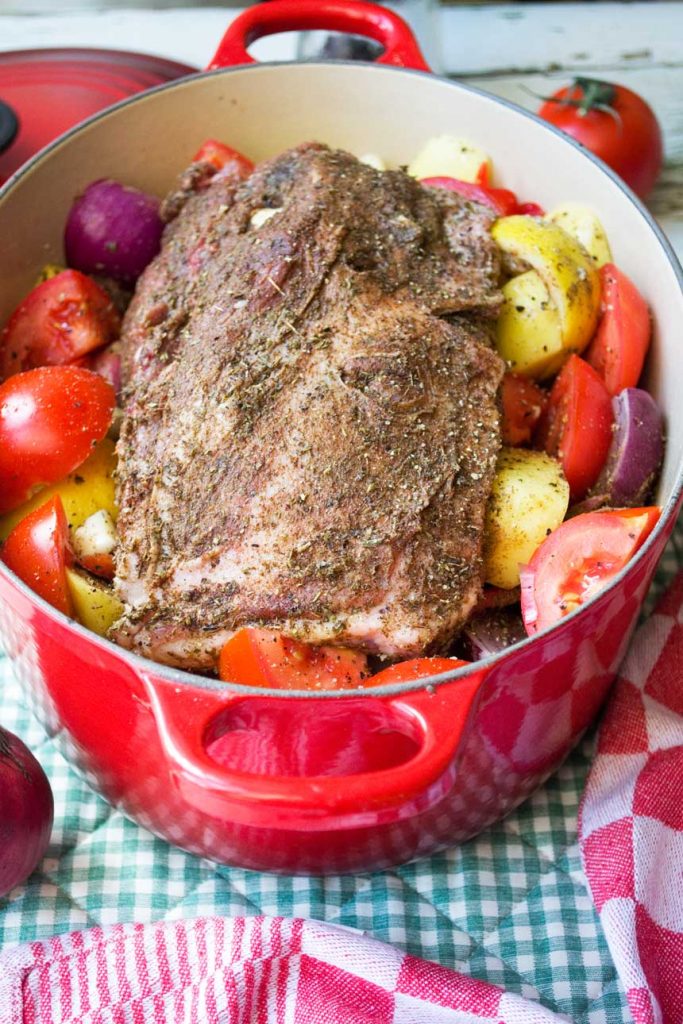 Pro tip: Check the amount of water as the lamb cooks. You'll probably need to add a big splash or two about two thirds of the way through – and then again fifteen minutes before the end of the cooking time.
When and how to serve Greek lamb
This slow cooked Greek lamb with potatoes is just perfect for those winter days when you really don't want to leave the couch, let alone the house. But you still want to convince yourself and others that you did something with your day.
In Greece something like this is commonly served at Easter.
What to serve it with? Easy. This Greek lamb is a one pot meal of course so you have your potatoes and vegetables already.
Then:
I like to sprinkle a tiny bit of feta cheese over each person's lamb (trust me, it's the icing on the cake).
Then I toast a little fresh crusty bread and drizzle it with olive oil and sprinkle it with salt (a delicious trick I use all the time).
If you have any energy left, you could make some tzatziki sauce, but this is entirely optional. Alternatively just use Greek yoghurt (I often do this!).
Finally, I serve a little plain green salad on the side, just to finish off the plate.
And there you go, you've literally cooked a meal worthy of a (Greek) king!
I don't want to stay in all day. Can I cook this Greek lamb in a slow cooker?
Actually… yes, you can! I'd recommend browning the lamb and potatoes separately first, then following the recipe as normal.
Except… cook in the slow cooker on low for about 9 hours. You will not have to check and add water at any point.
Your potatoes will not be as crisp and browned as they would be if you cooked this recipe in the oven, but the lamb will be just as fall-apart delicious.
And can I cook it in my Instant Pot/electric pressure cooker?
I have to be honest – I haven't tried making Instant Pot Greek lamb yet. But I'm pretty sure it would work very well and the results would be similar to the slow cooker version.
Try browning the lamb on all sides on the saute function first. Then saute the potatoes for a few minutes. Then follow the slow cooker instructions but cook on high pressure for 45 minutes. Use natural release.
I use and love a Breville electric multi cooker that I bought in Australia, but an Instant Pot or any model should work. Good luck!
Forget the lamb, just feed me potatoes! Not in much of a meaty mood after all? Try these crispy Greek potatoes. I call them the best Greek potatoes for a reason. Warning: very addictive!
More scrumptious Greek main meals
Or if you're just enjoying the whole Greek food vibe in this post, you might like to check out my Greek recipes archives!
Last but not least: Need a quick and easy dessert to serve after this meal? Here are 11 really easy desserts (6 ingredients or less!)
IF YOU MAKE THIS RECIPE, LET ME KNOW HOW YOU GET ON BY LEAVING A COMMENT AND RATING BELOW… AND DON'T FORGET TO SIGN UP TO RECEIVE ALL MY NEW RECIPES BY EMAIL!
FOLLOW ME ON FACEBOOK, INSTAGRAM, PINTEREST AND YOUTUBE.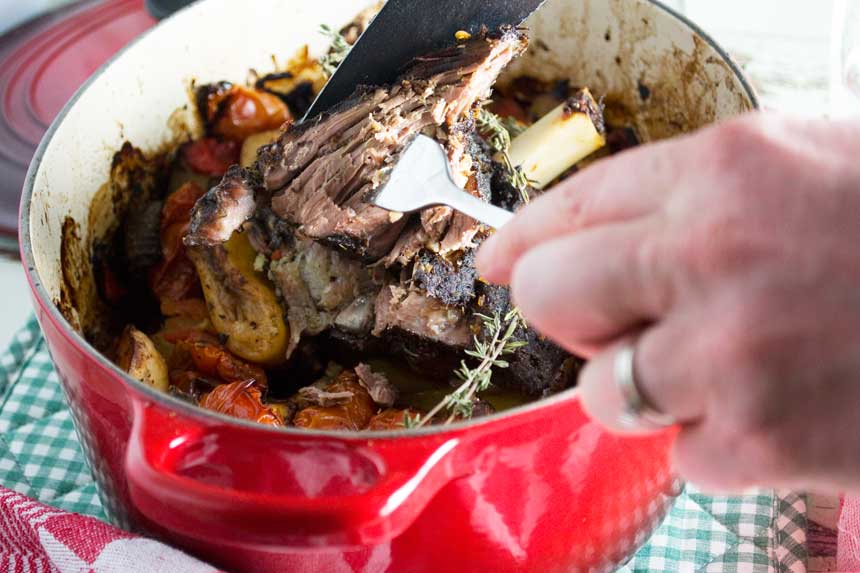 Easy slow cooked Greek lamb with lemon garlic potatoes (lamb kleftiko)
A super flavourful not to mention really easy to make impressive and authentic Greek lamb roast. Throw a few ingredients in a pot, sit a lamb leg on top, rub in herbs and spices, and slow roast to entertaining perfection.
Equipment (affiliate links)
Ingredients (UK/Australia? Click below for grams/ml)
2

pounds

potatoes

peeled and cut into large wedges

3

medium to large tomatoes

cut into big chunks

1

red pepper

cut into chunks

1

large or 2 smaller red onions

peeled and chopped into chunks

3

bay leaves

salt and pepper

2

pounds

leg lamb

bone in

olive oil

about a tablespoon

1

teaspoon

dried oregano

1

teaspoon

ground cinnamon

1

lemon

1

whole head of garlic
To serve (optional)
feta cheese, Greek yogurt, salad and fresh crusty bread
Instructions
Preheat the oven to 160C / 320F.

Place the potato wedges, tomatoes, red pepper, onions, and bay leaves in an oven proof cooking pot or deep roasting pan. Grind over plenty of salt and pepper, then sit the lamb on top, fat side up.

Rub the lamb all over with the olive oil, then with the oregano and cinnamon. Squeeze over the juice of half the lemon.

Peel half of the garlic cloves and roughly chop into chunks. Cut small slits all over the lamb and insert the garlic chunks into them.

Tuck the rest of the garlic (unpeeled is fine) in and around the lamb and potatoes / veggies, then squeeze the other half of the lemon all over the potatoes / veggies. Finally, pour over 200ml (just under a cup) water.

Put the lid on the pot (or tightly cover with foil if using a roasting dish) and roast for 4 hours until the lamb is fall-apart tender. Check half way through cooking, and again about two thirds of the way through, and add a few drizzles more water if you think the dish needs it.

Fifteen minutes before the end of the cooking time, add another splash or two of water if necessary, then turn the oven up to 220C / 430F and roast uncovered until the potatoes / veggies have browned a little.

Remove the bay leaves, then serve with a sprinkle of feta, Greek yogurt, grilled bread and green salad leaves.
Notes
Lamb
You need to get a whole lamb leg with the bone still in for this recipe (about 2 pounds or 1 kilo). If you'd like to scale up for more people and you have a big enough pot, use the sliding scale at the top of the recipe to adjust the ingredient amounts. Try a local butcher to get the best quality lamb you can.
Water
If you like you can replace some of the water you pour over the lamb before putting it in the oven with wine! (try about 1/3 cup of wine)
What to do while the lamb is cooking
Other than putting your feet up, lift the lid of the pot every now and again and add a drizzle more water. I usually do this half way through the cooking time and about 15 minutes before the end.
Also remember to take the lid off the pot and turn up the oven for the last 15 minutes to let the potatoes and lamb brown a little on top.
How to serve this meal
This is a one pot meal, so you'll already have your delicious potatoes and vegetables. To make a great meal into an absolutely incredible one though, serve with a sprinkle of feta cheese, a dollop of Greek yoghurt or tzatziki, grilled bread drizzled with olive oil and sprinkled with salt, and a nice crisp green salad. Perfection!
And finally… can you cook this in a slow cooker instead?
Yes! Simply brown your lamb on all sides either in a pan or a slow cooker with a saute function first. Then brown your potatoes for a few minutes.
Then follow the recipe as for the oven version, but slow cook on low for 9 hours. You don't have to add any more water during cooking. The potatoes will not be crispy but the meal will be just as delicious as the oven version. If you like you can pop the meal under the grill (US broiler) for 5 minutes for a bit of colour and crisp!
Erm… what about an Instant Pot or electric pressure cooker?
I haven't tried making this in an Instant Pot or electric pressure cooker yet, but I plan to. When I do I'll update this post with my findings! If you'd like to try making lamb kleftiko in the Instant Pot, I'd suggest following the slow cooker instructions, but cook for 45 minutes on high pressure. Use natural release.
Grill (UK)/Broil for 5 minutes for a bit of crisp and colour!
Nutrition
Calories:
266
kcal
Carbohydrates:
26
g
Protein:
28
g
Fat:
5
g
Saturated Fat:
1
g
Cholesterol:
73
mg
Sodium:
90
mg
Potassium:
1159
mg
Fiber:
5
g
Sugar:
1
g
Vitamin A:
745
IU
Vitamin C:
62.5
mg
Calcium:
71
mg
Iron:
8.2
mg